Herbert J. Miner
(1870-1881)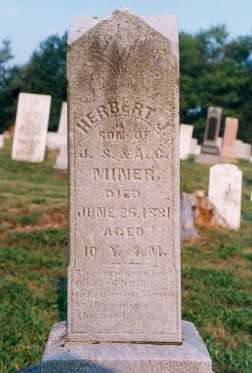 Cedar Hill Cemetery
Herbert J. Miner was born on Nov. 26, 1870 in Brownsville, Licking County, OH, the son of James S. and Angeline C. (Hamilton) Minor.
When the 1880 federal census enumeration was made, the nine-year-old Herbert is shown in his parents' household on Tenth Street in Newark. Nothing is marked in the record to show any ailment or illness.
Heartbreak cascaded over the family on June 26, 1881, when Herbert passed away in Newark at age 10 years, seven months.
The cause of the boy's death is not known.
His remains were lowered into the sacred soil of Brownsville Cemetery in Licking County -- today known as Cedar Hill Cemetery -- near the graves of his grandparents, Jacob and Mary (Ferguson) Miner.
Herbert's grave marker is still legible today and was photographed by the founder of this website in about 1995.
A short epitaph is still legible at the base, demonstrating the family's grief and faith and willingness to release the boy to the care of Heaven:
The Lord gave and
the Lord hath
taken away, Blessed
be the name of
the Lord.
Copyright © 2005, 2019 Mark A. Miner