Jefferson Miner
(1847-1902)
Jefferson Miner was born in 1847, presumably near Unity, Columbiana County, OH, the son of Burget and Sarah Ann (Hays) Miner. He made his living as a hotel keeper in Ohio and later in Iowa.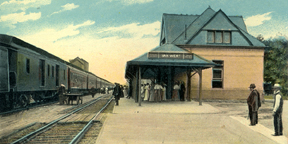 Van Wert railroad station
Little is known of Jefferson's life.
Circa 1870, he was a clerk in the Van Wert House hotel run by Alf and Ella Howell. The 1882 History of Van Wert and Mercer Counties, Ohio mentions Jefferson in this role, saying that "This house is convenient to the depot, has 35 rooms, and can afford accommodations to 50 guests."
The rare old photographic postcard seen here shows the Pennsylvania Railroad station in Van Wert, near where the Howells' hotel would have been located.
Later in life, Jefferson moved to Denison, the county seat of Crawford County, IA. Using his experience gained in Ohio, he worked there as the proprietor of a hotel.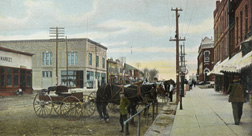 Broadway in Denison, Iowa
Seen here is a photo postcard showing Broadway in Denison, showing "modern" telephone poles and electrical wires juxtaposed with horses and buggies.
On or about Dec. 17, 1902, at the age of 55, Jefferson died in Denison. News of his passing was telegraphed to his brother David "Nesbit" Miner in Nebraska. A short obituary appeared in the Columbus (NE) Journal.
In 2011, during a visit to Kinsley, Kansas, where Jefferson's sister Eliza DeMoss lived, researchers Mark Miner and Eugene Podraza searched the local newspaper archives for some mention of Jefferson's death, but were unsuccessful.
Copyright © 2004, 2012 Mark A. Miner