Sarah (Hays) Miner
Burget Miner was born in Maryland on June 12, 1812, the son of John and Mary Magdalena (Kohl) Minard Sr. He was a prominent carpenter in western Ohio who is profiled in the book, A History of Cleveland, Ohio. Burget's tall grave marker suggests that he had a successful and lucrative career.
It's thought Burget's name actually was an Americanized form of the German "Burkhardt," also the name of an uncle and several cousins who went by the variation "Burket."
As a boy, it's believed that Burget moved with his parents to Laurel Hill, a mountainous section of Fayette/Somerset Counties, PA. Later, they emigrated further west to near Scio, Harrison County, OH, where Burget grew up. According to his profile in the Cleveland history book: "There were no railroads across the country and the journey was a long and arduous one over roads that were but slightly improved and which in this instance led over the mountains and through almost impenetrable forests. He traveled with an ox team and settled year Youngstown."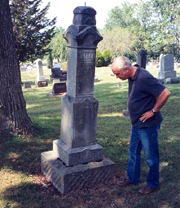 Researcher Eugene Podraza at
the Miner grave, Van Wert
Burget was united in the bonds of holy matrimony with Sarah Ann Hays (Jan. 18, 1816-1894), a native of Columbiana County, OH, with evidence suggesting that she was the daughter of David Meredith and Sallie Hays. Sarah is said to have belonged to the same family which produced President Rutherford B. Hayes.
The Miners first lived in Unity Township, Columbiana County circa 1840, when their names appear there on the federal census. (Burget's brother Jacob Minor also resided in Unity Township for many years, as did Sarah's sister Eliza A. Augustine.)
Burget and Sarah produced a family of three children – David "Nesbit" Miner, Eliza Ann "Lydia" DeMoss Cornwell and Jefferson Miner. The children Nesbit and Eliza appear to have been named for Sarah's siblings. At their births, their names and dates were inscribed in ink in the family Bible.
Residing in the Miner household in the year 1850 was one-year-old Thomas I. Hammel, relationship unknown.
Burget was a carpenter. Said the Cleveland history: "His business ability was manifest in mechanical lines and when a young man he came to Cleveland to do some work on the Old Stone church, fixing the belfry and executing other service of a similar character on that old house of worship. He was a contractor and builder throughout his entire life and was closely associated with the early improvement of the state along such lines."
In about 1854, the Miners moved to Van Wert, Van Wert County, OH. Burget's brothers Henry (in 1839) and John Jr. (1840) had migrated to Van Wert County years earlier, and may have been part of the reason why Burget chose to relocate there. Upon arriving in Van Wert, he purchased town lot #130. In 1856, 1862 and 1864, he purchased other town lots, some in Van Wert's east side. Whether he purchased them for his own use, or for development and construction of houses, is unknown.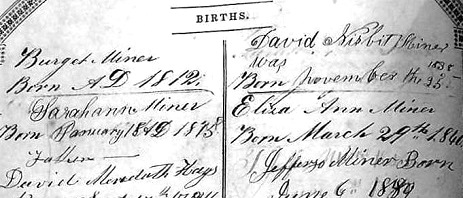 Above: Inscriptions for the births of Burget and Sarah and children in the Miner family Bible.
Courtesy Sandra Waltrip.
Below: misleading bio in the 1910 History of Cleveland, Ohio, likely written by a socially prominent granddaughter to mask his German origins in the years leading up to World War I.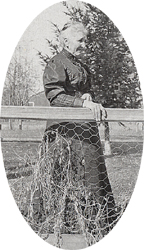 Sarah (Hays) Miner
A May 1877 issue of the Van Wert Times said that in Ridge Township, "Mr. John Johankins, of Southern Ridge, is building a splendid residence this Spring. Mr. Miner, of Van Wert, is doing the work."
In 1856, Burget became involved in politics, and was elected a Trustee of the City of Van Wert. Others holding office that year were Mayor Gaylor M. Saltzgaber, Recorder Reuben Tristre, Trustees George W. Moltz, Joseph Cassel, Joseph Brodnix and John H. McCulloch, and Treasurer Jacob Fox. Burget served in this role for one year, but never again afterward.
As with many parents of that era, they worried when son Nesbit enlisted in the Army and served in the Civil War. The son was a member of the 15th Ohio Volunteer Infantry, Company H, where he was a corporal. The regiment saw action at Chickamauga, Pickett's Mills, Stone River and Resaca. David later was a pioneer settler of Nebraska and Kansas.
Son in law Charles W. DeMoss also served in the Civil War, in Company H of the 139th Ohiio Infantry and Company K of the 46th Ohio Infantry. Among the major battles in which the 46th Ohio fought were at Shiloh, Kenesaw Mountain and Atlanta. Sadly, just a year after the war, Charles died. His was laid to rest in the Woodland Cemetery, and in about 1895 his remains were relocated to the Miner family plot there.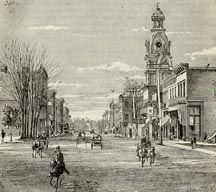 Van Wert, circa 1888
After the death of son in law DeMoss, Burget purchased the DeMoss town lot #303 in 1869. He then deeded it back to his widowed daughter.
Circa 1870, son Jefferson was employed a clerk in the Van Wert House hotel run by Alf and Ella Howell. The 1882 History of Van Wert and Mercer Counties, Ohio mentions Jefferson, saying "This house is convenient to the depot, has 35 rooms, and can afford accommodations to 50 guests."
Sarah was a member of the Order of Pocahontas. Burget was a charter member of the Independent Order of Red Men, a national lodge organization. At his death, the Van Wert Twice-A-Week Bulletin said he was "the oldest member of the local tribe, the oldest member of the order in Ohio..."
Said the History of Cleveland: "He lived for many years at Van Wert, Ohio, and not only contributed to the upbuilding of the town through his work as a contractor but was also very active in public affairs there."
The Miners surely must have attended the annual Van Wert County Fair, which today continues to be a popular event. The rare old promotional postcard seen here is dated 1909 and, featuring an exaggerated illustration of oversized pumpkins, reads: "There Will Be 'Some Pumpkins' at the Van Wert County Fair... Alex. Mentzer, Pres... E.V. Walborn, Sec'y."

Above: Van Wert, 1873, when Burget was actively building houses in town. Below: humorous 1909 postcard captioned "There will be 'some pumpkins' at the Van Wert County Fair
."
Photo by Agler.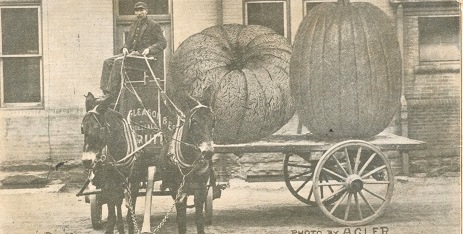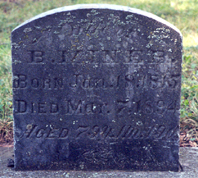 Van Wert Woodland Cemetery
Widowed daughter Eliza married William Cornwell in December 1872, and moved together to Nebraska. After completing the move, in 1880, Eliza granted her father power of attorney to complete the sale of Van Wert real estate that she owned.
Similarly, in 1882, Mary E. Walton-Roach and her second husband, Ephraim Roach, of Pierce County, Washington State, appointed Burget as their power of attorney. (The relationship of the Roaches to Burget is unknown.)
Sadly, Sarah passed away on March 7, 1894, at the age of 79. The cause of her death is not known. She was buried at Woodland Cemetery in Van Wert, OH, in the Miner plot. Her grave marker today is legible, but dark, and is seen here as photographed in August 2002. Sarah's name graces the curved top edge, while the flat face reads "Wife of B. Miner."
News of her passing was telegraphed to her sister Eliza Augustine in Unity, Columbiana County, near where the Miners had once resided. A paragraph acknowledging her death was published in the Reveille Echo in East Palestine.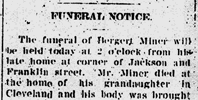 Van Wert Twice-a-Week Bulletin
As widower Burget reached his mid-90s, he moved from Van Wert in about 1902 to a prominent section of Cleveland, to reside with his granddaughter Clara (DeMoss) Lawrence at her home on 13325 Euclid Avenue, a tony neighborhood in the city. (Clara's husband, William Henry Lawrence, was co-publisher of The Ohio Farmer, a prominent agricultural trade publication.)
After making his home in Cleveland for seven years, on Jan. 31, 1909, Burget died of pneumonia at the age of 96. His remains were shipped back to Van Wert for burial. The Twice-A-Week Bulletin said that the funeral was conducted by Red Men lodge members from Van Wert, Scott, Convoy, Middlepoint and Delphos, "and a long procession of his brethren marched, with solemn mien and measured tread, as an escort for the body to its last resting place. The presence of the members of the tribe, in such large numbers, proved that Burget Miner was truly respected and beloved in the circle of Redmanship."
Burget was laid to rest beside his wife and son in law DeMoss in the Miner plot. His specific grave is unmarked, though sexton records of the cemetery confirm that he is there.

Entrance to the Woodland Cemetery, including a horse and buggy on the road, framed by the gate and sign.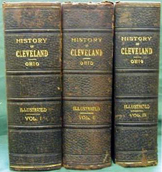 History of Cleveland
In 1910, when the History of Cleveland was compiled by Samuel P. Orth and printed by S.J. Clarke Publishing Company, Burget was featured in a biography of about one page (Vol. III, pages 912-913). It is well known that individuals paid to have their biographies included in this book and other regional histories like it -- meaning Burget's granddaughter Clara Lawrence, "prominent in the leading social circles of the city" -- would have been behind the entire project.
His bio begins with a bold untruth -- "Burget Minor was a native of Connecticut, but after leaving New England went to Maryland..." -- contradicted by the death certificate that Clara herself signed a few years earlier. Since Burget only lived in Cleveland for just seven years at the end of his life, it is odd that there would have been any reason for him to be featured in this work. While purely speculation by this website's founder, Clara may have done this to cover up the fact that Burget was German, at a time when there was much anti-German sentiment in the United States just a few years before the outbreak of World War I. Through the lie that he was from Connecticut, she may have been trying to enhance her own standing among her society friends by creating the perception that she was from the prominent English family of Miner-Minor that had been in New England since the 1600s. The actual facts behind this strange occurrence may never been known.
Copyright © 2001-2006, 2011, 2018, 2021 Mark A. Miner
Sketch of Van Wert from Historical Collections of Ohio (1888) by Henry Howe