Home

John Miner was born in 1830 in Mauch Chunk, Northampton County (later subdivided and renamed Carbon County), PA, the son of Frederick and Elizabeth Miner III.
John married Sarah Jane (?) (1831-1879).
They produced four children -- Alonzo Miner (born 1849), Washington Atlee Miner (born 1857), Elizabeth Campbell (born 1862) and Sherman Grant Miner (born 1865).
The family home was on West Broadway. The federal census enumeration of 1850 shows the family living in Mauch Chunk, Carbon County, PA, next door to John's parents and brother Levi. John's occupation that year was listed as "moulder." Making her home under their roof was 15-year-old Martha Reeser, relationship unknown.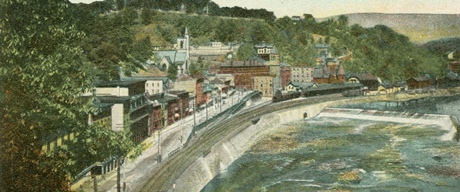 Mauch Chunk and the Lehigh River, as seen from the mountain road, early 1900s
During the Civil War, John enlisted in the U.S. Army. He was assigned to the 132nd Pennsylvania Volunteer Infantry, Company A. But he ultimately did not serve, and was recalled to Mauch Chunk because government authorities believed he had a "critical skill" in making shells in the family's iron moulding shop. John's brother Elias co-owned a foundry in Mauch Chunk, and had a government contract to manufacture "shot and shell" for the Union war effort. The Mauch Chunk Coal Gazette said that the company "filled many contracts for the United States Government. The shot and shell that were cast under the supervision of [Elias] Miner were pronounced by the Government's Ordnance inspectors of the very best manufactured in the United States."
They remained in Mauch Chunk as shown in the 1860 and 1870 censuses, with John again listed in those years as a "moulder" and "iron moulder." Sons Alonzo and Atlee joined him in the family enterprise as molders.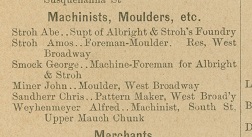 Page from 1875 Atlas of Carbon County
When the Atlas of Carbon County was published in 1875, John's name appeared on a list of "Machinists, Molders, etc." in the "Carbon County Business Notices" section of the volume. His address was given as "West Broadway."
Sadly, Sarah Jane died at home on Jan. 28, 1879, at the age of 49. She was buried by herself at the Mauch Chunk Cemetery (Section 142). An obituary in the Carbon Advocate noted that she died "after long and patient suffering, of consumption." The Mauch Chunk Democrat added that she had "passed away peacefully." Her funeral service was led by Rev. B.T. Vincent. Today, no stone is known to mark her final resting place.
John nearly joined her in death later that year, in mid-July 1879, when he escaped an explosion at General Oliver's powder mill at Laurel Run near Mauch Chunk. John was among six men standing in the press room at the works, the others being James Burns, William Kidney, John McKeal, Fred Steele and William Whitebread. Reported the Carbon Advocate:
At a little past five in the afternoon, just as work was about to close for the day, John McKeal took a piece of iron and tried to clear some dirt from the eccentric in the press room, while it was yet in motion. A spark flew and ignited the powder, which exploded, as did also ten kegs standing in the room. There was a terrific report, and dense clouds of smoke filled the place.... All rushed for the door and Miner got out unhurt. Steele and Kidney were but slightly burned, but the others received such terrible injuries that the physicians report their recovery impossible.

Mauch Chunk Democrat, Feb. 1, 1879
The federal census of 1880 shows John, now a widower, continuing his work as an iron molder living in Mauch Chunk.
In April 1896, when his widowed sister in law Mary Ann (Taney) Miner was applying for a federal pension, John provided written testimony. At the time, he lived in Lansford, Carbon County.
John's fate is not yet known.
~ Son Alonzo Miner ~
Son Alonzo Miner (1849- ? ) was born in 1849. Little is known of his life.
In September 1878, when he was age 29, he signed his name as a witness on his uncle Levi Miner's application for a military pension, and is presumed to have been residing in Carbon County at the time.
More will be added here when learned.
~ Son Washington Atlee Miner ~
Washington Atlee Miner (1857-1926) was born in June 1857.
About the time he reached the age of 25, Atlee married 19-year-old Hester C. (or "Esther") Reber (Dec. 26, 1863-1938), daughter of Edward and Mary (Anthony) Reber. The ceremony took place on June 17, 1882. The Carbon Advocate published a notice of the nuptials, and offered the couple the good wish that "Success and long life attend them."
Atlee's father in law at one time operated the Centenniel Hotel in Lehighton and also was postmaster of the town of Harrity. One of Atlee's brothers in law, John O. Weiss, married to Emma L. Reber, was assistant collector for 25 years for the Lehigh Coal and Navigation Company, later becoming general storekeeper of the company's canal department, and ran the hotel and store in Harrity starting in 1909.

Carbon Advocate, June 24, 1882
Of their four children, three are known -- Robert Atlee Miner (born 1885), Esther C. Gosser (1887) and Ralph Miner (1889).
Atlee was a member of the Iron Molders Union of North America. (His membership card number was 17165.) At one point he was suspended from IMUNA membership because he failed to pay dues and taxes, but he later was reinstated.
In 1883, Atlee lived in Scranton, Lackawanna County, PA, where the city directory printed his address as 318 Second Street. After moving to Geneva, NY, he continued his employment as a molder. In fact, the Geneva Advertiser issue of Nov. 5, 1889 reported that he had attended the Molders Ball at the Geneva Armory, an event which drew 500 people, at at which he won a drawing for 25 lbs. of flour.
By 1900, Atlee and Hester and their three children returned to Pennsylvania, making their home in Franklin Township, Carbon County, with Atlee's occupation listed as "iron moulder." When the federal census was taken in 1910, Atlee lived in Binghamton, Broome County, NY. Their sons Robert and Ralph Miner were molders and eventually left Carbon County and settled for a period of time in Morristown, NJ, later joining their father in Binghamton.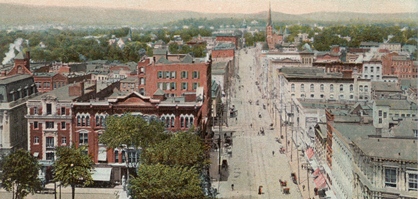 Bird's-eye view of Binghamton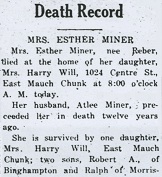 Esther's obituary, Mauch
Chunk Times-News
In 1913, at the time daughter Esther Miner married Charles S. Gosser, Atlee and Esther were marked on the marriage license as living in Weissport. His fate is lost to history for now.
Atlee died in 1926, at the age of 69. Details are not yet known, but are being researched.
Esther survived her husband by a dozen years, making her home with her daughter Esther Will at 1024 Centre Street in East Mauch Chunk. She maintained her membership in the Jacobs Reformed Church of Weissport.
She lapsed into a diabetic coma and passed away in the Will home on Oct. 20, 1938. Her obituary was published in that afternoon's edition of the Mauch Chunk Times-News, and in the next day's issue of the Allentown (PA) Morning Call. The obituary noted that among her survivors were her sister Mary Reber of East Mauch Chunk; Will Reder of Harrity, PA and Harvey Reder of Pomona, CA. She was laid to rest in the Weissport Cemetery.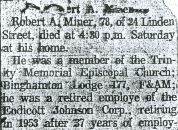 Obituary, 1963
Son Robert Atlee Miner (1885-1963) was born on Jan. 11, 1885. As an adult, he was tall and of medium build, with brown hair and brown eyes. At the age of 21, Robert married 18-year-old New York native Gertrude Donahue (?) (1886-1969) and they lived for many years in Binghamton, Broome County. Their known children were Gertrude P. Koppler, Robert Atlee Miner Jr., Russell M. Miner, Ralph E. Miner Sr. and Esther M. O'Brien, the eldest two born in New Jersey, and the rest in New York State. When he had to register for the military draft during World War I, in September 1918, Robert gave his address as 26 Linden in Binghamton, and his occupation as a moulder for Endicott Johnson Company in Johnson City, NY. The 1920 census of Binghamton shows Robert employed as a cutter in a local shoe factory. By 1930, Robert was promoted to foreman in the shoe factory, and the family lived on Linden Street in Binghamton. In 1938, at the death of Robert's mother, he was named in her obituary in the Morning Call, and was still in Binghamton. Robert retired from Endicott Johnson in 1953 after 37 years of service. They made their home at 24 Linden Street, and were members of the Trinity Memorial Episcopal Church. Robert passed away at age 78 in 1963, survived by 13 grandchildren and 10 great-grandchildren. Gertrude died in April 1969, with the number of their great-grandchildren having grown to 22.
Granddaughter Gertrude Miner (1908- ? ) wed George A. Koppler. Circa 1969, they lived in Hillcrest, NY and in 1994, she made her home in Binghamton.
Grandson Robert A. Miner Jr. (1909-1994) was born in about 1909. He married Josepha (?) (1913-2007) and resided in Binghamton and Asharoken, NY and Short Hills, NJ. The Miners had three children -- Joanne Moran, Michele Duffy and Robert A. Miner III. Robert Jr. was an executive at the world headquarters of International Business Machines (IBM) in New York City. he also was the founder of Robert A. Miner Industries and invented "Miner's Liner," the "T-Square Putting Device" and "The Putting Game." Following retirement, they lived in Vero Beach, FL. Robert passed away at the age of 85 at the home of his married daughter Joanne Moran in Northport, NY. Following a funeral at the Trinity Episcopal Church of Binghamton, he was laid to rest in Vestal Hills Memorial Park. Josepha joined Robert in death on Jan. 14, 2007. At the time of her passing, a newspaper reported that she was survived by 10 grandchildren and 17 great-grandchildren.
Grandson Russell A. Miner (1912- ? ) made his home in Durham, NC in 1969 and in Vero Beach, FL in 1994.
Grandson Ralph Edward Miner Sr. (1914-2007) was born on July 13, 1914 in Binghamton. He married Genevieve Mary Jordan (1916-1999), the daughter of Patrick and Mary Frances (Gallagher) Jordan. The Miners had three children -- Dr. Ralph "Edward" Miner Jr., Timothy E. Miner and Mary A. Faraday. Ralph attended Alfred University and was a 1940 graduate of the United States Military Academy. He spent two decades of his life in military duty, beginning in Alaska. He served in the South Pacific during World War II and later during the Korean War, and retired as a colonel. "During the course of their married life," reported a newspaper, "they lived throughout the world." Returning to Binghamton, he was employed by the Binghamton School System as a mathematics teacher. He retired from teaching in 1976. Genevieve worked for a decade for the Chenango Valley School District, enjoying reading and playing bridge. Genevieve died at age 82 on April 14, 1999, in Our Lady of Lourdes Hospital. Ralph passed away at the Oxford Veterans Home in Oxford, NY on Jan. 23, 2007, at the age of 92. His remains were interred at Vestal Hills Memorial Park in Vestal, NY, following a funeral mass held at St. Catherine of Sienna Church.
Granddaughter Esther Miner (1919- ? ) married Ernest M. O'Brien. In 1969, they lived in Binghamton, and in 1994 in Vero Beach, FL.
Daughter Hester E. "Esther" Miner (1887-1957) was born on March 11, 1887 in Weissport. As a young woman, she moved to Brooklyn, NY, where she was employed as a nurse. At the age of 26, on Sept. 4, 1913, she married twice-widowed Charles Simon Gosser (1873- ? ), a merchant of Wilkes-Barre, PA, and the son of William S. and Rebecca (Rehig) Gosser of Weissport. They went on to have two children -- Mary Gosser and Charles Gosser. Tragically, Charles died between 1916 and 1920, leaving Esther a young widow with two children. To help with the children, Esther's mother moved into their household. They all are enumerated together in the 1920 federal census of Wilkes-Barre, Luzerne County, PA, with Esther employed in the fish and oyster business. The census taker marked Esther as "widowed" but her mother as "married." She married again, to Harry Will ( ? - ? ), and in 1938 they lived at 1024 Centre Street in East Mauch Chunk. Suffering from diabetes and heart disease, Esther was felled by a heart attack and died at home at the age of 69 on Feb. 6, 1957. Interment was in Lehighton Cemetery.
Son Ralph Miner (1888- ? ) was born on June 11, 1888 in Weissport, Carbon County. He was tall and slender, with brown eyes and dark brown hair. He married Elizabeth Dempsey (1890- ? ), a native of Ireland, and the daughter of Jane Dempsey. During World War I, Ralph registered for the military draft. At the time, he gave his address as 290 Trent Street in Binghamton, Broome County, NY. Later, by 1930, they moved to New Jersey, settling in Morristown, Morris County, living with Elizabeth's widowed mother and 44-year-old brother Thomas Dempsey. That year, Ralph's occupation was as an automobile salesman. Ralph was employed during World War II with Wright Aero Corporation in Patterson, Passaic County, NJ.
~ Son Sherman Grant Miner ~
Son Sherman Grant Miner (1865- ? ) was born in 1865 after his father's return from the Civil War. He was named for two of the Union Army's top generals -- William Tecumseh Sherman and Ulysses S. Grant.
As an adult, he had brown eyes and dark brown hair, standing 5 feet, 7½ inches tall.
Sherman made his home circa 1883 in Scranton. He too was an iron molder and boarded with his widowed aunt Kate Miner at 428 Spruce.
In September 1886, now living in Denver, CO, Sherman enlisted in the United States Army. He disclosed that his birthplace was Carbon County and that his occupation was "Molder." He was assigned to the 22nd Infantry, Company I. On March 6, 1887, he received an honorable discharge, after just six months of service.
His fate after that is not known. He has not yet been located on the federal census of 1900.
~ Daughter Elizabeth "Lizzie" (Miner) Campbell ~
Daughter Elizabeth "Lizzie" Miner (1862- ? ) was born in 1862.
At the age of 17, she wed 24-year-old Mauch Chunk native John H. Campbell Jr. (1855-1909), the son of Scottish immigrants John H. and Anna (Scott) Campbell Sr. Their nuptials occurred in Mauch Chunk on April 6, 1879, led by Rev. Ferrier, and with an announcement appearing in the Carbon Advocate newspaper.
John's family of Campbells, said the Mauch Chunk Democrat, was "among the earliest settlers in the Mauch Chunks, locating here with the Brodericks, the Scotts, Harlans, McLeans and others of the old time pioneers." It is not known if he was related in some way to Alexander Campbell, who was part of the infamous "Molly Maguires" -- a violent group of coal mining labor activists -- and who was among four members hanged in Mauch Chunk on June 21, 1877 after being convicted of murder.

Mauch Chunk Cemetery, where the Campbells rest for eternity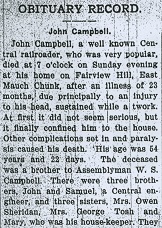 Mauch Chunk Democrat,
July 31, 1909
When the federal census was taken in 1880, the newlyweds lived in the home of John's mother in Mauch Chunk's Second Ward, with John employed as a railroad brakeman.
The Campbells had three known children, Gertrude Campbell (born 1879), Anne Duffy (1883) and James Campbell.
They resided in a home on Fairview Hill in East Mauch Chunk. John was employed by the Central New Jersey Railroad in the city, and was considered "well known" and "very popular." John's brother W.S. Campbell was a local Assemblyman in Mauch Chunk.
Elizabeth is thought to have died sometime between 1885 and 1900.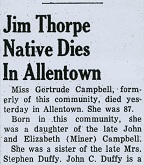 Jim Thorpe Times-News,
Nov. 30, 1966
The census of 1900 shows John as "single" and residing with his three teenage children in the household of his sister Mary Campbell in East Mauch Chunk. The sister remained his housekeeper for the rest of his life.
In August 1907, John suffered a head injury at work. "At first it did not seem serious, but it finally confined him to the house," reported the Mauch Chunk Democrat. "Other complications set in and paralysis" was the result. Their family physician identified a brain tumor as the cause.
After 23 months of suffering, he died at home on July 24, 1909, at the age of 54 years and 23 days. The funeral was led by Rev. Dr. T.C. Sterling, with burial in the Mauch Chunk Cemetery. His sister Mary signed the official Pennsylvania death certificate.
John's grave marker -- if it exists -- has not yet been located in the burying ground.
Daughter Gertrude Campbell (1880-1966) was born in August 1880 in Mauch Chunk. She relocated at some point to Allentown, Lehigh County, PA. Gertrude lived to the ripe old age of 87, and passed away on Nov. 29, 1966. Her remains were returned to Mauch Chunk for burial beside or near her father in the Upper Mauch Chunk Cemetery (Plot 401.5). Her obituary in the Jim Thorpe (PA) Times-News noted that she was "formerly of this community" and that "John C. Duffy is a nephew and Mrs. Gertrude S. Tobin is a cousin."
Daughter Anne I. "Annie" Campbell (1882-1960) was born on June 7, 1882 (or 1883) in Mauch Chunk. She married Stephen Augustus Duffy Sr. (1883-1960) on Aug. 4, 1908, when she was age 26 and he 25. He was the son of John B. and Mame (Curran) Duffy. At the time of marriage, Stephen was a plasterer, living in East Mauch Chunk. They had four children -- Stephen Augustus Duffy Jr., John C. Duffy, Claire "Ovelle" Sheehan and an unnamed daughter stillborn on Feb. 26, 1919. They also raised a motherless grandson, John W. Sheehan. Stephen was of medium height and slender build, with brown eyes and grey hair. In 1918, he was employed by John Duffy as a plasterer in East Mauch Chunk. In September of that year, he registered for the military draft, and gave Annie's name as his nearest relative. When the federal census was enumerated in 1920, they lived in Mauch Chunk with Stephen employed as a railroad brakeman. Their home was located at 208 South Avenue. In the 1950s, Stephen Sr. continued to be employed as a trainman with the Central Railroad of New Jersey in Jim Thorpe. Suffering from hardening of the arteries, Annie was felled by a cerebral embolism and died on March 26, 1960, at the age of 77. Stephen Sr. only lived for six more months. Stricken with cancer of the tongue, he passed away at the age of 78 on Sept. 27, 1960. They rest together for eternity at Immaculate Conception Cemetery in Jim Thorpe.
Mauch Chunk's Navigation Building, next
to the Carbon County Courthouse (right)

Grandson Stephen Augustus Duffy Jr. ( ? - ? ) married Janet Reese ( ? - ? ), daughter of Joseph Reese. Janet's father was a prominent store owner in the heights section of Mauch Chunk and served on the Mauch Chunk Board of Education. During World War II, Stephen served as a private first class with the 489th Anti-Aircraft Artillery, and took part in military operations in Normandy and Northern France. After the war, he worked for the Central New Jersey Railroad and as a tool and dye specialist with Westinghouse Electric Corporation in Bethlehem, PA. Later, he was a custodian in Jim Thorpe's Navigation Building, located next to the Carbon County Courthouse. Toward the end of his life, he resided at 1 Broadway in Jim Thorpe. He died on Aug. 27, 1991, and is buried at Immaculate Conception. His obituary was published in the Aug. 28, 1991 edition of the

Lehighton Times-News

.
Grandson John C. Duffy (1910- ? ) was born in 1910. He was married to Alice Ferry ( ? - ? ) and was a school teacher at St. Joseph School in Mauch Chunk and St. Jerome's School in Tamaqua. In 1960, he lived at 208 South Avenue in Jim Thorpe.
Granddaughter Claire "Ovelle" Duffy (1911-1934) was born on Nov. 18, 1911. In the spring of 1929, when she was age 17, Ovelle began suffering from chronic heart valve and kidney disease. Nonetheless, she married Joseph F. Sheehan (1905-1971) and had one known son, John W. Sheehan. The family made their home at 112 South Street in Mauch Chunk. After five years of suffering, Ovelle succumbed from her illnesses at the age of 23 on Dec. 29, 1934. Burial was in the East Mauch Chunk Cemetery. Great-grandson John W. Sheehan (1931-2010) was only age three when his mother died. He was taken into the home of his grandparents Duffy and raised there. Joseph married a second time. Joseph died in 1971 at the age of 66. Their son John passed away in 2010 at the age of 79. John's son, Ronald J. Sheehan, today serves as Carbon County Treasurer.
Son James T. Campbell (1885-1963) was born on April 28, 1885 in Mauch Chunk. Circa 1911, he worked as a lineman in East Mauch Chunk. At the age of 26, on Aug. 19, 1911, he was united in marriage with Josephine Stapleton (1883-1945). Rev. Thomas C. Stirling officiated. The daughter of Michael and (?) (Purcel) Stapleton, she was a native of Towanda, Bradford County, PA and at the time of marriage was employed as a weaver. The couple resided in Allentown, Lehigh County, PA and had three known children -- Gertrude S. McFadden, Marian A. Horvath and John S. Campbell. James was a longtime locomotive engineer. Josephine was stricken with a cerebral hemorrhage at the age of 60 and died on Nov. 29, 1945, at home. In the 1940s and '50s, his home was at 731 Gordon Street in Allentown. He endured hardening of the arteries for a decade and in the spring of 1963 suffered fatal bleeding into the brain, dying on May 18, 1963 in Allentown's Sacred Heart Hospital. Married daughter Marian Horvath of 228 North Jordan Street in Allentown was the informant for his death certificate. Burial was in Grandview Cemetery in Allentown.
Granddaughter Gertrude S. Campbell (1912- ? ) was born in about 1912 in Mauch Chunk. As a young adult, she worked as a stenographer in Allentown. On Sept. 18, 1937 in Lehigh County, the 25-year-old Gertrude married her first husband, 29-year-old Charles Francis McFadden (1908- ? ), son of Charles and Florence (Seislove) McFadden. Rev. B.G. Zietsch officiated. A native of Philadelphia, Charles worked as a truck driver. Following a divorce in 1948, Gertrude worked as a secretary in Allentown. She wed again, on Dec. 23, 1950, at the age of 38, to 33-year-old Donald E. Santee, son of Claude and Anna (Kruegerman) Santee. Married and divorced once before, Donald was a merchant and lived in Coopersburg, PA.
Granddaughter Marian A. Campbell (1917- ? ) was born in about 1917 in Mauch Chunk. On Jan. 29, 1938, when she was age 21, she married 24-year-old Julius J. Horvath, son of Hungarian immigrants Alexander and C. Mary (Simon) Horvath. The ceremony was held in Allentown, with Rev. Ladislaus Nagy presiding. At the time of marriage, Julius was employed in the composing room of the Allentown Morning Call newspaper and lived at the YMCA in Allentown, while Marian worked as a clerk in Allentown.
Grandson John S. Campbell (1913- ? ) was born in about 1913 in Mauch Chunk. He worked as a salesman in early adulthood, making his home in Easton, Northampton County, PA. When he was age 21, on Aug. 1, 1936, he was united marriage with 18-year-old Rita M. Grim (1916- ? ), daughter of Alphonese and Minnie (Sobers) Grim. She was a sales lady at the time in Allentown. Officiating at their ceremony was Rev. Anthony L. Ostheimer.
Copyright © 2011-2015 Eugene F. Podraza and Mark A. Miner