Frederick Miner III
a.k.a. Friedrich Meinder III (1787-1854)

Frederick Miner III, also spelled "Friedrich Meinder," was born in about 1787, the son of Friedrich and Catherine (Nein) Meinert Jr. He was the third generation in this line of the family to carry the first name "Friedrich" or "Frederick."
Frederick was united in the bonds of holy wedlock with Elizabeth (?) (1788- ? ), whose maiden name is not yet known.
They together produced a family of six children -- Elizabeth Heilman, Elias Miner, Leah Schall, Levi Miner, Harriet Thornton and John Miner.
Frederick first appears in the public record on the federal census of 1810 of Rockland Township, Berks County, PA. On that census, his age was given as between 26 and 45, and his wife's age as between 16 and 26. There also were listings in that census record for two daughters under the age of 10. The census-taker spelled his name "Fredk Minder Jun."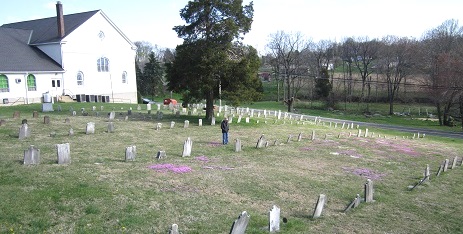 Mertz Church today, where the Miner infants were baptized
Ten years later, in 1820, the census-taker of Rockland Township recorded the household of eight members as follows: Frederick as a free white male between age 26 and 45, and two younger males, one up to age 10, and the other age 10 to 16. Females in the household included Elizabeth (between age 26 and 45) and four daughters, two of whom were under the age of 10, and two between ages 10 and 16. The name was spelled "Frederick Minder."
When their daughter Elizabeth was born in 1812, she is known to have been baptized at the Mertz Beiber church in Dryville, Rockland Township. The ceremony was held on Oct. 28, 1812, with Frederick and Catherine (?) serving as sponsors. In this record, the family surname is spelled "Meinter."
Frederick's brother Burkhard Meinder also was a member of the Mertz Church, and is believed to be buried there in its cemetery. (Today it is known as the Christ (Mertz) Evangelical Lutheran Church.)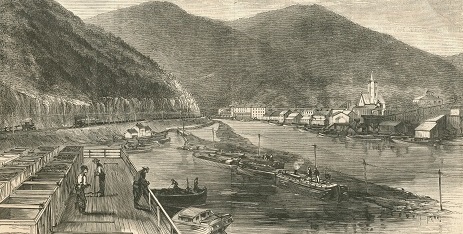 Activity on the Lehigh River in Mauch Chunk, where Frederick lived in the 1820s.
Original sketch by Theodore R. Davis, Harper's Weekly, Sept. 18, 1869.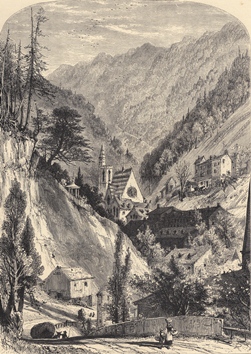 Mauch Chunk, from the Subscriber
Folio of Picturesque America, 1870s
Frederick next appears in public documents when his father's estate papers will probated in 1815. In an appraisal of the estate, it was noted that Friedrich owned six bonds, valued at 40 [pounds?]. The first bond was to be paid on April 4, 1816, and each successive bond was to be paid on April 4 of each succeeding year.
Sometime after 1820, the Miners migrated to Mauch Chunk, Northampton County (later renamed "Carbon" County), PA. At the time, this river town of dramatic mountainous landscape -- dubbed the "Switzerland of America" -- was emerging as an important Anthracite coal production and shipping center. It is part of the western boundary of the Pocono Mountain range and sits in a steep gorge carved by the waters of the Lehigh River.
The Miners purchased a two-and-a-half story frame house at 30 West Broadway, one of the town's main thoroughfares. The property -- measuring 29 feet by 150 feet -- was bounded on the east by George Kistner, to the north by the Lehigh Coal and Navigation Company, and on the west by Philip Datot.
Frederick is believed to be the same "Frederick Meiner" heading a household of nine individuals, shown on the census of North Whitehall Township, Lehigh County, PA in 1830. It is apparent that they were living there in 1833 when it the local newspaper reported that daughter Elizabeth had married Nathan Heilman, on Dec. 2, 1833.
Four years later, on Nov. 4, 1836, Frederick and son Elias voted in the presidential election, with the poll held in the home of John Leisenring of Mauch Chunk Township, Northampton County. In that election, Martin Van Buren defeated Whig Party candidates William Henry Harrison, Daniel Webster and others to capture the nation's top office.
For reasons not yet known, Frederick does not appear on the census of 1840, but this is being researched further. After the family's move to Mauch Chunk, the family surname became established and fixed as "Miner," and all of their children and their offspring used that spelling.
In the ensuing decade, Northampton County was subdivided in 1843, with Mauch Chunk becoming part of the newly formed Carbon County.
Frederick and Elizabeth next are named in the 1850 census in Mauch Chunk, Carbon County. At age 63, he was listed as a carpenter, and Elizabeth's age was given as 62. Living in their home was 13-year-old John Scofield, relationship unknown, but who could have been a grandson. Living in adjacent dwellings were the Miners' sons John and Levi and their families.

Twisting outline of Mauch Chunk's West Broadway Street, where Frederick and Elizabeth lived in the 1850s, as printed in the 1875 Atlas of Carbon County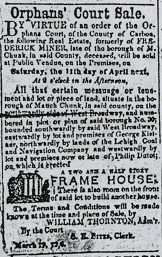 Estate sale advert, 1857
Frederick died in 1854 at the age of 67. He left no will, meaning in the eyes of the law, he died "intestate." Son in law William Thornton served as executor of the estate and had to settle a tangle of more than $6,500 in debts and other remaining accounts, including more than $2,300 still owed in mortgage value to Lehigh Coal and Navigation Company.
Probate court documents of the estate show that Frederick's major asset was his tract on the northward side of West Broadway in Mauch Chunk. The value of his other personal effects was insufficient to pay his debts, and the court ruled that his real estate needed to be liquidated to generate the needed cash. A sale was held on April 11, 1857, with George Kistner winning the bidding at a price of $710.
As a widow, with the family home now sold away, Elizabeth went to live in the household of her married daughter Leah Schall in Mauch Chunk. She is shown in their dwelling in the 1860 federal census. Living a few doors away was her married son John and his sons.
Her final fate has not yet been discovered, and their burial places are unknown.
All three sons were employed in industrial manufacturing -- Elias was a machinist and owned several foundries and iron works, and Levi and John were molders.
~ More on Mauch Chunk/Jim Thorpe, Pennsylvania ~
The town of Mauch Chunk has gained fame over the years in a variety of ways. It has been nicknamed the "Switzerland of America" and also the "Gateway to the Poconos" because of its exceptionally picturesque mountains and valleys. The town is said to have once been the second most popular destination for honeymooning couples, after Niagara Falls.
Mauch Chunk's identity and uniqueness was built around the discovery of a large, rich deposit of anthracite coal nine miles distant at Summit Hill. There were two problems to be overcome, first in how to move the coal into Mauch Chunk, and second how to then transport the coal to awaiting markets elsewhere. A road between the mine and the town was built in 1819, around the same time the "Lehigh Navigation" canal was begun. In 1828, an engineered, inclined "gravity railroad" was constructed on that road, and in 1832 the canal was connected to others which allowed coal to be shipped by water to New York and Philadelphia. The Lehigh Valley Railroad was created and in 1854 linked to the town of Easton for additional transport of coal. The powerful combination of coal, canal and railroad created vast wealth in the community.
A number of towns and iron furnaces sprung up beside the canal over the years. The first was the Lehigh Coal and Navigation Company's Lehigh Crane Iron Works at Catasauqua, the first American furnace to use anthracite coal to smelt iron. Among the others were Lansford, Lehighton, White Haven, Weatherly and Weissport, all where Miner descendants have lived over the many decades.
In 1953, after the death of Native American athlete, Olympic gold medalist and major league baseball and football star Jim Thorpe, his widow asked that his home state of Oklahoma establish a memorial. When they declined, she decided to secure a financial benefit by essentially selling his remains elsewhere. She learned that the communities of Mauch Chunk and East Mauch Chunk had fallen on hard times, and so she proposed that her husband's body be placed in a burial shrine there as a tourist attraction. The towns merged and were renamed "Jim Thorpe" which remains their identity today. Efforts are underway by one of Thorpe's sons to have the remains repatriated to Oklahoma for interment in the family burial ground. The crypt is inscribed with the words of Sweden King Gustav, who after watching Thorpe perform in the 1912 Olympics, proclaimed, "You, sir, are the greatest athlete in the world."
See "Federal Law Could Send Jim Thorpe's Body Home," Allentown Morning Call, May 18, 2013.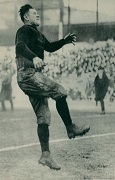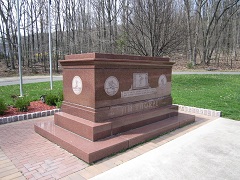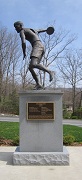 Jim Thorpe kicking in his prime, and his grave and statue today in the eastern Pennsylvania town named in his memory, formerly known as "Mauch Chunk," Carbon County
Copyright © 2011, 2013, 2014, 2022 Eugene F. Podraza and Mark A. Miner