Home

John W. Miner
(1870-1963)

John W. Miner
John W. Miner was born on March 14, 1870 near New Rumley, Harrison County, OH, the son of William and Rachel (Simmons) Miner.
Although he was age six at the time, John certainly would have heard the news when New Rumley's most famous sons, General George C. Custer and his brothers were slain in action at the Battle of Little Big Horn in June 1876. He undoubtedly heard many stories from older neighbors about knowing the General and that they liked the General's younger brother Thomas better. Ironically, John's cousin, Rebecca Minerd, was romantically involved with the brother Thomas Custer and produced a child out of wedlock.
John in boyhood also watched Conestoga wagons going west while he sat perched on a fence near his home in Scio.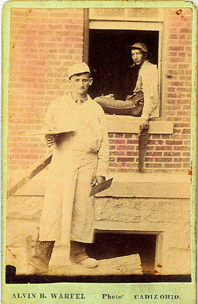 John with a plaster mortarboard
John was a popular merchant, and at one time was proprietor of a store in Scio, near New Rumley. An inventory document of the store still exists.
He is believed to be the same man holding a mortar board of plaster in the photo seen here, found in the collection of his father's cousin, Jemima (Minerd) Burditt, of Tontogany, Wood County, OH. Note the green color of the cardboard onto which the image is attached, made by photographer Alvin B. Warfel of Cadiz, Harrison County.
On Nov. 16, 1897, at the age of 27, John married 24-year-old Mildred Irene Ryel (Dec. 5, 1873-1926), the daughter of Franklin B. and Julie E. (Thompson) Ryel of North Ridgeville, OH. Her parents did not approve of the marriage.
They had met by corresponding via mail, when Mildred was living at Strongsville, Cuyahoga County, OH. The ceremony was performed by Rev. Mr. Winers. Shortly afterward, reported the Cadiz (OH) Republican:
They arrived home on Thursday and the following evening were serenaded by the band. Mr. Miner is a prominent business man at this place and is one among the most highly esteemed young men of New Rumley. The writer, with many others, wishes them a happy future.
John and Mildred had five children -- Harold Wendell Miner, Gerald Miner, Hertha Wittenbrook, Metta Iona Wise and Verdie Julia Welsh.
When the federal census was taken in 1900, John, Mildred and infant son Harold resided together in the village of New Rumley. John's widowed mother Rachel, age 56, lived a house or two away.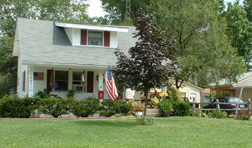 The Miners' home near Alliance
Sadly, eldest son Harold died just 10 days after his first birthday, on May 22, 1901, of a case of spinal meningitis lasting just 24 hours. He was buried near his grandfather Miner at the United Brethren Cemetery at New Rumley. The news was carried in the Republican.
The Miners moved to Bergholz, in Jefferson County, OH during the decade of the 1900s. They are enumerated there on the federal census enumeration of 1910, with John working as a car inspector on the railroad. The census taker recorded that John's father, born in Ohio, was of "Duch" heritage.
In about 1914, the family migrated again to Bolton, near Alliance, Stark County, OH. Just outside of town, they purchased a home. Their daughter Verdie walked to school in Alliance, about two miles away.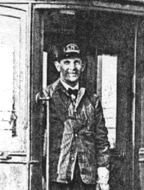 John as a trolleyman
In 1917, John's mother passed away. He and his brother William published a "Thanks to Friends" notice in the Republican. The article said that they "desire to thank the friends and neighbors for their kindness during the sickness and death of their mother... They also wish that any one owing Mrs. Miner, or any one to whom she might be indebted, would see John Miner immediately."
The family's home in 1920, as shown on the census, was on Marlboro Street near Alliance. John's occupation was listed as "motorman - electric car."
Sadly, Mildred became deathly ill in 1925. According to family stories, her mother sent for her to be brought to a hospital in Cleveland.
There, she passed away on Oct. 10, 1926. She was buried in Fields Cemetery located in her mother's birthplace, North Ridgeville, Lorain County, OH. Due to the Ryels' opposition to the marriage, Mildred was buried under her maiden name, even though she had been wed to John for 27 years, and had borne five children.
Daughter Verdie, age 11 at the time, was the only child remaining in the family home.
Devasted by his loss, John worked as a conductor on the trolley line in Alliance, employed by the Stark Electric Company. He retired in about 1936. Sadly, they ended up losing ownership of their home, and he and Verdie were forced to rent.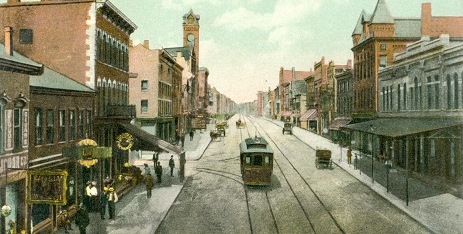 Trolley on East Main Street in Alliance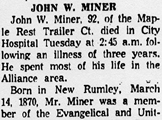 Obituary, 1963
Later, John worked as a blacksmith and again as a trolley conductor in Alliance.
In his waning years, John resided with married daughter Mettie.
He passed away in Alliance at age 94 on Feb. 5, 1963. He was buried in the plot of his brother William E. Miner at Alliance City Cemetery.
~ Daughter Hertha Irene (Miner) Wittenbrook ~
Daughter Hertha Irene Miner (1903 -1990) was born on Aug. 5, 1903 in Cleveland, Cuyahoga County, OH.
At the age of 19, on Dec. 30, 1922, she entered into the bonds of marriage with 28-year-old Nile G. Wittenbrook (1894-1983), a native of Woodville, OH. The groom was nearly a decade older than the bride.
The couple together bore three children -- Vernon Wittenbrook, Mildred V. "Millie" Wittenbrook and Merle Clayton Wittenbrook.
Nile was a veteran of World War I, having enlisted in the U.S. Army in December 1917. He was assigned to the Aviation Section as an automobile repairman.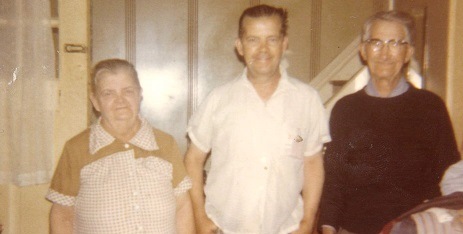 Hertha and Nile with son Merle (center). Courtesy Crystal Henderson
When the federal census enumeration was made in 1930, the Wittenbrooks dwelled in Alliance, Stark County. Nile earned a living that year as a painting contractor.
The 1940 United States Census shows the family remaining in Alliance, with Nile laboring for the Works Progress Administration. The WPA was one of the ways President Franklin Delano Roosevelt and the federal government tried to overcome unemployment during the Great Depression and is widely considered one of the Roosevelt's largest and most ambitious undertakings of his "New Deal" to get the nation back on sound economic footing. Over the years, the WPA hired millions of out-of-work individuals to build public works projects, such as roads, bridges, retaining walls and buildings.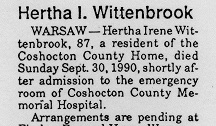 Obituary, 1990.
Courtesy Crystal Henderson
In their later years, circa 1980, Hertha and Nile moved to Akron. They were members of the McLeister Memorial Wesleyan Methodist Church.
Nile passed away in Akron at the age of 91 on March 21, 1983. The Akron Beacon Journal published an obituary, which noted that he was survived by 10 grandchildren and a baker's dozen great-grandchildren. Funeral services were led by Rev. Ronald R. Mayhle, with burial following in Northlawn Cemetery.
Hertha survived her husband by a number of years and went to live in the County Home in Coshocton, Coshocton County. She was pictured in an April 1988 edition of the Coshocton Tribune, playing bingo with other residents and a volunteer with the Retired Senior Volunteer Program.
On Sept. 30, 1990, at the age of 87, she was stricken by a heart attack and was rushed to Coshocton Memorial Hospital, where she passed shortly after arrival in the emergency room. Her obituary in the Coshocton Tribune said that her survivors included 10 grandchildren, 17 great-grandchildren and four great-great grandchildren. Rev. Donald Bauer led her funeral service, with interment in South Lawn Cemetery, Coshocton.
Son Vernon Wittenbrook (1924-1988) was born in about 1924 in Alliance. He spent his career with the Pinkerton Detective Agency. He was married to Edna Elizabeth Bayles (Nov. 29, 1923-2018), daughter of Charles Ernest and Caroline (Mooney) Bayles. She had been married previously in October 1943 to Chester Dilsaver ( ? - ? ) and brought five children to the second union -- Gary Dilsaver, Michael Dilsaver, Leroy Dilsaver, Warren Dilsaver and Cheryl Yonker. Together, the Wittenbrooks produced two more children together -- Vernon Wittenbrook Jr. and Marlene Wittenbrook. Circa 1983, Vernon made his home in Akron. Sadly, at the age of 64, Vernon died on June 4, 1988. He was pictured in his obituary in the Akron Beacon Journal. Rev. Paul Richard Williams presided over the funeral service. She earned a living for a quarter of a century as a textile worker for Goodwill Industries and belonged to the Now Faith in Action Church of Grove City, OH. Her final home was in Marion, OH. She passed away at Marion General Hospital at the age of 94 on March 16, 2018. Her remains were interred in Pleasant Hill Cemetery in Marion.
Grandson

Vernon Wittenbrook Jr.

( ? - ? ) - He migrated to Colorado Springs, CO. In about 2000, he was employed as a kitchen helper at Peterson Air Force Base. He made news that year in the

Denver Post

when waiting for three hours at a Star Trek convention to secure an autograph from actress Lisa Howard, known for her role as Capt. Lili Marquette on

Gene Roddenberry's Earth: Final Conflict

.
Granddaughter Marlene Hertha Wittenbrook

(1959-2011) was born on June 27, 1959. She made her residence in Mansfield, Richland County, OH. She died on Aug. 4, 2011.
Daughter Mildred V. "Millie" Wittenbrook (1925-2015) was born in about 1925 in Alliance. She appears to have been married twice. Her first spouse was Donald James Henry Villars Sr. ( ? - ? ). Offspring born to their union were Rev. Larry Lee "Crazy Larry" Villars, Joan Burnside, Sandra Hosier, Donald Villars II, Pamela Villars, Daniel Villars and Debora Fogel. On June 4, 1970, at the age of 45, she was joined in wedlock with Junior Raymond Ward (Sept. 3, 1925-1993), son of Sherman and Bercie (Weese) Ward of Camden on Gulley, WV. Junior earned a living with Metropolitan Park in Akron and Warsaw Village Hardware. He had been married previously and brought four children into the second union -- Ronnie Ward, Jack Ward, Rodonna Ward and Ellen Schick. The couple dwelled in Akron in 1983 and Warsaw, OH in 1990. Said the Akron Beacon Journal, "She was a faithful member of Wesleyan Methodist Church and enjoyed reading the Bible and spending time with her family." The Wards' address in the early 1990s was 27511 Township Road 45 in Warsaw. Sadly, after what the Coshocton Tribune called "an extended illness," he passed into eternity at home at the age of 67 on Aug. 24, 1993. Burial was in South Lawn Cemetery, with Rev. Donald Bauer preaching the funeral. Mildred outlived her spouse by more than two decades. At the age of 90, on Oct. 5, 2015, she succumbed to the angel of death. Her remains were interred in Tallmadge Cemetery.
Grandson

Rev. Larry Lee "Crazy Larry" Villars

(1950-2014) was born on April 26, 1950 in Ravenna, OH and spent his childhood in Akron. He migrated to Montana where he managed a noodle factory. He was said to have been "a jack of all trades. What he didn't know, he learned." He wedded Patti L. Brown ( ? - ? ), daughter of Lewis D. and E. Darlene Brown. His children were Larry Lee Villars Jr. and LeAnn Villars, and his stepchildren were Serena Brown and Michael Brown. Later, he moved to Minnesota and made his home in Duluth, MN. Toward the end, he underwent medical care at St. Eligius Health Care Center in Duluth. There, he was gathered in by the spectre of death on April 7, 2014.
Granddaughter Joan Villars was united in matrimony with Thomas Burnside

. Circa 1993, they resided in Stoneboro, Mercer County, PA.
Granddaughter

Sandra "Sandy" Villars was joined in wedlock with George Hosier

( ? - ? ). Joan lived in the early 1990s in Curry, PA.
Grandson Donald James Henry Villars

II ( ? - ? ) ws married married thrice and fathered children with each of the three. His first bride was Melody ( ? - ? ). Their only son was Donald James Villars III. His second spouse was Terril ( ? - ? ). Together they bore two offspring, Shane Villars and Trevor Villars. At some point he relocated to Billings, MT, where he made a home in the 1990s. He married the third time to Debra L. ( ? - ? ). They dwelled at 620½ Wilder in the mid-1970s and produced a daughter Dawndee Villars. The third marriage ended in divorce in August 1991, with the news published in the

Billings Gazette

.
Granddaughter

Pamela Sue Villars

(? - ? ) was a graduate of Garfield High School in Ohio and then moved cross-country in young adulthood in Helena, MT. There, she found a job with the State of Montana. On May 21, 1977, she wed James Milton Funk ( ? - ? ), son of Arnold Funk of Helena. The nuptials were held at the First Assembly of God Church, and news of the marriage was printed in the

Helena Independent Record

. James at the time was employed by Davey Power and Gas. Three years later, when she was the age of 25, circa 1980, she entered into marriage with 25-year-old Gerald Robert "Jerry" Henderson ( ? - ? ), a resident of Havre and the son of Gregory J. and Elaine (Hockett) Henderson and stepson of Betty Henderson. Their residence in 1993-2001 was in Havre, MT. The couple's three children were Jeremy Robert Henderson, Crystal A. Henderson and Jamie S. Henderson. Tragedy descended upon this family when, on July 28, 2001, son Jeremy was killed in an automobile accident south of Montana City at the age of 12.
Great-grandson Jeremy Robert Henderson (1988-2001) was born on Aug. 18, 1988 in Havre, MT. He was a student at Havre Middle School and was active with football and the culture club. He also liked to camp, fish, hunt and ride his skateboard, bicycle, quad and snowmobile. He enjoyed inventing and building and working with his computer. On the tragic day of July 28, 2001, at the age of 12, he was killed in an automobile accident which occurred south of Montana City. His funeral service was held at the Havre Assembly of God Church, with interment of the remains in Havre's Highlands Cemetery. Inscribed on his grave marker is the phrase "Who finished his stairway to heaven early."
Great-granddaughter Crystal A. Henderson graciously has contributed important content for this biography.
Great-granddaughter Jamie S. Henderson
Grandson Daniel Villars

put down roots in Akron. He married Luba Neckar ( ? -2015), a girlhood immigrant from Germany and the daughter of Mikolaj and Zina Neckar. Three offspring born to this marriage were Tanya Clark, Joseph Martin Villars and Mikolaj Villars. Sadly, son Mikolaj died in infancy. Luba was an alumna of Garfield High School and spent her working career with the Copley Health Care Center. Grief blanketed the family with, at the age of 63, Luba died on March 12, 2015. Her parastas service was led by Fr. Vsevolod Shevchuk, with a lowering of the remains into the earth of Holy Cross Cemetery. Her obituary and photograph appeared in the

Akron Beacon Journal

.
Great-granddaughter Tanya Villars married (?) Clark
Great-grandson Joseph Martin Villars
Granddaughter

Debora Villars wedded (?) Fogel

. She maintained a home in Akron in 1993. At one time she was employed as a buyer by Babcock & Wilcox. Today she makes a home in Lawrenceville, GA.
Son Merle Clayton Wittenbrook (1925-1980) was born on or about Nov. 1, 1925 in Bolton, Stark County. He is believed to have made his residence in Mt. Gilead, Morrow County, OH in 1963 and in Alliance, Stark County, OH in 1980. Evidence hints that he died on March 6, 1980, with his remains buried in Alliance City Cemetery.
~ Son Gerald L. Miner ~
Son Gerald L. Miner (1906-1968) was born on April 27, 1905 in Cleveland, Cuyahoga County, OH..
At the age of 22, in about 1928, he married 21-year-old Lucille Ellen Tierney (May 15, 1905-1989), a native of Alliance.
Together, they were the parents of one known son, Robert J. Miner.
The Miners resided in Alliance, Stark County during the 1920s and 1930s, where Gerald was employed as an assembler in a stove factory in 1930 and as a press operator at a steel works in 1940.
Death carried away Gerald at the age of 63 on May 12, 1968. The remains were lowered into the sacred soil of Alliance City Cemetery.
The widowed Lucille lived for another two-plus decades and remained in Alliance. She passed away on May 1, 1989, at the age of 83.
Son Robert J. Miner (1931-2010) was born on Nov. 16, 1931 in Alliance, Stark County, OH. He made a living at the age of 20 as a tree-trimmer in Alliance. On Oct. 9, 1952, at the age of 20, he first was united in wedlock with 16-year-old student Donna Fae Stackhouse (Oct. 28, 1935-1953), daughter of Clarence and Mary L. (Karns) Stackhouse of Alliance. One daughter known to have been born to the pair was Cynthia Miner. The young family's address was 340 South Seneca Street. Grief blanketed the Miners when the 17-year-old Donna, having given birth, contracted pneumonia and bleeding of the liver and passed away on April 4, 1953 after just six months of marriage. Robert is known to have served with the National Guard for two years and spent the balance of his career as a self-employed real estate businessman. The identity of his second wife is not known. In 1977, age 46, Robert was joined in marriage with his third bride, Ray Lou Brunner (April 4, 1940-2002), daughter of Karl and Loucretta (Moulin) Brunner. She bought a 16-year-old son to the union, Dennis Lynn Leppert. Ray Lou was a 20-year veteran of the Ferro Company, from which she retired. The couple was plunged into shock when 39-year-old son Dennis, who alternately used the name "Miner," died in Stark County on Aug. 3, 1999. Sadly, on the fateful day of Oct. 7, 2002, she was badly injured in an automobile accident. She was admitted to Cleveland Metro Trauma Center and died 12 days later on Oct. 19, 2002. Interment was in Highland Memorial Park in Columbiana, County, OH. On Feb. 22, 2008, Robert wedded a fourth known time to Shirley Ann (Johnson) Seufts ( ? - ? ), daughter of Robert and Anna Johnson. She brought six stepchildren into the marriage -- Darla Seufts, Cynthia Seufts, Brenda Seufts, Deborah Seufts, Denise Seufts and David Seufts. Sadly, at the age of 78, he died in his Alliance home on June 14, 2010. Shirley lived for another three years. The angel of death carried her into eternity on Dec. 1, 2013.
~ Daughter Metta Iona (Miner) Wise ~
Daughter Metta Iona Miner (1910-1994) was born in 1910 in Bergholz, Jefferson County, OH.
On Nov. 10, 1926, in nuptials held in Wellsburg, Brooke County, WV, the 16-year-old Metta was united in holy matrimony with 20-year-old Silven Wise Sr. (1906- ? ), an Alliance resident. The wedding was led by Rev. H.L. Wiggins of the local Christian Church. Metta fibbed on her marriage license application, stating that her age was "21."
They were the parents of three children -- Silven Wise Jr., Joan Wise and Bruce A. Wise.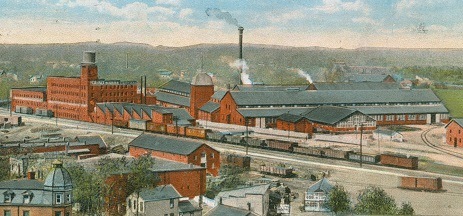 Where Silven Wise likely worked in 1930, McCaskey Register in Alliance, manufacturer of equipment for helping business owners manage accounts.
The Wises resided in Alliance, Stark County, where in 1930 Silven worked as a welder in a register plant, likely the well-known McCaster Register Company. When the federal census enumeration of Alliance was made in 1940, Silven continued his trade of welding with employment in a business maching manufacturing firm. Metta's aged, widowed father lived under their roof at that time.
The family address in 1945 was 930 East Summit Street, Alliance.
Metta passed away in Alliance on Jan. 3, 1994, on her 84th birthday. A brief death notice appeared in the Akron Beacon Journal. She is buried in Highland Memorial Park in Alliance.
Silven is believed to have endured for another eight years, with death carrying him away on March 13, 2002.
Son Silven Wise Jr. (1927-2016) was born on Sept. 11, 1927 in Alliance. He had a birthmark on his right arm and stood 5 feet, 2½ inches tall, weighed 116 lbs. and had blue eyes and brown hair. He was a 1945 graduate of Alliance High School. In young manhood he worked for Dave Faust Tire Company in Alliance. He married Carolyn June McCaw (Aug. 25, 1930-1993). They put down roots in Sebring, Mahoning County, OH and together bore two sons -- Michael Wise and Marc Wise. After the end of World War II, Silven joined the U.S. Army on Feb. 2, 1946 at Camp Atterbury, IN. After his term of service was completed, he returned to Ohio. Silven circa 1965 joined the Lordstown plant of General Motors and was a member of the United Auto Workers No. 1112. In the community, he was an usher and assistant superintendent at the First Baptist Church of Alliance. He retired in 1989 after working at Lordstown for 24 years. Sadly, Carolyn passed into the realm of eternity on July 27, 1993. Silven outlived her by 23 years. He died on Dec. 11, 2016. The Akron Beacon Journal published a brief notice of death. Pastor Steve Rhodes led the funeral service, after which the remains were laid into eternal sleep in Highland Memorial Park in Columbiana County, OH.
Grandson

Michael Wise

was joined in marriage with Janet. They have dwelled in Homeworth, OH.
Grandson Marc Wise

was united in matrimony with Paula. The couple established a residence in Hilliard, OH.
Daughter Joan Wise (1938- ? ) was born in about 1938 in Alliance, Stark County, OH.
Son Bruce A. Wise ( ? - ? ) was still living as of 2016.
~ Daughter Verdie Julia (Miner) Welsh ~
Daughter Verdie Julia Miner (1915-1987) was born in 1915.
She married Walter Welsh ( ? -1974).
They resided in the Alliance area their entire lives. Said the Alliance Review, "She attended First Baptist Church where she had been a member of the former Prime Timers."
The couple produced five children -- Monty Lee Welsh Sr., Errol Keith Welsh, Eric Allen Welsh, Bonnie Myers and John Clive Welsh.
Walter passed away on Sept. 25, 1974.
Stricken with lung and heart ailments, Verdie died on New Year's Day 1987.
Son Monty Lee Welsh Sr. (1935-2008) was born on May 5, 1935 in Alliance, Stark County. On April 17, 1954, at the age of 18, he entered into marriage with Shirley Kendrick ( ? - ? ). The couple's brood of children were Monty Lee Welsh II, Kathleen Bungard, Keith A. Welsh and Scott A. Welsh. The Welshes made a home in Alliance, where for 26 years he worked for Alliance Structural as a welder, retiring in 1978. He liked to fish and hunt and belonged to the National Rifle Association, CB Club, Ohio Buck Club and REACT. He also was a member of the National Guard and enjoyed ushering at First Baptist Church and cooking for Macedonia Ministries. In his later years, Monty sported a full white beard. Grief cascaded over the family when Monty Sr. died in Mercy Medical Center on April 1, 2008, at the age of 72. His survivors were counted as 10 grandchildren, 27 great-grandchildren and one great-great grandson. Pastor Gordon Thomas presided over the funeral held at the family church, with interment in Highland Memorial Park.
Grandson

Monty Lee Welsh II

(1956-2013) was born on March 13, 1956 in Alliance, Stark County. He grew up as a member of the Boy Scouts and was a graduate of Marlington High School. Monty was the father of Nikki Welsh, Monty Barnhart, George Guessman and Walter Welsh. He owned Alliance Ink, and in his free time liked to golf, race cars, ride his motorcycle, create tattoos and watch NASCAR races. Sadly, at the age of 57, he died in Altercare of Alliance on June 26, 2013. An obituary noted that he was survived by 11 grandchildren. His memorial service was conducted by Pastor Gordon Thomas, followed by a potluck picnic.
Granddaughter Kathleen Welsh married Michael Bungard

.
Grandson Keith A. Welsh

wedded Lucinda. The pair has lived in Alliance.
Grandson Scott A. Welsh

was joined in wedlock with Sharron. They were in Limaville in 2008-2013.
Son Errol Keith "Butch" Welsh (1939-2007) was born on July 22, 1939 in Alliance. He was a 1957 graduate of Alliance High School. On June 28, 1958, he entered into marriage with Linda Smyth ( ? - ? ). Their union endured for 48 years until cleaved apart by death. Together, the pair bore three daughters -- Terri Porter, Jody "Pug" Duruttya and Tracey Welsh. The family dwelled in Alliance. Errol was employed for many years as assistant manager by Quality Farm and Fleet. He retired in June 1999. The couple divided their time between Alliance and Bradenton, FL. Errol loved golf and earned the "professional" designation, teaching at the Tannenhauf Golf Course in Ohio and in Atlantis Country Club in Florida. He also liked to fish and hunt as well as write music and poetry. His memberships included the Lexington Ruritans, Professional Golf Association of America, the Sarasota Bay Boat Club and the Palm Beach Company Horseman's Association, where he served a term as president. Sadly, Errol died at the age of 67 in Alliance on May 5, 2007. A funeral was held at the Sebring Friends Church, presided over by Pastor Quint Bryan.
Granddaughter

Terri Welsh married (?) Porter. She made a home in 2007 in Mantua, OH.
Granddaughter

Jody "Pug" Welsh wedded (?) Duruttya. She was in Alliance in 2007.
Granddaughter

Tracey Welsh

lived at home circa 2007.
Son Eric Allen Welsh (1941-1973) is believed to have been born in 1941. In the early 1970s, he made a home at 22353 Wallace Avenue in Alliance. On the dark early morning hours of March 21, 1973, as a passenger in a vehicle driven by a friend, he was badly injured "when their car was struck by a train engine" in the village of Columbiana, reported the Akron Beacon Journal. "Police said an engine pushing some railroad cars had gone past the crossing on Main st. here. The engine then backed up and struck the Alliance man's car as it started across the tracks." He was rushed to St. Elizabeth Hospital in Youngstown where he was pronounced dead on arrival, due to massive head injuries. Burial is believed to have been in Highland Memorial Park in Columbiana County, OH.
Daughter Bonnie Welsh married James Myers. The pair established a residence in Sebring, OH. Bonnie generously has provided content and images for this biography.
Son John Clive Welsh ( ? - ? ) wedded Mary ( ? - ? ). Their home in 2008 was in Alliance.
Copyright © 2003-2007, 2010, 2019, 2021 Mark A. Miner
Bonnie (Welsh) Myers and Crystal Henderson graciously have provided material for this biography.