John W. Miner
(1870-1963)

John W. Miner
John W. Miner was born on March 14, 1870 near New Rumley, Harrison County, OH, the son of William and Rachel (Simmons) Miner.
Although he would only have been age six at the time, John certainly would have heard the news when New Rumley's most famous sons, General George C. Custer and his brothers, were slain in action at the Battle of Little Big Horn in June 1876. He heard many stories from older neighbors about knowing the General and that they liked the General's younger brother Thomas better. (Ironically, John's cousin, Rebecca Minerd, was romantically involved with Thomas Custer and produced a child out of wedlock.) John in boyhood also watched Conestoga wagons going west while he sat perched on a fence near his home in Scio.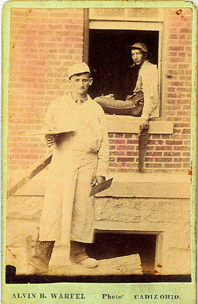 John with a plaster mortarboard
John was a popular merchant, and at one time was proprietor of a store in Scio, near New Rumley. An inventory document of the store still exists.
He is believed to be the same man holding a mortar board of plaster in the photo seen here, found in the collection of his father's cousin, Jemima (Minerd) Burditt, of Tontogany, Wood County, OH. Note the green color of the cardboard onto which the image is attached, made by photographer Alvin B. Warfel of Cadiz, Harrison County.
On Nov. 16, 1897, at the age of 27, John married 24-year-old Mildred Irene Ryel (1873-1926), the daughter of Franklin B. and Julie E. (Thompson) Ryel of North Ridgeville, OH. Her parents did not approve of the marriage.
They had met by corresponding via mail, when Mildred was living at Strongsville, Cuyahoga County, OH. The ceremony was performed by Rev. Mr. Winers. Shortly afterward, reported the Cadiz (OH) Republican:
They arrived home on Thursday and the following evening were serenaded by the band. Mr. Miner is a prominent business man at this place and is one among the most highly esteemed young men of New Rumley. The writer, with many others, wishes them a happy future.
John and Mildred had five children -- Harold Wendell Miner, Gerald Miner, Hertha Wittenbrook, Metta Iona Wise and Verdie Julia Welsh.
When the federal census was taken in 1900, John, Mildred and infant son Harold resided together in the village of New Rumley. John's widowed mother Rachel, age 56, lived a house or two away.
Sadly, eldest son Harold died just 10 days after his first birthday, on May 22, 1901, of a case of spinal meningitis lasting just 24 hours. He was buried near his grandfather Miner at the United Brethren Cemetery at New Rumley. The news was carried in the Republican.
The Miners moved to Bergholz, in Jefferson County, OH during the decade of the 1900s. They are enumerated there on the census of 1910, with John working as a car inspector on the railroad. The census taker recorded that John's father, born in Ohio, was of "Duch" heritage.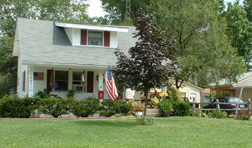 The Miners' home near Alliance
In about 1914, the Miners migrated again to Bolton, near Alliance, Stark County, OH. Just outside of town, they purchased a home. Their daughter Verdie walked to school in Alliance, about two miles away.
In 1917, John's mother passed away. He and his brother William published a "Thanks to Friends" notice in the Republican. The article said that they "desire to thank the friends and neighbors for their kindness during the sickness and death of their mother... They also wish that any one owing Mrs. Miner, or any one to whom she might be indebted, would see John Miner immediately."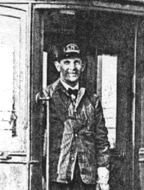 John as a trolleyman
The family's home in 1920, as shown on the census, was on Marlboro Street near Alliance. John's occupation was listed as "motorman - electric car."
Sadly, Mildred became deathly ill in 1925. According to family stories, her mother sent for her to be brought to a hospital in Cleveland.
There, she passed away on Oct. 10, 1926. She was buried in Fields Cemetery located in her mother's birthplace, North Ridgeville, Lorain County, OH. Due to the Ryels' opposition to the marriage, Mildred was buried under her maiden name, even though she had been wed to John for 27 years, and had borne five children.
Daughter Verdie, age 11 at the time, was the only child remaining in the family home.
Devasted by his loss, John worked as a conductor on the trolley line in Alliance, employed by the Stark Electric Company. He retired in about 1936. Sadly, they ended up losing their home, and he and Verdie were forced to rent.
Later, John worked as a blacksmith and again as a trolley conductor in Alliance.
Trolley on East Main Street in Alliance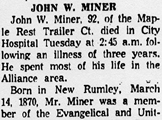 Obituary, 1963
In his waning years, John resided with married daughter Mettie. He passed away in Alliance at age 94 on Feb. 5, 1963. He was buried in the plot of his brother William E. Miner at Alliance City Cemetery.
~ Daughter Hertha (Miner) Wittenbrook ~
Daughter Hertha Miner (1904 - ? ) was born in 1904.
She married Nile Wittenbrook.
They had three children -- Vernon Wittenbrook, Merle Wittenbrook and Mildred Wittenbrook.
~ Son Gerald Miner ~
Son Gerald L. Miner (1906- ? ) was born in 1906.
He married Lucille (?).
They resided in Alliance and had a son, Robert Miner.
~ Daughter Metta Iona (Miner) Wise ~
Daughter Metta Iona Miner (1910-1994) was born in 1910.
She married Silven Wise Sr. and resided in Alliance.
They had three children -- Silven Wise Jr., Joan Wise and Bruce A. Wise.
Metta passed away in Alliance on Jan. 3, 1994, on her 84th birthday. She is buried in Highland Memorial Park in Alliance.
~ Daughter Verdie Julia (Miner) Welsh ~
Daughter Verdie Julia Miner (1915-1987) was born in 1915.
She married Walter Welsh ( ? -1974).
They resided in the Alliance area their entire lives. Said the Alliance Review, "She attended First Baptist Church where she had been a member of the former Prime Timers."
The couple produced five children -- Monty Lee Welsh Sr., Errol Keith Welsh, Eric Allen Welsh, Bonnie Myers and John Clive Welsh.
Walter passed away on Sept. 25, 1974, and Verdie died on New Year's Day 1987 from lung and heart ailments.
Copyright © 2003-2007, 2010, 2019 Mark A. Miner
Granddaughter Bonnie (Welsh) Myers graciously has provided material for this biography.