William Ellsworth Miner
(1862-1956)
William Ellsworth Miner was born in 1862 in New Rumley, Harrison County, OH, the son of William and Rachel (Simmons) Miner.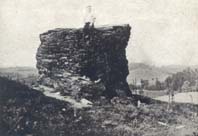 Cadiz's Standing Stone
As a boy and young man growing up in Harrison County, William very likely visited the "celebrated Standing Stone, on old Moravian road, one mile west of Cadiz."
William married Amanda (?) (1865-1910).
They had one known son, William Harrison Miner.
The Oct. 24, 1895 edition of the Cadiz Republican reported, in its New Rumley section: "Ellsworth Miner moved to town last week."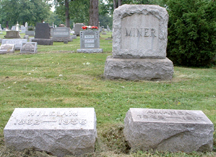 Alliance City Cemetery
Sadly, Amanda passed away in 1910, at the age of 45. She was buried at the Alliance City Cemetery in Alliance, Stark County, OH.
William outlived her by nearly a half-century.
He passed away in 1956, and was laid to rest beside his wife. A large, prominent marker stands at their gravesite.
William's brother John W. Miner, who died in 1963, also is buried in the Miner plot.
~ Son William Harrison Miner ~
Son William Harrison Miner (1889-1935) was born in 1889 in New Rumley.
He married Hattie B. (?), and they lived in Canton, Stark County, OH.
William was a machinist in a steel mill in Canton for 15 years.
As he neared his 46th birthday, he came down with a fatal case of pneumonia and influenza, and died of their effects on June 13, 1935. He was laid to rest in Liberty, OH. Hattie's fate is unknown.
Copyright © 2004, 2007, 2019 Mark A. Miner
William's grand-niece Bonnie (Welsh) Myers graciously has shared information and the cemetery photograph for this biography.