Leah (Miner) Schall
(1818-1900)
Leah (Miner) Schall was born in 1818, the daughter of Frederick and Elizabeth Miner III.
She married Reuben Schall (1822-1907), also spelled ("Shall" or "Shaull"), a native of Northampton County, PA.
They had two known children -- Howard Schall and Estella Verona Solt.
Reuben's trade over the years was as a pattern maker, most likely in the family's foundry business run by Leah's brothers.
When the federal census was taken in 1850, 1860 and 1880, the Schalls made their residence in Mauch Chunk, Carbon County. They lived near or next door to Leah's brother John Miner and his family. As she aged, Leah's widowed mother came to reside in their home.
In 1870, however, Leah and Reuben lived three miles south of Mauch Chunk in Lehighton, Carbon County, with Reuben continuing his skill as a pattern maker.
Circa 1900-1907, they resided in Lansford, Carbon County, on East Bertsch Street.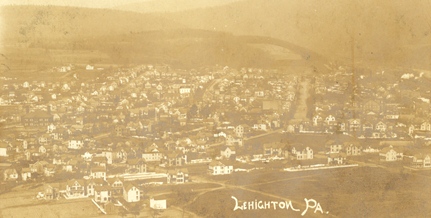 Bird's-eye view of Lehighton, early 1900s
Leah passed away in Lansford at the age of 82 in early October 1900. In an obituary, the Lehighton Press noted that she was a former resident of the town, and that she was laid to rest in the Lehighton Cemetery.
Reuben outlived his wife by seven years. At age 83, he suffered a massive stroke and died at home in Lansford on Jan. 17, 1907. A physician was summoned but he arrived too late. Burial was in Lehighton Cemetery. His death was noted with a short obituary in the Lehighton Press.
~ Son Howard Schall ~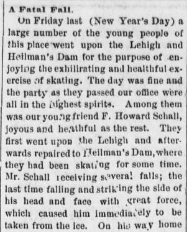 Carbon Advocate, Jan. 9, 1875
Son Howard Schall (1850-1875?) was born in 1850 in Mauch Chunk, Carbon County.
He was a popular member of the International Order of Red Men and in September 1874 was elected to the board of directors of the Lehigh Hook and Ladder Co. of firefighters. He and the firemen held their meetings in A. Buckman's carriage shop.
He is believed to be the same "F. Howard Schall" of Lehighton who at age 24 died a tragic and senseless death after a fall while ice skating on New Year's Day 1875. His funeral was held in the local Methodist Episcopal Church, with the sermon preached by Rev. W. Coffman, followed by burial in the Lehighton Cemetery. [This all needs to be confirmed.]
Reported the Carbon Advocate:
On Friday last (New Year's Day) a large number of the young people of this place went upon the Lehigh and Heilman's Dam for the purpose of enjoying the exhilarating and healthful exercise of skating. The day was fine and the party as they passed our office were all in the highest spirits. Among them was our young friend F. Howard Schall, joyous and healthful as the rest. They first went upon the Lehigh and afterwards repaired to Heilman's Dam, where they had been skating for some time. Mr. Schall receiving several falls; the last time falling and striking the side of his head and face with great force, which caused him immediately to be taken from the ice. On his way home he stopped at a friend's house, a short time, and then proceeded to his own home on Bank street. On entering the house his mother asked him if he wanted his supper; he answered no, that he did not feel well, and proceeded to a lounge or sofa, and lay down. Shortly after he was taken with vomiting, Dr. N.B. Reber was then sent for, and administered some medicines, after which he appeared quieter for a short time, when vomiting again ensued, and the Dr. was recalled, but upon arriving found that he was dead. Cause: Concussion of the Brain.
~ Daughter Estella Verona (Schall) Solt ~
Daughter Estella Verona "Stella" Schall (1859-1908) was born on Aug. 12 (or 30), 1859 near the upper foundry in Mauch Chunk, Carbon County. She was baptized at St. Paul's Methodist Church of Mauch Chunk on April 19, 1860, by Rev. B.F. Price.

Carbon Advocate, July 5, 1879
On July 7, 1879, at the at of 20, she wed Andrew Solt (1860- ? ), a native of Franklin, PA. The ceremony was performed by Rev. A. Bartholomew, with an announcement printed in the Carbon Advocate.
As shown in the federal census of 1880, a year after they were married, Andrew was employed in Lehighton, Carbon County as a stove moulder. A search for this family in the 1900 census has been unsuccessful so far.
They are thought to have moved to Belleville, Hendricks County, IN, where they apparently were living in 1904. Andrew apparently passed away in Belleville in late September 1904, with the news reported back home in the Lehighton Press: "A widow and three children survive."
She returned to Carbon County, living with her father on Bertsch Street in Lansford. She was the informant for his death certificate in 1907. She signed her name "Estella V. Schall," foregoing her married name. Interestingly, she was unable to furnish the names of her father's parents for the document.
Stella only outlived her father by a year. Afflicted with an enlarged heart ("hypertrophy," due to restricted blood flow), she died on Nov. 30, 1908, at the age of 49. Burial was in Lehighton Cemetery. Her cousin Elizabeth (Heilman) Renshaw of Philadelphia provided details for the death certificate.
Copyright © 2011-2015 Eugene F. Podraza and Mark A. Miner
Schall obituary and marriage notice courtesy of the Library of Congress and the National Endowment for the Humanities, partners in Chronicling America.