Marion W. Miner
(1859-1935)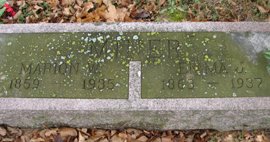 North Star Cemetery -
courtesy Glenn Geirland
Marion W. Miner was born on July 19, 1859, in Van Wert County, OH, the son of Uriah and Matilda (Bodle) Minerd.
When he was a boy of about age five, in about 1864, Marion migrated to Michigan with his parents and siblings, settling in Carson City, Montcalm County, MI. He grew up in a household which adopted the Seventh-day Adventist Church as their base of Christian faith and worship.
Then as a young man he migrated to Ionia County, MI, where he labored as a farmer.
Four days before Christmas 1882, Marion married Michigan-born Emma Jane Reynolds (1863-1937), when he was age 24 and she age 20. The ceremony took place in Ithaca, Gratiot County, MI. F.L. Bristol, a minister of the Gospel, officiated, and T.B. and Mary J. Bowman were witnesses.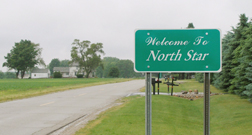 Entrance to the Miners' hometown
Emma was the daughter of Civil War veteran Willet Reynolds and his wife Lydia J. (Neal or Neil) Reynolds of North Star Township, Gratiot County. As with the Miners, the Reynoldses were members of the Seventh-day Adventist Church, part of a very close knit church community.
The Miners produced a family of three children -- Carrie H. Wheeler, Roy H. Miner and Grace S. Coble.
A year after their wedding, Marion and Emma were mentioned in a history book featuring a chapter about Emma's father. The volume is entitled Portrait and Biographical Album of Gratiot County, Michigan, published by the Chapman Brothers.
They were farmers for many years in Newark and North Star Townships, Gratiot County. In 1900, when the census was taken, they had been married for 17 years and made their home in Newark Township.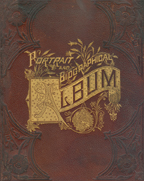 History of Montcalm County
By 1910, they were in North Star, where they also were when the 1920 census was counted.
In 1916, when John W. Dasef's History of Montcalm County, Michigan was published, Marion and Emma and their children all were mentioned by name in a chapter in Volume II about his father Uriah.
When the census again was enumerated in 1930, the Miners were in North Star Township. Living under their roof that year was 10-year-old grandson Donald L. Miner (Roy's son).
Marion died on or about Oct. 24, 1935, at the age of 76. He was buried in North Star Cemetery in Gratiot County.
Emma survived her husband by two years, enduring hardening of the arteries which had begun troubling her in 1927.
Making her home with her married daughter Grace Coble near Carson City, Montcalm County, she suffered a heart attack and passed away on April 19, 1937, at the age of 74. Her remains were transported back to Gratiot County to join her husband in eternal repose at North Star Cemetery.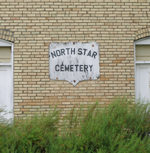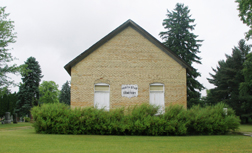 Old yellow brick building at the North Star Cemetery
~ Daughter Carrie (Miner) Wheeler ~
Daughter Carrie H. Miner (1886-1922) was born on Nov. 9, 1886 in Washington Township, Gratiot County.
At the age of 25, on Dec. 21, 1911, she married farmer Roy Wheeler (1887- ? ), in Ithaca, Gratiot County. Roy was a native of Newark, MI and the son of Alfred and Emma (Drayer) Wheeler. Witnessing the wedding ceremony, led by clergyman Alfred Way, were Walter A. McCoy and Mrs. Glen Smith.
The Wheelers went on to have four children -- Thelma A. Wheeler, Doris Wheeler, Iris G. Wheeler and Dale Miner Wheeler.
The Gratiot County Herald once said that Carrie had "a host of relatives and friends. She had a very winning disposition, and was loved and respected by all who knew her."
The census of 1920 shows the 33-year-old Carrie and 31-year-old Roy and their four children living in Alma, Gratiot County, next door to Carrie's brother Roy H. Miner and family. The two brothers-in-law, sharing the name of Roy, labored together in a truck factory.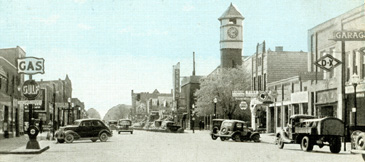 Alma, Michigan -- looking west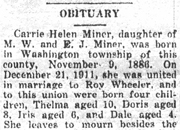 Gratiot County Herald, 1922
Tragically, Carrie opted to end her own life and ingested arsenic in the middle of September 1922. She did not die immediately and in fact endured "intense suffering" for two months. Said the Herald, "During her sickness she gave her heart to God and rests in hope of a part in the First Resurrection." She was unable to recover, and died "quietly and peacefully on Nov. 14, 1922, just five days after her 36th birthday. The funeral was held in her parents' home, followed by services in the Adventist Church of Ithaca, led by "Elder Kittle of Alma." Carrie's remains were laid to rest in the North Star Cemetery in Gratiot County. Carrie's obituary was published in the Herald.
In a "Card of Thanks" printed in the Herald, Carrie's parents, brother and sister expressed their "sincere thanks to the kind neighbors and friends who in any assisted, or showed us sympathy, during the illness and death of our daughter and sister. Also to the minister for his words of comfort, the choir for the beautiful music, the bearers and to all who contributed flowers."
Her passing left Roy a widower at age 33, with four children ages four to 10. He married again very quickly, the very same year, to 21-year-old Delilah (?) (1901- ? ). They proceeded to have at least three more children born between 1923 and 1930 -- Betty Wheeler, Lois Wheeler and Norman Wheeler.
The 1930 census shows Roy, Delilah, first-marriage daughters Thelma and Doris, and second-marriage children Betty, Lois and Norman making their home together on Fayette Street in Saginaw, Saginaw County, MI. That year, Roy worked as a machinist in a foundry. Also in 1930, 12-year-old son Dale Wheeler did not live with his father, but rather boarded with the families of Clark and Anna Whitmore and Stanley and Ambra Kowalski in North Shade Township, Gratiot County.
Roy died in March 1966 in Bay City, Bay County, MI.
Daughter Thelma Alice Wheeler (1913-1936) was born on Nov. 16 1911 in North Star, Gratiot County. After the death of her mother and the second marriage of her father, Thelma appears to have felt abandoned. One source states that she turned to prostitution to generate income. Circa 1936, she dwelled with her mother's parents in North Star. Sadly, in a coma at the age of 24, she passed away in Saginaw's St. Mary's Hospital on May 31, 1936. A source says that after an incident outside a bar, she was struck or beaten by one of her customers, 26-year-old Harold Wilson, a father of five. Her death certificate reports that she was burdened with diabetes, swelling of the brain and disease of the pancreas ("islets of Langerhans"). Rev. Marcius Taber led the funeral followed by interment of the remains in North Star Cemetery. The perpetrator of the crime is said to have been exonerated at trial as he had a family to support.
Daughter Doris May Wheeler (1914-1974) was born in 1914 in Ithaca, Gratiot County. In 1937, she entered into marriage with Semi Gray (March 13, 1910-1954). The couple's seven known children were Wallace E. Gray, Kenneth D. Gray, Rosemarie Ordish, James R. Gray, Robert L. Gray, Glen A. Gray and Semi Gray Jr. Sadness cascaded over the family when Semi died at the age of just 44 on April 28, 1954. Doris wed again to (?) Mathewson ( ? - ? ). Death swept her away at age 60, in Saginaw, on Dec. 14, 1974. Burial was in Birch Run Cemetery in Saginaw County, with Rev. E.M. Waxler officiating. A newspaper obituary said she was survived by 39 grandchildren and seven great-grandchildren.
Grandson Wallace E. Gray made his residence in 1974 in Santa Monica, CA.
Grandson Kenneth D. Gray relocated to Henderson, NV.
Granddaughter Rosemarie Gray ( ? - ? ) married (?) Ordish. She too migrated to Nevada and settled in the town of Henderson.
Grandson James R. Gray (1940-1979) was born in 1940. He wed Mary J. (1945- ? ). Their home in 1974 was in Saginaw. James died in 1979 at the age of about 39 and sleeps for all time in Buena Vista Township Cemetery.
Grandson Robert L. Gray resided in Saginaw.
Grandson Glen A. Gray settled in Saginaw.
Grandson Semi Gray Jr. was in Saginaw circa 1974.
Daughter Iris Grace Wheeler (1917-1970) was born on June 15, 1917 in Gratiot County. In about 1934, at age 28, she was joined in wedlock with Henry Earnest Walrath (Oct. 31, 1911-2004). The pair bore two children -- Jack L. Walrath and Sondra J. Schaub. In time they divorced. Iris married again to Fred Emery and dwelled in Alma. Henry moved to Bozeman, MT and appears to have wed again and produced two more sons. Both Iris and Henry grieved at the tragic death of son Jack in a small airplane crash in 1963. Iris surrendered to the angel of death at age 52 on Feb. 16, 1970 in Jacksonville, NC. Henry outlived her by 34 years. He passed away in Allen, Collin County, TX at age 92 on April 3, 2004.
Grandson Jack L. Walrath (1937-1963) was born in 1937 in Alma, Gratiot County. He graduated from Ithaca High School. In young manhood he relocated to Miles City, MT, where he earned a living as an agent with Metropolitan Insurance Company. He also learned how to fly small airplanes and obtained a pilot's license. He flew for fun and also occasionally ferried others. On the fateful day in April 1963, while bringing a new airplane from California, he was killed in a crash near Billings, MT. The broken remains were shipped back to Jack's hometown for burial in Riverside Cemetery. Funeral services were held at the Amiercan Legion, led by Rev. George Bush. Pallbearers included Jack Bush, Ed Heathcock, Kenneth Zimmerman, Frank Stone, Clark Davison and Jack Arnold.
Granddaughter Sondra J. Walrath (1940- ? ) was born on Oct. 29, 1940. She wed Raymond Schaub ( ? - ? ).
Daughter Dale Miner Wheeler (1918- ? ) was born on March 28, 1918 in Michigan. He appears not to have married. Dale made a living through employment with Plasta-Fiber. Circa 1953, he relocated to Gratiot County, MI. His address in the early 1980s was 121 East Newark Street. He died at the age of 65 on Oct. 6, 1983. Rev. Dan Workman led the funeral service, with burial in East Lawn Memory Gardens. A newspaper obituary said he was "survived by a niece and two nephews."
~ Son Roy H. Miner ~
Son Roy H. Miner (1895-1985?) was born in 1895.
He married Bernice Wheeler (1899- ? ) on Oct. 6, 1915, in Ithaca, Gratiot County. (His sister Carrie Miner had married her brother Roy Wheeler.) The Miners' wedding ceremony was performed by Methodist Episcopal minister C.L. Beebe, and was witnessed by Glenn Hart and Roy's sister Grace Miner. At the time of their marital union, Roy was age 20, and Bernice 18, the daughter of Alfred and Emma (Drayer) Wheeler.
They had at least five children or stepchildren -- Kathleen Mackey, Naomi O. Miner, Virginia Mackey [or Miner], Donald L. Miner and Marguerite Mackey [or Miner.
In 1920, when the census was enumerated, they made their home in Alma, Gratiot County, where Roy was employed as an inspector in a truck factory. Sadly, the marriage dissolved sometime in 1920 or 1921.
Roy married again at the age of 27 to 19-year-old Sadie Murray (1903- ? ) on Jan. 3, 1922. She was a native of Indiana and the daughter of Amos and Elizabeth (Taylor) Murray. The wedding took place in Ithaca, with Roy marking that he had been married once before. The ceremony was performed by L.L. Dewey, a minister, and was witnessed by Iva B. and Eloise Reynolds.
Their marriage did not last long, and must have dissolved by July 1925, when Sadie wed again at the age of 22. Her second marriage was to 24-year-old Joseph R. Campbell (1901- ? ), and occurred in Lansing, Ingham County, MI, by the hand of a Presbyterian minister.

REO auto factory in Lansing, where Roy and Bernice were employed in 1930
By 1930, Roy and Bernice apparently had reconciled and were residing together in Lansing, Ingham County, MI. That year, Roy's occupation was assembler in an automobile factory, most likely the city's famed Oldsmobile production plant. Bernice also worked at the plant as a cam shaft inspector. Their household was filled with children and step-children named Miner and Mackey -- this all needs to be sorted out as to who's who.
Roy may have died in Lansing on Aug. 6, 1985, but this needs to be confirmed. Their final fates are not yet known, but will be reported here when learned.
Daughter Kathleen Mackey (1916- ? ) was born in about 1916.
Daughter Naomi O. Miner (1918- ? ) was born in about 1918.
Daughter Virginia Mackey [or Miner] (1919- ? ) was born in about 1919.
Son Donald L. Miner (1920- ? ) was born in about 1920.
Daughter Marguerite Mackey [or Miner] (1921- ? ) was born in about 1921.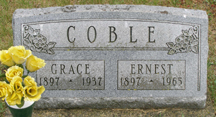 North Star Cemetery
~ Daughter Grace Louise (Miner) Coble ~
Daughter Grace Louise Miner (1897-1939) was born in 1897.
She married farmer Ernest Basil Coble (1897-1965) on March 1, 1919, when she was age 22, and he 21. The ceremony, performed by clergyman Alfred A. Stephens, took place in Ithaca, Gratiot County, and was witnessed by Elery and Ethel Coble.
Ernest was a native of Celina, Ohio, and the son of Delbert and Melissa (Smith) Coble.
A year following their marriage, the federal census shows the Cobles making their home as farmers in Emerson, Gratiot County. In 1922, at the death of her sister Carrie Wheeler, Grace was living in North Star, Gratiot County. They were faithful members of the Seventh Day Adventist church.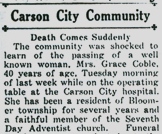 Alma Record, 1939
In 1925, the family relocated to a farm near Carson City in Bloomer Township, Montcalm County, MI. By 1930, when the census was taken, their three eldest children had been born, ranging in age from 10 years to two years -- Robert L. Coble, Duane M. Coble and Shirley J. Sadilek.
Grace's widowed mother lived in their home near Carson City circa 1935-1937, until her death.
Sadly, Grace died in late December 1939, at the age of 42, while in surgery at the Carson City Hospital. The Alma Record said that the "community was shocked to learn of the passing of a well known woman..." She was laid to rest in the North Star Cemetery following a funeral led by Rev. Stanley Hyde of St. Louis.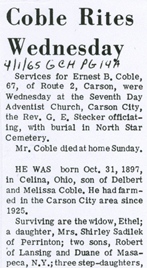 North Star Cemetery
Ernest outlived his wife by 26 years.
He married again to Ethel (?). She brought four children to the marriage -- Morene Crittenden, Esther Gurdziel, Arlene Downing and Cletis Coble.
In March 1965, at the age of 68, Ernest at home. Led by Rev. G.E. Stecker, the funeral was held at the Adventist Church in Carson City. At his death, reported the Gratiot County Herald, he was survived by 28 grandchildren and 17 great grandchildren.
Ernest is buried with Grace. Yellow flowers were found at the marker during a visit to the cemetery by the founder of this website in June 2010.
Daughter Shirley Coble ( ? - ? ) was born in (?). She married (?) Sadilek. They made their home in Perrinton, Gratiot County in 1965.
Son Robert Coble ( ? - ? ) was born in (?). He lived in Lansing.
Son Duane Coble ( ? - ? ) was born in (?). He resided in the mid-1960s in Massapequa, NY.
Copyright © 2009-2011 Mark A. Miner
Photograph of the grave marker of Marion W. and Emma (Reynolds) Miner courtesy of Glenn Geirland, who has provided many images for the North Star Cemetery entry on FindAGrave.com.