William Henry Miner
(1851-1940)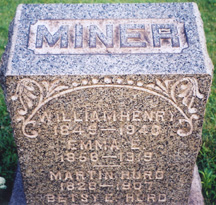 Delightful Cemetery
William Henry Miner was born in either 1849 or on March 7, 1851 in Warren Twp., near Champion, Trumbull County, OH, one of 13 children of Joseph and Elizabeth (Forney) Miner.
William married Emma E. Hurd (1858-1919), the daughter of Martin and Elizabeth "Betsy" (Curtis) Hurd.
Emma was nine years younger than her husband.
Together, they produced a family of two daughters, Rosie Housel and Flora Harriet "Hattie" Clark Harrington.
They resided in the Champion area, where William worked as a carpenter, as enumerated in the 1880 census of Southington, Trumbull County.
He also was a farmer and retired from this occupation in September 1910.
They were members of the Evangelical Church at Delightful, Trumbull County.
Emma passed away at the age of 61 on Feb. 8, 1919, due to a stroke and uremia. She was buried at the Delightful Cemetery.
William outlived Emma by 21 years. Later in life, he was a resident of Warren, living at 1015 Summit N.W.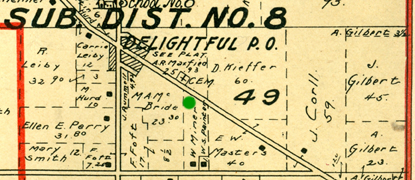 Green dot near the village of Delightful marks the farm of William and Emma Miner, comprising 13 acres, in this 1899 map.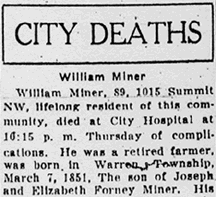 Warren Tribune Chronicle, 1940
He died as he neared his 89th birthday, on Leap Day, Feb. 29, 1940. He was buried beside his wife, "with Nelson Miller, Edward Smith, Rockwell and David Leiby, Charles Rufner and Gernie Hurd serving as pallbearers."
William's survivors at the time included "one grandchild, two great grandchildren, and two great great grandchildren," said the Warren (OH) Tribune Chronicle.
They are buried together under a large prominent marker. They rest with Emma's parents, Martin and Betsy Hurd, whose names also are inscribed on the marker.
~ Daughter Rosa (Miner) Housel ~
Daughter Rosa Miner (1875-1951) was born in Southington.
She married William Housel ( ? - ? ).
They resided at Johnston, OH circa 1940.
Rosa passed away at the age of 75 on Sept. 8, 1951, in Warren.
William's fate is not yet known.
~ Daughter Flora Harriet (Miner) Clark Harrington ~
Daughter Flora Harriet "Hattie" Miner (1879-1953) was born in 1879.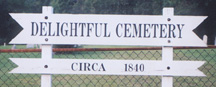 Hattie Harrington's burial site
She married (?) Clark circa 1919 and later to Walter Harrington ( ? - ? ).
In 1940, the Harringtons lived in Warren, on North Leavitt Road.
Hattie suffered from heart disease and died of its effects at the age of 74 on July 19, 1953. She was buried at Delightful Cemetery.
Copyright © 2003, 2008-2010, 2020 Mark A. Miner