Andrew Minerd
(1824-1905)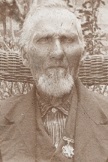 Andrew Minerd
Andrew Minerd was born on Jan. 3, 1822 (or 1824) near Hopwood, Fayette County, PA, the son of Henry and Hester (Sisler) Minerd. He was a longtime blacksmith, and one of many Civil War soldiers in our family to be injured while in the line of military duty.
In 1845, at the age of 21, Andrew married Sarah Devan (1826-1901), and they set up housekeeping in Hopwood. The Minerd and Devan families were close, and Andrew's sister Mary Ann Minerd wed John Devan.
Their nine children were Henry Minerd, Alice Rockwell, Hester A. "Hessie" Minerd, Marshall Minerd, Rev. David Ewing Minerd, Huston D. Minerd, Mary Belle Beggs Walls, Margaret "Maggie" Minerd and Andrew R. Minerd. At least five children were born before he went off to war.
Sadly, son Henry is thought to have died young, as nothing else has been found about him.
Just after the outbreak of the Civil War, when Andrew was nearing his 40th birthday, he yearned to serve in the Union Army, as a brother and many nephews were doing. After "repeated efforts," said the Connellsville Courier, he "succeeded in getting into the Civil War. Undiscouraged by numerous turndowns he persisted 'till he won, and although large bounty was being offered by the government Andrew refused to accept the bounty. It was his love of country that caused him to go and a money value could not be put on that patriotic affection."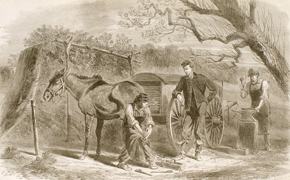 Civil War blacksmith at work on a horse's hind
leg, while another hammers on an anvil
Andrew enlisted on Oct. 23, 1862 as the "farrier," or blacksmith, of the 14th Pennsylvania Cavalry. Throughout his entire service, said the Courier, he carried and read "a little New Testament."
The 14th was involved in numerous small battles in West Virginia, Virginia and Maryland. On Aug. 28, 1863, the regiment fought at the Battle of White Sulphur Springs, WV, where Andrew's second cousin, Burkett M. Fawcett, was killed in action as a member of the 3rd WV Infantry. Five days before Christmas 1863, when defending against a Confederate raid, another cousin Adrian Johnson drowned when the 14th had to ford across Jackson River at Clifton River, near Covington, Alleghany County, VA, just over the West Virginia state line. Other members of the regiment included cousins David J. Rowan and Jonas Rowan, all of Fayette County, PA and Reuben Lane, a relative by marriage, who had wed Catherine Devan..
During his service in the Army, Andrew suffered from severe hemorrhoids, which resisted medical treatment for 12 months. As well, in November 1863, he came down with asthma soon after returning home on furlough. He was treated by Dr. Hugh Campbell in Uniontown, and obtained a certificate to be given to Andrew's commanding officer that if he were retained in the service for much longer that it would be the cause of his death.
Andrew returned to his regiment, but was injured a month later while shoeing a "fractious" horse on Dec. 7, 1863, at New Creek, WV. The horse made a sudden "violent jerk" when jumping to get away from him, which inflicted a hernia injury on the right side of his groin. "He had to be helped to the Hospital," recalled witnesses.
Clarysville General Hospital in Cumberland as seen in 1864 -- where Andrew spent that summer recovering from his severe hernia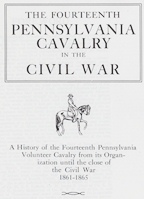 History of Andrew's regiment
He was treated at Army hospitals at New Creek, WV, and Cumberland and Clarysville, MD. In fact, according to a statement made much later in life, Andrew was at the Clarysville hospital "during nearly all of said summer" of 1863.
Andrew was discharged on Jan. 31, 1865 at Cumberland. He returned home to Hopwood, bringing back with him the pocket testament he had carried throughout the conflict. Immediately, he applied for and was approved to receive a pension from the federal government as compensation for his wartime injuries. His initial monthly payment was $2, but this increased over the years to the sum of $12.
A short summary of Andrew's service was published in 1915, in a history of the regiment, entitled The Fourteenth Pennsylvania Cavalry in the Civil War, authored by Rev. William Davis Slease. (An original copy is preserved in the Minerd.com Archives.)
While Andrew's freak and painful injury allowed him to exit the war otherwise unscratched, his wife's family was not so fortunate and in fact the Devans suffered three separate, horrible deaths. Sarah's brother George Washington Devan died on picket duty at his post on May 20, 1864; brother John was taken with consumption (tuberculosis) at home in Hopwood on May 9, 1864; and brother Huston, of the 85th Pennsylvania Volunteer Infantry, died of typhoid fever at Washington D.C.'s Douglas Hospital on June 2, 1862.
Seeking employment after the war, Andrew moved his family to Broadford, Fayette County. Broadford was the home of newly built coke ovens owned by coal and coke magnate Henry Clay Frick. Andrew labored at the Broadford ovens as a blacksmith.
Within a few years, Andrew purchased the James Smiley blacksmith shop at Dunbar, Fayette County, and moved the family to the premises, sharing sharing the work with sons Huston and David.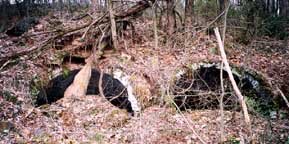 Ruins of the coke ovens at Broadford, ca. 1999.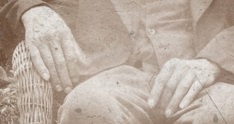 Close-up of Andrew's hands
He was a member of the Franklin Memorial Methodist Church for nearly 60 years, and at various times was a trustee and steward. Circa 1875, he served on the building committee of the church, with Samuel Wilson and Joseph McCormick, at a time when a new sanctuary was built, and the congregation moved there from the old Woodvale School building. Rev. J.B. McCormick was pastor at the time.
A close-up view of his worn and weathered hands is seen here.
Five years after the war, Andrew again began suffering from hay fever which troubled him "from year to year" for the rest of his life, especially in the months from June until October. During a coughing fit in 1877, he incurred a hernia on his left side, and it ended up larger than his wartime injury. He also began suffering from hay fever in about 1870
During a routine annual medical examination in 1881, at age 57, physicians noted that Andrew's hernia had grown from the size of a small walnut to that of a hen's egg, and that when he "lifts it sometimes slips out under his truss and then it pains..." At the time, he weighed 160 lbs. and stood 5 feet, 11 inches tall.
In 1879, Andrew and his brother in law Perry G. White testified on behalf of their nephew, Civil War veteran Isaac F. Minerd. In an affidavit, they stated that they had both known Isaac before the war and that he was free of illness at that time, although his health had been badly affected as an infantry soldier during the war. In turn, Isaac testified on Andrew's behalf, and signed Andrew's petition in May 1886 for an increase in pension.

Andrew's blacksmith shop circled in orange in the 1872 Atlas of Fayette County., with his name spelled "Minert."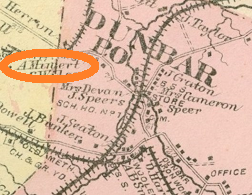 Detail of the 1872 Atlas
Grief cascaded over the family in 1885 when 33-year-old son Marshall was killed in a local coal mine. He was one of many of our cousins to lose his life in a coal, coke or steel industry accident over the years.
Andrew kept a family Bible, in which he inscribed the names and birthdates of his children. The volume "became worn out" over time. In 1875 son David purchased a brand new one, printed that year by Kolman & Co. of Philadelphia. David "transcribed the records at that time from the old book to the present one," and the Bible became "an heirloom in his family."
The whereabouts of the Bible today are unknown. A typed list of the inscriptions is found today in Andrew's Civil War pension file, in the National Archives in Washington, DC, with a copy in the Minerd-Minard-Miner-Minor Archives.
Sarah passed away at Hopwood at the age of 74 on Jan. 17, 1901. The cause of her death is unknown. She was laid to rest in one of the Minerd family sections at Hopwood Cemetery.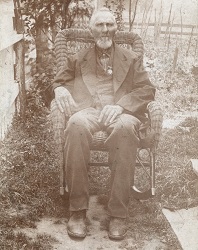 Andrew seated
Andrew outlived Sarah by four years, and resided with his unmarried, invalid daughter Hester. They relied on his monthly pension check for support. He also received assistance from his fellow members of the International Order of Odd Fellows lodge.
Shortly before his death, Andrew presented his treasured pocket Bible -- the one carried during the Civil War -- to his son Rev. David Ewing Minerd.
Andrew passed away in Hopwood on Feb. 26, 1905, at the age of 83. His remains were lowered into eternal rest beside his wife. Many old friends from Dunbar traveled to Hopwood to attend the funeral, reported the Connellsville Courier. His death also generated an obituary in the Waynesburg (PA) Independent newspaper in neighboring Greene County.
Grandchildren Dr. Harold "Daniel" Minerd, Edward E. Minerd, Ewing D. Minerd and Bess Lemon were also prominent. Dan was three-term mayor of Connellsville and two-term Fayette County treasurer, Ed was founder of the Minerd (now Barnett) Funeral Home in Uniontown, PA, Ewing was treasurer of the Dunbar School Board and Bess was postmistress at Youngwood, PA.
Andrew's former home on Woodvale Street later was purchased by Joseph Bunting, and was renovated to public acclaim. A June 5, 1919 story in the Courier said:
Woodvale street, so long apparently content with standpatism, has thrown off its lethargy and is showing considerable enterprise. This is especially true of the south end of the street... Joseph Bunting who some time ago purchased the old Andrew Minerd property, is making extensive improvements in the house and enlarging the same, so changing its appearance at 50 that those familiar with it so long would not recognize it in its new dress.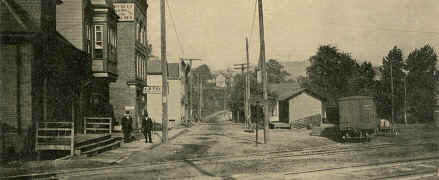 Dunbar's Woodvale Street, where Andrew lived and had his blacksmith shop. Note the railroad siding on a diagonal to the street.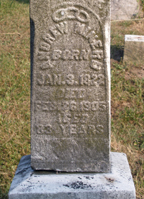 Andrew's marker, July 2010
The tall, upright shaft of the Minerds' grave marker is still legible, more than a century after their deaths.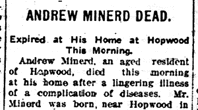 Obituary, Connellsville Courier
During World War I, when many of Andrew's offspring joined the U.S. armed forces to serve in World War I, the pocket testament was presented to grandson Harold "Daniel" Minerd. It was inscribed:
This book was carried by Andrew Minerd through the Civil War and brought back by him in 1865. Presented by the father, D.E. Minerd, to Harold Daniel Minerd September 23, 1917, on his being called to camp. This book is 54 years old.
When the grandson did not immediately join the Army, but rather returned to complete his dental studies at the University of Pittsburgh, the testament was presented to his brother Ewing David Minerd. After receiving basic training at Fort Lee, VA, Ewing was assigned to the 19th Infantry of the 80th (Blue Ridge) Division and was shipped overseas, where he saw action in the bloody Meuse-Argonne offensive. Ewing carried the testament "all through the World War and read [it] every day of the same. He brought it back and with service in two great wars to its credit it is again in possession of Rev. Minerd, to whom it is priceless."
Copyright © 2000, 2004-2006, 2008, 2010-2012, 2017 Mark A. Miner