Rebecca Catherine
(Martin) Johnson Moore
(1828-1917)
Rebecca Catherine (Martin) Johnston Moore was born on March 10, 1828 at Independence, Preston County, WV, the daughter of Henry and Keziah (Miner) Martin. She was twice married, and both husbands were Union soldiers in the Civil War, with one giving his life for the cause.
It is possible, though not yet proven with precision, that at the age of 19, in 1847, Rebecca gave birth to a daughter, Phoebe Jane Martin.
On Aug. 4, 1853, when she was age 25, Rebecca married 21-year-old farmer Adrian Johnson (1832?-1863), also a native of Preston County, and the son of Thomas and Mary Johnson. The wedding took place at the home of Rebecca's parents in Preston Glades, Preston County. Presiding over the ceremony was Rev. William P. Fortney of the Regular Baptist Church.
The Johnsons produced a brood of five children -- Thomas Henry Johnson, Minerva Jane Cooper, John Keener Johnson, Mary Allene Johnson and Ella Emeline Johnson, born between the years 1854 and 1862. Their last names occasionally were spelled "Johnston" over the years. For the births of the eldest two children, in Preston County, Dr. Ashford Brown was the attending physician.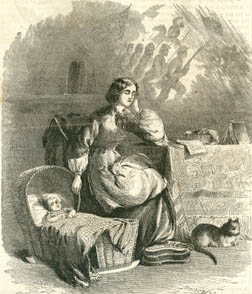 "Dreaming of the Absent Soldier," from the
August 1863 edition of The Child At Home
Sometime between 1856 and 1858, the Johnsons migrated a little northward and over the state line into Pennsylvania. There, their three youngest children were born, brought into the world with the assistance of Dr. G.F. Burch. When the federal census was enumerated in 1860, their post office location was shown to be in rural Davistown, Dunkard Township, Greene County, PA. That year, Adrian's occupation was listed as "farmer."
When the Civil War broke out, Adrian joined the 14th Pennsylvania Cavalry on Sept. 22, 1862, at the age of 30. He was assigned to Company E, commanded by Capt. A.F. Duncan. The regiment was recruited from several Pennsylvania counties in the western and eastern parts of the state. Among Rebecca's distant cousins who served in the 14th Cavalry were Andrew Minerd, David J. Rowan and Jonas Rowan, all of Fayette County, PA. With his name spelled as "Adria Johnston," Adrian and the other three relatives are mentioned several times in the 1915 book, The Fourteenth Pennsylvania Volunteer Cavalry in the Civil War, authored by Rev. William Davis Slease.
While Adrian was away in the military service, Rebecca and the children made their home in Raccoon, Preston County. Her emotions over Adrian's absence cannot be known, nor her feelings over the fact that one of her brothers (Sylvester "Monroe" Martin) also was fighting in the Union Army, while another (Presley Martin) had joined the Confederate military cause.

Adrian's commanding officer, Col. J.M. Schoonmaker
Seen here, a Civil War era sketch entitled "Dreaming of the Absent Soldier," as appeared in the August 1863 edition of The Child At Home, a newspaper published by the American Tract Society in Boston.
The 14th Pennsylvania Cavalry did not see battle action for 11 months. On July 3, 1863, the same day the Battle of Gettysburg was concluding in Pennsylvania, David and the regiment saw its first engagement at Beverly, WV. From that time forward, the 14th Pennsylvania took part in 87 other battles and skirmishes, concluding with Ashby's Gap, Virginia on Feb. 19, 1865. It took an active part in General Philip Sheridan's extended campaigns in the Shenandoah and Luray Valley, VA.
Among the more significant battles, the 14th Cavalry fought for four days at Rocky Gap, known as White Sulphur Springs, WV, where Rebecca's step-cousin Burkett M. Fawcett was killed as a member of the 3rd West Virginia Cavalry.
Other fights, as highlighted in Slease's history of the regiment, were at Droop Mountain, WV; Chambersburg, PA; Third Winchester, VA; and Cedar Creek, VA. The Droop Mountain fight -- at the mountainous elevation of 3,107 feet above sea level -- is said to have been the largest Civil War battle fought on West Virginia soil.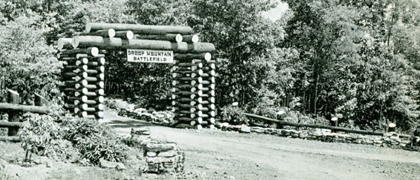 Droop Mountain battlefield site near Marlinton, WV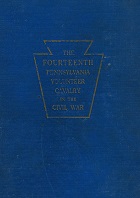 History of Adrian's regiment
Senseless tragedy struck just five days before Christmas 1863, when the 14th Cavalry was defending against a Confederate raid led by Generals Thomas "Stonewall" Jackson and Jubal Early. Adrian and his regiment spent all night fighting at a bridge across the Jackson River near Covington, Alleghany County, VA, just over the West Virginia state line. Slease's history of the regiment reports the action:
About 11 p.m,. the Confederates ... advanced and finding the bridge in possession of Averill took positions on both sides of the road and planted their guns on the hill-slopes so as to command the bridge. The all night battle at the bridge began and grew stronger and stronger through the night. The 14th and four companies of the 3rd W.Va. with the wagons and ambulances were cut off from the bridge. Toward morning of the 20th Captain Brown ordered Sergeant Hart, in charge of the train to park the wagons and ambulances and destroy them. The four companies of the 3rd W.Va. and the 14th formed in line of battle so as to hold the Confederate troopers back till the wagons and ambulances were destroyed.. When it was impossible to hold the bridge holder, Averill ordered it destroyed, so as to prevent the Confederates from following his retreating column. While the bridge was burning some Confederate officers ... came under a flag of truce and demanded... the surrender of the regiment.... While the rebel officers were looking for the commander some one shouted, "The 14th Pennsylvania Cavalry never surrenders."...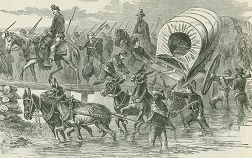 Chaotic stream crossing
Famous Leaders and Battles in the Civil War
While attempting to cross the cold water, where Clifton River meets the Jackson River, Adrian's horse apparently stumbled and fell into the water. Fellow soldiers James Hamilton and George G. Miller watched the horror unfold as horse and rider sank, but could do nothing to help. Adrian was unable to break free and come up for air, and within a few minutes he was drowned.
Continued Slease's history:
Some officers of the regiment found a ford about a mile or so up the river and led the regiment to it and all the regiment and horses swam safely over the icy river except four men and a prisoner, the lieutenant captured at his wedding, who were drowned. Thus the regiment was saved a trip to Andersonville or Libby prison.
Commanding officer General Averill wrote this in his report to his superior officer, Major General Halleck, as reprinted in Slease's history:
It was ascertained that the enemy was determined to maintain its position on the cliffs overlooking the bridge. I caused the bridge which was long and high to be burned, and the enemy immediately changed his position to the flank and rear of the detachment, which was cut off. I sent orders to the regiment cut off to destroy their wagons and come to me across the river or over the mountains. They swam the river, and joined me with the loss of only four men drowned.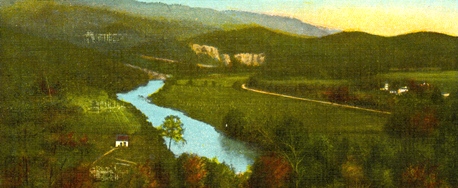 Deceptively peaceful Jackson River in Covington, Virginia, where Adrian drowned during the Civil War, a few days before Christmas 1863.
The place of Adrian's burial is not known. In 1888, when Samuel P. Bates' book History of Greene County, Pennsylvania, Illustrated was published (Chicago: Nelson, Rishforth & Co.), Adrian's name and fate were listed in a section about the 14th Cavalry. Twenty-seven years later, in 1915, a short summary of his death was published in Slease's history of the regiment. (An original copy is on file today at Soldiers and Sailors Hall in Pittsburgh, and has been reprinted in recent years.)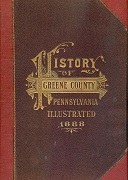 History of Greene County
in which Adrian is named
There is no record of how word reached Rebecca back home, but she was thus widowed at age 35, with five young children to raise. By mid-1867, she had moved across the Greene County line into the town of Brownsville, Fayette County.
Virtually impoverished, Rebecca in 1868 placed the children into orphan's homes in the Pittsburgh area. The girls were sent to the Pittsburgh and Allegheny Home of the Friendless in Allegheny City (today Pittsburgh's North Side), while the boys went to the Soldiers Orphans School in Phillipsburg (now known as Monaca), Beaver County, PA.
The federal census of 1870 shows the three girls as residents of the orphanage in Pittsburgh, and 15-year-old son Thomas (last name spelled "Johnston") in the soldier's orphans school in Phillipsburg. In about 1874, the Home of the Friendless was closed due to declining population. Where the girls would have been transferred remains a mystery, but at age 16 they would have been discharged from the system. Thus Mary Allene should have left the orphans school in about 1876 and Ella Emeline in 1878. In October 1879, the Orphans Court of Allegheny County appointed Dr. John Cooper, residing on Franklin Street in Allegheny (Pittsburgh), as the guardian of daughter Ella. Work is underway to obtain copies of the orphans court documents.
Complicating Rebecca's life further, she gave birth to a son in 1869, whom she named Charles Johnson. The father's identity is not known. Little is known about Charles except that he was birthed in West Virginia, and lived with his mother and step-father in Dunbar, Fayette County in 1880, when the census was taken.
In trying to obtain a federal pension as compensation for Adrian's death, Rebecca had to provide details about her children to the government. In one application, she stated that "having been left destitute she was obliged to dispose of them in some way, but fully intends as soon as she obtains the pension money to obtain a home and have them reside with her." Providing supporting testimony on her behalf were Rebecca's mother Keziah Martin, as well as friends Susanna Turner and Florence Turner, all of Preston County.
Rebecca's supposed daughter (or possibly her sister) Phoebe Jane Martin (1847-1874) apparently never married, and resided in Independence. Sadly, at the age of 27, she contracted a fatal case of tuberculosis, or "consumption" as it was then known. She never recovered, and tragically died on Feb. 16, 1874.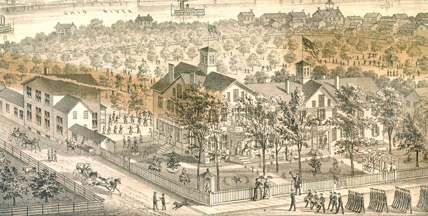 Phillipsburg Soldiers Orphan School in Monaca, Beaver County, PA, where Rebecca's children studied after their father's death in the Civil War
~ Rebecca's Second Marriage, to Isaac Moore ~
On Christmas Eve 1874, when Rebecca was age 46, she married her second husband, Civil War veteran Isaac Moore (1838- ? ). He was a native of Rockingham County, VA, who was about decade her junior, and it was his first marriage. The ceremony was performed by Rev. James R. Mills at the parsonage of the Methodist-Episcopal Church in Sewickley, near Pittsburgh, Allegheny County, PA. It was ironic that their marriage date was within four days of the 11th anniversary of Adrian's death, and the timing may have have helped her surmount that painful memory.
Isaac stood six feet, one inch tall, and weighed 150 lbs. He carried a dark complexion, with brown eyes and dark hair. During the Civil War, he had served in two regiments -- the 3rd West Virginia Infantry, Company D; and the 6th West Virginia Cavalry, Company D. One of his fellow soldiers in the 6th Cavalry was Eugene Huggins of Newburg, Preston County, who was married to Rebecca's cousin Jennie (Hanshaw) Huggins, and they were together in the army for three years. Isaac's health declined markedly during his time in the service. Friend Huggins later wrote:
[He] often had vary bad spells of the heart ache or pains in his head and at various times was unfit for duty on account of his head being in such bad condition. On the retreat from the battle of McDowell in May 1862 he gave out on the trip. He suffered more or less during his time of service.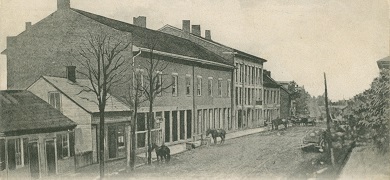 Clarksburg, WV during the Civil War years
Adding to Isaac's woes was rheumatism of the shoulders and arms that he contracted while at Clarksburg, WV in July or August 1862. Following the battle of Droop Mountain, VA in November 1863, Isaac was afflicted with painful hemorrhoids which plagued him the rest of his life. He left the regiment for treatment at Cumberland and Frederick, MD and in Grafton, WV, and recovered sufficiently to rejoin his comrades.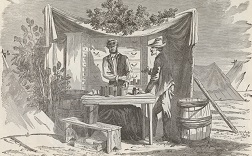 Ramshackle Civil War Army drug store
Later, the regiment traveled to Camp Remount (1864) and Washington and, after the war, to Fort Leavenworth, KS (1865-1866). While on detached duty at Lillian Springs, CO, in August 1865, he again was stricken with rheumatism. Recalled the regiment's second lieutenant F.A. Warthen:
We had no surgeons with us. I relieved him from duty repeatedly..., and often sent to Fort Sedgwick and got medicines for him. I don't think he was able to do duty more than half his time from August 1865 until I left the Company in March 1866.
Isaac was discharged at Fort Leavenworth, KS on May 22, 1866, a year following the end of the war, and made the long journey home. How he and Rebecca met is unknown, and may remain a mystery for all time.
After their marriage in 1874, the Moores made their home in Dunbar, Fayette County, PA. The federal census of 1880 shows Isaac and Rebecca (listed as "Rebecca") residing in Dunbar. Isaac, age 43, made his living as a laborer. A number of their immediate neighbors were Martins, making one wonder if there was a cluster of extended family in Dunbar at the time. They included William J. Martin (age 66) and his wife Mary (49); Samuel Martin (63) and his wife Sarah (63); Jasper Martin (25) and wife Elisabeth (23) and James Martin (38) and wife Kate (38). Or perhaps it all was coincidence.
Local school teacher Francis P. Doonan observed that in 1885, Isaac made a living by "cutting small timber for T.W. Watt, such as is used in mines for props, rails and cross ties, also fence posts... He was an industrious and well behaved man."
In 1891, after her mother had died in West Virginia, Rebecca and her adult siblings were sued by their brother Presley. In the matter, he petitioned the court to approve the sale of their mother's house and lot in Independence, WV, so the funds could be used to offset the accrued costs of her care. Rebecca received a copy of the legal complaint, and apparently did not enter an objection to it. She was named in the legal complaint as "Catherine" and as a resident of Fayette County, and also was named in legal advertisements that year in the West Virginian newspaper of Marion County, WV.
As he aged, and learned that the federal government was awarding pensions to former Union soldiers as compensation for their wartime ailments, Isaac petitioned for a pension of his own. His former Civil War comrades Eugene Huggins, George M. Shaffer, Jehu Hebb and John W. Pele testified on his behalf. As the severity of his disabilities increased, he wrote the following statement, witnessed by Morgan Cross and his wife's distant cousin William J. Beggs of Dunbar:
At no time from my discharge until the present time I received treatment from any Physician for Rheumatism for the following reason, that I was not able financially to employ Physician. And also was always assured that it was an incurable disease. Also all the treatment I at any time received was home treatment such as linaments and medicines made of Herbs gathered in the fields.
Other medications he and Rebecca prepared were home remedies such as "blood purifiers." Because of his blindness in both eyes, Isaac had to sign his pension applications with an "X." He finally was awarded a pension of $12 per month, sometime before the year 1884.
In the summer of 1897, Isaac paid a call on his old regiment-mate Jehu Hebb, at Evansville, Preston County, but Hebb was not at home. Hebb's wife later observed that Isaac was almost blind at the time. Over the years, as Isaac applied for pension increases, he secured affidavits supporting his claims from friends and acquaintances in Dunbar and Preston County. They included Sadie Franks, David Williams, Francis P. Doonan, Joseph Sapp, Richard Morris, Abraham Lehman, Lutellis Keffer, William J. Martin and Joseph L. Hair of Dunbar. Hair's specific comments reflected the others', and in his words:
I am a near neighbor of [Isaac's] and know of my own personal knowledge that he is totally blind and has to be led every where he goes. And have heard him complain of a severe pain in his head and shoulders and he has complained to me of piles... Mr. Moore is strictly temperate and guilty of no vicious habits that would have a tendency to result in [his] disabilities.

Bird's-eye view of Dunbar, 1900. Courtesy Library of Congress.
When the census again was taken in 1900, the Moores lived by themselves in Dunbar. Isaac, age 64, had no occupation. The census-taker recorded that they had been married for 26 years, and that he had been born in Virginia, and she in West Virginia.
During her virtually three decades of married life in Dunbar, Rebecca no doubt was aware of the many clusters of her mother's cousins living in and around the town. Among them were the adult offspring of Andrew Minerd, James Minerd Sr., William Minerd, Isaac Minerd, John Vernon Smith Minerd, Sarah Jane (Minerd) Ingles, Burket Minerd II and Laura (Minerd) Younkin. One of the more highly visible of them was cousin Rev. David Ewing Minerd, known as the "Blacksmith Preacher" of Dunbar, who performed 10,000 weddings and funerals during six decades of work in Fayette County.
Cousins John J.P. Hoye and Isaac F. Minerd (married to yet another cousin, Mary [Minerd] Cole Minerd), signed an affidavit in the 1880s supporting one of Isaac's pension petitions. Hoye wrote that he had known Isaac for three years, had worked with him during that time, and as a near neighbor saw him "almost daily."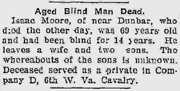 Connellsville Courier, 1904
Isaac died on Dec. 21, 1904, at the age of 69. His death occurred three days before their 30th wedding anniversary, and within one day of the 41st anniversary of Adrian Johnson's tragic wartime death. In a brief front-page obituary, the Connellsville Courier reported:
Isaac Moore, of near Dunbar, who died the other day, was 69 years old and had been blind for 14 years. He leaves a wife and two sons. The whereabouts of the two sons is unknown. Deceased served as a private in Company D, 6th W.Va. Cavalry.
Widowed, without means of supporting herself, Rebecca again was single and destitute. Judging by her husband's obituary, she was not in any sort of relationship or communication with her sons Thomas or Charles. Friend A.C. Duncan of Dunbar wrote that "She is old and not able to work and has no income and that she has no support, only as she receives a little support from the [Fayette] County home and part of the time since her husband's death she has been an inmate of the county home."
A young lady friend in Dunbar, Jean Wishart, tried to come to Rebecca's aid. A Feb. 2, 1905 news story in the Connellsville Courier reported that: "Miss Jean Wishart, one of our popular young ladies, has been soliciting aid for Mrs. Isaac Moore, who has been in very poor circumstances for the past few weeks. The lady is to be commended for her interest in the old lady's welfare and all should contribute as liberally as possible as Mrs. Moore is entirely worthy and in need of what is being done for her."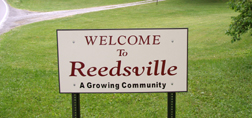 As soon as practical, she relocated back to her old home territory -- near Reedsville, Preston County, WV -- and moved into the residence of Daniel F. and Celia Zinn and their young sons Theodore and Howard. She applied for and began receiving her late husband's Civil War pension in August 1905. Witnessing her application was George M. Shaffer and Thomas Harrington of Independence. The 1910 census shows the 72-year-old Rebecca residing under the Zinns' roof and employed as their servant. Living nearby was Rebecca's brother Sylvester "Monroe" Martin, also a Civil War veteran, who died at home in Reedsville on May 30, 1916.
Rebecca's health took a dramatic turn in early December 1916. She was as helpless as a child, said Celia Zinn, and suffered for almost seven months. During that time, she was treated by Dr. Charles R. McGuffie of Reedsville. She passed away on June 28, 1917, at the Zinn home, at the age of 89. She was laid to rest in the Gordon Cemetery, about four miles from Reedsville. No obituary was published in the local daily newspapers serving Dunbar -- the Connellsville Daily Courier, Uniontown Daily News Standard or Uniontown Morning Herald. Research is underway to see if the Preston County Journal carried any sort of notice. Her official West Virginia death certificate, normally which would be a goldmine of information, largely is void of detail, other than her name, age, date of death and a few other minor items.
Celia Zinn, who was the sole provider of Rebecca's board, nursing and care, later submitted a claim for $56.04 for reimbursement for her services. They remained in Preston County for many years, and when Daniel died in 1949, and Celia on Dec. 13, 1970, they were buried at Gordon #1.
Rebecca rests for eternity in anonymity. An examination of Gordon #1 Cemetery's entry in Janice Cale Sisler's 2001 book, In Remembrance: Tombstone Readings of Preston County, West Virginia, shows that there is no marker for Rebecca. Author Sisler describes Gordon #1 as "located in Valley District along Route 29, Flat Rock Road." There are no graves there either for Adrian Johnson or Isaac Moore, but Rebecca's former landlords, the Zinns, in fact are interred there. As well, there are no entries for any other Gordon cemeteries in Sisler's excellent series of three In Remembrance volumes of Preston County burials.
~ Daughter Minerva Jane (Johnson) Cooper ~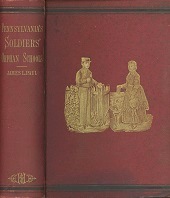 Soldier's Orphans School history
Daughter Minerva Jane Johnson (1856- ? ) was born on May 5, 1856 in Preston County, WV. Her grandmother, Keziah (Miner) Martin, was present at the birth, and later testified to the fact. When Minerva was age seven, her father died while serving in the Civil War.
Minerva was admitted to study at the Pittsburgh and Allegheny Home of the Friendless in Allegheny City (today Pittsburgh's North Side). When the Home of the Friendless closed, she was transferred to the Phillipsburg Soldiers' Orphans Home in what is now Monaca, Beaver County, PA. The transfer was dated Sept. 8, 1871. Her sisters Emeline and Mary also transferred to the Phillipsburg Home on that date.
Minerva was graduated from Phillipsburg eight months after arrival on May 5, 1872, upon reaching her 16th birthday. She then went to live in Pittsburgh. She is listed in the 1877 book Pennsylvania Soldier's Orphan Schools, by James Laughery Paul. Her notation reports that at the time, she had "Married Mr. Cooper. Resides in W.Va."
She is being searched for in the 1880 federal census.
Nothing more is known.
~ Son John Keener Johnson ~
Son John Keener Johnson (1858- ? ) was born in 1858 in Dunkard Township, Greene County, PA.
He died during the 1870s, but specifics are not known.
~ Daughter Mary Allene Johnson ~
Daughter Mary Allene Johnson (1860-1877) was born on June 15, 1860 in Dunkard Township, Greene County, PA.
As the daughter of a deceased soldier, Mary and with her sisters Minerva and Emeline were admitted to study at the Pittsburgh and Allegheny Home of the Friendless in Allegheny City (today Pittsburgh's North Side). When the Home of the Friendless closed, she and her sisters were transferred to the Phillipsburg Soldiers' Orphans Home in what is now Monaca, Beaver County, PA. The transfer was dated Sept. 8, 1871.
She was discharged from the Phillipsburg Home on June 15, 1876, upon reaching her 16th birthday, and moved to Pittsburgh. She is listed in the 1877 book Pennsylvania Soldier's Orphan Schools, by James Laughery Paul.
She passed away at the age of 17 in 1877, but details are lost to history.
~ Daughter Ella "Emeline" Johnson ~
Daughter Ella "Emeline" Johnson (1862- ? ) was born on Sept. 24, 1862 in Dunkard Township, Greene County, PA. She was a little more than a year old when her father drowned while a soldier in the Civil War.
Because of her fatherless status, and along with her sisters Minerva and Mary, she was admitted to study at the Pittsburgh and Allegheny Home of the Friendless in Allegheny City (today Pittsburgh's North Side). When the Home of the Friendless closed, she was transferred to the Phillipsburg Soldiers' Orphans Home in what is now Monaca, Beaver County, PA, but at the time was a community known as "Water Cure." The transfer was dated Sept. 8, 1871.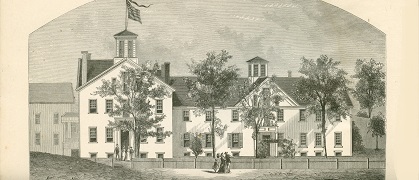 Phillipsburg Soldiers Orphan School, Monaca, PA
Emeline is listed in the 1877 book Pennsylvania Soldier's Orphan Schools, by James Laughery Paul.
In October 1879, the Orphans Court of Allegheny County appointed Dr. John Cooper, residing on Franklin Street in Allegheny (Pittsburgh), as Ella's legal guardian.
Eligible to receive financial assistance from the government, she applied in July 1887 for her father's military pension. In doing so, she appointed as her attorney William A. Golden of 113 Grant Avenue in Millvale, near Pittsburgh. The application stated that her brother John and sister Mary were deceased by that time. She signed this application "Emeline Johnson."
In 1891, at the age of 29, she was unmarried and made her home in Pittsburgh. That year, she signed another affidavit in connection with her late father's pension, writing her name as "Ella E. Johnson."
Nothing more about her is known.
~ Son Charles Johnson ~
Son Charles Johnson (1869- ? ) was born in 1869.
He is lost to history after 1880. When his step-father Isaac Moore died in 1904, Charles' whereabouts were reported by the Connellsville Courier as "unknown."
Copyright © 2009-2010, 2012, 2014-2015, 2017, 2019 Mark A. Miner
Dunbar image courtesy Library of Congress.