Burkett M. Fawcett
(1822-1863)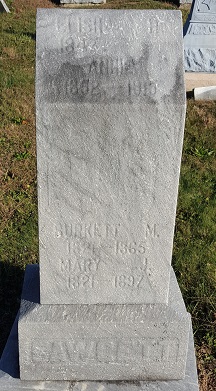 Masontown Cemetery
Courtesy Tammy Clark, Find-a-Grave
Burkett M. Fawcett was born in about 1822 near Kingwood, Preston County, WV, the son of Charles B. and Phoebe (Miner) Fawcett.
He is one of far too many of our cousins to have been killed in the Civil War. He also is thought to have been named after his maternal grandfather, Burket Minerd.
On Oct. 6, 1846, when he was age 24, Burkett was united in holy matrimony with 24-year-old Mary McMillen (1822-1894). The nuptials were held at the home of her parents, Robert and Nancy McMillen, in nearby Monongalia County, WV. The service was performed by Rev. Asbury Pool.
Both Burkett and Mary paid $150 as a bond for the marriage license, today on file at the Monongalia County Courthouse. Burket, who could not write, signed the bond with an "X."
The Fawcetts produced two children -- Elisha Harrison Fawcett (born in 1847) and Phoebe A. Fawcett (1852). Friends Maria Piles and Catherine Bennett served as midwives at the daughter's birth.
When the federal census was taken in 1850, Burkett, Mary and Elisha were enumerated in the 45th District of Preston County. His occupation was listed as "Farmer."
Oren Morton's 1914 History of Preston County reports that Burkett lived "on Scotch Hill." Wiley's 1882 History of Preston County says further that Scotch Hill "is a small village on the hill above and south of Newburg. It contains near 20 houses, a church, and school building, and was founded about 25 years ago by a colony of industrious Scotch."
When the Civil War broke out, Burkett was 39 years of age, and had been married for 15 years. On June 28, 1861, he enlisted in the U.S. Army at Newburg. He was assigned to the 3rd West Virginia Volunteer Infantry, commanded by Col. David Hewes, and was placed in Company D, commanded by Capt. Dennis Fitzinger. He agreed to serve for up to three years.
Burkett's service during the first two years of the war is little known. However, in the summer of 1863, he and the 3rd West Virginia saw action in battle at Dry Creek, WV (commonly known as the Battle of White Sulphur Springs). A West Virginia highway historical marker stands at the site, located at the junction of U.S. Route 60 and West Virginia Route 92. It states that the battle was between "Gen. Sam Jones' Confederates and Gen. W.W. Averell's Federals. Action is also known as Howard's Creek, White Sulphur Springs and Rocky Gap. Losses: 350."
Burkett's cousin in law Adrian Johnson, and second cousin, Andrew Minerd, both with the 14th Pennsylvania Cavalry, also saw action in the battle.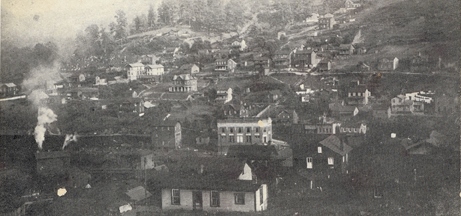 Newburg, Preston County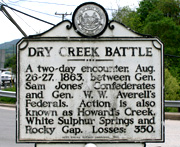 Battlefield sign
According to "War Comes to the Most Fashionable Resort in the Southern States," authored by White Sulphur Springs historian Dr. Robert Conte:
Union troops under the command of General William Averell clashed with Confederate troops commanded by Colonel George S. Patton (grandfather of the World War II general of the same name... A fierce battle raged all day long in what historian Boyd Stutler called The Battle for the Law Books" because Averell's troops were intercepted on their way to Lewisburg to seize the Virginia State Law Library there... The battle continued well into a second day until a Confederate countercharge drove Averell's troops from the field.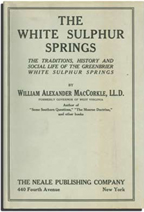 Book about the battle which claimed Burkett's life
In this fight, on Aug. 26, 1863, Burkett was killed. He was hit by "a shot from the enemy," according to an eyewitness. Whether he was killed instantly, or died sometime afterward, is not known, but he likely would have been brought to the Old White Hotel at the resort or to nearby homes for treatment. Rare photographs of the battle site, as well as an excellent history of the action, was published in the 1916 volume, The White Sulphur Springs, authored by William Alexander MacCorkle, former Governor of West Virginia.
Evidence suggests but does not prove that his body was returned to Preston County for burial in Masontown Cemetery. The grave likely was not marked for many years, perhaps until 1915, when his daughter Phoebe "Annie" died and her elderly brother may have wanted to leave a legacy. On the marker, Burkett's date of death "1865" is off by two years, and his wife Mary's is incorrect by three years. [Find-a-Grave]
"Some of those who died were buried on the resort property," Conte writes. But wounded soldiers also are known to have been loaded into ambulances and taken on the retreat through Pocahontas County, by way of Huntersville and Marlins Bottom, to Beverly..., writes John A. Arbogast in his article, "The Battle of Dry Creek," published in the October 1968 edition of the Journal of the Greenbrier Historical Society. Thus it is entirely possible that Burkett is buried in one of a number of places along the retreat route. In correspondence with Minerd.com's founder in February 2002, the National Cemetery Administration of the Department of Veterans Affairs in Washington, DC wrote, "We could not find a copy of records of interment for Burkett M. Fawcett..."
When Burkett's father wrote a will in 1874, he left 35 acres to Burkett's children. The land adjoined Three-Fork Road and the property of Michael Roach. In 1881, Elisha and Phoebe sold 30 acres of the tract to Thomas Roach and Edward F. Doyle.
The U.S. undertook a special census in 1890 to identify living Civil War veterans or their widows. In that census, Mary is shown to be residing in Masontown, Preston County.

Junction of Anthony's Creek Road and the James River and Kanawha Turnpike, which was filled with dead and wounded, and maybe where Burkett was killed.
The newly widowed Mary learned the horrific news "from letters received and information received from members of the same company, and from general report," she wrote. Her reaction is unknown, but she would have been overwhelmed with heartbreak.
The world famous resort hotel at White Sulphur Springs, The Greenbrier, is nestled among the mountains just two miles east of the battlefield. Today the resort considers the battle part of its heritage, and has shared its extensive archives with Minerd.com for publication. The site of the battle is a parking lot and strip mall featuring a Food Lion store, April's Pizzeria, Rite Aid Pharmacy and Hardee's Charbroiled Burgers.
Widowed and with two children, Mary applied for and began receiving a pension from the federal government. Witnesses testifying on her behalf were her father in law, Charles B. Fawcett, and her husband's uncle John Smart Murdock and cousin, Marcellus H. Murdock. On Aug. 26, 1863, she began receiving $8 a month. The original pension documents are in the National Archives in Washington, DC, with a copy in the Minerd.com Archives.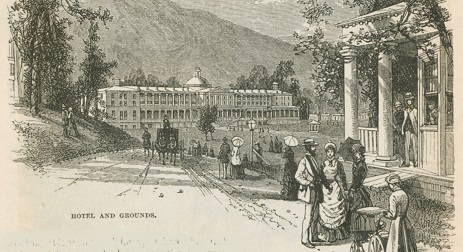 Greenbrier resort in White Sulphur Springs, WV, 2 miles from the field where Burkett was killed, and where wounded from both armies were treated.
Stricken with paralysis, Mary died on Jan. 19, 1894, in Masontown, at the age of 72 years, 9 months and 11 days. She rests in Masontown Cemetery. The year of her passing erroneously is marked as "1897" on the grave marker.
Forty-five years after his death, Burkett was remembered in an article in the Aug. 27, 1908 issue of the Preston County Journal. He was named among several hundred soldiers from Preston County who were in the Union Army. It did not indicate that Burkett had died in the service of his nation. The editor asked readers to help identify:
...as far as possible the names of those who died in the service. We hope at least one of the veterans will furnish us a list from his recent knowledge. This can easily be done by drawing a pencil through all such names. In this way we may secure some names of those who died during the war that we might otherwise miss.
It's unknown whether anyone took the time to respond to the Journal editor's request.
~ Son Elisha Harrison Fawcett ~
Son Elisha Harrison Fawcett (1847- ? ) was born on July 10, 1847.
He was rendered fatherless at the age of 16.
In addition to farming, Elisha learned the trade of carpentry and built houses over the years in Preston County. He never married.
Circa 1900-1910, when the United States Census was made, he and his single sister shared a home in Masontown in the county's Valley District, along the Tunnelton and Ices Ferry Pike.
He has yet to be located on the 1920 U.S. Census and may have died during the 1910s. A record of his death has not been found in online searches for West Virginia, Pennsylvania and Ohio.
The space on his grave marker, to indicate a year of death, is blank.
~ Daughter Phoebe Ann "Annie" Fawcett ~
Daughter Phoebe Ann "Annie" Fawcett (1852-1915) was born on Oct. 25, 1852.
Little is known of her life. She never married.
Over time, she shared a residence with her bachelor brother Elisha in Preston County's Valley District, along the Tunnelton and Ices Ferry Pike in Masontown. They were together there in 1900 and 1910 as shown in the federal census enumerations.
She died in 1915 at the age of 63. She rests with her parents and brother in Masontown Cemetery.
Copyright © 2000-2001, 2003, 2006, 2009, 2019 Mark A. Miner
White Sulphur Springs sketch, Harper's New Monthly Magazine, August 1878.