Home

Barbara 'Ellen' Minerd
(1859-1888)
Lutheran Cemetery,
New Rumley
Barbara "Ellen" Minerd was born in about 1859 in New Rumley, Harrison County, OH, the daughter of Jacob and Mary Ann (Kimmel) Minerd. Her short 29 years of life were filled with heartache and debilitating mental illness, and her eventual suicide generated news headlines.
Ellen never married. When she was 22, in 1881, she faced the pain of her mother's death. She then endured while her father married again, to a woman who was mentally unbalanced.
At some point, in the mid-1880s, Ellen was institutionalized in Harrison County for her own mental illness. She was not told when her father took his own life in December 1885.
In December 1887, still not knowing of her father's death, Ellen was transferred to the Central Insane Asylum in Columbus, OH. There, she was kept under close watch for possible suicide.
In early May 1888, she learned of her father's suicide, "which seemed to weigh heavily on her mind," said the Cadiz Republican.
On May 11 or 12, 1888, Ellen slipped past her attendants at the Asylum, entered a room and used a stepladder to reach the ceiling. There, she broke out a glass skylight. Then, said the Republican, she:
...climbed to the roof of the building without being missed from among the patients. Having once gained the roof, an opportunity was offered for her to put in execution, with fatal effect, her mania to commit suicide. Passing along the roof to the eave trough, she could look down on the ground below, a distance of fifty to fifty-five feet. Her movements up to this time were unknown to any of the officers or attendants. Just as she got over the edge of the roof, and while hanging to the eaves by her hands, she was discovered by ... the telegraph and telephone operator at the institution. The alarm was given, but it was beyond the power of any one to save the unfortunate woman. In an instant she lost her hold and fell to the ground. Attendants hastened to the prostrate woman, expecting to find life extinct.

Sprawling Ohio State Insane Asylum complex, where Ellen jumped to her death in 1888.
Harper's New Monthly Magazine, April 1888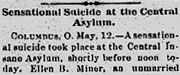 News obituary, 1888
Unbelievably, Ellen survived her fall, but had suffered massive injuries to her internal organs. She was rushed to the hospital, and recovered enough to "converse with the attendants a short time." But after lingering "for about half an hour, during which time she gave no signs of suffering, the woman died, evidently from internal injuries. Not a bone was broken by the fall."
Ellen's relatives in Jewett, Harrison County were notified. Her body was returned to New Rumley for burial beside her parents, where they are at final rest for eternity. An upright shaft was placed on her grave, inscribed "Ellen B. Miner," which was legible when photographed by the founder of this website in August 2001.
Copyright © 2002, 2012, 2021 Mark A. Miner