Caroline (Minerd) Lambert
(1893-1944)
Caroline "Carrie" (Minerd) Lambert was born on April 15, 1893 in Connellsville, Fayette County, PA, the daughter of James C. and Suvina (Yauger) Minerd Sr.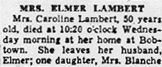 Uniontown Morning Herald
On March 2, 1916, at age 23, Carrie married 35-year-old Elmer Ellsworth Lambert (Dec. 11, 1880-1965). She was a dozen years younger than her husband.
The Lamberts together bore one daughter, Blanche Wilson.
Elmer was a laborer for decades at coal mines at Keisterville, Fayette County and later at Bobtown, Greene County, PA. Circa 1938, the couple relocated to Bobtown.
Carrie suffered from hardening of the arteries and hypertension. After suffering a cerebral hemorrhage, she died at the age of 50 on Jan. 26, 1944 in Bobtown. She is buried in Monongahela Hill Cemetery in Greensboro, PA.
Elmer married again, to Margaret Ellen (Dean) Crawford (May 15, 1883-1951), daughter of Francis and Malinda (Porter) Dean of Maryland. They made their home at Bobtown.
Margaret Ellen was burdened with cancer of the uterus and insufficient blood flow to the heart. She died at the age of 67 at the Uniontown Hospital on April 22, 1951, leaving Elmer a widower for the second time. Her remains were lowered under the sod of Evergreen Memorial Park at Point Marion, Fayette County.
Elmer outlived his second wife by 14 years and remained in Bobtown.
Toward the end, suffering from prostate cancer and hardening of the arteries, he was admitted to Torrance State Hospital in nearby Derry Township, Westmoreland County. After "an extended illness," said the Uniontown Morning Herald, he died at the age of 84 on March 28, 1965. He was survived by nine grandchildren and six great-grandchildren. Following a funeral led by Rev. Edward Pollock of the First Baptist Church of Point Marion, he was laid to rest beside Carrie at the Monongahela Hill Cemetery in Greensboro.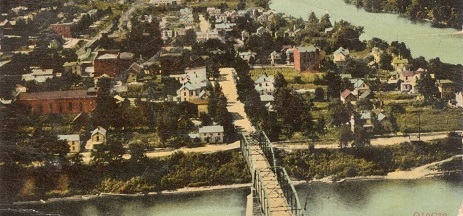 Bird's-eye view of nearby Point Marion, PA
~ Daughter Blanche (Lambert) Wilson ~
Daughter Blanche Lambert (1817-1998) was born on Sept. 24, 1917 in Keisterville, Fayette County.
At the age of 17, Blanche married James Wilson ( ? - 1986), son of James H. and Beulah Rae (Tuttle) Wilson. The nuptials took place in Uniontown on Dec. 15, 1934.
They lived at Bobtown, Greene County and produced a brood of nine children -- Lloyd E. Wilson, Rev. Erwin Woodrow "Woody" Wilson, Donald Wilson, Judith "Judy" Allen, Carolyne Rae Zalar, Albert Raymond "Pete" Wilson, Linda Grabofski, James Wilson and Darrell Wilson.
James was superintendent of Jones & Laughlin Corporation's Shannopin Mine in Bobtown, where he was employed for 35 years. The family belonged to the Bobtown Methodist Church.
They moved to Orlando, FL in about 1969.
The Wilsons celebrated their golden wedding anniversary in December 1984 with a family party of some 90 guests in Mo Ho Park in Orlando. At the time, they had 16 grandchildren. A related article about the party was published in the Washington (PA) Observer-Reporter.
Sadly, James surrendered to the spirit of death on March 13, 1986.
Blanche's final years were spent in Orlando. She passed away in Palm Harbor, FL, at the age of 80, on April 17, 1998. The remains were returned to her native Pennsylvania for interment. She was survived by 17 grandchildren and a baker's dozen great-grandchildren.
Son Lloyd E. Wilson Sr. (1935-2011) was born on July 11, 1935 in Keisterville, Fayette County. In 1958, he was united in matrimony with Patricia Gearingn ( ? - ? ). The nuptials were held in Bobtown, Greene County. Their only son is Lloyd E. Wilson Jr. Lloyd Sr. served for four years in the U.S. Navy. He then joined the U.S. Air Force and logged 16 more years of service, retiring as a master sergeant. The family traveled extensively during his military years. Later in life, he graduated with a degree in mathematics from St.Leo's College. In his spare time, he enjoyed genealogy. The couple lived in Oil City, PA in 1998. After a lengthy illness, Lloyd passed away at home at the age of 75 on April 15, 2011.
Son Rev. Erwin Woodrow "Woody" Wilson (1936-2021) was born on July 19, 1936 in Keisterville, Fayette County. He graduated from Point Marion High School and then earned an associate's degree in business administration and studied a school for radio and television repair. On Sept. 15, 1956, he was joined in holy wedlock with Carol A. Stansfield ( ? - ? ). The pair became the parents of four -- Kevin G. Wilson, Kathleen G. Wilson-Vazquez, Kelleen G. Vannicola and Karrie G. Hoffmann. In 1954, he enlisted in the U.S. Air Force. He continued his Air Force service for two decades, including during the Vietnam War, and earned a Purple Heart medal. He retired with the rank of master sergeant in June 1974. After leaving the armed forces, he became employed in 1979 in Morgantown, WV by the U.S. Department of Energy, retiring from DOE in 1999. Sensing God's call, he became a pastor in United Methodist Churches in Greene County, serving the Davistown and Shordan Chapel charge and Mapletown and Mount Pleasant charge. In his free time he was a Boy Scouts leader, made his own wine, collected stamps, hunted and fished, tended his farm and worked with wood. He was a member of the board of directors of the East Dunkard Water Association and held memberships in the James Farrell Post of the American Legion in Waynesburg and the Veterans of Foreign Wars post of Carmichaels. Erwin was gathered away by the angel of death at age 84 on Feb. 2, 2021 as a patient in Waynesburg Healthcare and Rehabilitation. The headcount of his survivors included seven grandchildren and six great-grandchildren.
Son Donald B. Wilson ( ? - ? ) lived in Jacksonville, FL and in 1998 in Orlando, FL. He was deceased by 2021.
Daughter Judith A. "Judy" Wilson was united in wedlock with Eugene Allen. They have resided in Naperville and Crest Hill, IL.
Daughter Carolyne Rae Wilson ( ? -2015) was born in (?). She entered into marriage with John Robert Zalar ( ? - 2015). The family moved in 1962 to Orlando, FL and remained for good. They became the parents of three offspring. Reported the Orlando (FL) Sentinel, Carolyne was known for her "sense of humor and unconditional love," while John "was a successful and well respected businessman in the community." Sadly, she died in her sleep on July 19, 2015. Her memorial service was conducted at Orlando's Blessed Trinity Catholic Church. The widowed John only outlived his bride by less than two months. He too slipped away while asleep on Sept. 7, 2015.
Son Albert Raymond "Pete" Wilson (1943-2018) was born in 1943. He married Susanne ( ? - ? ), and the union survived the ups and downs of a remarkable 52 years. Three sons born to the cuople were Albert Raymond Wilson Jr., Alan Robert Wilson and Andrew Ryan Wilson. Albert in young manhood joined the U.S. Navy and served as a hospital corpsman, fourth class. He went on to build his business career in the field of retail information technology. At one time the family lived in St. Charles, MO. By 1998, they moved to Palm Harbor, FL and joined the Presbyterian Church of Palm Harbor, where Albert was an elder, volunteered with vacation Bible school and took part in Saturday morning men's breakfasts and Bible study. He also "hosted weekly Bible study groups at his home," said an obituary. "He was an avid golfer, enjoyed going to movies, watching TV, listening to music, especially Harry Chapin, and Garth Brooks. His favorite author was John Grisham. He also played pinochle, friendly games of poker, and enjoyed a competitive game of Trivial Pursuit with family and friends." Their final home was in Trinity, FL. Albert succumbed to the spectre of death at age 75 on May 3, 2018. His remains were interred in the Florida National Cemetery in Bushnell. A death notice was published in the Tampa Bay Times.
Grandson Albert Raymond Wilson Jr. ( ? - ? )
Grandson Alan Robert Wilson ( ? - ? ) married Elizabeth.
Grandson Andrew Ryan Wilson ( ? - ? ) wed Crystal.
Daughter Linda K. Wilson was joined in matrimony with (?) Grabofsky. She has resided in Lake Mary (circa 1998) and Winter Springs, FL.
Son James D. Wilson married Andrea ( ? - ? ). They made a home at one time in Charleston, WV. By 1998, they relocated to New Milford, CT and were there in 2021.
Son Darrell B. Wilson wed Diana ( ? - ? ). The couple lived in Thomasville, GA. They dwelled in Tallahassee, FL in 1998-2021.
Copyright © 2001, 2009, 2012, 2022 Mark A. Miner