Clyde Bernard Minerd
(1890-1971)
Clyde Bernard Minerd was born on June 7, 1890 in Dunbar, Fayette County, PA, the son of James L. and Catherine (Whalen) Minerd.
As young adults, Clyde and his brother Wilbert "Patsy" Minerd were coal miners for Republic Iron & Steel Company's Republic Coke Works, part of the state's 16th Bituminous District. In April, 1915, the brothers rented house #13 at the coke works as their residence. That same year, Clyde was employed as a fire boss at the Republic mine, and was mentioned in the 1915 Report of the Department of Mines of Pennsylvania, Part II.
On Feb. 23, 1917, when Clyde was 27 years of age, he and 16-year-old Ethel M. Walls (1900-1963) eloped to Cumberland, Allegany County, MD. The nuptials were performed by Rev. J.M. York of the Methodist Episcopal Church. Ethel was the daughter of David Camden and Gustie (Briner) Walls of Uniontown, Fayette County. Ethel fibbed on her marriage license application and stated that she was age 21.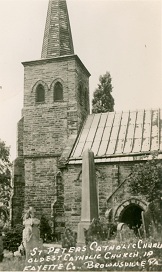 St. Peters Catholic Church
of Brownsville, PA
The Minerds dwelled in Vestaburg and Grindstone, Fayette County, where Clyde was a mine foreman for Colonial 3 Mine of U.S. Steel Corp. They were members of the St. Cecelia Roman Catholic Church in Grindstone. Clyde also made a donation at least once, and perhaps more, to the historic Church of St. Peter in Brownsville, part of the Diocese of Pittsburgh, and is acknowledged as a donor in a booklet about the church.
When the federal census was taken in 1930, the Minerds made their home in Grindstone, where Clyde is labeled as employed as an assistant foreman in the coal mine. Politically active, as was his brother Patsy, Clyde was appointed by the Fayette County Court as judge of election in Jefferson Township No. 3, replacing Alva Hugland.
Sadly, at the age of 63, Ethel passed away suddenly at home on Nov. 22, 1963 -- the very same day that President John F. Kennedy was assassinated in Dallas.
Clyde outlived her by eight years. He died at the age of 81 at the Greene County Memorial Hospital in Waynesburg. He was laid to rest beside Ethel at Lafayette Memorial Park.
The Minerds are mentioned in the 1977 book, Genealogy of Some Early Families in Grant and Pleasant Districts, Preston County, West Virginia.
~ Daughter Juanita (Minerd) Smith ~
Daughter Juanita Minerd (1917-1997) was born in 1917.
She married Martin A. Smith Jr. ( ? - ? ).
She was a longtime school teacher at the Frazier School District and Brownsville Catholic School.
The Smiths had two sons -- Martin B. Smith and Christopher C. Smith.
Juanita passed away at the age of 79 in Brownsville General Hospital on Feb. 16, 1997. She was laid to rest at Lafayette Memorial Park in Brier Hill near Uniontown.
Copyright © 2008, 2012, 2016 Mark A. Miner