Edna (Minerd) Wilson Johnson
(1895-1972)

Edna Wilson Johnson
Edna (Minerd) Wilson Johnson was born in 1895 near Uniontown, Fayette County, PA, the daughter of James L. and Catherine (Whalen) Minerd.
Edna married William Hugh Wilson (Sept. 7, 1900-1936), the son of James Russell and Jane Elizabeth (Goldsboro) Wilson of Vesta No. 1 in Fayette County.
The couple produced two sons -- William J. Wilson and Robert M. Wilson.
The Johnsons lived in the 1930s at 25 Garard Avenue in Uniontown. Edna was a member of the St. Therese Roman Catholic Church of Republic. William was a veteran of World War I, serving as a private with Company A of a military unit affiliated with the University of Pittsburgh. He was employed for many years as an electrician for the West Penn Power generation facility in Connellsville.
Tragedy rocked the family in the winter of 1936. While at work on a transformer at the West Penn powerhouse on Feb. 2, 1936, William received a massive shock of 4,000 volts of electricity. The Uniontown Daily Standard reported he had been "working on a ten-foot ladder when he came into contact with the electricity which quickly transformed him into a burning torch. He fell to the floor and rolled in agony. Fellow workmen came to the rescue and after extinguishing the flame, rushed him to the hospital." Sadly, with burns blackening his entire body, he died in Cottage State Hospital of his burns. Burial was in Oak Grove Cemetery.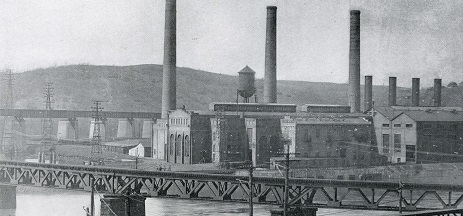 West Penn Power works where William Wilson was mortally injured
The now-widowed Edna maintained their Garard Avenue home with her sons, as shown in the 1940 federal census.
Edna is said to have remarried to Peter Johnson ( ? - ? ).
In 1959, she suffered the untimely death of her 36-year-old son William.
Edna resided at 25 Gerard Avenue in Uniontown for many years. She later moved into the White Swan Apartments, remaining there until her death. She passed away at the age of 77 on Oct. 10, 1972. She was laid to rest in Oak Grove Cemetery.
~ Son William J. Wilson ~
Son William J. Wilson (1923-1959) was born on Jan. 14, 1923 in Uniontown. He was age 13 when his father tragically was killed.
William married Juanita (?). They resided in Markleysburg, Fayette County, where William earned a living as a lumber salesman.
At the age of 36, William suffered a massive hemorrhage of the brain, caused in part by hardening of the arteries and heart disease. He died on Oct. 30, 1959. Interment was in Sylvan Heights Cemetery.
~ Son Robert M. Wilson ~
Son Robert M. Wilson (1928- ? ) was born in about 1928 in or near Uniontown. He was but a boy when his father was killed.
Copyright © 2008, 2018 Mark A. Miner