Elizabeth (Minerd) Wilson
(1888-1967)
Elizabeth (Minerd) Wilson was born on Dec. 11, 1888 at Dunbar, Fayette County, PA, the daughter of James Valentine and Nancy (Warman) Fuller Minerd.
On Aug. 31, 1910, when she was 21 years of age, Elizabeth wed 25-year-old Ira Wilson (Oct. 7, 1884-1968), a coal miner of Percy, near Uniontown, Fayette County. He was the son of John and Mary E. (Hanlon) Wilson. Rev. Francis C. Veile officiated the ceremony.
The couple produced a family of nine children -- Mary Elizabeth Riley, Helen Velma Roberts, John A. Wilson, James R. Wilson, Ira W. Wilson, Clara V. Wilson, Raymond Gene Wilson, Margaret Wilson and an unnamed infant.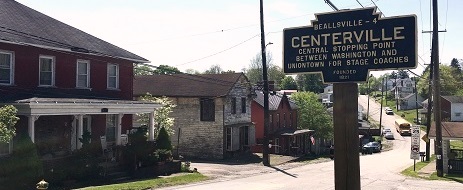 Centerville, Washington County
Ira was required to rgister for the military draft during World War I. At that time, he was employed as a fire boss in the Hill Farm Mines at Dunbar. In 1920, when the federal census was taken, the Wilsons and their four eldest children resided in Uniontown, Fayette County, where Ira worked as a foreman in the local coal mines.
By 1930, the family had expanded to seven children. They made their home in Centerville, Washington County, PA, where Ira continued his labors as a coal miner. Centerville was so named as the central stopping point for stagecoaches traversing the National Road turnpike between Washington and Uniontown, PA.
Heartache shook the Wilsons on Dec. 3, 1931, when their newborn, unnamed baby son died of malnutrition after living for about nine hours. His tender remains were buried in Percy Cemetery near Uniontown.
The family moved during the Great Depression years and resided circa 1939 in New Geneva, Fayette County. Among the local landmarks in New Geneva is Friendship Hill, the home of Albert Gallatin, who served as Secretary of the Treasury of the United States during the presidency of Thomas Jefferson.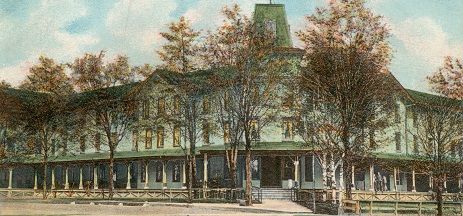 Cambridge Springs' landmark Riverside Hotel
Circa 1940, the Crawfords relocated to Cambridge Springs, Crawford County. When Ira registered for the military draft during World War II, he disclosed that he was employed by Fraser-Brace Construction Company of Geneva, Crawford County.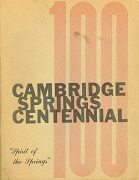 Centennial booklet
In the 1953-1957 era, they lived at Cambridge Springs. In July 1954, she is known to have brought her daughters Clara and Velma to Dunbar for a visit with her sister, Alice Doughty, of First Street, Speers Hill.
One of Elizabeth's distant cousins, Albert Sheppard and Ethel (Buchanan) Minerd, also resided in Cambridge Springs. In August 1954, the Minerds retired and moved there, and bought a 113-acre farm. Whether Elizabeth knew them, or was aware of the family connection, is not known.
Cambridge Springs celebrated its centennial anniversary during the week of July 11, 1966. Among the highlights was a "historical spectacle" performance of the play, "Spirit of the Springs," performed each night at the Cambridge Springs High School Field.
Their home was located in Venango Township.
Elizabeth was diagnosed with ovarian cancer in about 1965 and suffered for two years. At the age of 78, she passed away in Meadville's City Hospital on Sept. 18, 1967. The funeral was held in Cambridge Cemetery. Her nieces Olive Quairiere and Mary Robbins, and Mr. and Mrs. John Maddas, traveled there for the funeral.
Ira only outlived his wife by a little more than a year. Having suffered for years with hardening of the arteries and emphysema, he died at the age of 84 on Nov. 7, 1968.
~ Daughter Mary Elizabeth (Wilson) Riley ~
Daughter Mary E. Wilson (1911-1996) was born in 1911.
She was joined in matrimony with John Riley (1889-1957), a native of West Virginia. The groom was 22 years older than the bride.
Two children were born to this couple -- John Andrew Riley and Janet Mercier.
During World War I, John served as a sergeant with the 253rd Company, 127th Battalion of the M.P. Corps.
Death spirited Mary away in Broward County in 1996. Her remains were transported back to Coal Center, PA to sleep for the ages in Howe Cemetery.
Son John Andrew "Jack" Riley (1935-2000) was born on June 23, 1935 in Elco near Allenport, Washington County. He attended Cornell University and Florida State University and then was trained at the FBI Academy. In April 1968, in Broward County, FL, he married Patricia Gay (Heibert) Devlin (May 4, 1930-2021), a native of Baden, PA and the daughter of Joseph and Annagayle (Byrne) Heibert. She had been married before to tree surgeon Arthur B. Devlin (1930- ? ) and brought several stepchildren into the second union. All told, their family of children included Arthur Devlin, Michael Devlin, Mary Beth Riley, Barbara Catron, Margaret "Peggy" Hoff and Patty Rossett. Patricia was an alumna of Baldwin High School near Pittsburgh and was a cheerleader and student council member. Said a News-Herald obituary, Patricia was "the runner-up to Miss Western Pennsylvania in 1947, and once had a contract with the Ice Capades. She [was] a member of King's Church in Lakewood [OH], where she loved to sing worship songs to her Lord ... hands held high!" The family made a home in Broward County and then in about 1989 relocated to Hernando, FL. John was employed by the Pompano Beach Police Department and retired with the rank of captain. He also earned income in Broward and Citrus Counties as a property appraiser. Patricia was a longtime nurse. He was a member of the Fraternal Order of Police, and the family attended the First United Methodist Church of Inverness. Sadly, while in hospice, the 65-year-old John died in Hernando on Dec. 10, 2000. His obituary was published in the Tampa Bay Times. Patricia survived for another 21 years and moved to Ohio where she resided in Burton and Lakewood near her children. She liked to travel, take cruises and go on gambling trips. Following a lengthy illness, she surrendered to the angel of death at the age of 90 on Jan. 21, 2021.
Grandson Arthur Devlin wed Patricia. He lived in Mentor, OH in 2000.
Grandson Michael Devlin established his residence in Pittsboro, NC.
Granddaughter Mary Beth Riley dwelled in Coral Springs, FL in 2000.
Granddaughter Barbara wed Earl Catron. Her home in 2000 was in Coral Springs, FL.
Granddaughter Margaret "Peggy" married Richard Hoff. She was in Plantation, FL in 2000.
Granddaughter Patty entered into marriage with Gregory Rossett. She put down roots in Canton, OH.
Daughter Janet Riley was joined in matrimony with (?) Mercier. Her home in 2000 was in Lauderhill, FL.
~ Daughter Helen Velma (Wilson) Roberts ~
Daughter Helen Velma Wilson (1914-1955) was born on Nov. 27, 1914 at Percy near Uniontown, Fayette County.
She was united in wedlock with Edgar Paul Roberts (1908-1992).
Two sons born to this union were Edgar J. Roberts and John T. Roberts.
They resided in Washington County, PA in 1935 and in Cambridge Springs in 1940, where Edgar earned a living as a barber and mine driller, and Helen owned a beauty shop.
During World War II, she served with the U.S. Army as a member of the 5214 Women's Army Corps (WAC).
The couple eventually divorced.
Stricken with cancer of the cervix, lungs, kidneys, esophagus and lymph nodes, Helen underwent surgery at the Veterans Administration Hospital in Pittsburgh and was treated with radiation.
The procedures were unsuccessful, and she succumbed at the age of 40 on Nov. 22, 1955. Her remains were returned to Cambridge Springs for interment. Her brother Ira served as executor of the estate.
Son Edgar J. Roberts (1947- ? ) was born in about 1947.
Son John T. Roberts (1949- ? ) was born in about 1949.
~ Son John Albert Wilson ~
Son John Albert Wilson (1917-1996) was born on March 26, 1917 in Mount Braddock, PA.
He entered into marriage with Bette Marion (March 17, 1921-1986).
The pair's one known son was John Joseph Wilson.
The couple dwelled in Meadville, PA at 823 Grove Street (in 1940) and at 647 Jefferson Street (1950). John's employer in 1940 was American Viscose Corporation on Dunham Road, where he worked in production for the rayon factory. The Wilsons provided a home in 1940 for his married sister Helen Roberts and bachelor brother James Wilson.
During World War II, John served in the U.S. Army, attaining the rank of sergeant.
Later, they established their residence in Riverside County, CA.
Bette died on Nov. 15, 1986.
John survived for another decade.
He passed away in Hemet, CA on Aug. 20, 1996. He rests next to his bride in Riverside National Cemetery.
Son John Joseph Wilson (1940- ? ) was born in about 1940.
~ Son James Robert Wilson ~
Son James Robert Wilson (1919-1979) was born on Sept. 6, 1919 in Percy, Fayette County.
A bachelor at the age of 20 in 1940, he lived in the household of his married brother John in Meadville, PA. His occupation at the time was as a processor at the American Viscose rayon factory..
He joined the U.S. Army during World War II and rose to the rank of captain. He was honorably discharged at Deshon General Hospital in Butler, PA on May 31, 1946.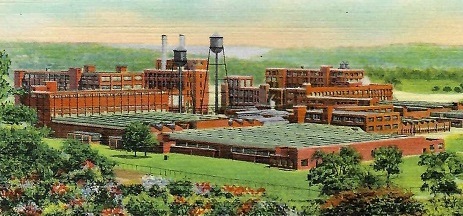 James Wilson's prewar employer, American Viscose in Meadville
James entered into marriage with Catherine (1918- ? ).
As of 1950, the Wilsons made their home in Meadville, Crawford County, PA, at 778 Grove Street. James was employed at that time as a watchmaker and jeweler, and Catherine as a registered nurse at City Hospital.
Their final residence together was in Cambridge Springs.
He died in Erie, PA on June 19, 1979. The remains are interred in Venango Cemetery, Crawford County.
Mary lived for another two-plus years. She was carried away by the spirit of death on Nov. 4, 1981.
~ Son Ira William "Bill" Wilson ~
Son Ira William "Bill" Wilson (1922-1991) was born on June 29, 1922 in Percy, Fayette County.
He relocated with his parents and family to Cambridge Springs, Crawford County, and had two years of high school. In 1942, at the age of 20, he worked for the American Viscose Corporation's rayon plant in Meadville.
Ira joined the U.S. Army during World War II. He was assigned to Company A of the 338th Infantry Regiment, 85th Division, and was a sergeant. He was discharged at Indiantown Gap, PA on Nov. 3, 1945.
Ira wed Anna Marie Rendulic (Nov. 14, 1923-2015), daughter of Joseph and Josephine (Bisich) Rendulic of McKeesport, PA.
The family they produced together included Maryann Wilson, William David Wilson, Robert Gene Wilson, Charles Joseph Wilson and perhaps others.
When the federal census enumeration was made in 1950, the Wilsons resided in Cambridge Springs, with Ira employed baking parts in a furnace for an electric appliance company. Anna generated income through her work for Ohio Rubber Company in Conneautville, PA and Penn Union in Edinboro, PA.
Their final years were spent in Hernando, Citrus County, FL. He died in Hernando at the age of 69 on Aug. 15, 1991.
Anna outlived her husband by 24 years and remained in Hernando. As her health failed, she returned north to share a home in Cambridge Springs with her son Charles.
At the age of 91, Anna passed away on March 8, 2015. The Meadville Tribune printed an obituary.
Daughter Maryann Wilson (1943-2008) was born on Aug. 17, 1943 in Meadville. She was united in matrimony with (?) Sherman ( ? - ? ). Their only son was Jeffrey Paul Sherman. Maryann resided in 2008 at the address of 442 Venango Avenue, Cambridge Springs. Sadly, she died unexpectedly at the age of 64 on June 18, 2008. Officiating her funeral mass was Monsignor Lawrence Speice of the local St. Anthony of Padua Catholic Church.
Grandson Jeffrey Paul Sherman lived in Citrus Springs, FL in 2008.
Son William David Wilson (1946- ? ) was born in about 1946. He was joined in wedlock with Teresa ( ? - ? ). Their home in 2017 was in Erie, PA.
Son Robert Gene Wilson (1947- ? ) was born in about 1947. He resided in 2017 in Hernando, FL.
Son Charles Joseph "Chuck" Wilson (1948-2017) was born two days after Christmas 1948 in Meadville. He was a graduate of Cambridge Springs High School. As a young man he joined the U.S. Army. Later, he was employed by Avtex and Lord's Corporation in Saegertown, PA. He retired from Lord's in 2011. He was the father of Tanya Hornstrom. The family resided in Cambridge Springs. Sadly, without warning, Charles passed away at home at the age of 68 on Feb. 12, 2017. His remains were cremated.
Granddaughter Tanya Wilson wed (?) Hornstrom. They are the parents of Kayla Hornstrom.
~ Daughter Clara V. Wilson ~
Daughter Clara V. Wilson (1925- ? ) was born in about 1925.
~ Son Raymond Wilson ~
Son Raymond Wilson (1928- ? ) was born in about 1928.
~ Daughter Margaret Wilson ~
Daughter Margaret Wilson (1932- ? ) was born in 1932.
Unmarried at the age of 18, in 1950, she resided in her parents' home in Cambridge Springs.
Copyright © 2000-2005, 2008-2009, 2012, 2014, 2022-2023 Mark A. Miner