Harry Calvin Minerd
(1907-1988)
Harry Calvin Minerd was born on July 15, 1907 in Broad Ford, Dunbar Township, Fayette County, PA, the youngest of 15 children of James C. and Suvina (Yauger) Minerd Sr.
In adulthood Harry stood 5 feet, 7 inches tall and weighed 193 lbs. His eyes were blue, his hair brown and his complexion dar.
Harry was united in the bonds of holy matrimony with Laura B. Beal (1910-2000), the daughter of William and Bessie (McManus) Beal of near Uniontown, Fayette County.
They produced one daughter, Shirley Louise Fee.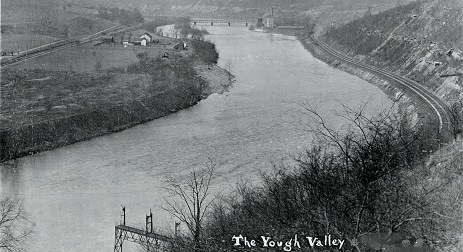 The Youghiogheny River Valley at Broad Ford, where Harry was born
The Minerds often moved throughout the Uniontown and and Fayette County region. Circa 1938, their residence was on Brownfield Lane. Then in 1940, when Harry was required to register for the military draft as World War II loomed, the family lived at 110 South Mt. Vernon Avenue in Uniontown. At that time, Harry was employed by Wilson Packing Company on North Mount Vernon Avenue. He disclosed to the registrar that he bore a scar from gallstone surgery.
Their address in 1963 was at 356 Pittsburgh Road; and in 1971 at 13 Martha Street. The family made news in the Uniontown Morning Herald in April 1975 when city firefighters were summoned to investigate their smoke-filled house, fortunately finding no fire and that a furnace motor had been the source.

Uniontown Herald Standard, 1988
Harry earned a living as a coal miner, a truck driver for the Wilson Meat Company and a miller for J.E. Hogsett & Sons.
Harry died on Feb. 12, 1988 in the Uniontown Hospital, at the age of 81.
Laura survived her husband by more than a dozen years. She passed away on Aug. 13, 2000 in Uniontown Hospital, at the age of 89. She is buried at LaFayette Memorial Park in Brier Hill, near Uniontown.
~ Daughter Shirley Louise (Minerd) Fee ~
Daughter Shirley Louise Minerd (1935-2015) was born in about 1935. She grew up surrounded by cousins and often attended family gatherings and birthday parties, as noted in the society columns of the Uniontown newspapers.
She married Charles "Chick" Fee ( ? - ? ), son of Eva Fee of Uniontown.
The Fees resided at 110 Cleveland Avenue in Uniontown in 1963 -- at 40 Oakland Avenue in 1965 -- and at 53 Race Street in 1967-1971.
They had two known children, born nine years apart -- Christopher David Fee and Mary Ann Fee.
Shirley was active in 1963 with organizing the Uniontown Senior High School 10-year reunion. The planning committee was pictured in a related news story in the Uniontown Morning Herald.
Sadly, Shirley passed into eternity on Oct. 13, 2015. She was age 80.
Son Christopher David Fee ( ? - ? )
Daughter Mary Ann Fee ( ? - ? )
Copyright © 2001, 2015, 2018 Mark A. Miner