James William Minerd
(1898-1911)
James W. Minerd
James William Minerd was born in 1898 in Fayette County, PA, the son of Thomas Watt and Sarah Theresa (Dowling) Minerd.
Crippled since infancy, he lived with his parents and brothers in the coal mine patch town of Helen near Smock, Fayette County. He is known to have made many friends in the community.
Tragically, however, he drowned at age 13.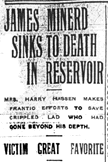 Uniontown Morning Herald
On Aug. 9, 1911, while rafting in the reservoir at the Helen Works, he fell into the water and was unable to rescue himself. The Uniontown Morning Herald reported that:
In plain view of Mrs. Harry Hassen and her two sons, who made a frantic effort to save him, James Minerd, aged 15, was drowned in the reservoir at the Atlas coke works, Helen, yesterday afternoon at 4 o'clock. The woman, attracted by the screams of the boys who were bathing with Minerd, ran to the reservoir. It took but a glance to see the plight of Minerd. She quickly secured a rope, fastened one end around her waist and the other on the bank and jumped into the reservoir. Before she could reach the spot where she had last seen the boy he had disappeared for the third time....
The boy, who was the son of Thomas Minerd, a driver in the mines at Atlas, was a cripple and while he and the two sons of Harry Hassen were swimming in the reservoir, Minerd got beyond his depth. The two boys became so excited that they could not save the drowning boy but their cries brought the Mrs. Hassen to the scene.... Minerd was well known in the vicinity in which he lived and was one of the most popular boys at Helen.
He was buried at Pleasant View Cemetery in Smock, Fayette County.
Copyright © 2000, 2018 Mark A. Miner