Barbara Ann (Minerd) Ball
(1837-1914)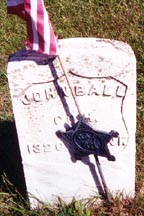 Wiltsie Cemetery
Barbara Ann (Minerd) Ball was born on May 22, 1837 near Scio, Harrison County, OH, the daughter of John and Barbara (Shaeffer) Minerd Jr. She was a pioneer settler of western Ohio and eastern Indiana, and her husband was a veteran of the Civil War.
In 1840, when "Barbary" was a three-year-old, she and her parents left Harrison County. Using "a good team of horses and a substantial wagon," a newspaper once said, they traveled across the state, a "very tedious and slow" journey. The family settled in Van Wert County, OH, and in 1845 moved to a farm along the Ohio state line in Allen County, IN.
Barbary and her future husband grew up together. In fact, Barbary's brother James Minerd once said, "I had been very well acquainted with ... John Ball from the time he was very young until his death, that we were boys together and he and I attended the same school..." The Balls remained in touch with their Minerd and Tilbury cousins for many decades, well into the 1930s.
On April 22, 1855, when she was age 17, Barbary married 19-year-old John Ball (1836-1908) in Allen County, by the hand of Samuel Clem, a justice of the peace. He was a native of New Baltimore, Stark County, OH, and migrated with his parents to Benton Townshipo, Paulding County, when he was age three. With the exception of four years, he was a resident of Paulding County for the rest of his life.
The Balls had five children -- Eunice A. Ball, Louisa E. Ball, Annetta Virginia "Nettie" A. Schneider Bowersock Lyons, John Hixon Ball and one unknown.
Three years after the Civil War broke out, John served in the 132nd Ohio National Guard Infantry, Company H. He stood 5 feet, 11 inches tall, and by all accounts he was "a stout, healthy man" at the start of his service. His term was just three months, 10 days.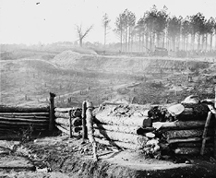 Federal earthworks at Bermuda
Hundred, near Point of Rocks.
During the war, he suffered from eye problems as well as bronchial congestion and muscle stiffness. One eyewitness remembered that "while helping to build fortifications on the James River, [John] contracted disease of the eyes, caused by the excessive overwork incident to said duty." In his own words, John said:
We were working on the Fort on James River; eyes became inflamed; intolerant of light; did not lay up until I got home; when I came home I had jaundice which made eyes worse; first summer after my return I could not see to plough corn; for last two years they would at times seem better but then again would get as bad as ever if not worse at times.
John M. Stabler, a fellow soldier, corroborated John's testimony, saying that in July 1864:
We were working on a railroad near Richmond. He claimed that his sore eyes were the result of overheat while working on the road. They were inflamed and watery... I bunked with him. I never saw him use any eye washes.
John also came down with hemorrhoids while "in service and line of duty at or near Bermuda Hundreds, Va., on or about August 1864." He often was treated by Major Andrew Meng, who was his "village doctor" prior to the war.
John "was mustered out of service with his regiment, in Columbus, Ohio, in 1864," and he returned home.
The Balls lived most if not all of their married lives in Paulding County, OH, the county directly north of Van Wert County. They were in or near the town of Antwerp from 1865 to the fall of 1883, when they moved to the town of Payne. John's brother William Ball also resided in Payne.
Sadly, daughter Eunice died in August 1866 as she neared her seventh birthday. She was buried at the Riverside Cemetery in nearby Antwerp. Heartache struck again when in February 1872 daughter Louisa, who was approaching her 15th birthday, passed away.
Over the postwar years, Jasper W. Hughes employed John at different times for farm-related work. Others who labored for or with John included William Dawson and Abraham Bauserman.
The quiet road to Antwerp, beside the Wabash Railroad
John increasingly suffered the effects of his wartime illnesses as he aged. Friend Samuel Wiltsie wrote in 1894 that "His eyesight is so badly impaired that he can scarcely recognize his own children and he is entirely unfit for manual labor." Later, Wiltsie added that John "had been a farmer but was compelled to quite and engage in some light work. He was worse in the year 1867. He was so bad that he could not leave his house." By 1886, he could "count fingers" with his right eye at a distance of six feet and with his left eye at 10 feet.
Friend Hughes once said that he had seen John "wear colored glasses when snow was on the ground and from his being compelled to avoid all work like threshing wheat and the like when dust was flying about..." In 1903, E.G. Waltz said:
I helpt him cut some wood this winter with cross cut saw. He could help saw but could not see to split the wood. He could not see where to strike or find the axe or wedges without getting down and feeling around for them.

Sketch of John's eyes, 1904
Physicians later testified that John "has pterygium of each eye, each one covers a portion of the pupil area, the right however covers so much of the pupil that vision is almost nothing." Dr. W.H. Snyder of Toledo, who examined John and sketched the growths on his eyes in 1904, was skeptical, however, and wrote:
He is a remarkably preserved man, looks about 50 instead of 77... I cannot see under the General law how he can get anything. He went in the service, never smelled Powder, was discharged came home worked three years and then these growths appeared on his eyes for whiche he saw a Doctor who advised operation. He would not consent and they grew to the middle of the Cornea where they have been for years. No possible connection with the service.
In 1896, John himself said "I have of late years treated myself with home remedies and patent medicines." He ultimately applied for and received a federal pension for his disability.
Barbara's father lived to the ripe old age of 98. When he died in 1898, Barbara and all but one of her living siblings attended the funeral. The terms of the father's will stated that she was to receive a cash payment of $100 within 1 year.
Payne's Main Street, looking north
By 1906, John declared to the federal government that he was "unable to perform any manual labor and is totaly disabled from making a living and has to depend wholly upon his pension for a living. From disease of eyes have pain and misery in the head, and when attempting walk often get very dizzy and quite frequently have to stop and steady [myself] so that can again move or walk and at all times totering."
Later in life, the Balls lived on Laura Street in Payne.
Sadly, John died at age 81 on June 5, 1908. He was buried at Wiltsie Cemetery, about a mile from Payne. His widow later wrote that no public record was kept of his death.
Barbary passed away on Jan. 25, 1914, at the age of 77. She had been suffering from pulmonary tuberculosis. She also was laid to rest at the Wiltsie Cemetery. At her death, she was eulogized in a local newspaper as someone "whose life work was for the benefit of others, portraying as noble a character as ever a mortal was blessed."
Because Barbary's mother had passed away so relatively young, Barbary apparently did not talk about her much to her children. Upon Barbary's death, when asked the names of her parents, her son John knew the father was "John Miner" but marked the mother as "Not Known."
~ Daughter Annetta Virginia "Nettie" A. Schneider Bowersock Lyons ~
Daughter Annetta Virginia "Nettie" Ball (1864-1943) was born in about 1864,
By 1880, 16-year-old daughter Nettie was married to 21-year-old Lyman Schneider ( ? - ? ). They boarded in the home of Nettie's parents.
Within four years, Nettie married again, to W.H. Bowersock ( ? - ? ). In 1900, the federal census shows that they were living in Payne.
Over the years, the Balls also helped raise their grandson Claude Ball and granddaughter May Bowersock.
Nettie ultimately married a man named Lyons. Circa 1908 she resided in Minneapolis, and in 1914 was in Great Falls, MT.
She passed away in Los Angeles on June 26, 1943, either at the home of daughter May Palmer or of son Dale Bowersock.
~ Son John Hixon Ball ~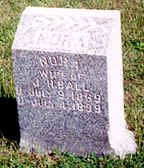 Nora's grave,
Wiltsie Cemetery
Son John Hixon Ball (1868-1935) was born in 1868.
He became a barber.
John wedded Nora A. Lamb (1869-1899).
They had two children -- Claude Hixon Ball and Vivien Lucile Ball.
Tragically, Nora passed away at age 30 on July 4, 1899, presumably in childbirth with Vivien. Her remains were placed into rest at Wiltsie Cemetery.
Later, John married Myrtle (1885- ? ), a dressmaker. They lived on Laura Street in Payne. In July 1930, while on vacation, they sent a postcard to cousin Corwin Tilbury in Pittsburgh. Corwin forwarded the news to relatives in Indiana, saying: "We got a card from Myrtle and John Ball last week from Sault St. Marie Mich. I supposed Claude -- John Ball's son -- is taking a trip by auto and has them along."
John died of myocarditis on March 18, 1935 and is buried near his parents at Wiltsie Cemetery. As an indication of the strength of the family connections, just two months later, John's cousin Corwin Tilbury in Pittsburgh wrote to cousin Goldie (Minerd) Moennig in Fort Wayne, IN:
Do you know the address of John Ball's widow? I'd like to write her also & I liked her quite well. She seemed to be the bread winner in that family.
Son Claude Hixon Ball married Vera Bickel. They apparently had no children. Claude worked as a druggist and died on Feb. 9, 1957 in Logansport, IN. He is buried in Buffalo, IN.
Copyright © 2002-2006, 2019 Mark A. Miner
Research generously contributed by Sue Sohn. Bermuda Hundred photograph courtesy of the Library of Congress.