Home

Barbara Ann (Minerd) Ball
(1837-1914)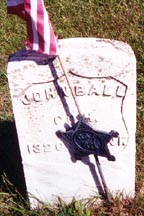 Wiltsie Cemetery
Barbara Ann (Minerd) Ball was born on May 22, 1837 near Scio, Harrison County, OH, the daughter of John and Barbara (Shaeffer) Minerd Jr.
She was a pioneer settler of western Ohio and eastern Indiana, and her husband was a veteran of the Civil War.
In 1840, when "Barbary" was a three-year-old, she and her parents left Harrison County. Using "a good team of horses and a substantial wagon," a newspaper once said, they traveled across the state, a "very tedious and slow" journey. The family settled in Van Wert County, OH, and in 1845 moved across the Ohio state line to a farm near Monroeville, Allen County, IN.
Barbary and her future husband grew up together. In fact, Barbary's brother James Minerd once said, "I had been very well acquainted with ... John Ball from the time he was very young until his death, that we were boys together and he and I attended the same school..." The Balls remained in touch with their Minerd and Tilbury cousins for many decades, well into the 1930s.
On April 22, 1855, when she was age 17, Barbary married 19-year-old John Ball (1836-1908) in Allen County, by the hand of Samuel Clem, a justice of the peace. Their union endured for more than half a decade.
John was a native of New Baltimore, Stark County, OH, and migrated with his parents to Benton Townshipo, Paulding County, when he was age three. With the exception of four years, he was a resident of Paulding County for the rest of his life.
The Balls together produced five children -- Eunice A. Ball, Louisa E. Ball, Annetta Virginia "Nettie" A. Schneider Bowersock Lyons, John Hixon Ball and one unknown.
Three years after the Civil War broke out, John served in the 132nd Ohio National Guard Infantry, Company H. He stood 5 feet, 11 inches tall, and by all accounts he was "a stout, healthy man" at the start of his service. His term was just three months, 10 days.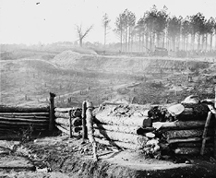 Federal earthworks at Bermuda
Hundred, near Point of Rocks.
During the war, he suffered from eye problems as well as bronchial congestion and muscle stiffness. One eyewitness remembered that "while helping to build fortifications on the James River, [John] contracted disease of the eyes, caused by the excessive overwork incident to said duty." In his own words, John said:
We were working on the Fort on James River; eyes became inflamed; intolerant of light; did not lay up until I got home; when I came home I had jaundice which made eyes worse; first summer after my return I could not see to plough corn; for last two years they would at times seem better but then again would get as bad as ever if not worse at times.
John M. Stabler, a fellow soldier, corroborated John's testimony, saying that in July 1864:
We were working on a railroad near Richmond. He claimed that his sore eyes were the result of overheat while working on the road. They were inflamed and watery... I bunked with him. I never saw him use any eye washes.
John also came down with hemorrhoids while "in service and line of duty at or near Bermuda Hundreds, Va., on or about August 1864." He often was treated by Major Andrew Meng, who was his "village doctor" prior to the war.
John "was mustered out of service with his regiment, in Columbus, Ohio, in 1864," and he returned home.
The Balls lived most if not all of their married lives in Paulding County, OH, the county directly north of Van Wert County. They were in or near the town of Antwerp from 1865 to the fall of 1883, when they moved to the town of Payne. John's brother William Ball also resided in Payne.
Sadly, daughter Eunice died in August 1866 as she neared her seventh birthday. She was buried at the Riverside Cemetery in nearby Antwerp. Heartache struck again when in February 1872 daughter Louisa, who was approaching her 15th birthday, passed away.
Over the postwar years, Jasper W. Hughes employed John at different times for farm-related work. Others who labored for or with John included William Dawson and Abraham Bauserman.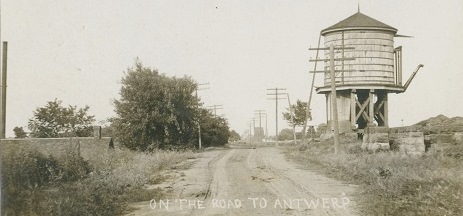 The quiet road to Antwerp, beside the Wabash Railroad
John increasingly suffered the effects of his wartime illnesses as he aged. Friend Samuel Wiltsie wrote in 1894 that "His eyesight is so badly impaired that he can scarcely recognize his own children and he is entirely unfit for manual labor." Later, Wiltsie added that John "had been a farmer but was compelled to quite and engage in some light work. He was worse in the year 1867. He was so bad that he could not leave his house." By 1886, he could "count fingers" with his right eye at a distance of six feet and with his left eye at 10 feet.
Friend Hughes once said that he had seen John "wear colored glasses when snow was on the ground and from his being compelled to avoid all work like threshing wheat and the like when dust was flying about..." In 1903, E.G. Waltz said:
I helpt him cut some wood this winter with cross cut saw. He could help saw but could not see to split the wood. He could not see where to strike or find the axe or wedges without getting down and feeling around for them.

Surgeon's sketch of John's eyes, 1904
Physicians later testified that John "has pterygium of each eye, each one covers a portion of the pupil area, the right however covers so much of the pupil that vision is almost nothing." Dr. W.H. Snyder of Toledo, who examined John and sketched the growths on his eyes in 1904, was skeptical, however, and wrote:
He is a remarkably preserved man, looks about 50 instead of 77... I cannot see under the General law how he can get anything. He went in the service, never smelled Powder, was discharged came home worked three years and then these growths appeared on his eyes for whiche he saw a Doctor who advised operation. He would not consent and they grew to the middle of the Cornea where they have been for years. No possible connection with the service.
In 1896, John himself said "I have of late years treated myself with home remedies and patent medicines." He ultimately applied for and received a federal pension for his disability.
Barbara's father lived to the ripe old age of 98. When he died in 1898, Barbara and all but one of her living siblings attended the funeral. The terms of the father's will stated that she was to receive a cash payment of $100 within 1 year.
Over the years, the Balls also helped raise their grandson Claude Ball and granddaughter May Bowersock. Both children were living under their roof circa 1900.
By 1906, John declared to the federal government that he was "unable to perform any manual labor and is totaly disabled from making a living and has to depend wholly upon his pension for a living. From disease of eyes have pain and misery in the head, and when attempting walk often get very dizzy and quite frequently have to stop and steady [myself] so that can again move or walk and at all times totering."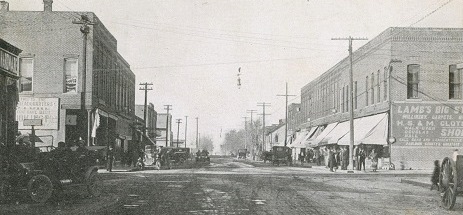 Payne's Main Street, looking north
Later in life, the Balls lived on Laura Street in Payne.
Sadly, John died at age 81 on June 5, 1908. He was buried at Wiltsie Cemetery, about a mile from Payne. His widow later wrote that no public record was kept of his death.
Barbary outlived her husband by six years. The 1900 census shows that she and her bachelor brother-in-law William Ball shared a living arrangement in Harrison, Paulding County. Her grandsons Dale Bowersox and Claud Ball lived under their roof at that time.
Barbary passed away on Jan. 25, 1914, at the age of 77, having suffered from pulmonary tuberculosis. She was laid to rest at the Wiltsie Cemetery. At her death, she was eulogized in a local newspaper as someone "whose life work was for the benefit of others, portraying as noble a character as ever a mortal was blessed."
Because her mother had passed away so relatively young, Barbary's children did not know the woman's name. Upon Barbary's death, when asked the names of her parents, her son John knew the father was "John Miner" but marked the mother as "Not Known."
~ Daughter Annetta V. "Nettie" (Ball) Schneider Bowersock Lyon ~
Daughter Annetta Virginia "Nettie" Ball (1864-1943) was born in about 1864.
On New Year's Eve 1879, when Nettie was 15 years of age, she was united in holy matrimony with 21-year-old Lyman C. Schneider (1858- ? ). Justice of the peace R.S. Murphy officiated. Because Nettie was underage, her father had to approve. Paulding County Probate Judge B.L. Wentworth, in the official paperwork, wrote that "License were issued on the personal application of John Ball, father of Netta Ball. His affidavit was sworn to before me and subscribed in my presence."
The newlyweds boarded in the home of Nettie's parents.
Within four years, the marriage was over, and she took back her maiden name. On Dec. 4, 1884, in Allen County, IN, Nettie wedded again, to W.H. "Roy" Bowersock ( ? - ? ), also spelled "Bowersox."
The Bowersocks went on to become the parents of Dale G. Bowersock (born 1886) and Lady "May" Clark Palmer (1889).
The second marriage also ended. Nettie's ex may have wed again on Nov. 19, 1917 to Rebe Rowe ( ? - ? ).
Nettie moved cross-country to Montana and settled in Great Falls, Cascade County. In about 1902, she married a third time to James Henry Lyon (June 10, 1842-1915, a New Jersey native who was more than two decades older than she. The maiden name of James' mother was "Tenvilligher."
James earned a living circa 1910 as a bookkeeper for the Great Falls Heating and Plumbing Company.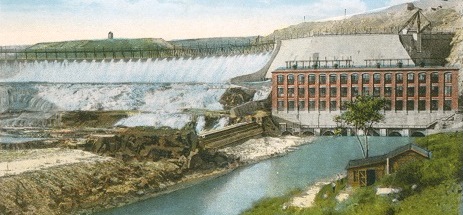 Landmarks at Great Falls, MT, Nettie's home in the 1900s and 1910s.
The Lyonses moved about frequently. Circa 1908 they resided in Minneapolis -- and about that time moved back to Great Falls -- were in Helena, Lewis and Clark County, MT in 1910 -- and by 1915 again had returned to Great Falls. She and her daughter and son-in-law shared a home in Helena in 1909, at 127½ North Main, and she and the son-in-law advertised themselves in the city directory as "Magnetic Healers."
Sadly, James suffered from a mass in his ear. It abscessed and he contracted meningitis. He was admitted to Columbus Hospital in Great Falls and succumbed to the illness at the age of 72 on March 5, 1915. His funeral services was conducted the the Great Falls Lodge of the Elks Club. The remains were lowered into eternal rest in the local Highland Cemetery, and serving as pallbearers were C.H. Burchard, J.H. Harris, J.S. Gordon, Dr. R.M. Leslie, John Hopps and C.L. Seifert. An obituary was printed in the Great Falls Tribune.
Nettie's whereabouts in 1920 are not yet known. In the federal census enumeration of 1930 -- under the name "Virginia Lyon" -- she is shown sharing a home with her son and daughter in Riverside, Riverside County, CA.
She passed away in Los Angeles on June 26, 1943.
Son Dale G. Bowersox (1886-1941) was born on Jan. 5, 1886. A bachelor at the age of 24, in 1910, he lived with his widowed grandmother Barbara Ann Ball in Harrison Township, Paulding County. He was employed at that time as a printer for a local newspaper, perhaps in Fort Wayne. Then in May 1912, he is known to have spent "several weeks visiting relatives" in Great Falls, MT, reported the Fort Wayne Journal-Gazette, before returning home. By 1914, he had migrated to Montana -- where his mother lived at that time -- and he continued his trade as a newspaper printer. A March 1915 issue of the Marysville (OH) Union County Journal noted that he had returned from Great Falls and was visiting in North Lewisburg with Dr. Bodey, referring to Dale as an "attorney." When he was 29 years of age, on July 15, 1915, he was united in wedlock with 33-year-old school teacher Nora M. Bowersock (1883- ? ) of Lima, Allen County, OH, the daughter of T.B. Bowersock. Their marriage was announced on the pages of the Fort Wayne News and the Lima Republican-Gazette. He belonged to the International Typographical Union and in September 1918 is known to have attended the annual meeting of the Montana Typographical Conference, held in Lewistown, MT. Eventually the couple divorced, and evidence suggests that Nora returned to Ohio. Dale made his way to Southern California and by 1930 was in Riverside, Riverside County, CA. At that time, still working as a printer in a printing office, he dwelled with his widowed mother and married sister. The three moved to Los Angeles by 1935 and in 1940 shared a residence on Lincoln Avenue. Death swept him away in Los Angeles County on Sept. 2, 1941.
Daughter Lady "May" Bowersock (1889-1977) was born on April 19, 1889 in Payne, Paulding County, OH. When she was 11 years old in 1900, after her parents' marriage dissolved, she resided in the household of her mother's parents, John and Ann Ball. She relocated with her mother to Montana in about 1908 and then in 1912 "moved to a homestead north of Grass Range," reported the Great Falls (MT) Tribune. Her first husband was Dr. Wade Hampton Clark ( ? - ? ). Their only daughter was Ruth Glenn (Clark Palmer) Alair, born in 1907. They divorced sometime prior to 1910, and May moved into the home of her mother and stepfather in Helena, Lewis and Clark County, MT. On Dec. 9, 1915, in nuptials held in Lewistown, Fergus County, MT, the 26-year-old May was joined in matrimony with her second spouse, 31-year-old Harry Morton Palmer (May 1, 1884- ? ), son of Cassius Herbert and Aurie (Andrews) Palmer of Carimona, Fillmore County, MN. Harry was tall and slender, with blair hair and blue eyes. The Palmers migrated to Washington State and in 1918-1920 made a home in Seattle, King County. Harry's occupation in 1918 was as a plumber for Eckhart Plumbing Company and in 1920 as a restaurant keeper. Sadly, the pair is believed to have separated by 1927 in Los Angeles. Harry lived by himself in 1930 in Los Angeles and worked as a plumber for a contracting business, and then in 1944 lived in Alhambra, CA. May set up a household with her divorced brother and widowed mother in Riverside, Riverside County, CA. The trio moved to Los Angeles by 1935 and continued to dwell together on Lincoln Avenue as of 1940. May's work in 1940 was as a millinery sales lady in a department store. Then in October 1945, she and Anna S. Curtis acquired their own business, the Bumpas Shop, reported the Highland Park (CA) News-Herald, with a promise to "continue with the same services as have been offered in the past. With the continued high standard of service, the new owners wish to continue to serve all old customers and welcome the new." She went on to be employed by Lockheed Aurcraft Company, retiring in 1951. After the deaths of her mother and brother, and then her retirement, May returned to Great Falls, where her daughter was living. Her address in the mid-1970s was in her daughter's dwelling at 2105 Third Avenue North. She died in a local hospital at the age of 87 on March 26, 1977. Her remains were cremated and placed into eternal repose in Hillcrest Lawn Association's Chapel of Chimes. An obituary appeared in the Great Falls Tribune.
Granddaughter Ruth Glenn Clark (1907-1996) was born on Nov. 17, 1907 in Minneapolis, Hennepin County, MN. She was very young when her parents divorced, and she took the "Palmer" surname of her stepfather. Ruth grew up in Great Falls, Cascade County, MT. Ruth moved to Los Angeles in 1921 to join her mother, and graduated from high school in the city. She was an artist and painter as well as promoter of arts organizations. During the later 1920s, she toured the United States as a dancer and actress with a theatrical firm. The onset of the Great Depression forced the company to close, and she went back to LA and thence to Great Falls. In young womanhood, she "was employed in the millinery department of the Paris store for several years and later was in the millinery department at Strain Bros. store," said the Great Falls Tribune. In this role, she helped design and fashion women's hats. On Aug. 13, 1937, when she was 29 years of age, Ruth entered into marriage with North Dakota native Harry Harrison Alair (1893-1985). Their wedding was held in Coeur d'Alene, Kootenai County, ID, performed by justice of the peace Eugene Best, and announced on the pages of the Tribune. The couple did not reproduce. They resided in Great Falls in 1935-1985, with an address in the 1980s of 208 36th Street North. Harry made a living for decades as an insurance adjuster. His employer in 1937 was the Fire Companies Adjustment Bureau. Later he was a manager for General Adjustment Company. Said the Tribune, "During the 1960s and 1970s, she was instrumental in producing art shows and bring art instructors to Great Falls. She helped found Studio 10, the first local organization for artists, and conducted workshops throughout the state. She exhibited and sold many of her maintings at the C.M. Russell Art Auction." She was an American Red Cross liaison to Malmstrom Air Force Base in Cascade County, where she was of help to countless military families, and later was recognized with a Red Cross presidential citation. As her interests turned more to art and painting, during the decade of the 1950s, she led watercolor classes for a dozen years and a workshop for 14 years in Monarch. Socially, she belonged to the Order of Easter Star for 42 years. Sadly, suffering from a duodenal ulcer and intestinal bleeding, Harry died at the age of 91 on Jan. 15, 1985, as a patient in Great Falls' Columbus Hospital. His cremains were placed into repose in the Chapel of Chimes in Great Falls. Ruth lived for another 11 years, burdened with chronic obstructive lung disease and congestive heart failure. She succumbed to the angel of death in Great Falls just two days before Christmas 1996. Close friend Norma Lawrence of Great Falls provided vital information about Ruth for the Montana death certificate.
~ Son John Hixon Ball ~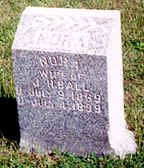 Nora's grave,
Wiltsie Cemetery
Son John Hixon Ball (1868-1935) was born in January 1868 in Antwerp, Paulding County.
On April 19, 1892, in nuptials held in Paulding County, the 23-year-old John wedded Nora A. Lamb (1869-1899). Rev. J.C. Crider presided at the wedding ceremony.
Together, the couple produced two known children -- Claude Hixon Ball and Vivien Lucile Ball.
Tragically, Nora passed away at age 30 on July 4, 1899, presumably in childbirth. Her newborn daughter Vivien then died within 18 days on July 22, 1899. Their remains were placed into rest at Wiltsie Cemetery.
John earned a living over the years as a barber.
After a wait of nine years, the widowed, 35-year-old John married a second time on Aug. 28, 1908 to 23-year-old dressmaker Myrtle Underwood (1885- ? ), daughter of Aaron and (?) (Dearff) Underwood of Paulding County. Justice of the peace Samuel Piper led the wedding. John spelled the maiden name of his mother as "Minor" on his marriage license application.
The Balls lived on Laura Street in Payne, Paulding County, OH.
In July 1930, while on vacation, they sent a postcard to cousin Corwin Tilbury in Pittsburgh. Corwin forwarded the news to relatives in Indiana, saying: "We got a card from Myrtle and John Ball last week from Sault St. Marie Mich. I supposed Claude -- John Ball's son -- is taking a trip by auto and has them along."
John died of heart disease on March 18, 1935 and is buried near his parents at Wiltsie Cemetery. As an indication of the strength of the family connections, just two months later, John's cousin Corwin Tilbury in Pittsburgh wrote to cousin Goldie (Minerd) Moennig in Fort Wayne, IN:
Do you know the address of John Ball's widow? I'd like to write her also & I liked her quite well. She seemed to be the bread winner in that family.
Son Claude Hixon Ball (1897-1957) was born on Oct. 27, 1897. After the untimely death of Claude's mother, when he was only a year or two old, he was taken into the home of his grandparents John and Ann Ball in Payne, Paulding County. The 1900 federal census enumeration shows him there at the age of two. The 1920 census shows the 21-year-old Claude as a bachelor living with his father and stepmother in Paulding County, with no occupation. When he was about 30 years of age, in 1927, Claude was joined in wedlock with Vera Bickell (Sept. 7, 1901-1978), a native of Buffalo, White County, IN. Her parents were Oscar and Idabelle (Neusbaum) Berkshire. The couple did not reproduce. Claude was employed as a druggist. Vera was a member of the Fidelity Chapter of the Order of Eastern Star for five decades and also belonged to the Rebekah Lodge of the Odd Fellows, the Order of the Amaranth, the White Shrine and the Ninth Street Christian Church. Sadly, he died on Feb. 9, 1957 in Logansport, IN. He is buried in Buffalo. Vera outlived her spouse by 21 years and lived at 629 Jackson Street in Logansport. She succumbed to death in St. Elizabeth Hospital in Lafayette, Tippecanoe County on Dec. 17, 1978, at the age of 77. Her obituary was printed in the Logansport Pharos-Tribune. Rev. Dr. Sam Young preached the funeral service, and the Eastern Star held its own rites.
Copyright © 2002-2006, 2019, 2021 Mark A. Miner
Research generously contributed by Sue Sohn. Bermuda Hundred photograph courtesy of the Library of Congress.