Jonathan Smalley Minerd
(1849-1852)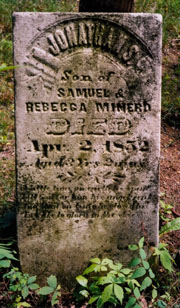 The boy's grave

Jonathan Smalley Minerd was born on February 2, 1849 in Farmington, Fayette County, PA, the son of Samuel and Rebecca (Smalley) Minerd.
Jonathan died in the Farmington area on April 2, 1852, just two months after his third birthday. His tender remains were laid to rest in a small cemetery in Farmington. A moving epitaph was carved at the bottom of the marker, reading:
A little time on earth he spent,
Till God for him his angel sent,
And then on time he closed his eyes,
To wake to glory in the skies.
When his parents and adult siblings migrated to Kansas in 1886, some 34 years later, Jonathan was "left behind" as a memory.
Many years later, in the mid-20th century, he was be mentioned in a family history memoir authored by a grand-nephew, Donald Ethen Minerd, who as a boy growing up in the Kansas home of an old aunt, heard stories about the boy who died young.
While Jonathan died very young, he has made his own special mark on our family's heritage. His well-preserved monument at Maust Cemetery near Farmington, is the oldest known Minerd- Minard- Miner- Minor family grave marker in Western Pennsylvania. The previously oldest grave was that of his grandfather, Henry Minerd, dated 1856, at the Hopwood Cemetery just outside of nearby Uniontown.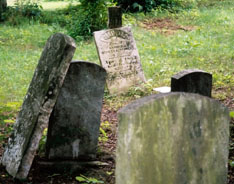 The marker in the background, leaning

Jonathan's grave was "re-discovered" in the summer of 2000, in a most remarkable way. One of our cousins living in Farmington was browsing the Minerd.com website, and recalled seeing the family name on an old grave marker in a cemetery on a friend's property.

Further investigation confirmed the boy's identity. Seen here in the center background, the marker rests freely, leaning against a post, among several grave stones of the "Maust" family.

When photographed in 2000, the marker was off its base, so the precise location of the grave is lost. A small footstone initialed "J.S.M." rests nearby.

Ironically, Jonathan rests for eternity amid a shady grove of tall pines, near a child's modern sliding board and play area. He sleeps on private property off Route 381 South, a short distance away from the Wharton Township Park.

An enlarged version of the image of the grave marker was our "Photo of the Month" for September 2000.

In 2002, Jonathan's great-great grand-niece, Kansas native Melinda (Swope) Brooksher, attended our 2002 national reunion. In doing so, she was the first member of her branch in 116 years to return to Uniontown and Fayette County. On this historic visit, she also placed a flower on Jonathan's grave. She also brought a small vial of earth from his grave back home to Kansas and lovingly spread it on the grave of his mother, who had outlived him by some 56 years. Be sure to see her moving memoir, "Come Back to Pennsylvania."

Maust Cemetery in silhouette under pine trees, near a sliding board, circa 2000
Copyright © 2000-2001, 2003, 2010 Mark A. Miner