Ernest Earl Minerd
(1886-1961)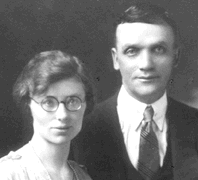 Edith and Ernest
Ernest Earl Minerd was born on March 28, 1886 at Nicolay near Mill Run, Fayette County, PA, the son of Almira Melissa Minerd. An old tintype image of Ernest as an infant is seen here.
Ernest was raised under his mother's maiden name. He resided with his grandparents, Charles and Adaline (Harbaugh) Minerd and also with several sets of his uncles and aunts, including Winfield S. and Josephine (Minerd) Hall and Lawson and Lutitia (Steyer) Minerd.

Ernest's baby photo
In February 1893, when he was approaching his seventh birthday, his aunt Sadie (Minerd) Luckey wrote the following in a letter to another young cousin:
We are having plenty of snow this winter. There is good sleighing now and still snowing. If you was here you & Ernest could have fine times coasting on the hill side. Pa made Ernest a nice sled. He is out with it near all the time.
According to family stories, Earl did not enjoy going to school. Once, in a defiant move, he climbed up on the roof of the barn. His grandmother Adaline put up a ladder and coaxed him down. When a teenager, he worked on local farms and at a relative's coal mine.
Ernest's mother resided at Willow Crossing, between Greensburg and Youngwood, Westmoreland County, PA. Likely through his mother, Ernest learned that jobs were available there on the Pennsylvania Railroad. He then moved in with his mother, step-father and half-siblings and obtained employment as a brakeman with the company.

Youngwood's Depot Street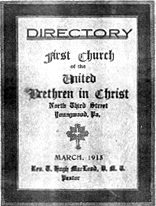 Church directory
Ernest met his future wife, Edith Naoma Erwin (1899-1984), when his brother Arnold Overholt married Edith's sister Violet. Edith and Violet were natives of Otelia, Huntingdon County, PA, and the daughters of George B.M. and Charlotte (Parsons) Erwin.
Ernest would take Edith on dates with her friends Nellie and Sadie (surnames unknown), going out for a rides in his automobile after Sunday church services.
On Aug. 9, 1924, Ernest and Edith were married. He was age 38 at the time, and she was 25. They were 13 years apart in their ages.
Ernest and Edith went on to have four children – Earl E. Minerd, Milton Ernest Minerd, Charlotte Dunham and Nellie Rae Minerd. Sadly, Nellie Rae died in infancy.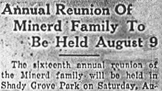 Local newspaper ca. 1930
The Minerds resided at 301 North Sixth Street in Youngwood. It's said that Ernest "disliked eating chicken because that was all he ever ate growing up." They also bought their one and only automobile, a Maxwell.
Active in church, Ernest served as President of both Christian Endeavor and of the Friends' Bible Class of the First Church of the United Brethren in Christ in Youngwood. He also was on the Executive Committee of the church's Sunday School.
Edith was a director of the Carol Choir of the Christ United Methodist Church of Youngwood.
In 1928, when the Minerd Reunion was held at Confluence, Somerset County, PA, Ernest served as Treasurer and Edith was Secretary. He also was Secretary in August 1930 when the reunion was held at Shady Grove Park, near Uniontown, PA, the same year his half-brother Arnold was President.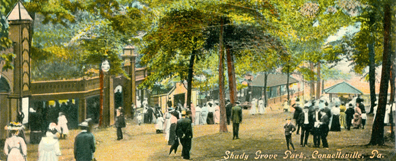 Old postcard view of Shady Grove Park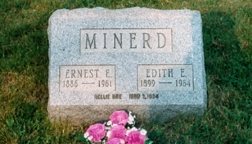 Youngwood Cemetery
Later, when Ernest could no longer work as a brakeman for the PRR, he drove a shuttle taking workers over the "hump" in the railroad yard.
Ernest died on Sept. 7, 1961, at the age of 75. He is buried at Youngwood Cemetery.
Edith outlived him by 23 years, and passed away on Jan. 21, 1984 in State College, PA. She is buried with her husband and infant daughter.
Sons Earl and Milton are pictured in the book, Our Town in Picture and Story: Youngwood, Pennsylvania, 1899-1974, as members of the Youngwood Hose Co. No. 1 Band.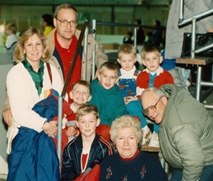 Earl and Venetta, below right,
with their family, 1990
~ Son Earl E. Minerd ~
Son Earl E. Minerd was born in (?).
In about 1950, he married Venetta Leeper (1927-2016), a native of Youngwood. In all, they enjoyed 67 years of wedded life together.
Earl served in the insurance industry for many years in the Greater Pittsburgh area, living in the Pittsburgh suburb of Mt. Lebanon, and later in retirement in Latrobe, Westmoreland County.
They had three sons -- Gary Earl Minerd, Jeffrey Scott Minerd and Mark Ernest Minerd. Heartache rocked the family when son Mark passed away in Cleveland University Hospital on April 10, 1965, and then again when son Gary died at age 18 on Sept. 1, 1969.
Venetta "had the gift of a green thumb, as one can see to this day by the plants she nurtured and flower gardens she planted," said the Pittsburgh Post-Gazette. "She had no interest in sports unless they were being played by her sons and grandchildren, never missing a game. She watched hours of football, baseball, wrestling, lacrosse, soccer and basketball. She not only traveled with Earl all over the tri-state area to support her family but also traveled coast to coast to watch single events or tournaments in which they participated."
Venetta was raised in the United Brethren Church. She served on many church committees and toward the end of her life attended The Faith Chapel in Lawrence. Reported the Tribune-Review, she "loved nothing more than spending time with family and friends. Her greatest joy was watching her grandsons and later her great-grandchildren play and interact together. Her acts of sacrificial love and devotion to family will live on through her children, grandchildren, great-grandchildren and all who knew her."
Sadly, Venetta died on March 4, 2016. Funeral services were held in Christ's United Methodist Church in Youngwood, followed by interment in Youngwood Cemetery.
Son Jeffrey Scott Minerd married Lynn C. Schwartz of Berwyn, Chester County, PA in 1980. At the time of marriage, he was employed by Ryerson Steel, and she as an instructor at the University of Pittsburgh. They are the parents of five sons, whose first names all begin with the letter "M" -- Mark, Matthew, Michael, Mitchell and Morgan.
While a student at Mt. Lebanon High School, in 1972, Jeff was a champion wrestler in the Western Pennsylvania Interscholastic Athletic League (WPIAL). (The school also produced Olympic wrestling champion Kurt Angle.) In 1973-1976, while wrestling for the University of Pittsburgh, he lettered all four years and qualified for the annual National Collegiate Athletic Association (NCAA) tournament.
Today Jeff is owner of Minerd & Sons, Inc., a full line steel center in Lawrence, south of Pittsburgh, distributing carbon, alloy and stainless steels, nickel, aluminum, plastics, titanium, copper and brass products in a variety of forms. All five of the sons work in the firm.
Minerd & Sons website - more

Milton Minerd
~ Son Milton Ernest Minerd ~
Son Milton Ernest Minerd (1928-2011) was born on April 15, 1928 in Youngwood, Westmoreland County.
On March 18, 1949, at the age of 19, he was united in marriage with Jeanette "Janet" Stairs ( ? -2017).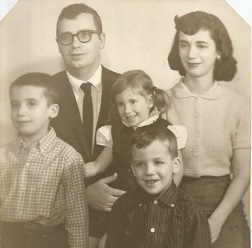 Milt and Janet and family, 1958
They had four children -- Bruce Norman Minerd, David Scott Minerd, Christine Carol Smith and Nancy Kay McIntyre.
Milt taught for many years at Eastern Westmoreland (PA) Vocational Technical School, Westmoreland Community College and Greensburg Technical Institute. Later, they retired to Dallas, TX and then to Phoenix, AZ.
In 1982, Jan found the name of this website's founder on file at the Somerset (PA) Historical Center. She sent him a letter, enclosing a manuscript history of the clan that was written for the 1913 Minerd Reunion. The two parties exchanged letters and telephone calls, and met for the first time in November 1986 for a tour of the old Minerd farms near Kingwood, Somerset County, PA. They also met again in the summer of 1988 and at the Minerd-Miner reunion in 1992. Jan and Milt were very instrumental in the early interest that led to the founding of Minerd.com.
Sadly, Milt passed away in Phoenix on Dec. 29, 2011, at the age of 83.
Janet survived her husband by almost six years, remaining in Phoenix during that time. Janet passed away on the morning of June 17, 2017. She is survived by her four children, eight grandchildren and 10 great grandchildren.
Minerd.com extends its deep gratitude to Milt and Jan and this branch our family, without whom this website would not have been possible.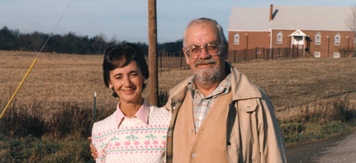 Milt and Jan Minerd at the farm near Kingwood, PA where his grandmother was born, and where his great-great grandfather Jacob Minerd Jr. settled in the early 1800s.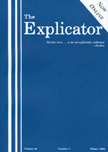 Article by
Christine Smith
Click here to read Eden, a touching and highly personal poem-memoir about Ernest, authored by granddaughter Christine (Minerd) Smith. Christine also has written Getting Lost, Memory and The Lane which are published on our website. Christine is a scholar of author William Faulkner, and in the summer of 2006 she and her husband sang all five verses of their original song, William Faulker Rides the Rock Island Line, at the Faulkner Fringe Festival in Oxford, MS. In 2007, they appeared at the festival to present "Faulkner from Denver." The following year, in 2008, Christine published an essay, "Faulkner's The Sound and the Fury," in The Explicator, a literary journal concentrating "on works that are frequently anthologized and studied in college classrooms." Then in 2009 and 2010, they were mentioned in The Southern Register for their performances at the annual festival, "Snopes' Lament: William Faulkner Informs the '60s" to the tune of "Blowin' in the Wind." They also have attended Tennessee Williams festivals in Clarksdale, MS, and hope to visit Willa Cather's home in Nebraska someday. In 2010, Christine attended the Aspen Literary Festival and made a mini-movie about being a Faulkner fan. They came to our Pittsburgh 250 national family reunion in June 2008, held at the Heinz History Center in Pittsburgh.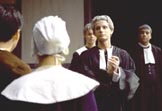 Evan Smith in The Crucible
Grandson Evan Smith played the role of Deputy-Governor Danforth in his high school play, The Crucible, staged in the Denver, CO area. Evan is seen here, facing the camera with his hands clasped together, in a photograph taken during the performance by family friend Al Treibitz. A 2007 graduate of Drew University, he currently is a teacher with Teach for America and serves as a high school physics instructor in Marvell, Ark. In 2009, he married Abby. He currently is in the graduate physics program at the University of Central Florida.
~ Daughter Charlotte (Minerd) Dunham ~

Charlotte and Dr. Robert Dunham
Daughter Charlotte Minerd (1932-1991) was born on Oct. 7, 1932.
Charlotte married Dr. Robert E. Dunham ( ? -living).
They had three children -- Judson Scott Dunham, Michelle Dunham and Michael Dunham.
Charlotte taught music at Marysville, OH (1954-1956) and Columbus, OH (1956-1958) and later served on the State College (PA) School District Advisory Committee. She also was President of the Boards of Directors of the Music Academy and the State College Choral Society.
Charlotte's husband, Robert Dunham retired in 1998 as Senior Vice President of Pennsylvania State University, where he had served as an educator and administrator for 38 years. In a press release, Penn State President Graham Spanier said, "It is simply impossible to list all of Bob's accomplishments. Bob has played a central role in virtually all of the important changes that have brought about the evolution of Penn State into a university of prominence."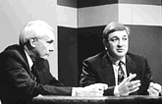 Bob Dunham with Penn State
President Graham Spanier
Seen here, Robert (left) and President Spanier answer questions from around the state during a 1996 teleconference about their strategic plans.
Charlotte passed away on April 19, 1991, at the age of 59.Funeral services were held in the Park Forest Village United Methodist Church.
As a widower, Robert made his home in New Smyrna Beach, FL.
Copyright © 2002-2004, 2006-2013, 2016-2017, 2020Mark A. Miner