Mary Ann (Minerd) Devan
(1828-1866)
Mary Ann (Minerd) Devan was born in about 1828 in or near Wharton Township, Fayette County, PA the daughter of Henry and Hester (Sisler) Minerd.
Her husband was a Civil War veteran who, while surviving the war, died shortly after his return home.
On Sept. 4, 1841, when she was just age 13, Mary Ann married 14-year-old John Devan (1827-1865). Their ceremony took place in Wharton Furnace, Fayette County, at the home of justice of the peace Thomas J. Nesmith, who officiated.
The Minerds and Devans were close, and Mary Ann's brother Andrew Minerd married Sarah Devan.
Mary Ann and John produced nine known children -- Sarah Devan, Mary M. Devan, William A. Devan, John Devan, Andrew Brison Devan, Tobias Sutton "Toby" Devan, David Newton Devan, George W. Devan and Hester Ann "Hessie" Logston. With no physician present, daughter Margaret served as midwife for the births of the five youngest -- Sutton, Andrew, David, George and Hester -- and possibly the older ones as well. No public birth record was made of the names and dates, but they were were inscribed in a family Bible.
Circa 1850, when the federal census was taken, Mary Ann, John and their four children made their home in or near Monroe (later renamed Hopwood), Fayette County, a small community just outside of Uniontown. That year, John supported his family with work as a laborer.
The census of 1860 shows that their family had expanded by four sons and that John continued to earn a living as a day laborer around Uniontown.
Five months after the Civil War erupted, John joined the Army on Sept. 4, 1861, enlisting at Monroe. His term was set at three years. A friend recalled that he was a "sound and harty man at the time," free from any disease.
He was assigned to the 85th Pennsylvania Volunteer Infantry, Company K. Among his fellow soldiers in the regiment were seven other members of the extended Minerd clan -- among them Isaac F. Minerd, James Minerd Jr., William Minerd, James Rowan, Leonard Rowan, John Irving White and Jacob M. Younkin -- with Leonard Rowan, White and Younkin sacrificing their lives. Of the more than 120 Minerd soldiers who served in the military during the war, more were members of the 85th Pennsylvania than any other regiment.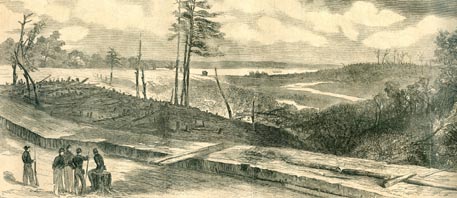 Harrison's Landing, as sketched by A.R. Waid and published in Harper's Weekly, where John became deathly ill in the summer of 1862, and never fully recovered.
With the regiment stationed at Harrison's Landing, in July 1862, John became sick as did many of his regiment, including step-cousin Leonard Rowan. Wrote their lieutenant, Stephen K. Brown: "...the camp was in very low ground and the soldiers was compeled to lay in the damp and water all arround and in the Camp... [and] he continued to get worse till he was sent to Hospitel in the State of New York."
Sadly, his health shattered, John received an honorable discharge on Nov. 22, 1864 and returned to Monroe. He did not long survive afterward, and was afflicted with consumption (tuberculosis) and fistula in ano (infection caused by a rupture of the digestive tract or bowels). He was bedridden and considered totally disabled. During that time, he was treated by Dr. George C. Ewing, a local physician and surgeon. On May 8, 1865, while at home, John succumbed to his illness at the age of 38. He was buried in Hopwood Cemetery.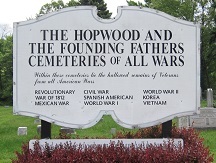 Burial site for John and Mary Ann
His passing left Mary Ann alone to raise their brood of five younger children. She immediately applied for a federal pension as compensation for her husband's military-related death, and met with the Fayette County Prothonotary to request assistance. Unable to read or write, she signed her name with an "X." The pension was awarded June 29, 1865 in the amount of $8 per month. [Widow App. #100.071, Cert. #64.362]
But Mary Ann also was in precarious health. She died just 18 months after her husband, with her passing occurring in Monroe on Nov. 7, 1866. She joined her husband in eternal repose in Hopwood Cemetery.
At the petition of John's sister Hester A. Devan, Stephen K. Brown -- a friend of the family and a former lieutenant with John's regiment -- was appointed as guardian for the younger children and began to receive the pension for their welfare. The payments were scheduled to terminate on Aug. 28, 1876, upon the 16th birthday of their youngest child. [Minor App. #150.970, Cert. #123.916]
Mary Ann's brother in law, Perry G. White, wrote in 1869 that "we have lived for twenty years in the neighborhood of John Devan and Mary Devan his wife and have known them personally for that length of time and are now living alongside of the children and see them frequently." The Devans' older children Margaret, William and John also signed paperwork in support of the children's welfare, as did Thomas "Jefferson" Lowe, the husband of Mary Ann's niece Harriet Louise (Minerd) Lowe, living locally.
In 1915, when Luther Dickey's book History of the Eighty-fifth Regiment Pennsylvania Volunteer Infantry was published, John's name was included in a list of soldiers from Company K.
A search for the Devans' graves at the Hopwood Cemetery in May 2014 proved unsuccessful.
~ Daughter Sarah J. Devan ~
Daughter Sarah J. Devan (1844- ? ) was born in about 1844 in or near Hopwood, Fayette County.
~ Daughter Mary M. Devan ~
Daughter Mary M. Devan (1845- ? ) was born in about 1845 in or near Hopwood, Fayette County.
Copyright © 2014-2015, 2019 Mark A. Miner