Olive Edna (Minerd) Shelton
(1891-1958)



Views of Olive in young womanhood.
Courtesy Melinda (Swope) Brooksher
Olive Edna (Minerd) Shelton was born in 1891 in Pittsburg, Crawford County, KS, the daughter of Azaniah "Melvin" and Harriet (Baldwin) Minerd.
Olive lived at home with her parents for many years.
On Dec. 1, 1924, at the age of 33, Olive married 43-year-old John M. Shelton Sr. (1881- ? ). Rev. E.H. Given of Pittsburg officiated.
They had only one son, John M. Shelton Jr.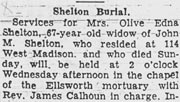 Obituary, 1958
Little is known of their lives. The Sheltons made their home at 114 West Madison in Pittsburg. John was employed as a meter man by Kansas Gas and Electric, the same company for which his brother in law, Orville Baldwin Minerd, worked.
John Sr. passed away first, but the details are not yet known.
Olive died in mid-December 1958 at the age of 67. The Pittsburg Daily Headlight noted that the funeral was held at the chapel of the Ellsworth mortuary, with Rev. James Calhoun in charge, followed by interment at Mt. Olive Cemetery in Pittsburg.
~ Son John M. Shelton Jr. ~
Son John M. Shelton Jr. (1925- ? ) was born in 1925.
He owned a car lot in Pittsburg for many years.
He married Merdith Marie Hamilton (Oct. 1, 1934-2012), daughter of Walter Byron and Ruby Irene (Burke) Hamilton Sr. of Mulberry, Crawford County.
They had one known child, James Shelton.
Merdith was a cosmetologist, having received a vocational degree from Kansas State Teachers College with additional education at Shepherds Chapel in Gravette, AR.
Sadly, the marriage ended at some point. On May 22, 1986, in a ceremony held in Miami, OK, Merdith married again, to Marvin Becker ( ? - ? ). He had been married previously and brought a number of adult children to the union, including Dennis Becker, Travis Becker and Melinda Becker.
The couple may have produced additional offspring of their own, including Lynn Million, Shelley Swartz, Celeste Baker and Frank Messer. All of this needs to be sorted out.
Merdith passed away at the age of 77 on March 14, 2012, in Pittsburg. Burial was in Rosebank Cemetery in Mulberry near Pittsburg, with Rev. Phil Hays officiating.
Son James Shelton ( ? - ? ) made his home in Topeka, KS in 2012. He and his wife produced a son, Joseph Shelton.
Copyright © 2000-2001, 2010, 2012, 2018 Mark A. Miner