Orville was tall, standing six feet, four inches high, and had a medium build. His eyes were grey, and his hair dark brown. He is listed at age 15 in the R.L. Polk's Pittsburg City Directory for 1910-1911, in his parents' household at 1011 North Fairview, and was employed at that time as a plumber.
Circa 1917, when at age 33 he registered for the military draft during World War I, Orville made his home with his parents at 730 East 7th Street in Pittsburg. At the time, he was employed as a laborer with Kansas Gas and Electric Company.
When the federal census was taken in 1920, the 34-year-old Orville lived at home with his parents and 28-year-old single sister Olive. His employment was marked as "lineman" for Kansas Gas and Electric. Residing next door were Orville's brother and wife, Sylvester and Calla Minerd.
The following year, about 1921, Orville married Ethel Turley (1895-1972). She was a native of Missouri, and was a decade younger than her husband.
The Minerds produced three daughters -- Helen June Holcomb, Norma Lee Swope and Harriet "Rubye" Smith Townsend Jones.


Left to right: daughters Helen, Rubye and Norma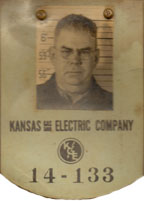 Orville's KG&E badge
Orville is pictured in a family photograph sporting a cast on his right arm. How he broke his arm or wrist is unknown.
In about 1930, he and Ethel moved to Mulberry, near Pittsburg. The federal census enumerated that year shows Orville and Helen with two young daughters at home, and Orville working as a night watchman at KG&E.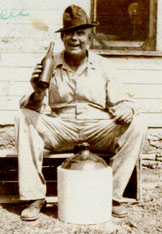 Orville joking around
Orville was employed for many years for KG&E. It would have been a steady position for a rapidly growing industry as these utility services were delivered to a growing number of homes. His official company identification badge is seen here, bearing his photo and employee number -- 14-133.
The Pittsburg Sun once said that Orville was "well known [in Mulberry] and in Pittsburg."
According to a granddaughter, Orville "was always the clown in a crowd. He loved to act silly to embarrass people."
On the back of the comedic photo seen at left, Orville himself jokingly wrote: "My name is Orville and I live on Breezy Hill," a reference to a well-known gathering place for local bootleggers and moonshiners. This photo is considered one of the family's favorites.
In February 1943, at age 57, Orville showed symptoms of serious illness. Said the Pittsburg Sun, "[He] had been in good health but had suffered several severe nosebleeds this past week…. He was in good spirits tonight and had been laughing and joking with his family just prior to his death."
Unfortunately, the bleeding was just prelude to a greater problem. He suffered a heart attack at home, and died on Feb. 19, 1943. His obituary was carried in the Pittsburg Sun.

Obituary, 1943
Ethel outlived Orville by nearly 30 years. She later married a man named Ports.
When she died in 1972, at the age of 77, Ethel was buried beside Orville in the Mt. Olive Cemetery in Pittsburg. Her obituary was published in the Wichita Eagle Beacon.
~ Daughter Norma Lee (Minerd) Swope ~
Frank on patrol in Pittsburg
Daughter Norma Lee Minerd (1925-1993) was born on March 26, 1925 at Pittsburg.
On July 3, 1946, when she was age 21, she married Frank Junior Swope (1920-1991), the son of James Franklin "Frank" and Vera Brewer (Bolser) Swope. The ceremony took place at the home of Norma's mother by Rev. L. Wayne Sears, pastor of the Methodist church in Pittsburg.
The Swopes had three daughters -- Ethel Ann Rooks Lloyd, Melinda Brooksher and Jimmie Stryker.
Frank was employed as a police officer in Pittsburg, with their residence in the nearby town of Frontenac. He is seen at left on a patrol motorcycle, with a portable telephone, a forerunner of today's cellular phones.
One August, Frank and his fellow officer James Duncan were called to a domestic dispute in Pittsburg, where 40-year-old George Bowles Jr. had come home drunk and began firing his pistol in the home. Bowles crouched behind furniture on his porch, but was wounded by one of Frank's shotgun blasts. He was jailed, with County Attorney Keeth Jones saying he would be "arraigned on a charge of assault with intent to kill when 'he sobers up'."
Frank passed away at the age of 70 on May 4, 1991.
Norma outlived her husband by two years. She died at the age of 68 on Oct. 31, 1993.
She was laid to rest in the Garden of Memories Cemetery.
Daughter Ethel Ann Swope was twice married, first to (?) Rooks and second to Rodney Lloyd on March 19, 1998 at Miami, OK. She resided in Pittsburg, attended Pittsburg State University, and "was a direct care support worker at Bridges," said the Pittsburg Sun. She had four children -- Frank Rooks, Michelle Hughes, Kimberly Stevens and Melanie Tyler. Suffering from cancer, she died at age 65, at Via Christi Hospital in Pittsburg, on Dec. 12, 2012. At her death, reported the Sun, she was survived by 15 grandchildren and one great-grandchild. She was laid to rest in the Garden of Memories Cemetery -- joining four earlier generations of Minerds -- following funeral services led by Rev. Dan Moss.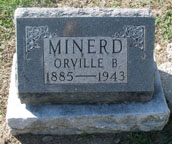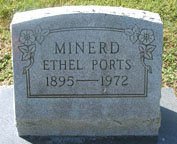 The Minerds' graves in Mt. Olive Cemetery, Pittsburg
~ Daughter Harriet "Rubye" (Minerd) Smith Townsend Jones ~
Daughter Harriet Rubye Minerd (1929-1986) was born on Jan. 6, 1929. She was married three times.
Her first husband was George Allen "Jack" Smith ( ? - ? ).
They had one daughter, Norma June (Townsend) Smith, born in 1947.
After the Smiths' marriage ended, Rubye wed her foster cousin, Robert Eugene Townsend (1918-1950), who had been raised by Rubye's great-aunt Margaret "Hester" (Minerd) Jackson. They were married in about 1949. Rubye's daughter took the Townsend surname. More on the Townsends' tragically short marriage and life together may be found on Robert's biography.
After Robert's untimely death in 1950, Rubye married for a third time, to Ben Jones. They had one daughter, Rebecca Lynn Swenson.
Rubye passed away on June 17, 1986, at the age of 57.
Daughter Norma June (Townsend) Smith (1947-2012) was born on April 27, 1947. She died on her 65th birthday on April 27, 2012.
Daughter Rebecca Lynn Jones (1965-2007) was born on Sept. 7, 1965. She wed Carl Swenson. Rebecca died on Aug. 15, 2007, at the age of 42.
~ A Pennsylvania Homecoming ~
Granddaughter Melinda (Swope) Brooksher attended our 2002 national reunion. In doing so, she was the first member of her branch in 116 years to return to Uniontown and Fayette County. On this historic visit, among other things, she visited the site of her great-great grandfather's hotel at the Fayette Springs resort, and saw the bright red stains where iron-filled spring waters still flow from the hillside. She also placed a flower on the grave of her infant great-great grand-uncle, Jonathan Smalley Minerd, who died in 1852, the oldest known Minerd-Miner-Minor family grave marker in Western Pennsylvania. (Click here to see a close-up view.) She brought a small vial of earth from the boy's grave back to Kansas and lovingly spread it on the grave of his mother, Rebecca (Smalley) Minerd. Be sure to see her moving memoir, "Come Back to Pennsylvania."
Copyright © 2000, 2002, 2010, 2012, 2018 Mark A. Miner