Stella (Minerd) Hager
(1896-1970)

Stella Hager
Stella Mae (Minerd) Hager (also spelled "Hagar") was born on July 8, 1896 in Fayette County, PA, the daughter of James C. and Suvina (Yauger) Minerd Sr.
In 1915, when she was age 19, and he 26, Stella was united in wedlock with Clinton Hager (1889-1977), the son of John Hagar of Keisterville. The ceremony was performed at the bride's home by Rev. G.E. Lethwork of Fairchance, Fayette County.
The Hagars had five children -- Evelyn Krepps Kalich, Robert E. Hager and Marion Ruth Raffle, and twins who died as infants.
Clinton was a coal miner, employed by J&L Steel's Shannopin Mine, and a member of the United Mine Workers Local 6159. The Hagers lived for 24 years in the coal mining town of Keisterville, Fayette County before moving in 1939 to Bobtown, Greene County, PA.
It's been said they did not have electricity in their home until the late 1930s or early '40s. Clinton retired after 20 years with J&L.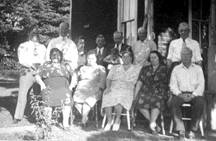 Stella (far left) and her siblings
Stella taught Sunday School at the Bobtown Methodist Church. The Uniontown Herald-Standard said she "was very active in the church and community affairs." Circa 1965, she was president of the Shannopin Civic Club and served for 15 years as chairman of the Dunkard Township Cancer Fund. She also was a member of the Ladies Auxiliary of the Veterans of Foreign Wars and Firemen's Ladies Auxiliary and a Girl Scout leader.
Also active locally, Clinton was chairman of the board of the Bobtown Methodist Church and an honorary member of the Dunkard Township Cancer and Polio Drives.
Stella enjoyed visiting with her sisters and brothers.
Son Robert Hager served in the Pacific Theatre in World War II. He was stationed in the Solomon Islands for three years and came down with malaria. Son in law Peter "Lefty" Kalich also was a World War II veteran.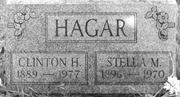 Pleasant View Cemetery, Smock
In February 1965, the Hagars celebrated their 50th wedding anniversary with an open house in their home in Bobtown. Said the Uniontown Morning Herald, "Gold wedding bell favors tied with a gold wedding ring were presented to each guest attending along with cake, ice cream and punch. The Woman's Society of Christian Service of the Bobtown Methodist Church where Mrs. Hagar has been a member for 25 years attended the celebration in a body and presented the couple with a money tree of gold and white."
Stella passed away of cancer at the age of 73 on Jan. 24, 1970 in Bobtown. Her funeral arrangements were handled by the Minerd Funeral Home.
After Stella's death, Clinton moved to Uniontown, where died at age 87 on Feb. 2, 1977. Stella and Clinton are buried together at Pleasant View Presbyterian Church Cemetery in Smock, near Uniontown.
~ Daughter Evelyn (Hager) Krepps Kalich ~
Daughter Evelyn Hager was twice married.
Her husband were (?) Krepps and (?) Kalich.
~ Son Robert E. Hager ~
Son Robert E. Hager
~ Daughter Marion Ruth (Hager) Riffle ~
Daughter Marion Ruth Hager wedded (?) Raffle.
Copyright © 2001, 2009-2010 Mark A. Miner