John Elmore Minor
(1886-1944)

John Elmore Minor
John Elmore Minor was born on June 22, 1886 in Bristol, Sullivan County, TN, the son of Capt. Henry Clay and Mattie Hunt (Phillips) Minor Sr.
As a boy, John moved with his parents to Knoxville, Knox County, TN, where the Minors originally had lived at the end of the Civil War. John's father died in Knoxville in 1906, when John was 20.
John obtained employment as a printer in a "railroad printing" business. For reasons not yet known, the job took him to Boston, Suffolk County, MA, where he remained for more than a decade.
When the federal census was taken in 1910, John made his home in Boston. His widowed mother Mattie and younger siblings followed him to Massachusetts, and they resided together. The 1910 Boston City Directory lists his residence as 11 Calder Dor. and shows his brother Wilkie living under his roof. By 1913, his residence was in Arlington, MA.
In 1913, at the age of 27, John married his first wife, 26-year-old Florence Eloise Kimball (1887-1966) in Boston. On the marriage license, John made the extraordinary claim to have been born in Denmark, and that his parents were Nils and Christine (Frederickson) Minor. Florence was marked as divorced and a native of Norway. Rev. B.E. Carlson performed the ceremony at a site on Brookford Street in Boston.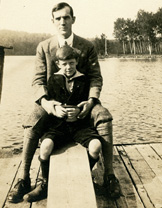 John with son Robert, ca. 1926
The couple resided in Boston at least until 1916, the year in which their only child, Robert Clifton Minor, was born.
By 1920, the Minors had relocated to Summit, Union County, NJ, on the outskirts of New York City. The 1920 census shows John, Florence and Robert boarding with Frank and Minnie Kimball in the home of C.M. and Sadie Odell in Summit. The census shows that John was a purchasing agent for the T.G. White Company.
Seen here, John and son Robert circa 1926 at Lake Owasa in New Jersey.
John later became a buyer for Cerro de Pasco Copper Corporation. The company was a major producer of copper for decades in La Oroya, Peru, and was well-known in the industry as "the most well-known Peruvian mine worldwide." The company's output in 1919, for example, was 58.1 million lbs. of copper, silver and gold, and in 1920 was 63.1 million lbs.
The 1930 census shows the family residing at Barry Place in Summit. Also making their home with the Minors that year were Florence's widowed mother in law, Minnie E. Kimball (the proprietor of a ladies' shop), aunt Alice A. Kimball, and lodgers Allen E. Williams and teachers Virginia Wessels, Dorothie Berry and Ruth Ormigh.
At some point, the marriage between John and Florence ended. In 1940, now divorced, he lived in Manhattan, New York City with his 23-year-old son Robert. John's 44-year-old widowed sister Helen (Minor) Wilkins also was under their roof that year. The residence was on East End Avenue. John's occupation was marked by the census-taker as purchasing agent for mining supplies.
John married Blanche Vedder Wood ( ? - ? ) sometime in the early 1940s. In early 1944, following retirement, John and Blanche moved to St. Petersburg, Pinellas County, FL, making their home at 1517 Bay Street Northeast. There, he was "an active worker in the Masons and Eastern Star," said the St. Petersburg (FL) Times.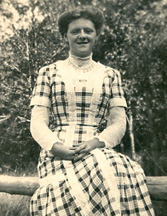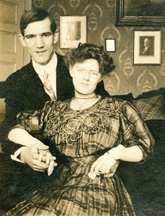 John's first wife, Florence, the mother of their son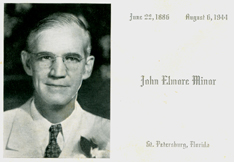 John's funeral card, 1944
Sadly, just seven months after arriving in St. Petersburg, and having suffered from liver and colon cancer, John passed away at home at the age of 58, on Aug. 6, 1944. His remains were cremated, and his obituary was published in St. Petersburg Times. We are grateful to the St. Petersburg Public Library System for providing a copy of John's obituary.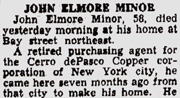 St. Petersburg Times
The book Mining in the Americas, by Helmut Waszkis (1993), says that "The sheer size of the operation made Cerro an ideal target for nationalistic attacks. Here was, after, all, another foreign giant exploiting and exporting a most valuable national resource, metals, at what were obviously attractive terms to foreigners... Cerro was slowly but inexorably strangled until the owners had practically no other choice but to sell out." As of Jan. 1, 1974, the company ownership was transferred to the government of Peru, and renamed Centromin.
Blanche's fate is unknown.
Florence passed away in August 1966.
~ Son Robert Clifton Minor ~
Son Robert Clifton Minor (1916-1977) was born in 1916 in Boston.
In his youth, he moved with his parents to New Jersey, and lived with them in Summit, Union County in 1935, when he was age 19.
During World War II, he served in the U.S. Army Air Force.
He married Marion Sanchez (1921-2002), the daughter of Jude G. and Caroline M. (Cate) Sanchez, on Aug. 2, 1941.
They had two children, Robert Allen Minor and Barbara Ann Roberts Adler.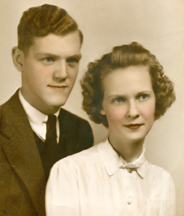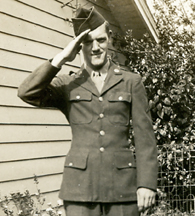 Robert Clifton Minor -- at left with his wife Marion Sanchez, and in his World War II army uniform
Robert passed away in Manatee, Manatee County, FL on March 22, 1977, at the age of 60.
Marion survived him by almost a quarter of a century, and lived in St. Petersburg, Pinellas County, FL. She passed away on Feb. 24, 2002.


Barbara and Wain Roberts
Daughter Barbara Minor married Davis Wainwright "Wain" Roberts ( ? -2010) -- seen here -- and enjoyed a marriage of 43 years. They lived in Pinellas Park, FL and had four children -- Allan Roberts, Pamela Roberts, Lori Roberts and Marcia Roberts. Davis was co-owner and co-operator of Parkway Nursing Home and Roberts Home Health Services in the Pinellas Park Area. He also was owner of Wain Roberts Firearms. He was president of the Pinellas Park Boy's Club, Vice President of the Florida Nursing Home Association, District Vice Board Member of the Pinellas Park Chamber of Commerce, and a member of the Pinellas Park Rotary Club, Suncoast Health Planning Council and National Rifle Association. Said the St. Petersburg Times, "He was nominated and appeared in the publication 'Outstanding Young Men of the Year' in 1972 and ran for the Pinellas Park City Council in 1973. Wain helped draft health care legislation in the State of Florida and was co-founder of the National Alliance of Stocking Gun Dealers. he served as a technical advisor to the ATF and in many court cases involving firearms." He also was a military veteran. Wain passed away on Aug. 17, 2010, surrounded by his family. He was laid to rest in Memorial Park Cemetery.
Copyright © 2006-2010, 2013, 2015, 2018 Mark A. Miner