Capt. Henry Clay Minor Sr.
(1831-1906)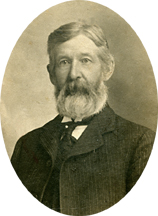 Believed to be Henry
Henry Clay "Harry" Minor Sr. was born near Sego, Perry County, OH in April 1831, son of Daniel and Margaret (Fluckey) Miner Sr. He sometimes referred to his birthplace as "Zanesville" as it was the largest town closest to Sego.
Henry was named for the great American congressman from Kentucky, Henry Clay, who led the national Whig party and helped design the Missouri Compromise as a temporary solution to the slavery question.
He also took part in the first land battle of the Civil War and became a captain of his regiment, with his name on display today on a war memorial in Cardington, Ohio.
As a boy, Henry moved with his parents to Cardington, Morrow County, OH. He learned the trade of carpentry and lived with his married sister Margaret (Miner) Sloan Maxwell before the Civil War. As a young man, he stood 6 feet tall with brown hair and grey eyes.
Henry enlisted in the Company C of the 15th Ohio Infantry on April 23, 1861. He served under the command of Col. G.W. Andrews. He was discharged after four months of service, on Aug. 28, 1861. Eleven days after his discharge, he re-enlisted in Company M of the 3rd Ohio Cavalry on Sept. 8, 1861 at Upper Sandusky, OH and was appointed first lieutenant of the regiment.
In 1861, Henry fought at a number of early battles in West Virginia, notably at Philippi (June 13), Laurel Hill (June 8) and Corrick's Ford (June 14). The battle at Philippi, involving a heavy artillery bombardment from the heights onto the town below, June 1861, is acknowledged as the first land battle of the Civil War.
For the balance of June, and into the summer of 1861, Henry and his regiment guarded vital Baltimore & Ohio Railroad lines in West Virginia. In the winter of 1862 he came down with hemorrhoids, caused by "almost constant riding on horse-back for three ... years."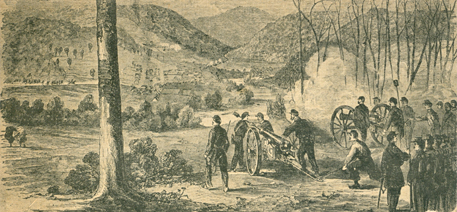 Union bombardment of Philippi, June 1861 -- the Civl War's first land battle
At Shiloh in 1862 Henry became ill of digestive disorder. At Nashville, he contracted pneumonia which caused pleurisy. He was promoted to captain in January 1863. In August 1863 and October 1863 he was sent from Tennessee to Ohio on recruiting missions, and contracted pneumonia which caused adhesions to his left lung. In February 1864 he was furloughed home to attend his mother's funeral. He was discharged at Louisville, KY, on Nov. 22, 1864.
Upon returning home to Morrow County, Henry married his first wife, Maria L. Doty ( ? - ? ), on July 24, 1865 at Cardington. Unfortunately, they separated soon after, with Henry having heard rumors that she had enjoyed love affairs while he was away in the army. He also found handwritten notes exposing her motives for marriage. The divorce was granted in 1871, after six years of marriage, without having produced any children. In the action, Maria's maiden name was restored to her. Their divorce papers -- with explicit language -- are still on file today at the Morrow County Courthouse.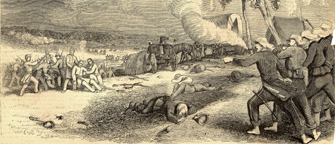 Battle of Laurel Hill, WV, where Henry fought and where Confederate General Garnet was killed. Harper's Weekly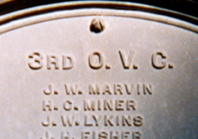 Civil War monument in Cardington
Today, Henry's name adorns the Civil War monument in Cardington.
In December 1865, Henry moved from Cardington to Knoxville, Knox County, TN, where in February 1866 he obtained employment as a messenger for the Southern Express Company.
At the age of 44, Henry married 24-year-old Martha Hunt "Mattie" Phillips (1851-1930), a native of Rockfish Depot, VA, on Christmas Eve 1875 at Knoxville. They were 17 years apart in age. Rev. J.F. Goldman, a minister of the Gospel, performed the nuptials.
Their six confirmed children were Henry Clay "Harry" Minor Jr., Ernest B. Minor, Wilkie Joseph Minor, John Elmore Minor, Laura Louise VonKenzie and Helen M. "Helyan" Wilkins. Another daughter may have been Mattie J. Minor.
At the time Henry first came to Knoxville, two of his presumed cousins -- Civil War veterans Samuel Dawson Miner and Robert Sanford Miner, sons of Henry and Matilda (Morton) Miner, also were residing there, and had formed a pottery at the foot of Gay Street near the Tennessee River. The pottery produced stoneware under the inscribed name "Bowlus, Miner & French, Manufacturers, Knoxville, Tenn."

Knoxville Journal and Tribune
In 1876, Henry's brother Eli B. Miner and wife Mary Louvenna and daughter Maud moved to Knoxville from Indiana, where they remained for three decades.
Within a few years of marriage, Henry and Mattie moved to Bristol, Sullivan County, TN for 13 years, making their home in the Virginia House (or "Hotel") on the Virginia side of the city for three years and in the Nickles House on the Tennessee side -- literally across the street -- for another three years.
By 1880, the federal census shows Henry, Mattie and their two-year-old son Harry living in the Virginia Hotel on Russell Street in Goodson, Washington County, VA. There, Henry continued his work as an express messenger with Adams Express Company.
Later, they returned to Knoxville, making their home at 518 Asylum Street. They kept family records in a Bible.
Henry injured his left arm in a railroad wreck in 1899, but the details are not known. He was a member of the Coeur de Lion Commandery of the Knights of Templar, and of the McKinley Post of the Grand Army of the Republic (GAR).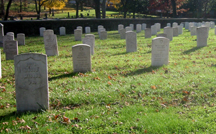 Henry's unmarked gravesite
As he aged, Henry suffered from a variety of ailments attendant with growing older. These included heart and lung disease, hemorrhoids and paralysis of his left side due to irritation of his spinal cord. In the early 1890s, his disabilities led to a transfer within the company, to a less strenuous type of work, at a greatly reduced salary. He was granted a military pension at the monthly rate of $6.00 in January 1891. His brother Eli provided written testimony in support of the claim, stating: "He can stand but little exercise. is verry weak and then in flesh can not do manual labor."
The federal census of 1900 shows Henry and Mattie and their six children making their home on Asylum Street in Knoxville. He and his son Harry C. Minor worked as express messengers, while son Ernest B. Minor was a cabinet maker. The 1903 Knoxville City Directory listed him as residing at 518 Asylum Avenue with his sons Ernest and Harry. That year, his brother Eli lived at 1016 Laurel Avenue in Knoxville.
Henry passed away at 507 Richards Street in Knoxville at the age of 75 on April 12, 1906. The Knoxville Journal and Tribune reported that he died "at midnight at his home." The funeral was conducted by the Knights of Templar, and attended by members of the GAR post. At the time of his passing, he and Mattie had resided in Tennessee for some three decades.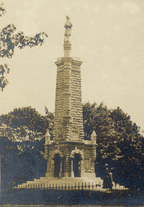 Civil War monument,
National Cemetery, Knoxville
Henry is buried at the National Cemetery in Knoxville, in plot B-3372. His grave is not marked. The photo seen here shows the site of his grave, in the center of the photo, just to the right of the gravestone in the foreground. Seen here is a rare old photographic postcard showing the Civil War soldiers monument at the cemetery.
Now widowed, Mattie had no steady source of income -- no cash in the bank and no real estate other than their house. She applied for and was awarded her husband's Civil War pension which totaled just $20 per month as of 1912.
Her burdens were made heavier with the criminal behavior of her son Ernest, who initially had been arrested for arson at the age of 12, and as the years went on was increasingly in trouble with the law. In the early to mid 1900s, he committed a robbery and was imprisoned. He managed to escape and return to Knoxville, only to resume criminal activity for which he was captured and convicted of five robberies. He was sent to the Tennessee State Prison in Nashville, Davidson County, with one newspaper calling him an "able-bodied, hardened, desperate, and professional criminal."
Sometime in 1907 or '08, Mattie learned that her imprisoned son was dying of tuberculosis, and she tearfully appealed to newly elected Governor Malcolm Rice Patterson. The case was reviewed by a judge, the Tennessee Attorney General and the Board of Pardons. They all recommended to Gov. Patterson that a pardon be granted, and it was. Upon release, Ernest committed yet another burglary, and was returned to the penitentiary. Gov. Patterson was savagely attacked by opponents for his leniency. In a speech in Memphis on May 30, 1908, Patterson responded, saying:
When you were talking about this little Ernest Minor case, recommended and with consumption, why didn't you tell the people here that in spite of the solicitation of friends, men whom I loved, I had to let the law take its course in a certain case, and when I did so I can say that I shed tears of sorrow over the poor mother that had appealed to me. God knows if I could have reached out my hand and saved a single tear of that poor mother's heart I would have done so. And now while you are criticizing me about Ernest Minor, why didn't you give me some credit for that, because it was a hard proposition to handle.
Within a few years of Ernest's death, Mattie and her daughters migrated eastward to Massachusetts. The rationale for Mattie's move has not yet been learned. That said, at about that time, her John became employed as a printer for a railroad company in Boston, and his work may have been the reason the family relocated such a long distance, as he would have been one of the few sources of income for his mother and sisters.
When the federal census was taken in 1910, Mattie was enumerated with her children on Calder Street in the city of Boston, Suffolk County, MA. Residing in her home in 1910 were her children Mattie (age 27), John (age 24), Louise (21) and Helen (14). The 1912 Boston City Directory shows that Mattie and her son John had 11 Calder Dor. as their address, with John employed as a "printer."
She later relocated to New York State, settling into her married daughter Helen's home in Syracuse, Onondaga County. According to the Syracuse City Directory, in 1925 and '26 she resided at 476 South Salina Street, where she also earned income as a waitress. The 1929 Syracuse directory placed her at 331 Catherine Street -- dwelling with the Wilkinses -- and referred to her as the widow of "Henry C."
During her nearly quarter century of widowed life, Mattie also endured the heartbreak of losing two more of her adult sons -- Harry and Wilkie -- both in 1915.
Mattie died in Syracuse at the age of 80 on Aug. 12, 1930. A note of her passing was printed in the 1931 Syracuse City Directory. [link] Her final resting places has not yet been identified.
During the 1970s, Henry's story and military records were researched by his grand niece, Jeannette "Blanche" (Clark) Tarter of Raytown, MO. Her original work papers today are preserved in the Minerd.com Archives. Additional research by Eugene Podraza and the founder of this website was conducted in the mid-1990s on-site in Morrow County, OH and at the National Archives in Washington, DC.
~ Alleged Daughter Mattie J. Minor? ~
Alleged daughter Mattie J. Minor (1883- ? ) was born in 1883.
The only known record of her existence is the federal census of 1910. That year, when she was 27 years of age, she was unmarried and was employed as a stenographer in a Boston dry goods store. The census shows her living under her widowed mother's roof, along with several younger siblings.
At no time is she otherwise listed among her siblings, including documents her father filed in order to receive his Civil War pension, and also newspaper obituaries of her brothers. The reference to her as a "daughter" may well be erroneous.
Copyright © 2000, 2002, 2004-2008, 2010, 2015, 2017-2018 Mark A. Miner