Oren Bernard 'O.B.' Minor
(1890-1970)
Oren Bernard "O.B." Minor was born on Dec. 29, 1880, in Brownsville, Licking County, OH, the youngest of five children of James S. and Angeline C. (Hamilton) Minor.
On Aug. 23, 1905, at age 25, Oren married 23-year-old Lillian May Tong (1882-1943). She was a native of St. Louis, MO, and the daughter of Thomas J. and Mary (Beck) Tonge. She apparently resided in or near Newark, Licking County, at the time of marriage.
The Minors bore three children together – Dorothy Jenkins, Frederick William "Bud" Minor and Edith Angeline Maurer.
The family resided in Newark in 1908, where Oren learned the jewelry trade working at Haines' store. Then in July 1910, he was hired by the Watch Shop in New Philadelphia. Said the New Philadelphia Daily Times, "He will later move his family to this city."
The Minors dwelled for more than four decades in New Philadelphia and vicinity. They lived on West Fair Street in 1910 and by 1914 were on North Fifth Street. They relocated in September 1918 to Dover, where Oren was working with the Dover Watch Shop, and by 1919 were back in New Philadelphia on East Front Street. By 1925, they had moved again to a residence on North Fifth.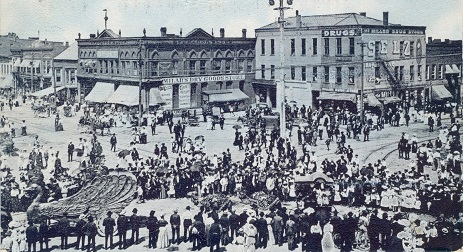 A large crowd observes a parade in New Philadelphia during the 1910s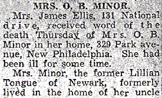 Obituary, 1943
Oren continued his work as a well known jeweler for decades. The Dover-New Philadelphia Times Reporter said he was "associated with John Joss from 1910 to 1947 in the operation of the Watch Shop in New Philadelphia. He was a member of the New Philadelphia Elks Club and the old Bronx Club."
Another distant branch of the Minor family that resided in New Philadelphia during that era included the families of Jacob Alexander Minor, Clifford Minor and Esther (Minor) Dillon, Sarah Ann (Minor) Williams Beardslee Warstler.
Oren diversified his business interests during the Great Depression. Circa February 1938, he advertised in the Daily Times that he was selling Johnson Sea Horse outboard motors from his office at 329 Park Avenue Northwest.
The Daily Times often reported the social doings of the Minors in its gossip columns. In August 1910, for example, it was reported that they entertained Lillian's relatives Mrs. George Beck and daughter Minnie of Newark and young Fred Rannenberger of Pine Bluff, AR. In October 1914, Lillian hosted a meeting in their home of the Marvedos Society of the Christian Church. She was involved circa February 1917 with the Hearthstone Embroidery Club. In November 1919, the Minors hosted a weekend visit from their nephew Raymond Minor of Newark and at Christmas 1923 a visit by Oren's sister Carrie Wilkinson from Columbus. Lillian was elected assistant secretary-treasurer of the Zonta Club in 1925 and remained involved at least into 1942.

Obituary, 1970
Oren also served as secretary of the Tuscarawas County Fish, Game and Song Bird Protective Association. In May 1914, the Daily Times noted that he had "received 100 pheasant eggs from the state game and fish department for distributon. The eggs are nearly as large as a hen egg, and an ordinary hen can hatch little pheasant chicks. When they get old enough, the farmer won't have to chase them into the woods."
Oren and Lillian spent several weeks with friends at Turk Lake, MI in July 1925, remaining for another week after some of the friends returned home. They returned to Turk Lake in July 1936 where they vacationed for several weeks.
Lillian passed away on July 1, 1943 in New Philadelphia. A newspaper in her old hometown of Newark reported that she "had been ill for some time," and added that she "formerly lived in the home of her uncle and aunt here, the late Mr. and Mrs. George Beck in National drive."
Oren outlived his wife by more than a quarter of a century. Headlines in the Daily Times in the first week of 1948 announced that he was retiring from the Watch Shop, having sold his interest to John E. Joss and R.R. Risksecker. He spent his retirement years fishing, once traveling to Kashabog in southeastern Ontario, Canada, and with son-in-law Howard Jenkins was active with the Tuscora Casting Club. He also served on the City Health Department of New Philadelphia, a five-year term appointed by Mayor Fred Schneider.
He died at age 90 on Sept. 4, 1970, in New Philadelphia. He was buried with his wife there in the East Avenue Cemetery.
~ Daughter Dorothy (Minor) Jenkins ~
Red Jenkins
Daughter Dorothy Minor (1906-1993) was born in 1906.
At the age of 28, on Sept. 10, 1934, she married Howard E. "Red" Jenkins (1907-1992), son of O. Jenkins of Second Street.
The couple did not reproduce.
Over the years, Dorothy worked for the accounting department of Greer Steel Corporation in Dover, OH.
Said the Times Reporter, Red "was employed by the Boston Clothing store and Maurer Carpet Co., both of New Philadelphia, and Custom Coaters of Dover. He was a World War II Army veteran and a member of the New Philadelphia Rifle Club and Beagle Club."
Red passed away on Dec. 26, 1992, at age 85,
Dorothy survived her husband by less than six months. She died on May 3, 1993, at age 86.
~ Son Frederick William "Bud" Minor ~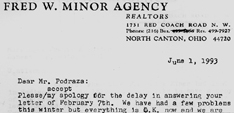 Fred's stationery
Son Frederick William "Bud" Minor (1908-1999) was born on June 9, 1908.
As a young man, he established a residence in Canton, Stark County, OH.
On Oct. 6, 1935, at the age of 27, he married Virginia Ruth Riseling (April 18, 1911-1999), daughter of H.I. Riseling of Canton. News of their engagement was published in the New Philadelphia Daily Times.
The couple produced three children – Patricia Bender, Sue Ellen Masengale and William F. Minor.
Frederick owned and operated the Fred W. Minor Insurance Agency of Canton, OH for many years. In 1966, he was elected president of the Canton Board of Realtors, "the only president ever nominated by petition," said a history of the Stark County Realtors Association.
Fred and his son William were active in family history research, including trips to Newark, Brownsville and Mt. Gilead, Morrow County, OH. Circa 1993, Fred corresponded with Minerd-Miner-Minor researcher Eugene Podraza, and exchanged valuable information. Fred wrote that "I am a retired real estate broker, a hunter, a fisherman and I play a lot of golf even at age 84."
He passed away on May 31, 1999.
Virginia only lived for another four months. She passed into eternity on Sept. 29, 1999.
Daughter Patricia Ann Minor (1936- ? ) was born on Aug. 29, 1936. She was a graduate of Denison University in Granville, OH. On Sept. 4, 1958, she married Todd K. Bender ( ? - ? ), son of Kenneth Bender of Uniontown, OH. He was an alumnus of Kenyon College and president of the fraternity Delta Tau Delta. News of their wedding was printed in the New Philadelphia Daily Times, and Rev. Jerome A. Wenner officiated at the nuptials held in Canton's Trinity Evangelical and Reformed Church. The couple honeymooned in England after sailing on the Queen Elizabeth, followed by Todd attending Sheffield University on a prestigious Fulbright Scholarship. The couple produced two daughters, Kirsten Ann Bender and Claire Elaine Bender. In 2000, they made a home in Madison, WI.
Granddaughter

Kirsten Ann Bender

(1964- ? ) was born in 1964. She made her home in San Francisco in 2000 and was employed as an engineer.
Granddaughter Claire Elaine Bender

(1968- ? ) was born in 1968. In 2000, she dwelled in Honolulu and practiced law as an attorney.
Daughter Sue Ellen Minor (1941- ? ) was born on April 9, 1941. In March 1995, at the age of 54, she wedded Marvin "Denton" Masengale ( ? - ? ). Circa 2000, the couple resided in Ranchos Palos Verdes, CA, where Denton is thought to have worked as an estimator for Doty Bros. Construction Company. As a young man, from 1960 to 1962, Denton served with the Maritime Patrol Aviation of the U.S. Navy.
Son William Frederick "Bill" Minor (1942- ? ) was born on Aug. 9, 1942 in Dover, OH. When he was 23 years of age, on Sept. 4, 1965, he was united in matrimony with Mary Lee Russel (1942- ? ), a native of Cleveland, Cuyahoga County, OH. The three children born to this marriage were David William Minor, Danielle Elizabeth Minor and Anne Marie Geiger. The family lived at Bucyrus, OH. William spent 35 years in management positions with American Electric Power (AEP), retiring on June 30, 2000. Mary Lee taught elementary school for many years. In 2000, just a few months after this website was launched, William made contact and shared valuable information for this biography. The couple celebrated their golden wedding anniversary in September 2015, with an article printed in the Bucyrus Telegraph.
Grandson

David William Minor

(1968- ? ) was born in 1968 in Tiffin, OH. Circa 2000, he resided in Ann Arbor, MI and managed a Boston Market franchise.
Granddaughter Danielle Elizabeth Minor

(1972- ? ) was born in 1972 in Tiffin, OH. She lived in Columbus, Franklin County, OH in 2000 and earned a living as a paralegal.
Granddaughter Anne Marie Minor (1977- ? ) was born in 1977 in Tiffin, OH. On Feb. 26, 2000, she was joined in wedlock with Matthew Geiger ( ? - ? ). Their home in 2000 was in Lakewood, OH, where Anne Marie worked in an opthamology office.
~ Daughter Edith (Minor) Maurer ~
Daughter Edith Angeline Minor (1916-2001) was born on Aug. 14, 1916.
After graduation from high school, Edith attended Safford's Business College, and then was hired in the office of Kempf Insurance Agency.
On Sept. 27, 1942, she married Edwin Adams "Eddie" Maurer (March 26, 1915-2000), son of New Philadelphia postmaster John and Edna (Adams) Maurer. The ceremony was held in the lounge of the First Evangelical and Reformed Church, with Rev. T.W. Hoernemann officiating. Prior to marriage, Edwin worked for Linn Hert Company of New Philadelphia.
They were the parents of two children, Rick Maurer and Laraine Maurer.
During World War II, Edwin joined the U.S. Army and was a staff sergeant based at Camp Pickett, VA. Later, he was deployed to Burma where he was a medic stationed at a field medical facility.
When Edwin was transferred to an Army base in Massachusetts, Edith joined him there. Then after the war, the couple moved back to New Philadelphia, where they founded The Edwin Maurer Company, a successful furniture and carpet business. Circa 1955, Edwin was elected chairman of the New Philadelphia Merchants' Committee. The furniture company ceased operations in 1963.
Sadly, Edwin died on Jan. 27, 2000. His remains were placed in eternal repose in East Avenue Cemetery in New Philadelphia.
Edith only survived as a widow for 13 months. She succumbed on Feb. 4, 2001.
Son Frederick Richard "Rick" Maurer (1945-living) was born on May 31, 1945 in the home of his Minor grandparents in New Philadelphia. In 1984, he was united in wedlock with Katherine Jo Barton (Jan. 5, 1955-living), a native of Watsonville, CA. The couple did not reproduce. By 2000 they were in Arlington, VA, where owns and operates Maurer and Associates, a business consulting firm focusing on change management from a leadership perspective with the tagline Change without Migraines™. Among his firm's blue chip clients have been Lockheed Martin, Sandia Labs, Deloitte & Touche, National GeoSpatial Intelligence Agency, Rohm & Haas (today Dow Chemical), Verizon, Syngenta, Charles Schwab, National Education Association, The Washington Post, NASA, Tulane University Hospital, Kaiser Permanente and U.S. and foreign government agencies. He has written at least five books which he says are "definitive guides to creating an environment that increases communication, overcomes resistance and skepticism, and helps leaders to lead more effectively in spite of organizational change initiatives." The titles include Caughter in the Middle, Beyond the Wall of Resistance, Why Don't You Want What I Want?, Change without Migraines Formula and Feedback Toolkit.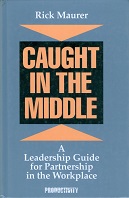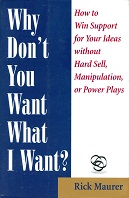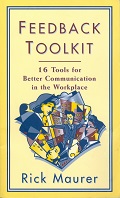 Three of Rick Maurer's titles
Daughter Laraine Maurer (1949-1974) was born in 1949. She grew up with a pet dog Kippy which won third place in 1964 in a dog obedience class, with the news printed in the New Philadelphia Daily Times. When she was in her second semester of her junior year at Heidelberg College in Tiffin, as a speech major, she was stricken with Hodgkin's Disease and was treated for six weeks at the Cleveland Clinic. She returned to school in September 1970 but had a relapse. Said the Dover (OH) Daily Reporter, "When she returned to her home... she was partially paralyzed. A wheelchair became necessary." Laraine triumphed over her disabilities when she finally received her bachelor's degree in May 1971. At the commencement, said the Daily Reporter, college president Leslie H. Fishel walked from the stage to where she was seated, presenting her with her diploma and giving her a kiss on the cheek. This moment gave the 239 graduates "a postgraduate lesson in determination, faith and perserverance from the 240th graduate." She then obtained her masters degree at Kent State University in August 1974 and worked for the Starlight School and Workshop as a speech therapist. Sadly, she passed away in Oct. 1974 at the age 25. In an award-winning editorial, Daily Reporter assistant city editor Kathy Vaughan wrote:
People who knew Laraine Maurer know that she would not have wanted to be remembered for her strength and courage in the face of death. it wasn't her style. She would prefer to be remembered for her list for life. It bugged her that occasionally someone failed to recognize that a wheelchair or Hodgkin's Disease neednot strip her of her independence -- thinking and otherwise. She neither resigned herself to her affliction, nor did she learn to live with it. Instead, she fought it. Between such interruptions as hospitalizations or a bout with bronchitis, she strived to improve her mind, and in August earned her master degree. And although she had the right to prestige, she disliked the word "professional" and referred to her job as speech therapist at Starlight School as "cake" -- not that it was easy, but it was good. Ironically, she improved the lives of others while her own dwindled away. And somehow, in typical Laraine fashion, she was apologetic for being sick, even though it was beyond her control. But there were tings she could control -- from her car that zipped across the state for camping to the typewriter that printed out her thesis. She would not have wanted these things said. But the people to whom she gave so much might need something said. Those who inspire no longer belong to themselves, but instead belong to those they inspire.
Copyright © 2005, 2019-2020 Mark A. Miner