Thomas I. Murdock
(1831- ? )
Thomas I. Murdock was born in 1831 in Kingwood, Preston County, WV, the son of John S. and Rebecca (Miner) Murdock. He was a pioneer resident of Ironton, Lawrence County, OH, and drew many of his brothers and sisters to live there as well. He also was a veteran of the Civil War.
As a teenager, Thomas worked as a clerk in Kingwood. In 1854, when he was 23, his mother died. Sometime afterward, he moved to Ironton.

Obituary, 1926
On the Fourth of July in 1858, at the age of 27, Thomas married 17-year-old Julia Caywood (1841-1926), daughter of Stephen and Matilda (Prather) Caywood of Flemmings County, KY. Justice of the peace Thomas A. Brattin performed the nuptials in Lawrence County.
The Caywoods migrated to Ironton in 1847, when Julia was age six, and they were considered "one of [Ironton's] most prominent families, which took a leading part in the early history of the city."
The Murdocks adopted a son, Clarence K. Murdock, shortly after he was born in 1878. Later, they raised Clarence's children from their infancy -- Thomas Murdock and Martha Murdock. Julia "was a life-long Christian and so long as her health permitted took an active interest in the affairs of the Methodist Church," said the Evening Tribune.
During the Civil War, Thomas joined an Army regiment. However, the specific identity of his unit is not known. In the winter of 1862-1863, Thomas went to West Virginia to visit his brother Israel, who was an officer with the 2nd West Virginia Cavalry. In his own words, Thomas:
...went to Camp Pratt, W.Va., taking with me packages & boxes of delicacies for the members of the 2" W.Va. Cav. sent by friends in Ironton. Upon reaching Camp Pratt I found that my said brother & his Co. was at Fayetteville, W.Va. It being in winter and a deep snow on the ground I went no farther but the supplies I had for Co. B. was forwarded.
In February 1863, Thomas received a letter of thanks from Israel. Thomas then forwarded the letter to his wife, adding the following short note:
I send you the Letters I received today from Brother Israel thinking you would like to hear from him and from Father's. This leaves me well and hearty. Soldiering seems to agree with me first rate, that is the peaceable part of it.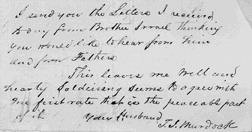 Civil War letter written by Thomas
(The letter today, seen here, is preserved in the National Archives in Washington, DC.)
After the war, Thomas went back home to Ironton. He was a bookkeeper and "for many years was associated with the late W.A. Murdock and Drake Murdock in the grocery business here," said the Ironton Evening Tribune.
He occasionally returned to his hometown, Kingwood, to "visit friends and relatives," including a visit with son Clarence and brother John noted by the West Virginia Argus of Aug. 20, 1891. During that visit, he and John were described as "wholesale hardware dealers of Ironton and are succeeding well in the Buckeye Store."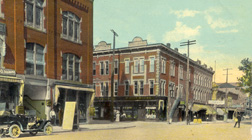 Corner of 3rd and Center Streets, Ironton
At right, the busy corner of Third and Center Streets in Ironton, circa 1914, seen in an old photographic postcard.
The fate of Thomas is unknown, though he was alive in March 1896, when he testified in the Civil War pension application of his brother Israel. At that time, he added that:
For the last forty-three years I have kept the books of the Murdock grocery house of this town and from Jan. 28, 1863 to Feb. 12, 1863, the writing in the books shows they were kept by my uncle, and a memorandum made in the books showing my return on Thursday, the 12" February 1863 convinces me I was absent from those dates on my trip to Camp Pratt. My record of Saturday, Feb. 21, 1863 says, "I.B. Murdock at home on 'sick leave'," and he when in town always hade his home with me.
Later in life, Julia resided at 115 North Sixth Street in Ironton. She lived to nearly her 85th birthday. She died of senility on Feb. 8, 1926, and was buried at Woodland Cemetery in Ironton.
~ Son Clarence K. Murdock ~
Son Clarence K. Murdock (1878-1917) was born on April 21, 1878 in Ironton. He was a farmer. At the age of 24, he married 20-year-old Hallina S. "Helen" Shepard (1883-1915), the daughter of W.K. and L. Martha (Wagner) Shepard. Rev. Homer J. Smith officiated at the ceremony on Aug. 19, 1902.
They had two children, Thomas I. Murdock, II and Martha Murdock.
Tragically, at the age of 32, Helen contracted a fatal case of double pneumonia, and died on Dec. 2, 1915.
Compounding the family agony, Clarence likely never got over this loss, and suffered from "cerebral softening." He only outlived his wife by a year and a half, and died at the young age of 38, on April 16, 1917, with interment at Woodland Cemetery.
Grandson Thomas I. Murdock, II (1904-1947) was born in 1904. He served in World War I and was a clerk for the Chesapeake & Ohio W.P.A. He was divorced. Thomas died at the age of 42, of cirrhosis of the liver, on Jan. 15, 1947, and is buried in Woodland Cemetery.
Copyright © 2001, 2005, 2008, 2012 Mark A. Miner