Home

Thomas Ira Murdock
(1831-1907)
Thomas Ira Murdock was born in 1831 in Kingwood, Preston County, WV, the son of John S. and Rebecca (Miner) Murdock. He was a pioneer resident of Ironton, Lawrence County, OH, and drew many of his brothers and sisters to live there as well. He also was a veteran of the Civil War.
As a teenager, Thomas worked as a clerk in Kingwood. In 1854, when he was 23, his mother died. Sometime soon afterward, he moved to Ironton.
On the Fourth of July in 1858, at the age of 27, Thomas married 17-year-old Julia Caywood (1841-1926), daughter of Stephen and Matilda (Prather) Caywood of Flemmings County, KY. Justice of the peace Thomas A. Brattin performed the nuptials in Lawrence County.
The Caywoods had migrated to Ironton in 1847, when Julia was age six. They were considered "one of [Ironton's] most prominent families, which took a leading part in the early history of the city."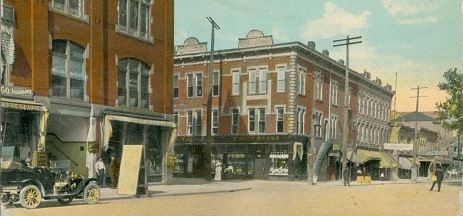 Corner of 3rd and Center Streets, Ironton
The Murdocks adopted a son, Clarence K. Murdock, shortly after he was born in 1878. Later, they raised Clarence's children from their infancy -- Thomas Murdock and Martha Murdock. Julia "was a life-long Christian and so long as her health permitted took an active interest in the affairs of the Methodist Church," said the Evening Tribune.
During the Civil War, Thomas joined an Army regiment. However, the specific identity of his unit is not known. In the winter of 1862-1863, Thomas went to West Virginia to visit his brother Israel, who was an officer with the 2nd West Virginia Cavalry. In his own words, Thomas:
...went to Camp Pratt, W.Va., taking with me packages & boxes of delicacies for the members of the 2" W.Va. Cav. sent by friends in Ironton. Upon reaching Camp Pratt I found that my said brother & his Co. was at Fayetteville, W.Va. It being in winter and a deep snow on the ground I went no farther but the supplies I had for Co. B. was forwarded.
In February 1863, Thomas received a letter of thanks from Israel. Thomas then forwarded the letter to his wife, adding the following short note:
I send you the Letters I received today from Brother Israel thinking you would like to hear from him and from Father's. This leaves me well and hearty. Soldiering seems to agree with me first rate, that is the peaceable part of it.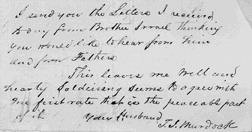 Civil War letter written by Thomas
(The letter today, seen here, is preserved in the National Archives in Washington, DC.)
After the war, Thomas went back home to Ironton. He was a bookkeeper and "for many years was associated with the late W.A. Murdock and Drake Murdock in the grocery business here," said the Ironton Evening Tribune.
He occasionally returned to his hometown, Kingwood, to "visit friends and relatives," including a visit with son Clarence and brother John noted by the West Virginia Argus of Aug. 20, 1891. During that visit, he and John were described as "wholesale hardware dealers of Ironton and are succeeding well in the Buckeye Store."
At right, the busy corner of Third and Center Streets in Ironton, circa 1914, seen in an old photographic postcard.
Iin March 1896, when he testified in the Civil War pension application of his brother Israel. At that time, he added that:
For the last forty-three years I have kept the books of the Murdock grocery house of this town and from Jan. 28, 1863 to Feb. 12, 1863, the writing in the books shows they were kept by my uncle, and a memorandum made in the books showing my return on Thursday, the 12" February 1863 convinces me I was absent from those dates on my trip to Camp Pratt. My record of Saturday, Feb. 21, 1863 says, "I.B. Murdock at home on 'sick leave'," and he when in town always hade his home with me.

Obituary, 1926
Thomas reputedly succumbed to the angel of death in September 1907.
When the United States Census was made in 1910, Julia remained in Ironton, with married son Clarence and his family in the household.
Later in life, Julia resided at 115 North Sixth Street in Ironton. She lived to nearly her 85th birthday.
She died of senility on Feb. 8, 1926, and was buried next to her spouse in Woodland Cemetery in Ironton. Her obituary appeared in the Portsmouth (OH) Daily Times and Ironton Evening Tribune.
~ Son Clarence K. Murdock ~
Son Clarence K. Murdock (1878-1917) was born on April 21, 1878 in Illinois
He grew up with his adoptive family in Ironton, Lawrence County, OH. He was a farmer.
At the age of 24, on Aug. 19, 1902, he entered into a state of marriage with 20-year-old Hallina/Elena S. "Helen" Shepard (1883-1915), the daughter of W.K. and L. Martha (Wagner) Shepard. Rev. Homer J. Smith officiated at the ceremony.
The couple together bore two children, Thomas I. Murdock, II and Martha Murdock.
Federal census records for 1910 show the Murdocks sharing a house with his widowed mother in Ironton. At the age of 32 at that time, with a wife and two children, he had no occupation.
Tragically, at the age of 32, Helen contracted a fatal case of double pneumonia, and died on Dec. 2, 1915.
Compounding the family agony, Clarence likely never got over this loss and suffered from "cerebral softening." He only outlived his wife by a year and a half, and died at the young age of 38, on April 16, 1917, with interment at Woodland Cemetery.
Son Thomas Ira Murdock II (1904-1947) was born on April 17, 1904 in Lawrence County, OH. In adulthood he stood 5 feet, 10½ inches tall, weighed 165 lbs. and had grey eyes and brown hair. On Sept. 15, 1923, when he was 22 years of age, he was joined in wedlock with Mildred V. Hutchinson (1905-1973). Their wedding was held in Richmond, IN. One known daughter produced by the couple was Jane Eileen Murdock. Circa 1930, he was employed as a clerk for the Chesapeake & Ohio Railroad. During the 1930s, the Murdocks divorced. Federal census enumeration records for 1940 show the 35-year-old Thomas working as a truck driver for a construction and visiting in the household of H.J. and Elizabeth Runyons in Cedero, Wayne County, WV. In early 1942, he had no occupation and dwelled at 317 North Third Street in Ironton. After the outbreak of World War II, he was required to register for the military draft and disclosed that Mrs. W.W. Beaupre of 1112 West Pea Street in Atlanta would always know his whereabout. Thomas joined the U.S. Army in August 1942, going to Huntington, WV to enlist. Thomas died at the age of 42, of cirrhosis of the liver, on Jan. 15, 1947, and is buried in Woodland Cemetery. An obituary reputedly was published in the Gallipolis (OH) Daily Tribune. Ex-wife Mildred lived on for many years and wedded again to Edward Samuel Kerr (1910-1988). Death swept her away in Gallia County, OH on Nov. 16, 1973.
Granddaughter Jane Eileen Murdock (1925-1994) was born on Feb. 22, 1925 in Ironton, Lawrence County, OH. She earned a living as a young woman by working as a gas office as a cashier. When she was 19 years of age, on March 29, 1944, she was joined in wedlock with 22-year-old Roy B. Sheets ( ? - ? ), son of George R. and Maude (Wallace) Sheets of Gallipolis, OH. Rev. W. Scott Westerman officiated. At the time, Roy was serving in the U.S. Navy during World War II. In time, she married a second time to Russell Young Jr. (June 4, 1923-2002), a native of Gallipolis, Gallia County, OH. She passed into eternity in Gallipolis at the age of 69 on Aug. 26, 1994. Russell endured for another eight years as a widower. Death claimed him on Feb. 15, 2002. He rests for all time in Mound Hill Cemetery in Gallipolis.
Daughter Martha Louise Murdock (1908-1982) was born on April 4, 1908 in Ironton, Lawrence County, OH. She was only nine years of age when rendered an orphan. She then was sent to Georgia to live with relatives in the rural outskirts of Decatur, GA. Her parental figures are believed to have been Mr. and Mrs. Wiley Iverson Jones. For reasons not yet known, she was in the Panama Canal Zone at the age of 10 in 1918, and sailed to New Orleans aboard the S.S. Parismina in September 1918. On April 23, 1927, at the age of 19, she was united in holy wedlock with William Walter Beaupre (1901-1943), a former St. Louis resident and the son of A. Minton Hanna. The nuptials took place in Anderson, SC and were announced on the pages of the Atlanta Constitution. Said the wedding article, "Mrs. Beaupre is a charming young woman of exceptional blond beauty and has a voice of rare sweetness... Mr. Beaupre is a former resident of St. Louis, having been in Atlanta only a year and a half. He is a grandson of Colonel Beaupre, the inventor of naval cannon." The couple settled in Atlanta and bore a son, William Walter Beaupre Jr. They remained in Atlanta in 1929-1940, with addresses on Clairmont Road and at 253 14th Street Northeast. William earned a living as operating manager of United Motors Service, an automobile parts business. He held a membership in the Grant Park lodge of the Masons. Martha is believed to have been active in the Fulton County Parent-Teacher Council, with her work mentioned in the Atlanta Constitution. Grief blanketed the family in early 1943 when William became critically ill and was admitted to a local hospital. There, he died at the age of 41 on Feb. 16, 1943. An obituary in the Constitution said he had been "a resident of Atlanta for 17 years" and that his mother resided at the time in Spokane, WA.Rev. Dr. Vernon S. Broyles Jr. preached the funeral sermon, with burial following in Decatur Cemetery. Martha and her widowed stepmother moved to Hollywood, FL and waited for nine years until marrying again. On Jan. 15, 1952, in the chapel of the Pratt Veterans Administration hospital in Coral Gables, FL, Martha was joined in matrimony with Gerald Allen ( ? - ? ). The Fort Lauderdale News reported that the bride "chose dusty pink for her wedding ensemble." At the time, Gerald had been convalescing at the hospital for the past 14 months. The couple settled in Hollywood, FL. She is belived to have succumbed to the spectre of death in Broward County, FL at the age of 74 on Nov. 11, 1982.
Grandson William Walter Beaupre Jr. (1931-1997) was born on about Nov. 29, 1932 in Georgia. He entered into marriage with (?). The two children born into this family were William Walter Beaupre III and Robin Joy Davy. In November 1954, he was with the U.S. Navy naval air jet training facility at Kingsville, TX, and held the rank of construction electrician's mate third class. While in the Navy, he was stationed in 1957 in San Diego. Then he was deployed to Japan, serving at the Far East Communications Region headquarters at Fuchu Air Station. With study at Waseda University and the Fuchu station, he learned the martial art of Aikido, earning in 1961 a second degree black belt. As cited in the Hollywood (FL) Sun-Tattler, he intended to teach the art upon his return to the United States. Also in 1961, he was promoted to staff sergeant. He retired by 1978, with the family putting down roots in Santa Clara, CA at 2545 South Park Lane. Later he resided in Carson City, NV. He died there on Nov. 29, 1997.
Great-grandson William Walter Beaupre III grew up in San Diego.
Great-granddaughter Robin Joy Beaupre grew up in LaMesa and San Diego, and was a 1974 graduate of Helix High School, LaMesa. She was wedded to Lester C. Davy ( ? - ? ), son of A.C. Davy of Murfreesboro, TN. In 1978, she served as senior airman with the 15th Air Force's 91st Strategic Missile Wing and served at Minot Air Force Base in North Dakota as an administrative specialist.
Copyright © 2001, 2005, 2008, 2012, 2021 Mark A. Miner