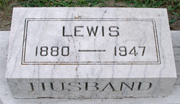 Mt. Zion Cemetery, Jerry City
Lewis Musser was born on April 9, 1880 in Prairie Depot, now known as Wayne, Wood County, OH, the son of Dennis and Caroline (Miner) Musser.
In about 1905, when he would have been 25 years of age, Lewis married Georgia May Esterly (1887-1970).
They resided in Portage, Wood County, and had three known children -- Vondale Musser, Bruce Allen Musser and Boyd W. Musser.
Lewis was employed as an oil field worker in 1910 and as a farmer in 1920, and as a pumper in an oil field circa 1930.
When the federal census was taken in 1930, Lewis's widowed mother made her home under their roof.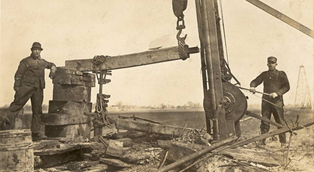 Typical Wood County oilfield laborers in the early 1900s
Lewis passed away of a coronary occlusion at the age of 67 on Sept. 3, 1947.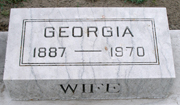 Mt. Zion Cemetery, Jerry City
Georgia outlived him by 23 years, and died in 1970, at the age of 83.
The Mussers rest for eternity beside his parents in the Mt. Zion Cemetery northeast of Jerry City, Wood County.
Research on Lewis and Georgia currently is underway. More will be reported here when learned.
~ Daughter Vondale Winona (Musser) Sheets ~
Daughter Vondale Musser (1906-1951) was born on Oct. 5, 1906 in Wood County.
On July 5, 1923, the 16-year-old Vondale wedded 23-year-old Burley Dean Sheets (1900-1994) of Wood County.
They were the parents of six -- Wayne Sheets, Wade Sheets, John Edward Sheets, Luella Finney, Louise Brown and Mary Ann Scott.
The couple lived in Coleman, where Vondale belonged to the Church of God in Fostoria and was president of the Lyle Ladies Aid.
They relocated to Michigan and made a home in Averill, Midland County, and were members of the Beaverton Church of God.
Tragically, Vondale was killed at the age of 45 on New Year's Eve 1951. A newspaper reported that she and a companion, Ann Syslicki, were in a vehicle which "collided with a westbound bus on US-10, a half mile west of Averill. The women were en route to their work in Midland." Interment was in Warren Township Cemetery in Midland County. [Find-a-Grave]
Burley survived his wife by more than four decades. He was enveloped in further heartache when receiving word that his son John ahd been killed in Korea in 1952..
He spent his final years in Coleman, Midland County. He passed away at the age of 93 on June 18, 1994. A newspaper obituary noted that he was survived by 17 grandchildren, 39 great-grandchildren and seven great-great grandchildren.
Son Wayne Afton Sheets (1926-2005) was born on Dec. 14, 1926. He married Thelma Louise Page (Sept. 25, 1929-2007). They lived in Beaverton, MI in 1951-1994. Wayne died at the age of 78 on July 14, 2005. Thelma was cut down by the Grim Reaper at the age of 77, in Bay City, Bay County, MI on March 20, 2007. Wayne died at the age of 78 on July 14, 2005.
Son Wade Allen Sheets (1928-2001) was born in 1928. On Dec. 19, 1948, he wedded Arlene Janet Page (1931-2003). They dwelled in 1951 in Beaverton and in 1994 in Coleman, Midland County, MI. Sadly, they lost a son Wade to drowning in Lake Michigan near Ludington, at age 13, on Aug. 1, 1970. Wade succumbed on Dec. 8, 2001. Janet survived him by about 18 months and passed in Coleman on June 4, 2003.

John E. Sheets,
killed in Korea
Bruce Guy, Find-a-Grave
Son John Edward Sheets (1930-1952) was born in 1930. He spent the early years of his life in Coleman, MI. During the Korean War, he joined the Army on Oct. 8, 1951 and was stationed at Camp Breckenridge, KY. In May 1952, he was joined in wedlock with Betty A. Brubaker (Feb. 15, 1933-2014) of Beaverton. When John was shipped overseas, Betty went to live with her sister and brother-in-law, Mr. and Mrs. Richard Rellinger in Coleman. He went to Korea as a member of Company G, 2nd Battalion, 27th Infantry Regiment, 25th Infantry Division. John was killed in action in North Korea, after four months in country, on Sept. 22, 1952. His remains were not recovered. News of his death was published in the Midland Daily News as well as in the Detroit Free Pres, Lansing State Journal and Battle Creek Enquirer. Former wife Betty later remarried on Sept. 12, 1953 to Don Fellinger ( ? -1959) who died in 1959. She supported herself over the years with employment at Dow Chemical. She married once more to Herman George Wright ( ? -2010), who succumbed in 2010. She died in Gladwin, MI on June 30, 2014. His name today is inscribed on the Korean War monument in Washington, DC and on a panel in the Courts of the Missing in Honolulu.
Daughter Luella Sheets (1925-2016) was born in 1925. She married Leo Alfred Finney (March 2, 1923-2010), son of Hugh E. and Naomi (Miller) Finney. Her home was in Freeland, MI in 1952-1994. Leo died at the age of 87 three days before Christmas 2010. She passed into eternity in Big Rapids, Mecosta County, MI on Aug. 22, 2016 at the age of 91. Burial was in Warren Township Cemetery in Coleman.
Daugher Louise Sheets was twice wed. Her first spouse was (?) Brown. They lived in Flint, MI. By 1994, she married a second time to Larry Pulley and remained in Flint.
Daughter Mary Ann Sheets was united in marriage with Gerald Scott. Circa 1952-1994, they dwelled in Coleman, MI.
~ Son Bruce Allen Musser ~
Son Bruce Allen Musser (1909- ? ) was born in (?).
Bruce married Leota Ault (1906-1987), the daughter of William and Della (Sanderson) Ault. The wedding took place on Sept. 24, 1928, when he was 19 and she 22.
They resided in Fostoria, Hancock County, OH and had three children -- Richard Musser, Donna Brannan and Jean Ray.
The Mussers were members of the First Church of the Nazarene, and Leota was a volunteer for Meals on Wheels in Fostoria.
Bruce died on Sept. 28, 1972 at the age of 63.
Leota moved into the Edgewood Manor Nursing Home in Fostoria. She passed into eternity at the age of 81 on Dec. 20, 1987, with burial in Fountain Cemetery.
~ Son Brice Musser ~
Son Brice Musser (1919- ? ) was born in 1919 in Portage Township, Wood County.
Copyright © 2008, 2018 Mark A. Miner