Caroline (Miner) Musser
(1842-1930)

Caroline Musser
Caroline (Miner) Musser was born on Nov. 16, 1842 in Unity Township near East Palestine, Columbiana County, OH, one of 15 children of Jacob and Julianna (Forney) Minor.
At a young age, Caroline moved to Wood County, OH, where the families of her uncle Samuel Minerd and aunt Sophia Van Horn were already living.
On Aug. 30, 1857, when she was but 14 years of age, Caroline married 26-year-old Dennis Musser (1831-1916), a native of Beaver County, PA, and the son of Michael Musser of Maryland. The ceremony took place in Wood County. They were 11 or 12 years apart in age.
Their six children were Silas Alvin Musser, Clayton Musser, Benjamin F. Musser, Annetta Musser, Lewis Musser and one unknown.
Because Caroline had lived away from her family for such a long time, even her eldest children did not know the precise names of her parents.
The federal censuses of 1870 and 1880 show that Dennis and Caroline were farmers and lived near Portage, Wood County. Later in life, they resided one mile southeast of Six Points at Prairie Depot, now known as Wayne.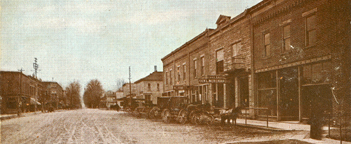 West Main Street in Prairie Depot, a town now known as Wayne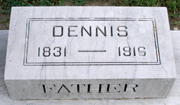 Mt. Zion Cemetery
In 1900, when the federal census was taken, six-year-old granddaughter Clara Musser resided in their home.
The Mussers were married for 53 years.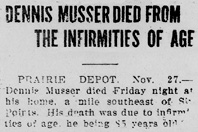 Bowling Green Daily Sentinel
Dennis died on Nov. 25, 1916. The Bowling Green (OH) Daily Sentinel Tribune reported that he died "due to infirmities of age, he being 85 years old." His death certificate listed the cause as "aortic regurgitant," presumed to be heart disease.
Caroline outlived her husband by 14 years. In 1920, at the death of her sister Eliza Mathany, Caroline was mentioned in Eliza's obituary in the Warren (OH) Daily Tribune as a surviving sister.
She made her home with her married son Lewis in her later years. She passed away of hardening of the arteries on Nov. 29, 1930. On her death certificate, son Silas marked her father as "J. Miner" but with "No record" of her mother's name.
They are buried in Mt. Zion Cemetery, Wood County. Resting directly beside them are son and daughter in law Lewis and Georgia Musser. Also buried at Mt. Zion are son and daughter in law Silas and Eliza J. Musser, and grandson Brice D. and Sophronia Musser.
Caroline's genealogical information is posted by the International Genealogical Index (IGI).

The Mussers' attractive final resting place at Mt. Zion Cemetery
~ Son Benjamin F. Musser ~
Son Benjamin F. Musser
~ Daughter Annetta Musser ~
Daughter Annetta Musser
Copyright © 2003-2006, 2008, 2018 Mark A. Miner