Silas Alvin Musser
(1861-1952)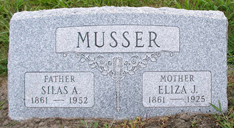 Grave at Mt. Zion Cemetery
Silas Alvin Musser was born on June 22, 1861 in or near Prairie Depot, now known as Wayne, Wood County, OH, the son of Dennis and Caroline (Miner) Musser.
Silas married Eliza J. McLaughlin (1861-1925) on Nov. 20, 1894. Eliza was a native of Lehigh County, PA, and her parents Brice and Kathryn (Patrick) McLaughlin were emigrants from Ireland. She migrated to Wood County in about 1879, when she was 18 years of age.
The Mussers had three children -- Brice C. Musser, Clara Joseph and Edna Thompson.
In 1900, when the federal census was taken, the Mussers were farmers and next-door neighbors to Silas' parents at or near Six Points, Wood County. That year, Eliza's 31-year-old unmarried sister Lydia McLaughlin lived under their roof. Then, in about 1903, they moved to a farm at Five Points, Liberty Township, Wood County, where they remained for the duration of Eliza's life.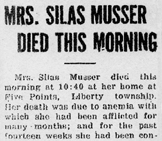 Daily Sentinel Tribune
In 1916 and then again in 1930, Silas was the informant for the death certificates of his father and mother.
Their married son Brice lived across the road from them, about four miles southwest of Portage.
Eliza was said to have "exemplified the Christian graces and was a faithful member of Mt. Union U.B. church," said the Wood County Daily Sentinel Tribune. "She was highly esteemed by all who knew her. She was thoughtful of others and sympathetic with them in affliction. She was a loving companion and mother and her great fortitude was shown in her long illness by the patience with which she endured her suffering." She passed away in 1925, at the age of 64. The Daily Sentinel Tribune reported that her death "was due to anemia with which she had been afflicted for many months; and for the past fourteen weeks she had been confined to her bed, a most patient sufferer."
Silas outlived her by almost three decades. In his last years, he suffered from senility and hardening of the arteries. He died at the age of 91 on Oct. 26, 1952. They rest for eternity at the Mt. Zion Cemetery northeast of Jerry City, Wood County, in the same burial ground as his parents and brother Lewis. No obituary has been found for Silas in the Bowling Green/Wood County newspaper.
~ Daughter Clara Z. (Musser) Joseph ~
Daughter Clara Z. Musser (1897-1982) was born in 1897.
She married Dee M. Joseph ( ? -1979) on Nov. 27, 1917 and lived east of Bowling Green, Wood County, in 1925.
The Josephs were farmers. They had one son, Evan Joseph.
Dee died at the age of 81 on May 6, 1979.
Clara lived for another three years, and passed away at the age of 85 on Aug. 22, 1982. She was laid to rest in Oak Grove Cemetery.
~ Daughter Edna L. (Musser) Thompson ~
Daughter Edna L. Musser (1900-1973) was born in 1900.
She wedded Hobart A. Thompson (1897-1962) in 1927. They resided for many years in Rudolph, Wood County, where Hobart was a farm laborer.
They had two sons, Thomas Thompson and Robert A. Thompson.
They were members of the Rudolph Bethel Church of Christ, and Edna belonged to the Eastern Star and Soroptomist Club.
After 35 years of marriage, Hobart died in 1962, at the age of 65.
Edna then moved to Findlay, Hancock County, OH, where she remained for the final 11 years of her life. She passed away at Blanchard Valley Hospital in Findlay, at the age of 72, on Jan. 4, 1973. Following a funeral at Rudolph Bethel Church of Christ, led by Rev. Newton Kelly and Rev. Ralph Clink, she was laid to rest in Oak Grove Cemetery.

Obituary, 1982
Son Brice D. Musser (1895-1982) was born in 1895.
He was united in wedlock with Sophronia C. Brockway (1895-1988), the daughter of George and Mary (Van Buren) Brockway, on Oct. 31, 1917.
They resided in Five Points, Wood County, and bore a family of three daughters -- Marjorie Lucille Musser, Josephine Amos and Donna Nelson.
Brice "was a retired farmer and member of the Portage Mount Zion church, Portage Odd Fellows Lodge, and the Farmers Union," said the Daily Sentinel Tribune. They made their home at 15827 Steen Road near Portage.
Brice died on Dec. 22, 1982 at the age of 87. At the time of his death, he and Sophronia had produced six grandchildren, 10 great-grandchildren and two great-great grandchildren.
Sophronia followed Brice to the grave six years later, on Oct. 13, 1988. Their grave marker at Mt. Zion Cemetery is still decorated today with urns of beautiful flowers. They are buried directly beside Brice's parents.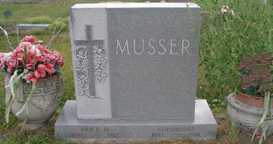 Brice and Sophronia Musser's grave at Mt. Zion Cemetery near Jerry City, OH.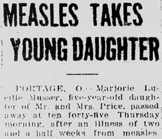 Marjorie's obituary, 1926
Daughter Marjorie Lucille Musser (1920-1926) was born in about 1920. Sadly, she died on Feb. 18, 1926 at the tender age of six, after suffering from measles and cerebral meningitis. The Daily Sentinel Tribune reported that she "had been a great comfort and joy to her parents and they are greatly grieved over their sad loss."
Daughter Josephine Musser (1918-2008) was born on the family farm in Liberty Township, and spent her entire life in Wood County. She married Harry Louis Amos (1910-1984) on June 13, 1937. They had three daughters -- Beverly "Boots" Leady, Judith Bateson and Deborah Amos. Harry was a longtime machinist with Abbey-Etna Machine Company in Perrysburg, Wood County, and retired in 1973. Hen then was a farmer and livestock dealer until a second retirement in 1982. Harry was a committee member of the Wood County Democratic Party. During World War II, Josephine worked for Autolite and H.J. Heinz Company. Later, she was employed by Northern Ohio Telephone Company, later renamed General Telephone Electric, and she retired in 1979. Said the Bowling Green Sentinel-Tribune, she was a member of Christ United Methodist Church, Portage; Portage Rebekah Lodge; Portage Center Gleaners Society; Northwest Ohio Farmer's Union; and Portage Senior Citizens. Circa 1982, the Amos's lived in Portage. Harry passed away in July 1984. Josephine outlived him by nearly a quarter of a century. She died in Portage at the age of 89 on May 3, 2008. At the time of Josephine's passing, she had four granddaughters, nine great-grandchildren and four great-great grandchildren.
Daughter Donna Musser married (?) Nelson and made her home in Kingman, AZ in the early 1980s.
Copyright © 2008, 2018 Mark A. Miner
Obituary courtesy of the Wood County Chapter, Ohio Genealogical Society