Claude C. Overholt
(1890-1958)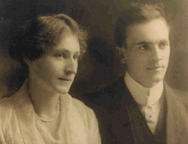 Wedding day
Claude C. Overholt was born in May 1890 in Greensburg, Westmoreland County, PA, the son of James W. and Almira (Minerd) Overholt.
Circa 1915, at the age of 25, Claude resided in Nyack, Rockland County, NY, where he was enrolled at Nyack on the Hudson Alliance Missionary College.
There, he met and courted his future bride, fellow student Avis J. Halsey (1891-1974). She was a native of Fernwood, Oswego County, NY. At the time, they were among the many students who were being prepared for the mission field in China.
Throughout this time, he remained a member of the First Church of the United Brethren in Christ in Youngwood, Westmoreland County.
A rare old postcard of the church, which Claude's parents and brothers also attended, is seen here. Claude's brothers Ernest E. Minerd and Arnold A. Overholt were longtime leaders in the church's Sunday School program.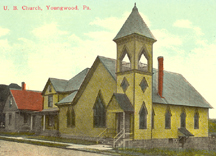 The Overholts' church in Youngwood

After Claude and Avis married, they resided in Pearl River, Rockland County, NY, where their first child was born in 1915. Later, they returned to the Youngwood area, where Claude and a partner were owners of an Oldsmobile dealership.

They had four children -- Sylvia R. (Overholt) Fridley, Claude Overholt Jr. (born in 1921), Kathleen (Overholt) Hungerford (born 1925) and Orra Jean (Overholt) Ames (born 1927).

Circa 1927, Claude resided at 11 South Third Street in Youngwood, where his telephone number was "306-R."

Claude moved his family to Bradford and Kane, McKean County, PA from 1927 to 1943. During that time, he worked for Holgate Toys in Kane and later became a traveling salesman for an innovative check writing company.

In 1929, he was employed as an insurance agent. When the federal census was enumerated in 1930, the Overholts resided on Main Street in Bradford, with Claude working as a salesman for a "safe guard" company -- likely an outdated term for "insurance."

The federal census of 1940 shows the family together on Haines [Street?] in Kane with Claude employed as a "designer and salesman" of play equipment. Their son Claude, age 18, worked as a handle packer in a toy factory.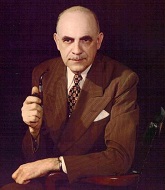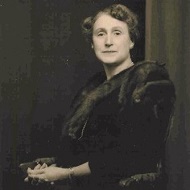 Claude and Avis in later years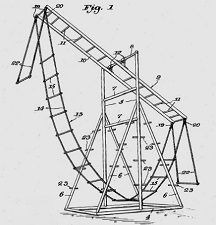 Playground invention, 1940
On April 26, 1940, Claude applied for a patent from the United States Trademark and Patent Office for his device called "Play and Exercise Apparatus." Nearly seven months later, he was awarded the patent, numbered 2,222,119. According to his application, he had four objectives for the invention -- 1.) to be a durable, safe apparatus which may be employed for climbing, swinging, scooting, balancing, trapeze exercising, see-sawing, etc." - 2.) "to supply equipment for playgrounds to furnish a great variety of pleasurable activity and to insure continuous interest and benefit." - 3.) "to supply an attractive apparatus especially useful in the development of muscle, agility, poise and physique" - and 4.) "to provide an apparatus made up of a combination of units so that the basic elements of the structure may be employed with or without other adjuncts of the equipment." He later assigned the patent -- with the serial number 331,864 -- to the Holgate Brothers Company of Kane.
In 1943, with son Claude (nicknamed "Junior") serving as a cargo pilot in the Army Air Corps, Sylvia already married, and Kathleen away attending Wheaton College in Illinois, Claude moved with Avis and Orra Jean to St. Louis, MO.
While in St. Louis, Claude pursued the manufacture of his building toy blocks marketed as "Monkey Blocks" which he gifted to all of his grandchildren. Other children and grandchildren of his relatives in his hometown area, near Pittsburgh, PA, also remember fondly playing with the Monkey Blocks. He sold them to progressive schools, primarily throughout the Eastern United States, as creative educational tools for early childhood development.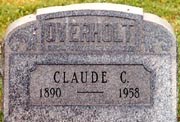 Claude's grave, Greensburg

When Claude and Avis divorced in 1944, Avis relocated to Syracuse, Onondaga County, NY, where she founded the successful Overholt Rest Home. Her residence was located at 929 West Onondaga Street. She was active in the community as a member of the Christian and Missionary Alliance Church, Comfort-Tyler Chapter of the Daughters of the American Revolution (DAR), Moses DeWitt Chapel Daughters of American Colonists, the National Society of the Daughters of Founders and Patriots of America, the General Society of Mayflower Descendants, National Society of New England Women and National Society of Colonial Daughters of the 17th Century.

Claude remained in St. Louis, where he later married again for a short time. He continued the manufacture and marketing of his Monkey Blocks throughout the remainder of his life.

While on such a marketing trip to Washington, DC in 1958, Claude was stricken with an aneurysm and died in a local hospital. Avis and their eldest daughter Sylvia were en route to be at his side when he passed away. An obituary in the Connellsville Daily Courier noted that he was "formerly of Greensburg and Youngwood ... [and] had been in the automobile business in Greensburg a number of years."

He was laid to rest at Hillview Cemetery near his parents and siblings in Greensburg. Rev. F.B. Gilchrist officiated at the burial.

Avis died of a stroke at the age of 83 on May 26, 1974. Burial was in Mexico Primitive Cemetery, NY, following funeral services led by Rev. James K. Armstrong, Rev. Donald E. Wallace and Rev. William W. Turverey. A prominent obituary in the Syracuse Herald Journal noted that she was survived by 12 grandchildren and nine great-grandchildren.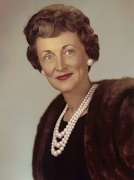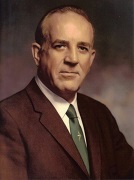 Sylvia and Harry Fridley
~ Daughter Sylvia R. (Overholt) Fridley ~
Daughter Sylvia R. Overholt (1915-1989) was born in 1915 in New York.
At the age of 20, on Sept. 19, 1935, she married 20-year-old Harry Fridley (1915-2002), a native of Norwich, PA and the son of Samuel and Jennie (Kilmer) Fridley. Harry was an alumnus of Peddie Prep School in Princeton, NJ and Manhattan College in New York City, where he obtained a bachelor of science degree.
They had three children -- Dr. John S. Fridley, Anne Cutler and Stacia Thomas Andagan.
Their home was on Highland Road in Sharon.
Their initial home was in Brookfield, Tioga County, PA. There, Harry taught school and coached basketball, football and track. After the eruption of World War II in 1941, they relocated to Sharon, Mercer County, PA where he obtained employment with Westinghouse Electric Company's Sharon Transformer Division. They were members of the Covenant Presbyterian Church in Sharon, and Harry belonged to the Shenango Valley Coin Club. In 1983, Harry retired from Westinghouse having logged more four decades of service.
Sadly, Sylvia passed away on Dec. 28, 1989.
Harry outlived her by 13 years, and married again, in June 1992, to Dorothy Lundin ( ? -1999). Their marriage lasted for seven years until her passing in 1999. He died at age 87 on March 9, 2002 in UPMC Horizon in Farrell, PA. Interment was in Hillcrest Memorial Park in Sharon, with an obituary published in the Sharon Herald.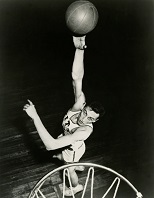 John Fridley at Pitt
Son Dr. John S. Fridley (1939-1997) was born in 1939 in Kane. He was a high school and college basketball star, standing six feet, six and a half inches tall. He was the center on Sharon (PA) High School's 1957 state championship team, and went on to play first string center for the University of Pittsburgh from 1957 to 1961. In one notable game for Pitt in 1960, he scored 14 points and grabbed 11 rebounds in an upset of Purdue. In three seasons, he scored 850 points and averaged double figures in both scoring and rebounds. Today, he is pictured on the official Pitt basketball website. John and teammate Dick Falenski made news headlines coast to coast when they were juniors at Pitt. In 1959, they approached a local dentist, who formerly was a part-time faculty member in the university's School of Dentistry, and asked for his help with their grades. In turn, the dentist made them an offer of cash bribes and/or dental school scholarships to "shave" the point spread of future games. John and Falenski reported the incident to Pitt officials who in turn notified the local district attorney. The dentist was arrested and indicted by an Allegheny County grand jury. Apparently non-plussed by the turn of events, John finished his basketball career with stellar results. In a Feb. 21, 1961 column in the Pittsburgh Press, headlined "Pitt's John Fridley Can Take It -- So He Dishes It Out," sportswriter Roy McHugh wrote:
Fridley does look belligerent on the basketball court -- maybe not belligerent, but grim. Fridley never smiles before the tipoff, or during time-outs. He is tall, sharp-featured, gaunt. But dressed for the street, wearing horn-rimmed glasses instead of contact lenses, Fridley gives an impression of genial urbanity. "I can take any kind of criticism," Fridley said.
He went on to graduate from Pitt's Schools of Dentistry and Medicine, and became a periodontist, practicing in Sharon and New Castle. He passed away in 1997, at the age of 58. The Pitt basketball publicity image was the Minerd.com "Photo of the Month" in October 2006.
Anne Cutler
Daughter Anne Fridley (1937-2015) was born on April 10, 1937 in Kane. She married her first husband, George William "Bill" Abernathy Jr. (1934-2008), son of George W. and Isabel (Brown) Abernathy Sr. The couple had four children -- George W. Zahniser, Tracy Abernathy, Heather Stemann and Elizabeth Rodgers. Anne was an educator for more than three decades. She enjoyed renovating houses and gardening. George was a funeral director and taught school in Oil City. After a divorce, Anne married again to John Cutler ( ? - ? ) who brought three children to the marriage -- Andy, Lynne and Val. They resided in Greenville, SC, where she attended North Hills Community Church in Taylors, SC. Sadly, Anne died on Feb. 3, 2015. Said a loved one, "she loved God's Word and His people and will be greatly missed by all who knew her." An obituary was printed in her hometown newspaper, the Sharon (PA) Herald.
Daughter Stacia (Fridley) Thomas Andagan has graciously provided content and images for this webpage.
~ Daughter Orra (Overholt) Ames Groff Hall ~
Daughter Orra Jean Overholt (1926-1982) was born in about 1926 in Youngwood, Westmoreland County, PA. She is believed to have attended schools in Pennsylvania and Missouri.
She was thrice married, and her children were David Ames, Daniel Groff, Gregory Groff, Merridy Knips and Debra Geruso.
Orra's first husband was Walter Ames ( ? - ? ). They were wed in 1946 in Syracuse, when she was 20 years of age. Her home in 1958 was in Watertown, NY.
In 1967, she married again, to Ernest D. Groff ( ? - 1975), son of Floyd and Lucinda (Bigness) Groff. The ceremony took place in Mexico, Oswego County, NY. He had been married twice before, his first wife Elsie dying after appendectomy surgery in 1933. Ernest was a bus driver and mechanic for Pulaski Academy for 25 years. He died in mid-January 1975, after eight years of marriage. He was laid to rest in Mexico Primitive Cemetery, and an obituary was published in the Watertown Daily Times.
Orra wed a third time to Donald E. Hall in 1978, when she was age 52. They made their home in Pulaski, Oswego County.
Orra died in August 1982 in Pulaski. She was laid to rest with her second husband, Ernest Groff, in the Mexico Primitive Cemetery.
~ Son Claude C. Overholt Jr. ~
Son Claude C. Overholt Jr. (1921-1995) was born in on July 18, 1921. He served as a pilot in the 5th Air Force during World War II.
In October 1948, the Syracuse Herald-Journal reported on Claude's engagement to Elsa Charlotte Morsdorf, daughter of Charlotte Morsdorf. At the time, Claude was employed as assistant manager of the Albany office of Household Finance Corporation, while Elsa also worked at Household Finance, having graduated from Assumption Academy and Central City Business Institute.
He lived in Syracuse in the late 1950s and in Herkimer, NY in more recent years, continuing his profession in life insurance sales.
He passed away at the age of 73 on May 25, 1995.
~ Daughter Kathleen (Overholt) Hungerford ~
Daughter Kathleen Marie Overholt (1925-2012) was born on March 21, 1925 in Youngwood.
She married Everett A. Hungerford ( ? -1986). They had two daughters -- Carolyn Moran and Peggy A. Evans.
Circa 1958, their home was in Syracuse. Sadly, Everett passed away in 1986.
Kathleen outlived him by more than a quarter of a century, and maintained a residence in Victor, NY. She was a member of the Crosswinds Wesleyan Church of Canandaugua, NY. She died on May 1, 2012.
Daughter Carolyn Hungeford married Robert Moran.
Copyright © 2002, 2005-2006, 2012, 2014 Mark A. Miner