Almira (Minerd) Overholt
(1863-1941)


Arnold and Violet
Almira Melissa "Allie" (Minerd) Overholt was born in February 1863 at Hexebarger, near Kingwood, Somerset County, PA, the daughter of Charles and Adaline (Harbaugh) Minerd. She and her husband resided in Greensburg, Westmoreland County, PA.
As a four-year-old, Allie and her parents moved to a farm at Nicolay, Fayette County, PA. She like to tell stories of making maple syrup and entertaining visiting Indians. She also claimed that the Jesse James Gang once came through Fayette County and stayed a night at her parents' barn, dressed as women.
In 1886, at age 23, Allie gave birth to a son, Ernest Earl Minerd. The boy was raised by Allie's parents.
In about 1889, when she was age 26, Allie married 28-year-old James Wesley Overholt (1861-1923), the son of Edward Overholt, whose name originally was spelled "Overholtz." James was a native of West Virginia, and his parents originally were from Virginia.
The Overholts lived in Midway, also known as South Greensburg, and their three children were Claude C. Overholt, Arnold A. Overholt and Orra Jean Overholtz.

Little Orra
Sadly, little Orra, who was born in March 1896, was sickly as a young girl. At the age of 11 years, 10 months, she was stricken with an infection of her heart (endocarditis) and pneumonia, added to acute rheumatism, and succumbed on Jan. 22, 1908. In her final illness, she is said to have embroidered a doily which her mother treasured for many years afterward as a poignant keepsake. Orra was buried at Hillview Cemetery in Greensburg, and her grave marker is badly faded today.
When the federal census was taken in 1900, Almira and James and children made their home in Hempfield Township, Westmoreland County, where he found work as a day laborer.
The Overholts were longtime members of the First Church of the United Brethren in Christ, located on North Third Street in Youngwood.
In August 1913, Allie and James traveled to the first Annual Minerd-Miner Reunion at Ohiopyle, Fayette County They also attended later Minerd reunions.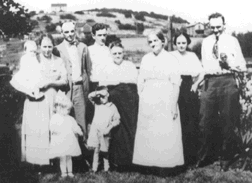 Minerd reunion in or near Confluence, PA. Allie is 3rd from right, with son Ernest at far right, son Arnold 2nd from left, with her sister Martha Gorsuch, nieces and nephews.
Circa 1921, the Overholts resided in Greensburg, where James worked as a day laborer. Their home was "at Willow Crossing, near Baker's siding on Trolley," a relative once said.
James endured chronic heart disease for many years, but the problem worsened in July 1921. He also began to suffer from a buildup of fluids in the lungs (hypostatic pneumonia). Unable to recover, he died at home at the age of 62 on Nov. 26, 1923. The cause was a "complication of diseases," reported the Courier.
Following a funeral at the family home, James' remains were placed to eternal rest in the Hillview Cemetery in Greensburg, near his young daughter Ora. Added the Courier, "He had been a member of the United Brethren Church of Youngwood for the past 15 years."
Allie outlived him by 13 years. In August 1930, she and her sons Ernest and Arnold attended the annual Minerd-Miner Reunion held at Shady Grove Park with her sisters Martha Gorsuch, Sadie Luckey and Jennie Woodmency and brother Lawson Minerd. Her name was published in an account of the affair in the Huntingdon (PA) Daily News, in a column authored by her niece Laura Jane (Minerd) Williams.
Again in August 1932, Allie and her sons Ernest and Arnold, and her sister Sadie Luckey, went to the Minerd Reunion at Lake Forest Park near Scottdale, Westmoreland County. Writing in the Allenport section of the Huntingdon (PA) Daily News, her niece Laura Jane (Minerd) Williams reported: "Everyone seemed to enjoy the fine fellowship that existed among all the reunionists and the innumerable baskets that provided dinner and supper for the party were bottomless. The party was accompanied home by Mrs. A.M. Overholt and her two granddaughters, Hazel and Ethel, who will spend their vacation here [in Allenport] before they resume school this fall."
On Jan. 16, 1941, Allie passed away at the age of 78, in the Old Folks Home in Windber, Somerset County. A short obituary appeared in the Connellsville Daily Courier. Her remains were brought back to Westmoreland County, where a funeral was held at the home of her son Arnold in Youngwood. She was laid to rest beside her husband and daughter Orra at Hillview Cemetery in Greensburg.

The Overholts' grave marker at Hillview in Greensburg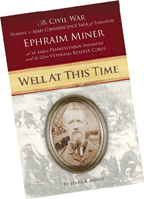 Book picturing Almira
Son Ernest in 1915 was President of both Christian Endeavor and the Friends' Bible Class, and served on the Sunday School Executive Committee, of the First Church of the United Brethren in Christ of Youngwood, PA. He was treasurer of the 1927 Minerd Reunion and secretary in 1930, and is mentioned in Way Back When: Youngwood, The Railroad Town.
Son Arnold was President of the 1930 Minerd-Miner Reunion and President of the Knights of Honor of the Sunday School of the First Church of the United Brethren in Youngwood.
Almira is pictured and mentioned in a lavishly illustrated, 2011 book about about her cousin who was a veteran of the Civil War and lived in her childhood home shortly after his return from the army -- entitled Well At This Time: the Civil War Diaries and Army Convalescence Saga of Farmboy Ephraim Miner. The book is authored by the founder of this website. [More]
Copyright © 2000, 2003, 2006, 2007, 2012, 2018 Mark A. Miner