George Washington Ream
(1912-1986) and
Thelma Mae Welsh (1914-1997)



George Ream
George Washington Ream was born on Feb. 22, 1912 in Lower Turkeyfoot Twp., Confluence, PA. He was the 11th of 16 children born to Joseph and Sarah Ellen (Harbaugh) Ream.
George married a distant cousin, Thelma Mae Welsh (1914-1997), daughter of James Franklin and Irene (Miner) Welsh.
The Reams produced four children -- Joyce Kathryn Basinger Darrell, Iris "Pauline" Leslie, George Henry "Bud" Ream and Constance Lou Klink Hillegass.
George and Thelma lived on a farm between Draketown and Jersey Hollow Road outside of Confluence, PA.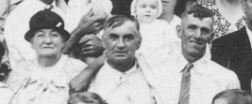 George (right) with his parents,
1936 Harbaugh Reunion
In August 1936, George and Thelma attended the annual Harbaugh Reunion at the Odd Fellows Picnic Grove in Kingwood, Somerset County. In a group photograph taken that day, George stands beside his parents, with his arm around his father.
George was a coal miner, and belonged to UMWA Local No. 5287. In 1940, as shown in the federal census enumeration, the Reams lived in Jenner, Somerset County, where he labored mining coal for the Acost Company. Among others, he is known to have worked at the QueCreek Mine in Somerset County, PA in 1954, and to have paid union dues of $1 per month.
The Reams separated and are believed to have divorced.
George died April 22, 1986, at the age of 74, and is buried at Imel Cemetery.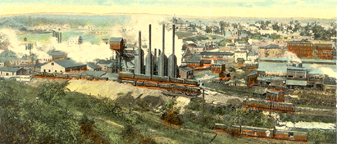 Bird's eye view of industrial Scottdale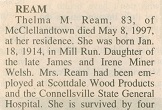 Obituary, 1997
Thelma supported herself by working at Scottdale Wood Products and at the Connellsville State General Hospital. Her final years were spent in McClellandtown and Masontown, near Uniontown.
She died May 8, 1997, at the age of 83. Burial was in Sylvan Heights Cemetery with David A. Brothers overseeing the service and preaching the funeral sermon. An obituary was published in the Somerset Daily American.
~ Daughter Joyce Kathryn (Ream) Basinger Darrell ~
Daughter Joyce Kathryn Ream (1939-2008) was born on March 23, 1939 in Confluence.
Her first husband was Ronald Basinger Sr. ( ? - ? ).
Their children are believed to have been Sherry Hixson, Pamela Basinger, Ronald Basinger Jr., Lori Fabian, Rodney Basinger and Clara Dauria.
The couple divorced, with Ronald making his home in Connellsville.
Later, Joyce was united in marriage with Gerald H. Darrell Sr. (1940-2010), son of John and Lucartha (Bell) Darrell. Gerald belonged to the Amend Gun Club, Messmore Rod and Gun Club and Footedale Fire Hall.
They made their home in McClellandtown, Fayette County. Joyce earned a living working at Highlands Hospital in Connellsville. She was a member of the First Christian Church of New Salem.
Joyce passed away at the age of 68 on Jan. 7, 2009. Interment was in Sylvan Heights Cemetery in Uniontown.
Gerald joined his wife in death on May 27, 2010, at home. An obituary was printed in the Connellsville Daily Courier.
Daughter Sherry Basinger married Gary Hixson. They dwelled in Acme, Westmoreland County, PA.
Daughter Pamela Basinger lived in Uniontown.
Son Ronald Basinger Jr. married Heather and resided in California State.
Daughter Lori Basinger was united in wedlock with Edward Fabian. Their home was in White, Fayette County.
Son Rodney Basinger married Heather and made their home in McClellandtown.
Daughter Clara Basinger was wedded to Joseph Dauria.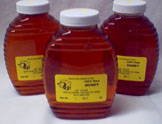 The Leslies' homemade honey
~ Daughter Iris Pauline (Ream) Leslie ~
Daughter Iris "Pauline" Ream ( ? - living) was born in (?).
She was joined in the bonds of holy wedlock with a distant double cousin, Alvin Leslie ( ? -living), son of James Earl "Kes" and Barbara (Miller) Leslie of the family of Amanda (Younkin) Hechler.
Their home-cultivated A.E. Leslie Apiary Honey is sold locally throughout Somerset and Fayette Counties. The Leslies graciously have donated jars of their honey as door prizes at our reunions.
~ Son George Henry "Bud" Ream ~
Son George Henry "Bud" Ream ( ? - ? ) was born in (?).
He married Gloria (?).
In 2008, their residence was in Moscow, Lackawanna County, PA.
~ Daughter Constance Lou "Connie" (Ream) Klink Hillegas ~
Daughter Constance Lou Ream was twice married.
Her first spouse was (?) Klink.
In 1986, her home was in Normalville, Fayette County.
She married her second husband, Alan "Hilly" Hillegass ( ? - ? ).
Copyright © 2001-2003, 2016 Doris (Sands) Hawker and Mark A. Miner