Harold Landa Ream
(1907-1928)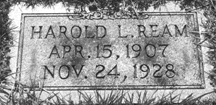 Jersey Church Cemetery
Harold Landa Ream was born April 15, 1907 in Lower Turkeyfoot Township, Confluence, Pa. He was the eighth of 16 children born to Joseph and Sarah Ellen (Harbaugh) Ream.
Not much is known of Harold's life, other than that he earned a living as a farm hand. At age 21, he suffered from a nagging case of tonsilitis, and was in poor health, but apparently recovered.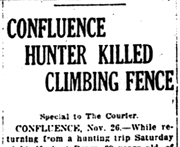 Obituary, 1928
On the fateful day of Nov. 24, 1928, the 21-year-old Harold went hunting in the woods near his parents' home, about fouir miles northwest of Confluence. While walking with his loaded gun, he tried to climb a fence near a stand of wild cherry trees. The gun went off, and the bullet entered Harold's torso near his right nipple.
He died instantly.
Reported the Connellsville Daily Courier, "The charge entered his breast and death is believed to have been instantaneous.... When he failed to return home his father, Joseph Ream, and a number of others formed a searching party and found the lifeless body of the young man."
His remains were buried at the Jersey Church Cemetery, Confluence, PA. A coroner's inquest was held, but the ruling was that the death was accidental.
Copyright © 2001, 2014 Doris (Sands) Hawker and Mark A. Miner