Osborne Warren 'Os' Ream
(1918-1980)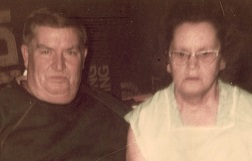 Osborne and Gertrude, Christmas, 1979
Osborne Warren "Os" Ream was born on Sept. 30, 1918 in Lower Turkeyfoot Township near Confluence, Somerset County, PA. He was the 15th of 16 children born to Joseph and Sarah Ellen (Harbaugh) Ream.
Osborne married later in life, having resided with his parents for many years on the farm near Ursina. He later acquired the family farm after his parents passed away. Circa 1941, he was employed on a township road crew managed by George Burnworth.
He enjoyed deer hunting and in December 1946, at the start of deer season, made news in the Connellsville Daily Courier when he and his brothers Harvey and Norman all felled bucks.
On April 16, 1949 at the age of 31, he was united in marriage with 33-year-old Gertrude Sara Osler (1916-2000), daughter of Freeman Searight and Anna Elizabeth (Spear) Osler. The groom was two years younger than the bride.
They enjoyed three decades of marriage and had three daughters -- Anna Elizabeth Ream Janet Elaine Burnworth and Iva Kathleen Barkley.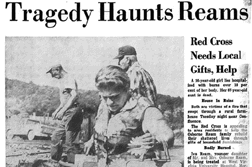 News coverage of the 1970 fire
In the summer after their wedding, on Aug. 12, 1949, Osborne was badly cut and hospitalized following a farm accident. A story in the Daily Courier reported that his right leg was badly cut when it "became tangled in a combine in operation at his farm."
Sadly, at the age of two and a half months, daughter Anna contracted a serious case of bilateral bronchial pneumonia and a severe cold. She was admitted to Price Hospital in Confluence, but was unable to rally, and she died on Nov. 9, 1950. Her tender remains were placed into gentle repose in the Jersey Baptist Church Cemetery near Ursina.
The Reams were longtime members of the Confluence Church of the Nazarene. In the early 1970s, they and their daughter Iva attended the annual Osler Reunion held at the home of Floyd Osler in Markleysburg.
Tragedy struck in 1970, when a fire swept through their home near Confluence as the family slept. While Osborne, Gertrude and Janet escaped, daughter Iva was burned over 18 percent of her body. Osborne's sister Letitia Silbaugh, who was visiting overnight, was unable to be roused, and perished.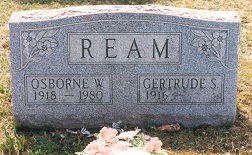 Jersey Baptist Church near Ursina, PA
The Red Cross mounted a drive to collect furniture, food, clothing and appliances to help the Reams replace the contents of their home.
Osborne never liked having his photograph likeness taken. The image at the top of this biography was made in 1979 at his last Christmas.
After a lingering illness, Osborne passed away on May 10, 1980, at the age of 61. Rev. Donald DeHaven officiated at his funeral and burial at Jersey Baptist Church Cemetery. A news obituary was printed in The Republic of Meyersdale.
Gertrude survived her husband by two decades. Suffering from cancer of the spine, she was admitted to the Henry Clay Villa in Markleysburg. She passed away at the age of 84 on Oct. 4, in 2000. Rev. James Thompson preached at her funeral service. In an obituary, the Somerset Daily American noted that she was survived by six grandchildren.
Osborne is mentioned in the book Draketown Past & Present.
~ Daughter Janet Elaine (Ream) Burnworth ~
Daughter Janet Elaine Ream married Nelson Junior Burnworth (1950-1981), the son of Roy Nelson and Violet R. (Tressler) Burnworth of Stewart Township.
The Burnworths made their home in Confluence.
They produced three children -- Sara Lynn Burnworth, Ozzie Nelson Burnworth and Loretta Lynn Burnworth.
Heartache rocked the family when Nelson died at the age of 31 in Pittsburgh's Allegheny General Hospital. Rev. Harvey Rugg officiated at the funeral and burial in Maple Summit Cemetery. An obituary was printed in The Republic of Meyersdale.
~Daughter Iva Kathleen (Ream) Barkley ~
Daughter Iva Kathleen Ream married Lawrence R. "Larry" Barkley (1954-2005), son of Ronald and Beatrice (Dollman) Barkley of Mercer County, PA.
They resided in Confluence, and their children were Michelle Barkley, Larry Barkley and Chad Barkley.
Lawrence was a member of the Turkeyfoot High School Athletic Boosters. In the early-to-mid-1970s, they attended the Osler Reunion held at the Markleysburg home of Floyd Osler.
Sadly, Lawrence passed away at home at the age of 50 on March 24, 2005. Funeral services were led by Rev. Timothy Gosnell followed by interment in the Barkley-Ream Cemetery. An obituary was published in the Somerset Daily American.
Copyright © 2001, 2015 Doris (Sands) Hawker and Mark A. Miner