Jackson 'Grant' Rose
(1871-1961)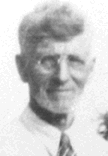 Grant and Rebecca Rose
Jackson "Grant" Rose was born on Jan 11, 1871 near Ursina, Somerset County, PA, the son of Charles and Catherine (Minerd) Rose.
On Sept. 23, 1895, at the age of 24, Grant married 20-year-old Rebecca Cunningham (1875-1947). Rev. F.P. Saylor officiated at the wedding.
Rebecca was the daughter of Rev. John C. and Mary Cunningham, with the father a well-known pastor of the Church of God at Kingwood and Ursina for 30 years.
They were the parents of a dozen known children -- John W. Rose Sr., Albert Rose, Mayme Elizabeth "Mamie" Queer, Idella Hall, Harry Rose, Vada "Florence" Lee, Oral Vernor Rose, Hazel Marie Cameron, Lewis Rose, Iva G. Rose, Robert E. Rose and James H. Rose.
Sadly, Iva, Robert and James all died in childhood. Iva's death was due to influenza and measles, at age 11 years, on Nov. 4, 1923, with burial in the Jersey Church Cemetery. Adult children Lewis (age 26) and Idella (age 18) also died young.
In 1896, Grant purchased a 48-acre farm tract from his parents, located above Coke Oven Hollow near Humbert. The parcel was adjacent to the farms of his brother William and sister Jennie Burgess.
Grant and Rebecca's home near Humbert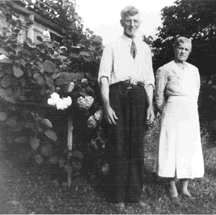 Grant and Rebecca at home
Grant built their home into the side of a hill. It was constructed of brick, which acted as natural insulation and kept the house cool on hot days.
The Rose tract contained an underlying seam of coal. It was of an impure grade, and thus was not attractive to buyers. However, Jackson built a small mine -- a shaft cut directly into the bottom of the hill, near the road -- as a source of free fuel for the family's use.
Rebecca was noted for her green thumb, and the bountiful flowers she planted outside their house. Seen here, they stand beside a prized, flowering bush.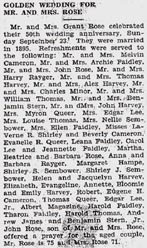 Grant and Rebecca Rose
On Sept. 23, 1945, the Roses celebrated their 50th wedding anniversary. Many of their children, grandchildren, nieces, nephews and friends attended the party where refreshments were served. Son John "offered a prayer for the aged couple," reported the local newspaper in a lengthy article. Among the many attendees was a second cousin, Charles "Red" Minor, of Connellsville, PA.
Rebecca died on June 2, 1947 at home. She was age 72. She was laid to rest at the Jersey Church near Ursina.
Grant outlived his wife by 14 years, and lived to the age of 90.
On Sept. 26, 1961, he died in the Somerset Community Hospital. He was buried beside Rebecca at the Jersey Church.
At the time of Grant's death, he and Rebecca had produced 24 grandchildren, 65 great-grandchildren and two great-great grandchildren.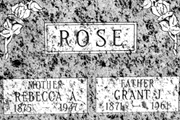 Jersey Church
The Roses are mentioned in the booklets Reflections: Ursina 1787-1994 and Draketown Past & Present.
~ Son John W. Rose Sr. ~
Son John W. Rose Sr. (1896-1971) was born in 1896 in Somerset County.
On June 24, 1924, John married Helen Harvey (1903-1953), the daughter of Alexander and Barbara (Lodge) Harvey of Cambria County, PA. Helen's father was an immigrant from Scotland, and her mother from England. John was age 28 at the time, and she 21, and both were residents of Langdondale, PA at the time. Rev. J.V. Royer officiated the wedding at Bedford, Bedford County, PA. On the marriage license, John claimed that his mother had been born in Wheeling, Ohio County, WV, but this is not confirmed, as she was believed to have been a native of Somerset County, PA.
The Roses had four children, residing in Grey and Stoystown, Somerset County -- John W. Rose Jr., Martha E. Stern, Beatrice Arisman and Barbara Grace.
John served as a teacher in the Humbert School, Lower Turkeyfoot Twp., Somerset County, in 1915-1916, and later went on to become a "prominent farmer" of Jenner Township, Somerset County. He was a member of the Radio Church of God in Pittsburgh.
When the federal census was enumerated in 1930, the Roses made their home in Grey, Jenner Township, Somerset County. There, John was employed as a "weigh boss" in a local coal mine. Helen's siblings John H. Harvey, Flora R. Harvey and Howard G. Harvey lived in their dwelling that year, with John Harvey working as a coal mine "cager."
Their fates are not yet known.
Son John W. Rose Jr. (1926-2006) resided in Cody, WY.
Daughter Martha E. Rose (1929-2013) was born on Jan. 25, 1929 in Gray, Somerset County. She married Herbert E. Stern ( ? - ? ) in about 1949, when she was 20 years of age. They resided at Jenner Crossroads and had three children -- Arlene Yutzy, Larry W. Stern and Elaine Finui. They were members of the Somerset Alliance Church. They endured the early death of her grandson Michael M. Tressler. Martha passed away at the age of 84 in Siemon's Lakeview Manor Estate. She was laid to rest in the Beam Cemetery near Gray. At her death, reported the Somerset Daily American, she was survived by six grandchildren and seven great-grandchildren.
Daughter Beatrice Flora Rose married Duane Earl Arisman. Their home was in Beaver Falls, Beaver County, PA.
Daughter Barbara Rebecca Rose married Gilbert Wade Grace. They resided in Beaver Falls.
~ Son Albert Rose ~
Son Albert Rose (1897- ? ) was born in May 1897 in Somerset County. As a young man, he moved to Fayette County to secure employment in local coal mines.
On Dec. 28, 1916, at the age of 19, Albert married 23-year-old Bessie Wilson (1893- ? ) , the daughter of Alex and Mary (Baker) Wilson of Fayette County. They united themselves in marriage at Somerset.
Their fates are unknown at present, but will be reported here when learned.
~ Daughter Mamie (Rose) Queer ~
Daughter Mayme Elizabeth "Mamie" Rose (1898-1989) was born in 1898 in Ursina.
At the age of 23, Mamie married 28-year-old Myron L. Queer (1892-1974) ) on Nov. 12, 1921. He was the son of Levi and Catherine (Hoffman) Queer, the mother having emigrated from Germany. Their wedding was led by Rev. I. Hess Wagner at Somerset on Nov. 12, 1921.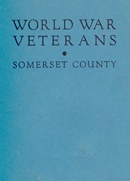 Book naming Myron
The Queers resided in Berlin, Somerset County. They had seven children -- Alfred E. Queer, John W. Queer, Thomas L. Queer, Merle L. Queer, Evanelle Fox and two sons who died in infancy.
Myron served in the U.S. Armed Forces during World War I. He enlisted in Rockwood on Feb. 23, 1918, and initially was assigned to a stateside post as a private until June 30, 1918. He then shipped overseas until Aug. 4, 1919, when he was discharged at Camp Dix, NJ, suffering badly from hemorrhoids.
In 1933, Myron was profiled in the book World War Veterans of Somerset County, published by the commissioners of Somerset County. The entry said that his dependents included Mamie and their children, and that his physical condition was "fair." At the time, he was employed by the Works Progress Administration (WPA).
Myron was a member of the Berlin Brethren Church, the American Legion Post 445, VFW Post 7295, vice commander of World War I Veterans Barracks 3218, and the Roxbury Mountain, Field and Stream Sportsmen's Association. In 1971, they celebrated their golden wedding anniversary with an open house at the Berlin Community Building.
Myron died at age 82 on May 14, 1974, and is buried at the Berlin IOOF Cemetery.
Mamie outlived her husband by 15 years. She passed away at age 90 on Oct. 27, 1989.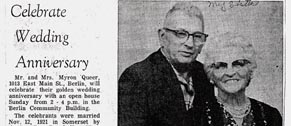 Mamie and Myron Queer's golden wedding anniversary notice in a local newspaper
Son Alfred Eugene Queer (1923-2000) was born on July 21, 1923. He married Dorothy C. Brawner (1923-1957). Their four sons were Donald E. Queer, Ronald L. Queer, Blane Leroy Queer and Patrick Queer. He served in World War II as a staff sergeant in the Third Army under General George S. Patton. He also served in the Korean War. Said the Somerset Daily American, he was the "owner and operator of Al's Body Shop, Berlin, for 20 years. Retired rural mail carrier for R.D. 6, Somerset. Lifetime member of Berlin Brethren Church. Member of V.F.W., Post 7595, American Legion Post 445, and Last Man's Club, all of Berlin, Berlin V.F.D., Berlin Fife and Drum Corp, New Baltimore, Kennell's Mill, and Berlin Sportsmen's Club." Sadly, Dorothy died on Nov. 11, 1957 at the age of 44, with burial in the Odd Fellows Cemetery in Berlin. Alfred survived her by 43 years, and married two more times, to Mary Elizabeth Werner and Nellie Ellen Weaver. With Nellie, he had one daughter, Pamela Kay Shaulis Turinsky. He passed away on Jan. 14, 2000.
Son John W. Queer married Mary White.
Son Thomas L. Queer married Helen Fox.
Son Merle L. Queer married Patricia Mundorf.
Daughter Evanelle R. Queer wed (?) Fox.
~ Daughter Idella (Rose) Hall ~
Daughter Idella Rose (1900-1918?) was born in about 1900.
She wed (?) Hall.
Tragically, Idella died as a newlywed, in about 1918, at the age of 18. Nothing more is known.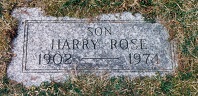 Jersey Church Cemetery
~ Son Harry F. Rose ~
Son Harry Rose (1902-1974) was born on Oct. 19, 1902.
He married Anna Stevanus (Oct, 2, 1908-1948), daughter of Wesley and Arma (Savis) Stevanus.
The couple lived in Ursina and had one daughter. Sadly, they survived the early death of the daughter.
Anna was burdened with a serious affliction of her kidneys, known as tuberculosis peritonitis. She suffered for a decade and underwent surgery in October 1946 before her demise at the age of 39 on March 15, 1948. Burial was in either the Berlin Cemetery or the Kingwood Odd Fellows Cemetery. An obituary in the Meyersdale Republic noted that survivors included her sisters Marybelle Uncapher, Alverda Glessner, Edna blank, Margaret Patsy and Harry W. Stevanus.
Harry survived as a widower for more than a quarter of a century. He died on June 16, 1974, at the age of 71. Interment was in the Jersey Church Cemetery near Ursina, Somerset County, with Rev. Dennis Dawson officiating at the funeral service.
~ Daughter Florence Vada (Rose) Lee ~
Daughter Florence Vada Rose (1903-1965) was born in 1903.
She wed Edgar K. Lee (1902-1974).
The couple had these children -- James H. Lee, William E. Lee, Edgar K. Lee Jr. and George C. Lee.
The Lees made their home in Akron, OH.
Florence died in Akron on April 11, 1965, at the age of 62.
Edgar outlived her by nine years, and passed on Feb. 20, 1974. They rest for eternity in a cemetery in Akron.
Son James H. Lee Sr. ( ? - ? ) was born in (?). In about 1940, he was united in wedlock with 17-year-old Vidolia Finnie Capien (Oct. 9, 1922-2002), a native of Akron. The marriage endured for an extraordinary 62 years. They were the parents of three offspring -- Irene F. McLane, Sueann L. McLane and James H. Lee Jr. The couple dwelled in Akron until 1986, when they retired and relocated to California, making a new home in Mira Loma, Riverside County. Sadly, Vidolia died at home at the age of 79 on May 26, 2002. An obituary was printed in her hometown newspaper, the Akron Beacon Journal. She was survived by 11 grandchildren, 23 great-grandchildren and three great-great grandchildren. Her remains were returned to Akron for burial in Northlawn Memorial Gardens, with Rev. Dr. John M. Schluep officiating.
~ Son Oral Vernor Rose ~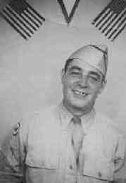 Oral V. Rose
Son Oral Vernor Rose (1906-1970) was born in 1906. He served in World War II.
Oral married Blanche Pope (1905-1975) in about 1928, when he was age 21 and she 22. Blanche was a native of England, and came to the United States in 1907 at the age of two.
Their children were Robert G. Rose, Harry W. Rose, Albert J. Rose and Ralph V. Rose.
In 1930, when the federal census was enumerated, the Roses made their home on Third Avenue in Conway, Beaver County, PA. There, Oral was employed in a local steel mill.
Said a newspaper, "he lived in Suffield [near Akron, OH] for 18 years, coming from Pennsylvania. He retired from Goodyear in 1963 after 18 years service."
Oral passed away in October 1970.
Blanche died on Jan. 2, 1975. They are buried at Economy Cemetery, Ambridge, Beaver County.
Son Robert G. Rose (1927-2002) was born in 1927. He was a sheet metal worker at St. Joe Minerals in Potter Township near Monaca, Beaver County. He was a veteran of World War II, serving in the U.S. Army. He and his first wife Jean McKee ( ? -1974) produced six children -- Donna J. Krystek Jeffers, Robert R. Rose, John G. Rose, James A. Rose, Gary W. Rose and William A. Rose. Later in life, he wed Cora Lee McKee (1932-2013), daughter of Alex and Sarah (Rambo) McKee. Cora was a longtime educator in the Evans City and Brentwood schools in Western Pennsylvania and Middlesex in New Jersey. Toward the end of his life, Robert resided in Conway, Beaver County. He attended the Freedom Church of the Nazarene and was a member of the Baden United Methodist Church. After a battle with cancer, Robert died at home at the age of 74 on Nov. 23, 2002. He was survived by 13 grandchildren and three great-grandchildren. Rev. James Decker officiated at the funeral service. Cora Lee outlived her husband by 11 years. She died on July 30, 2013, at age 80, in Heritage Valley Kindred Care in Beaver. She was laid to rest in Oak Grove Cemetery in Freedom.
Grandson James A. Rose ( ? -living) was born in (?). In about 2000, he married Melissa Jo Binder (Oct. 10, 1957-2018), a native of Beaver Falls, PA and the daughter of Edward and Mildred Binder. They resided in Brighton Township near Beaver, PA. After high school graduation, Melissa served in the U.S. Air Force as a member of the Strategic Air Command in North Dakota. After returning to Beaver, she obtained a position as office manager for optometrist John Guzetti. She was said by the Beaver County Times to have been a "caring person, loved by everyone she met." She died at the age of 50 on Jan. 9, 2018. Rev. Sam DeMarco led the funeral service at the New Brighton Christian Assembly Church. Interment followed in the National Cemetery of the Alleghenies.
Son Harry Rose (1930- ? ) was born in about 1930.
Son Albert J. Rose (1931-2002) was born in 1931. Said a New York newspaper, he had "a 22 year career in the United States Air Force, [and] he retired as a Master Sergeant and settled in Camden [NY] with his family. He had worked for many years at Camden Wire and had also owned and operated the Family Dinette and later managed the Camden Senior Citizens Apartment Complex before retiring in 1994." He passed away in Austin, TX in 2002. Read "Eulogy for Dad - Albert J. Rose," authored by Alan Rose.
Son Ralph V. Rose ( ? - ? ) married Marguerite. They resided in Enon Valley, PA.
~ Daughter Hazel (Rose) Cameron ~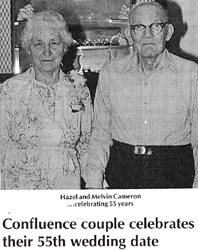 Article about Hazel and Melvin. 1983
Daughter Hazel Marie Rose (1909-1991) was born in 1909 in Ursina.
At the age of 19, she married 22-year-old Melvin Charles Cameron (1906-1985) on Dec. 20, 1928. He was the son of farmers Charles Henry and Minnie Elizabeth (Snyder) Cameron of Markleton, Somerset County. Rev. A.W. Hayes performed the ceremony at Somerset on Dec. 20, 1928.
They had seven children -- La Verne Ruth Sanner, Kenneth Jackson Cameron, Robert Charles Cameron, Eugene Harold Cameron, Shirley Elizabeth Bittner, Charles Melvin Cameron Jr. and Beverly Lorraine Hutzel.
"They made their first home in Kingwood, said the Daily American. "They lived in Markleton RD until [1976], when they moved to the Yough Housing in Confluence."
On Dec. 20, 1983, the Camerons celebrated their 55th wedding anniversary at home, with a major feature story in the local newspaper, the Daily American. "Melvin enjoys watching television," said the story. "Hazel enjoys crocheting, gardening and watching television. She enjoys feeding the birds in the winter."
Melvin died in 1985, at the age of 79.
Hazel outlived her husband by six years. She passed away in 1991.
Son Robert C. Cameron (1929-2011) was born on Feb. 6, 1929 in Lower Turkeyfoot Township. He married Betty Berkey ( ? - ? ) and resided in Addison, Somerset County. In all they had 11 children -- Wayne Schartiger, Crystal Miller, Roberta Simpson, Beverly Rugg, Wanda Hirsch, Charles Cameron, Melvin Cameron, Glenn Cameron, William Schartiger, Jeffrey Schartiger and Barbara Stark. A Korean War veteran of the U.S. Navy, Robert was a longtime carpenter and a member of the Carpenter's Local Union 2274 of Pittsburgh, as well as the Confluence Veterans of Foreign Wars and Ursina American Legion. He died at the age of 82 on June 13, 2011. Burial was in the Kingwood IOOF Cemetery, following services led by Samuel McClintock. The Somerset Daily American reported that he was survived by 21 grandchildren and eight great-grandchildren.
Son Eugene Harold Cameron married Phyllis "Geraldine" Nicklow. Gene is a wood carver and donated his handiwork as door prizes for the Minerd-Miner-Minor Reunions in the late 1990s. Their children were Gary Eugene Cameron and Linda Kay Yoder.
Daughter Shirley Elizabeth Cameron ( ? -living) married Dewey Irvin Bittner Sr. (1930-1968). They had five children -- Keith Allen Bittner, Penny Jo Miller, Dewey Irvin Bittner Jr., Kevin Bittner and Terry Bittner. Dewey Sr. died an untimely death at the age of 38 on Dec. 13, 1968, with burial in Somerset County Memorial Park. Shirley survived her husband by many decades and in 2018 made her home in Friedens, Somerset County.
Grandson Dewey Irvin Bittner Jr. (1955-2018) was born on Feb. 8, 1955. He was only 13 when his father died and apparently did not marry. He was a fan of the Pittsburgh Steelers and, in his spare time, also enjoyed cookouts, fishing and country music. Sadly, on April 14, 2018, he died at Somerset Hospital at the age of 63. Rev. Doug Burns led the funeral service, with burial in Somerset County Memorial Park. An obituary was published in the Somerset Daily American.
Daughter Beverly Cameron was married twice, first to (?) Basinger and second to Elwood J. Hutzel. They resided in Somerset.
Daughter LaVerne Ruth Cameron (1930-1975) was born on March 8, 1930 in Ursina. She married Glenn Ray Sanner Sr. (1928-1988). Their three children were Rickie Sanner, Beatrice Marie Sanner and Glenn Ray Sanner Jr. Heartache rocked this family in 1956 at the death of six-year-old son Glenn Jr. and in May 1971 at the passing of their 24-year-old daughter Beatrice. LaVerne was a member of the Queen Victoria Lodge of the Rebekahs in Kingwood and the Kingwood Odd Fellows Picnic Association and attended the Zion United Methodist Church. LaVerne died at the age of 44 on Feb. 13, 1975. An obituary in the Meyersdale Republic said that her funeral was officiated by Rev. Carl Buterbaugh. Glenn Sr. survived her by 13 years. He died on Aug. 3, 1988. Interment was in the Kingwood IOOF Cemetery.
Copyright © 2000, 2002-2003, 2006, 2011, 2013, 2018 Mark A. Miner