Home

Newton Schofield
(1857-1899)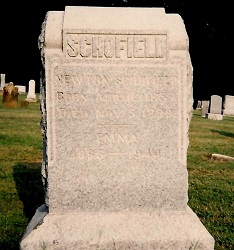 Newton and Emma's grave

Newton Schofield was born on Aug. 16, 1857 at Mt. Perry, Perry County, OH, the son of Joseph and Mary (Danison) Schofield.
As a young man in 1880, at the age of 22, he was single and lived with his parents and brothers, working on their farm.
When he was 25 years of age, on March 27, 1883, Newton was joined in the bonds of holy wedlock with 17-year-old Emma L. Ardrey (March 31, 1865-1944), the youngest of nine children of James and Ruth (Welch) Ardrey. The ceremony took place in Muskingum County, OH.
They together were the parents of six children -- Paul C. Schofield, Vesta B. Schofield, Leora Ethel Lawyer, Edna Luannie Schofield, Verna Rosella Lake and Harry Schofield. Only four of them survived into childhood.
The Schofields lived on a 62-acre farm at Mt. Perry and were longtime members of the Mt. Perry United Presbyterian Church.
The family grieved when two young daughters within a three year span. Daughter Edna Luannie, age two years, two months, died on Oct. 3, 1888. Her tender remains were laid to rest in Mt. Perry Cemetery.
Three years later, daughter Vesta died at the age of three months, 15 days, on Nov. 18, 1891. Edna's grave marker -- an upright shaft still legible when photographed in the 1990s -- reads "Farewell" at the top, and at the base the following epitaph is inscribed:
Little Edna, thou has left us,
And our loss we deeply feel,
It is God that hath bereft us,
He will all our sorrows heal.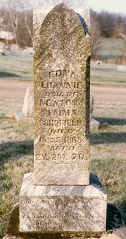 Daughter Edna's grave

The family was plunged into a wave of grief when Newton contracted tuberculosis, then known as "consumption," and died on Nov. 5, 1899. He was only 42 years, two months and 20 days in age. Interment of the remains was in the cemetery of Mt. Perry Methodist Church.

Emma lived for another 45 years in Mt. Perry. The 1900 federal census enumeration shows her heading a household of four children, including her youngest, who was only nine months of age.

Circa 1903, Emma married again to widower Andrew "Herschel" Smith (1862- ? ). He thus brought three stepchildren into the union, Dorothy Feiock, James Lamont "Mott" Smith and Frank Elijah Smith.

Having already lost two children at young ages, Emma grieved once more in 1909 at the untimely passing of her 21-year-old-year-old son Paul from the effects of tuberculosis.

The federal census enumeration of 1910 shows the combined Smith/Schofield family in Mt. Perry, with Herschel earning a living as a livestock dealer.

When Emma entertained her married daughters Verna Lake of Zanesville and Ethel Lawyer of Gratiot in October 1912, the news was printed in the gossip columns of the Zanesville Times Recorder.

The United States Census of 1920 shows Hereschel and Emma as empty-nesters. At that time, he was self-employed as proprietor of a butcher shop.

Their world again was turned upside down when stepson Mott Smith, a New York Central Railroad brakeman living in East Fultonham, took his own life at home with a shotgun blast in the chest on April 13, 1937, at the age of 50. A story in the Times Recorder said he had been in poor health for some time.

Herschel underwent surgery and passed away in a hospital in Columbus at the age of 78 on Jan. 18, 1939. Burial was in Mt. Perry Cemetery, with Rev. McAllister leading the funeral. In an obituary, the Times Recorder noted that he was a "well known retired livestock buyeer [and] had resided in and near Mt. Perry most of his life." At the time, his son Frank was in Mt. Perry and his daughter Dorothy, married to Charles Feiock, was in Hominy, OK.

The widowed Emma outlived her spouse by five years.

She contracted influenza and, after 10 days of suffering, died in the home of her daughter Ethel Lawyer in Newark on Jan. 5, 1944. The funeral was led by the hand of Rev. Harold F. Jensen. She was buried with her first husband in the Mt. Perry Methodist Cemetery. An obituary in the Times Recorder said she was survived by 14 grandchildren.

~ Daughter Leora "Ethel" (Schofield) Lawyer ~

Daughter Leora Ethel Schofield (1884-1964) was born on May 13, 1884 in Mt. Perry, Perry County.

At age 20, on April 6, 1904, Ethel wed 24-year-old Carl Drucker Lawyer (1880- ? ), the son of Thomas H. and Cora (Holmes) Lawyer. Rev. A.J. Hanna officiated.

They bore two known children, Thomas "Denzil" Lawyer and Doris Floraine Orr. The children were a dozen years apart in age.

Carl was a house painter and wallpaper hanger at the time of marriage, and resided in Gratiot, Licking County, OH. He was tall and of medium build, with blue eyes and brown hair. When required to register for the military draft during World War I, Carl and Ethel made their home in Gratiot. At the time, he was employed as an oil pumper by the Planet Company of Gratiot. But by 1920, when the census was taken, he had returned to house painting as his source of income.
Columbus, Ohio, looking west on Broad Street, 1930s
By 1930, the Lawyers relocated to Columbus, Franklin County, the state capitol city. They resided on Harris Avenue, and Carl had expanded his business as a painting contractor.
The couple appears to have separated during the decade of the 1930s. Carl made a home in Zanesville in 1935 and then with his widowed mother in 1940 in Newark, Licking County, continuing to own and operate his own business.
Ethel lived with her married son Denzil in Huntington, MA in 1940, and then at the address of 175 Rosehill Avenue in Newark in 1943-1944. She spent her final years at 118 Superior Street in Dover, OH. There, she was a member of the First Methodist Church.
She died at the age of 80 on Nov. 23, 1964 in the East Avenue Nursing Home in New Philadelphia. Her obituary appeared in the Zanesville Times Recorder. Rev. Alva Taylor conducted the funeral service, with burial in Poplar Forks Cemetery, Gratiot.
Son Thomas "Denzil" Lawyer (1908-1990) was born on Aug. 2, 1908 in Zanesville. Denzil wed Charlotte E. (July 21, 1908-1989). The pair begat two sons, Gerald W. Lawyer and Thomas Carleton Lawyer. Denzil spent his early career as chief clerk with the U.S. Army Corps of Engineers. The family frequently moved. They are known to have been in Wilkes-Barre, PA in 1939. The 1940 U.S. Census shows them in Huntington, Hampshire County, MA. When the census enumeration again was made in 1950, they resided in Grand Junction, Mesa County, CO, with Denzil now in the administrative office of the U.S. Atomic Energy Commission. They relocated by 1958 to Nevada where they dwelled in Las Vegas. Denzil in 1960 was appointed an administrative officer in the test operations office of the Aubuquerque, NM operations office of the Atomic Energy Commission and was pictured in an announcement in the Albuquerque Tribune. Charlotte passed away on Dec. 19, 1989 at the age of 81. Denzil only lived for another six months. He died on June 21, 1990. On their gravemarker in Palm Memorial Park is the inscription "Loved by all."
Grandson Gerald W. Lawyer (1934- ? ) was born in about 1934 in Pennsylvania.
Grandson Thomas Carleton Lawyer (1941- ? ) was born in about 1941 in Massachusetts. He grew to manhood in Las Vegas and was a graduate of Rancho High School. Circa 1965, he was employed as a sales engineer in Memphis, TN with Trane Company. On June 12, 1965, at the English Lutheran Church, he was joined in marriage with Bonnie Lee Clappier ( ? - ? ), daughter of Jane Clappier of LaCrosse, WI. At the time, Bonnie Lee was a senior at LaCross State University. News of the wedding was printed in the LaCrosse Tribune. Thomas received a bachelor of science degree in mechanical engineer at Purdue University and a masters of business degree from the University of Nevada at Las Vegas. In 1969, Thomas founded LMS Building Systems, specializing in heating, ventilation and air conditioning systems. The company has received the Nevada State Energy Management Award and been included in the 100 largest private companies in Las Vegas. The firm also has been listed among the Inc. 5000 fastest growing companies in America in 2008-2010. Thomas has served on the board of directors of the Las Vegas Art Museum and as president of the museum's foundation. He has been president of the Clark County Library District Foundation, Las Vegas Executive Association, American Society of Heating, Ventilating and Air Conditioning Engineers, Better Business Bureau of Southern Nevada, and the National Association of Trane Franchise Holders. As if this weren't enough, he taught for many years in the UNLV School of Economics,
Daughter Doris Floraine Lawyer (1920-1998) was born on April 10, 1920. She entered into marriage with Wilbur E. Orr (May 21, 1014-2009), a native of Bowerston, OH and the son of Dayton and Erma (Weingarth) Orr. One son born to this union was Richard Orr. The couple's residence for many years was in Dover, OH. Wilbur was the owner and operator of Van-Orr Bakery. He also was employed for 27 years by Marlite and retired in 1978. The family belonged to First United Methodist Church. Doris passed away at the age of 77 on April 1, 1998. Her remains were lowered under the sod of Dover Burial Park. Wilbur survived for another 11 years and remained in Dover. As his health failed, he was admitted to Park Village Health Care Center. He died there at the age of 95 on Oct. 17, 2009. The remains were cremated. An obituary was published in the Zanesville Times Reporter.
Grandson Richard Orr was the father of Rachel Frasure. He lived in Seville, OH in 2009.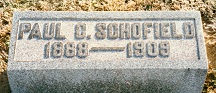 Mt. Perry Methodist Church
~ Son Paul C. Schofield ~
Son Paul C. Schofield (1888-1909) was born in June 1888 in Mt. Perry, Perry County.
He was a house painter.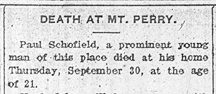 New Lexington Tribune
As a young man, Paul suffered with tuberculosis for a year, having contracted the disease while in Spokane, WA in late 1908. He returned home in February 1909 but died that autumn, on Sept. 30, 1909, age 21.
Burial of the remains was in the Mt. Perry Methodist Cemetery.
The New Lexington Tribune eulogized that "Everything possible was done to combat the dread disease but death claimed him as its own. To every one it seemed to be a personal bereavement so deeply was he fixed in the affections and esteem of all. He was a patient sufferer and always had a smile of greeting for everyone."
~ Daughter Verna Rosella (Schofield) Lake ~
Daughter Verna Rosella Schofield (1891-1939) was born on July 27, 1891.
On May 31, 1911, at the age of 20, Verna married 24-year-old Ray Edward "Ed" Lake (Dec. 11, 1886-1977). He was the son of T.W. and Ella (Chappelear) Lake, and a native of Gratiot, Licking County, OH. Rev. W.R. Cox performed the nuptials in Mt. Perry. Ray was of medium height and build, with grey eyes and light brown hair.
They together produced a family of three known children -- James Schofield Lake, Rena M. Cutright and Ralph Willard Lake.
At the time of marriage, Ray was a store clerk in Mt. Perry. By 1917, when he registered for the military draft during World War I, Ray was a traveling salesman for H.J. Heinz Company in Columbus, Franklin County, OH. Their home was at 17 West McCreight Street in Springfield, Clark County, OH. The 1920 census shows Ray employed as "commercial traveler" for a "wholesale grocery" and by 1930 was "retail merchant" in a "grocery."
The family dwelling in 1920 and 1930 was on Rice Street in Springfield. Ray's aged, widowed mother Ella lived under their roof in 1930. By the late 1930s, they relocated to 23 East Clark Street in town.
Suffering from Addison's Disease, an illness affecting the adrenal gland's ability to produce hormones, bronchial pneumonia and tuberculosis, Verna was admitted to Springfield City Hospital. She died there at the age of 48, on Nov. 26, 1939. Her remains were laid to rest in Ferncliff Cemetery in Springfield.
Ray outlived his wife and married again to Ora ( ? - ? ). Death enveloped him at the age of 90, in Springfield, on Oct. 19, 1977.
Son James Schofield Lake (1916-2000) was born on April 8, 1916 in Zanesville, Muskingum County, OH. He was joined in wedlock with Jeanette "Jennie" Washuk (April 22, 1920-2002). They were the parents of a son, Ronald Lake. James spent his working career as a bookkeeper with Wagner-Smith Electrical Contractors. The Lakes dwelled over the years in Centerville, OH. James died at the age of 84, on Dec. 29, 2000, in Kettering Medical Center. The Springfield News-Sun printed an obituary. Burial was in Ferncliff Cemetery. Jeanette lived for another year-plus as a widow. She passed away on March 10, 2002.
Grandson Ronald Lake wed Susan "Sue ( ? - ? ). They put down roots in Williamsburg, VA. Their two offspring are Kevin Allan Lake and Ryan David Lake.
Daughter Rena M. Lake (1921-2004) was born on the Fourth of July 1921 in Springfield and spent her entire life in the community. Rena was united in matrimony with John Cutright ( ? - ? ). They did not reproduce. For 25 years, she was employed by Ohio Bell Telephone, and she retired in 1973. She belonged to the Telephone Pioneers and held a membership in the Hillside Avenue Church of God. Sadly, John died on June 20, 1987. Rena outlived her husband by 17 years and endured the deaths of special friends Eldon and Louise Shearer. At the age of 83, she was carried away by the angel of death in her home on Sept. 9, 2004. She was pictured in her obituary in the Springfield News-Sun. Her pastor Rev. L. Brent Farmer led the funeral service, with interment followign in Ferncliff Cemetery.
Son Ralph Willard Lake (1923-2001) was born on Aug. 7, 1923 in Clark County, OH. During World War II, he joined the U.S. Army Air Corps and provided maintenance on B-17 bomber aircraft. He entered into marriage with Eloise Florence Foulk (April 25, 1923-2015), a native of Mechanicsburg, OH and the daughter of Clarence and Florence (Sumpter) Foulk. Their union endured for a remarkable 55 years. Two offspring born to this marriage were Rebecca Ann "Becky" Zeller and Kenny Lake. Ralph was a longtime driver for Borden's Dairy and later worked in the company's administrative office. Upon retiring, he became a realtor, working for Goodrich and Vereen. Eloise earned a living as a beautician and eventually purchased Snowhill Hair Fashions. They were members of the First Presbyterian Church, and he belonged to the Anthony lodge of the Masons. The pair enjoyed vacations in Florida. As time allowed, Eloise liked to crochet, knit, play canasta and sew, with a special love for crafting knitted hats for babies and cancer patients. As his health declined, Ralph was admitted to the Veterans Administration Medical Center in Dayton, OH. There, he passed away at the age of 78 on Oct. 28, 2001. His obituary in the Springfield News-Sun included his photograph. Pastor John Essig led the funeral service. Eloise survived by 14 years and went to live in the Ohio Masonic Community. She died on Sept. 6, 2015.
Granddaughter Rebecca Ann "Becky" Lake wed Steve Zeller. They moved to North Carolina and are the parents of Zachary Zeller, Jason Zeller and Michelle Zeller. Their homes have been in Winston-Salem and Lewisville, NC.
Grandson Kenny Lake ( ? - ? ) married Jennifer. They have lived in South Vienna, OH.
~ Son Harry N. Schofield ~
Son Harry N. Schofield (1899-1977) was born on Aug. 1899 in Mt. Perry, Perry County. He was only three months old when his father died.
He lived with his mother and stepfather near Mt. Perry in 1910 and earned income as a laborer, performing odd jobs.
At the age of 21, in December 1920, Harry was united in matrimony with 21-year-old Mildred Roberts (1899-1979), daughter of Charles H. and Anna (Curry) Roberts.
The pair's only known daughter was Joy Beverly Schofield.
Harry was employed in 1930 as a railroad brakeman, with the young family living in Newton, Muskingum County.
Federal census records for 1940 show the family in Uniontown, Muskingum County, OH, with Harry earning a living as a barber, perhaps during a downturn in railroad work.
He appears to have returned to the railroad as a longtime conductor with the New York Central and was a member of the Brotherhood of Railroad Trainmen. They made a home in Fultonham, OH and moved to Zanesville in about 1944. Their address in Zanesville was 1045 Seborn Avenue.
Harry belonged to the Fultonham lodge of the Masons and Mildred to the Order of Eastern Star, Victoria Chapter, and hosted meetings in their home. They are known to have vacationed in Florida in February 1950.
The pair marked their golden wedding anniversary in December 1970 with an open house. The occasion was noted in the Times Recorder.
He passed away in Good Samaritan Medical Center on June 16, 1977, having been ill for three months. An obituary in the Zanesville Times Recorder said that burial was in Fultonham Cemetery.
Mildred joined him in death in 1979.
Daughter Joy Beverly Schofield (1923-1984) was born in about 1923. She entered into marriage with Robert L. Pletcher (Feb. 2, 1923-1997), son of Leonard L. and Elsie I. (Mautz) Pletcher of Cannelville, OH. Their one known son was Robert "Gary" Pletcher. Robert was a World War II veteran of the U.S. Army. He served with the 32nd Infantry in Brisbane, Australia, and made amphibious landings in New Guinea at Saidor, Aitosi and Hollandia, in the Dutch East Indies in Moritia and the Philippines in Leyte and Luzon. He was awarded the Bronze Star for heroic achievement/meritorious service. The family dwelled with Beverly's parents in Zanesville in 1947 at 1045 Seaborn Avenue. Robert worked in sales for B.E. Miller Company in Zanesville, attending night school to earn an associate degree in electrical engineering. In 1966, he was hired as a quality assurance foreman by the Radio Corporation of America. He was promoted within RCA to management positions in Fort Wayne, Memphis, Indianapolis, Monticello, IN and Bloomington, IN. On his 60th birthday, in 1983, he retired. Sadness blanketed the family when Joy died on Christmas Eve 1984. Her remains were brought back to Zanesville for burial, with Pastor L.C. Florstedt officiating. After two years as a widower, on Jan. 24, 1987, he wed again to Betty Emery ( ? - ? ) of Zanesville. In later years, Robert and Betty divided their time between Zanesville and Naples, FL. Robert died at age 74 on May 15, 1997, as a patient in Riverside Methodist Hospital in Columbus, OH. The Zanesville Times-Recorder printed an obituary, and interment was in Memorial Park.
Grandson Robert "Gary" Pletcher (1947- ? ) was born in 1947. When he was three-and-a-half months old, his photo appeared in the Zanesville Times Recorder. He was joined in marriage with Darlene. They lived in Dallas, TX in 1977 and in Flower Mound, TX in 1997. Gary and Darlene were the parents of Robert Eric Pletcher and Natalie Michelle "Shelley" Pletcher.
Copyright © 2000, 2008, 2012, 2020, 2022 Mark A. Miner