Mary (Danison) Schofield
(1827-1891)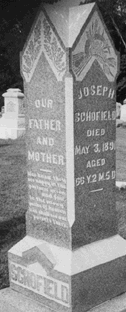 Mt. Perry Methodist Church
Mary (Danison) Schofield was born on Feb. 1, 1827 at Mt. Perry, Perry County, OH, the daughter of Absalom and Rebecca (Miner) Danison.
She married farmer Joseph Schofield (1825-1891). He was born in February 1825 in Clayton Township, Perry County. In about 1846, at the age of 21, he moved to Mt. Perry, and for 35 years was a member of the Methodist Episcopal Church.
They were the parents of three sons -- Jasper Schofield, Newton G. Schofield and Elsworth Absalom "Elzie" Schofield.
In about 1857 Joseph purchased an 80-acre farm from father in law Absalom Danison. In 1884 he and Mary sold 81 acres to sons Newton and Elza, except for "the graveyard lying in the [northeast] corner." The cemetery exists today at the Mt. Perry Methodist Church.
An atlas map of Madison Township published in 1875, seen below, shows the location of the "A. Danison" and "Jos. Scofield" farms, above and below the words "Mt. Perry."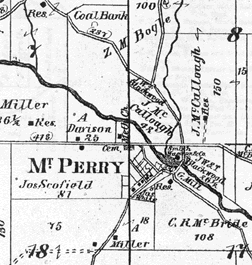 Atlas map of Madison Township, 1875
Joseph was drafted in May 1864 for duty in the Civil War, but it is unknown whether he served.
When the federal census was taken in 1870, Joseph and Mary were listed as farmers, and resided next door to her parents.
The Schofields suffered the untimely and tragic death of 20-year-old son Jasper, cut down by tuberculosis, on Sept. 14, 1883. He was buried in the family plot of the Mt. Perry Methodist Church.
Joseph died at age 66 of "consumption" in May 1891. The New Lexington Tribune said he was "an old and esteemed resident of Mt. Perry…. He [was] an exemplary man." The Tribune added that "Mr. and Mrs. John Danison of this place, were related to the deceased and were in attendance at the funeral."
Mary died just six months later, on Nov. 7, 1891, at the age of 64. They are buried together in the family plot at the Mt. Perry Methodist Church Cemetery.
Copyright © 2000, 2012, 2020 Mark A. Miner