Cyrus Millard 'Okey' Stoner
(1907-1960)

Cyrus Stoner
Cyrus Millard "Okie" Stoner was born on May 9 or 12, 1907 in Sistersville, Tyler County, WV, the son of Nathan C. and Letitia (Harbaugh) Stoner. He was named after a grand-uncle.
Cyrus moved at a young age with his parents to Robinson, Crawford County, IL, where his father was engaged in a national oilfield leasing business.
As an adult, Cyrus stood 6 feet tall and weighed 180 lbs. He was very gentle and enjoyed raising a big garden.
On Aug. 28, 1941, in nuptials held in Charleston, MO, Cyrus married Hazel "Irene" Pierson/Pearson (1917-1973), who was a full decade younger than he. They resided in Mt. Vernon, Jefferson County, IL.
The Stoners produced one daughter, Cheryl Elaine "Sherry" Stephens.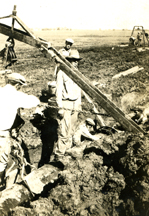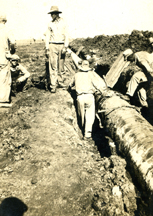 Cyrus working on a pipeline project in Kansas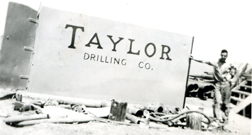 Okey with a sign he had lettered
Cyrus was employed by A.J. Brehm Company, an oil pipeline construction concern. In addition to projects in the midwest, he spent a summer in Colorado on one major effort, and a year in Texas on another. He was a talented sign painter and caricature sketch artist, and is known to have lettered a large construction sign for Taylor Drilling Company.
During World War II, Cyrus served as a mechanic in the U.S. Air Force, stationed in California. After the war, the family maintained a residence in Oblong at 704 South 15th Street.
In the photo seen here, Irene and Sherry (far right) visit on the grass in Oblong, IL with Cyrus' sister Dorothy (Stoner) Sheldon and her daughters Diane and Sharon.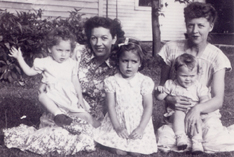 Irene and Sherry and visiting relatives
Always in the best of health, Cyrus developed acute leukemia after passing the age of 50. In September 1959, when he was 52, he was admitted to a local hospital where he was treated.
Sadly, he did not recover, and passed away from effects of the disease on Jan. 26, 1960. He was laid to rest at Oakwood Cemetery in Mt. Vernon. The local post of the American Legion led the funeral service. An obituary was published in the Mt. Vernon (IL) Register News.
Daughter Sherry was just 13 at the time of Cyrus' death. His mother, in a nursing home in Oblong, IL, was never told the news.
Irene then married Robert Malcolm ( ? - ? ), and moved with Sherry to Joliet, Will County, IL. Later, they relocated to Palestine, Crawford County, IL.
Irene outlived Cyrus by 13 years, and died in 1973. She is buried at Palestine.
Copyright © 2005, 2020 Mark A. Miner