Dorothy (Stoner) Sheldon
(1912-1998)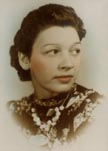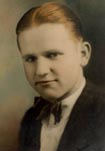 Dorothy and Red
Dorothy Lena (Stoner) Sheldon was born on Nov. 15, 1912 in Robinson, Crawford County, IL, the sixth and last child of Nathan C. and Letitia (Harbaugh) Stoner.
Named after her grandmother, Mary Magdalene "Lena" (Whipkey) Harbaugh, she also was Nathan and Letitia's only child born in Illinois, having moved there a few years earlier from Sistersville, Tyler County, WV.
Dorothy enjoyed traveling to Western Pennsylvania to visit her mother's relatives, and formed bonds with many of her cousins. She is known to have attended the first annual Harbaugh Reunion in August 1926 in celebration of her grandmother's 90th birthday.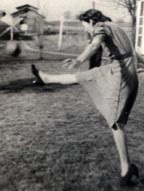 Dorothy -- a "kick"
As a young woman, Dorothy was employed by Lincoln Oil Refining in Robinson as an operator in the general accounting department. In 1933, when the company was acquired by Marathon Oil Company, she accepted a transfer, along with many fellow employees desperate for work during the Great Depression, to Marathon's headquarters in Findlay, Hancock County, OH.
Dorothy was always vibrant and active. Seen here, in a dress and heels, she punts a football at a family gathering.
At age 28, on June 15, 1940, Dorothy married Harold Perry "Red" Sheldon (1911-1986), the son of Earl and Goldie (Davidson) Sheldon of Wyandotte County, OH. The wedding took place in Maysville, Mason County, KY. The couple resided in Toledo, Lucas County, OH from 1940 to 1945.
The Sheldons had three children -- Sharon Jo Hershey Kern and twins Diane Kathleen Faulkner and David Michael Sheldon. Sadly, David died at the tender age of a month and a half, on Feb. 9, 1946, while the family was living in Perrysburg, Wood County, OH. He was buried at the Fort Meigs Cemetery in Perrysburg, and a memorial marker later was placed by his twin sister in Knollcrest Cemetery in Findlay.
After marriage, Dorothy went to work for Dana Corporation in Toledo. In February 1942, Dorothy learned that her brother Paul in Marion, IN, was critically ill with a brain tumor. She quit her job, and went to live with her brother and his wife for several months, in an effort to care for him as he declined. He passed away in June 1942, and Dorothy returned home. In early 1944, when it appeared that Red would be drafted to serve in the military during World War II, Dorothy and their young daughter moved for a time into the home of her sister Agnes Wood in Oblong, IL.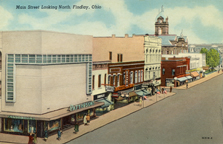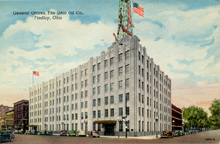 Findlay's Main Street looking north, left, and Ohio Oil headquarters

News of Red's promotion
Red also was employed by Marathon, at the time a unit of Ohio Oil Company. He first was stationed in the sales accounting section in Robinson, and also was transferred to Findlay in October 1933. He began working on pipeline projects, and was very disappointed to be unable financially to continue studies he had begun at Ohio State University. While in Toledo, he was a zone manager at Marathon's subsidiary Atwood Tire & Battery Company and in 1944 went to work for the Ohio Oil's Marathon Service Store.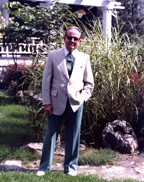 Red Sheldon
They resided in Perrysburg from 1945 to 1957, and transferred for good to Findlay in 1957. Returning to Findlay, he worked for many years as manager of the company's marketing development division, and retired in 1966 after 35 years of service. During his career, he also was executive vice president of Ohio Industrial Park, Inc., in Findlay.
Dorothy and Red divorced later in life, but remained good friends and were together at many family and holiday events.
Red passed away on Aug. 30, 1986, at age 75. He was laid to rest in Knollcrest Cemetery at Findlay.
Dorothy outlived Red by 12 years.
She died in Findlay on June 9, 1998, and is buried beside her husband.
~ Daughter Sharon (Sheldon) Hershey Kern ~


Sharon and Dick Kern
Daughter Sharon Jo Sheldon has been married twice.
She had two children to her first husband -- Gregory Hershey and Lisa Taylor.
Her second husband is Dr. G. Richard Kern Jr. He too had been married previously and brought four offspring to the second union -- Kevin Kern, Christopher Garrett-Kern, Kathleen Kern and Carolyn Schlicher.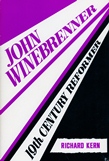 Dick Kern's book
Sharon has a deep, abiding love for her Harbaugh-Minerd roots. She retired in 2007 from a Findlay doctor's office, after 26 years, and has been active with efforts in Findlay to ban cigarette smoking in public places. In 2011, she was elected to the planning committee of our annual national reunion.
Dick is a former President of the Winebrenner Theological Seminary in Findlay, OH, and retired Professor of History at the University of Findlay.
He is the author of several scholarly books, including John Winebrenner: 19th Century Reformer (Central Publishing House, 1974); A History of the Ohio Conference of the Churches of God (Evangel Press, 1986); and Findlay College: The First Hundred Years (Evangel Press, 1984). He also has written many articles on "John Winebrenner and the Church of God" for The Church Advocate.
Dick is a trustee emeritus of the Hancock County Historical Museum in Findlay, and a long time member of the Rotary Club of Findlay.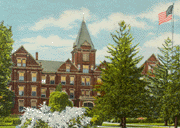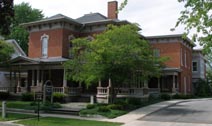 Left: Findlay College. Right: Hancock County Historical Museum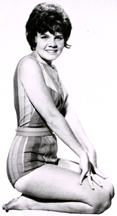 Diane Faulkner
~ Daughter Diane Kathleen (Sheldon) Faulkner~
Daughter Diane Kathleen Sheldon (1945-1993) was born on Dec. 22, 1945 in Toledo, OH, a twin with her brother David.
She was a graduate of Findlay College.
She lived her life with fun and gusto. A 1961 issue of the Findlay Republican-Courier captured her energetic spirit: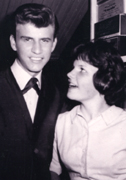 With Bobby Rydell
The latest local TV performers, who probably will be the envy of their teen-age friends, are Key Steegman ... and Diane Sheldon... They were seen by TV viewers Thursday afternoon dancing on Bandstand, the Dick Clark Show... The two girls have been having a wind-ding in Atlantic City where they saw, heard, and talked with Bobby Rydell, one of the heart-throbs of the teen-agers and in Philadelphia where the Bandstand show highlighted a series of entertaining adventures for the Findlay girls.
Diane and Rydell are seen here when they met during a rehearsal of his smash performance in Bye Bye Birdie.
On July 11, 1970, Diane was united in the bonds of matrimony with Dean L. Faulkner ( ? - ? ).
They produced a family of three children -- Micah Faulkner, April Faulkner and Robin Faulkner..
She worked for seven years for Ohio Power Company from 1963 to 1970. At one time she was an accounts manager for Centel Corporation for four years in Lincoln, NE.
Dean was an executive with General Motors Corporation, working and living for five years in Troy, MI. They spent three years in Bad Soden, Germany, and later returned to the States, settling in 1991 in Carmel, IN.
Tragically, stricken with cancer, Diane was admitted to St. Vincent Hospital in Indianapolis. There, she passed away at age 48 on Nov. 13, 1993. An obituary was published in the Kokomo Tribune. Her remains were brought back to Findlay for interment in Knollcrest Cemetery.
Copyright © 2005, 2020 Mark A. Miner