Paul Ernest Stoner
(1904-1942)

Paul Stoner
Paul Ernest Stoner -- also known as Ernest Paul Stoner -- was born on Nov. 15, 1904 in Sistersville, Tyler County, WV, the son of Nathan C. and Letitia (Harbaugh) Stoner.
As a boy, Paul moved with his parents to Robinson, Crawford County, IL, where his father was engaged in a national oilfield leasing business. He graduated in 1923 from Robinson Township High School.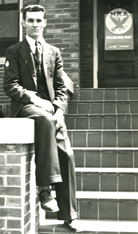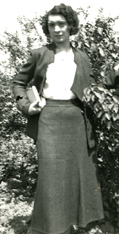 Paul and Mary
Paul married C. Mary Weiand (1908- ? ), a native of Indiana. He was from a Protestant background, and she was a member of the Catholic faith.
In the photo seen here of Paul on the steps, note the logo of the NRA (National Recovery Administration) on the door at the top of the steps. The NRA was the brainchild of President Franklin Delano Roosevelt during the Great Depression as a way to bring the U.S. economy back to health.
The Stoners did not reproduce.
The Stoners first resided in Charleston, Kanawha County, WV circa 1935. By the following year, in 1936, they were back in Robinson. When the federal census enumeration was made in 1940, the couple had relocated once more to Marion, Grant County, IN, east of Kokomo. Their home was at 217 West 10th Street.
The 1940 census shows that Paul had no occupation that year, at the age of 35, but that Mary was working as a packer in a stove works.
At about that time, he began to suffer from a brain tumor. His behavior have turned erratic, and in February 1942 his sister Dorothy Sheldon quit her job at Dana Corporation in Ohio and went to Marion to care for him.
Sadly, Paul did not recover. He passed away just a few months later, on June 18, 1942, at the Veterans' Administration Hospital in Marion.

Marion's V.A. hospital complex, where Paul passed away
Mary later married William O. Doyle ( ? - ? ), and remained in touch with her former Stoner in-laws. Circa 1963, she lived in Marion at 116 West 26th Street.
Mary's fate is unknown. However, a Mary Doyle born in 1907 is known to have died in Marion in June 1987, according to the Social Security Death Index, so perhaps this is her.
Copyright © 2005, 2013, 2020 Mark A. Miner