Norman M. Strauch
(1885-1949)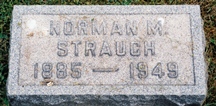 Dickerson Run Union Cemetery
Norman M. Strauch was born on Nov. 12, 1885 near Dawson, Fayette County, PA, the son of John and Mary Hester (McKnight) Strauch.
He was one of two brothers among many Minerd- Minard- Miner- Minor cousins to be killed in railroad and streetcar accidents.
Norman was only nine years old when his father died. By the age of 14, in 1900, Norman had left his mother's home and was employed as a servant and farm laborer in the household of Frank and Mary Stickle near Dawson.
Also in about 1900 -- at what would have been an astonishingly young age of 14 for both -- Norman married Laura Cease (1886- ? ). She was a native of either Georgia or North Carolina.
They produced one son, Paul Strauch.
Norman accepted a job as a rural mail carrier near Connellsville but resigned in April 1906 to take a new position as a brakeman with the Pittsburgh and Lake Erie Railroad. News about the change was printed in the Connellsville Weekly Courier. Another news story in August 1906 reported that he had moved to Connellsville and was now working for the Baltimore and Ohio Railroad.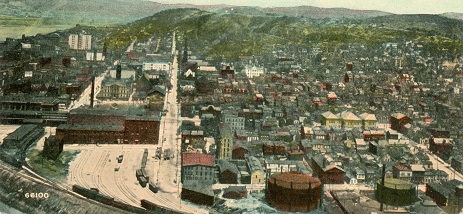 Wheeling's rail yards, early 1900s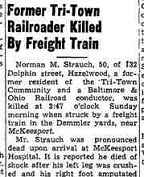 Obituary, 1949
Circa 1925, the family resided in Wheeling, Ohio County, WV. There, their only son Paul was born on May 1, 1925.
In 1926, they received the horrific news that summer that his brother John had been crushed to death between two railroad cars in an accident near Brownsville, Fayette County.
Norman was transferred to Pittsburgh as shown in the 1930 federal census. He and Laura and son Paul made a home on Hazelwood Avenue that year. By 1931, they moved to 370 Flowers Avenue in the city.
The Grim Reaper blanketed the family in grief in the summer of 1931 when six-year-old son Paul was stricken with acute, malignant heart infection. The boy suffered for a month and seven days and died on Aug. 8, 1931. His remains were taken to Dickerson Run for burial in the Union Cemetery.
By 1949, Norman and Laura were living at 132 Dolphin Street in the Hazelwood section of Pittsburgh, where he was employed as a conductor for the B&O Railroad. He was a member of the Joppa Lodge of the Masons, Knights of Pythias lodge and Brotherhood of Railroad Trainmen. She was a royal matron with the Hazel Court of the Amaranth group.
Tragedy struck in the wee hours of the morning on July 24, 1949, when Norman was struck by a moving freight train in the Demmler yards near McKeesport. Suffering from a crushed left leg and amputated right foot, he was rushed to McKeesport Hospital, where he "was pronounced dead upon arrival," said the Connellsville Daily Courier.
His funeral was held at the Fisher and Owen Funeral Home in Hazelwood, followed by burial in the Dickerson Run Union Cemetery. A death notice in the Pittsburgh Press invited all of his fellow Joppa lodge, Knights of Pythias and Brotherhood of Railroad Trainmen members to attend. News was published as far away as Hazleton, PA, in the Standard-Sentinel.
In July 1953, living in Pittsburgh, Laura is believed to have attended the 25th wedding anniversary open house for her husband's cousin, Charles Edward and Clara Porter (Bates) McKnight, held at their home in Dawson.
Her fate after that is unknown.
Copyright © 2003, 2010-2011, 2013, 2018 Mark A. Miner
Obituary courtesy of Ancestry.com