Lucinda (Sturtz) Brelsford
a.k.a. 'Belford' - (1815-1853)
Lucinda Sturtz -- also spelled "Stotts" -- is reputed to have been born on Nov. 26, 1815 in Washington Township, Muskingum County, OH, the daughter of Jacob and Susanna (Gaumer) Sturtz. Although she did not live to bear the grief, she sacrificed two sons to the Union cause during the Civil War.
When she was 18 years of age, on Aug. 28, 1834, Lucinda was joined in holy wedlock 24-year-old carpenter Brown Brelsford Sr. (1810-1881). William Spencer, an elder with the B.B. [Baptist?] Church, officiated at the wedding, held in Muskingum County. Martin Zimmer was among the witnesses.
The family name alternately was spelled over the years as "Belford" and "Brellsford."
The couple produced these known children, Joshua Brelsford, John C. Belford, Priscilla Chapman, Susan Brelsford, Lydia Brelsford, Sarah Brelsford, Brown B. Belford, Lucinda Belford and Hulda Brelsford, the youngest two the only offspring to be born in Iowa.
When their eldest son was born in 1835, neighbor Martin Zimmer was dispatched to bring the midwife to assist.
Federal census records for 1850 show family living in Butler, Knox County, OH, with the 60-year-old Brown plying his trade as a carpenter. Within a year or so, the Brelsfords pulled up stakes and migrated west to Iowa, settling in or near Oskaloosa, Mahaska County.
Sadness enveloped the family when Lucinda died at the age of 40 on Sept. 4 or 6, 1853, in the months following the birth of daughter Lucinda. Her remains were interred in White Oak Grove Cemetery in Oskaloosa. Her upright grave marker was inscribed "Gone but not forgotten." [Find-a-Grave]
The widowed Brown survived his wife by almost three decades. Evidence hints that he may have fathered a daughter, Hulda Brelsford, born on Jan. 10, 1857, but this is not confirmed.
When the federal census enumeration was made in 1860, Brown was in Oskaloosa, with only seven-year-old daughter Lucinda in the household.
Brown earned a living as a carpenter and owned five or six acres of land. Friends estimated that his tools were worth only $25. During the early 1860s, he spent a week employed by William H.H. Rice. He was heavily dependent on his son John for income, and when he enlisted in the Union Army during the Civil War, the son left money for his father's care and also sent home some of his pay. Daughter Priscilla once wrote that her father could only work about 20 percent of the time and that she was given care of the funds as he "was not competent to do his business."
For the last five years of his life, from about 1876 to 1881, Brown lived under the roof of married daughter Priscilla in Osceola, Clarke County, IA. Iin about 1880, he was rendered paralyzed by a stroke. A physician wrote about his helpless condition and that "His bowels are so completely paralyzed that there is never no evacuation except by remedies. His mental faculties are nearly gone, has no recollections of anything that transpires. Remains perfectly quiet in bed." The family learned that he might be eligible to receive a military pension as compensation for his sons' wartime deaths, claiming financial hardship, and the application papers were filed. The pension was not approved. [Father App. #270.646]
Brown passed into eternity in Priscilla's home on June 10, 1881.
~ Son Joshua Brelsford ~
Son Joshua Brelsford (1835-1862) was born on Dec. 4, 1835 in Muskingum County. He traveled west to Iowa with the family circa 1850.
At the age of 28 in 1860, unmarried, he lived under the roof of his married sister Priscilla Chapman in Osceola, Clarke County, IA.
As the first year of the Civil War came to a close, on April 10, 1862, he traveled to Camereon, MO to enlist in the Union Army. He was placed within the 6th Missouri State Militia Cavalry, Company G.
In July and August 1862, he was detached from the regiment for service "in the west," said an official report.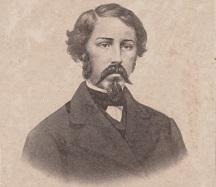 Confederate guerilla William Quantrill,
whose bushwhackers killed Joshua
Brellsford. Library of Congress.
While in Missouri in the fall of the year, he was one of eight soldiers assigned as escorts in the rear of a supply train of 10 wagons over a 35-mile distance from Harrisonville to Warrensburg, MO, commanded by 1st Lt. William M. Newby. On Nov. 3, 1862, as they rode and were now a dozen miles from Harrisonville, the escort was attacked. The enemy was a body of 300 bushwackers, among them outlaws Jesse and Frank James and the Younger brothers, under the command of notorious guerilla fighter William Quantrill. An account of this fight naming Joshua was published under the headline "Missouri Butcherey" in the May 20, 1886 edition of The National Tribune, authored by T.L. Sullivan, quartermaster sergeant of the 13th Missouri Cavalry. Sullivan wrote:
The place of attack was on an open prairie, but to the east, and but 150 yards distant, was the entrance to a long and narrow lane, through which we must run the gauntlet or die; for from the entrance to this lane, which led due east for one and a half miles, the fence, leading off at right and left angles to south and north of the entrance, gave little or no show of escape by the flank. When first attacked Lieut. Newby's men were scattered along the road for three-quarters or a mile in rear and front of the train, the Lieutenant himself in advance, who, as soon as the alarm reached him, returned to the train, gathering up his men as hest he could; but those of his escort coming up from the rear he could not check, for they had seen enough to know that resistance in that case was death, and sped on, and this enabled Geo. Keely and Wm. H. Watson to escape by the left flank and gain the rear of the enemy, whereby they returned to camp at Harrisonville and reported to E.C. Catherwood, Colonel commanding post.
In the ambush, Joshua and all of his mates were killed, among them Timothy Rose, Charles Swim, John Ratliff, Edwin A. Fish and five teamsters, with Lt. Newby taken prisoner. Joshua's burial site today is unknown but possibly could be as an "Unknown" in the Jefferson Barracks National Cemetery in Lemay, MO.
~ Son John C. Brelsford ~
Son John C. Brellsford (1837-1864) -- also known as "Joshua" and "Bellford" -- was born in about 1837 in Ohio.
He migrated to Iowa with his parents when he was a young teen.
When the Civil War broke out, he lived in Decatur County, IA. He traveled to Osceola, IA to enlist in the Union Army on April 23, 1862 and was assigned to the 39th Iowa Infantry, Company K.
On Oct. 5, 1864, he and the regiment were in action at Allatoona Pass, GA, considered the first major battle of the Franklin-Nashville Campaign. More than 1,600 men on both sides went down that day, and tragically John was among them, killed in action. His place of burial is not known.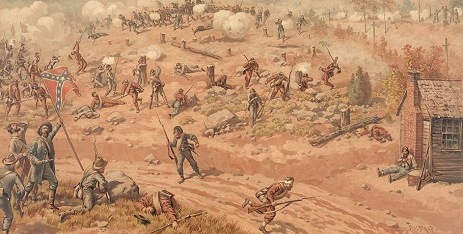 Allatoona, GA, where John Brellsford was killed in action.

Above courtesy of the Library of Congress. Below: The Civil War in the United STates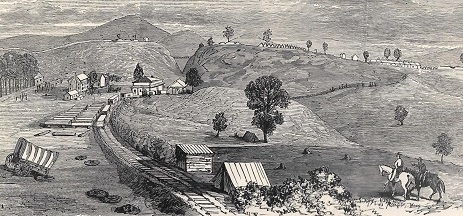 ~ Daughter Priscilla A. (Brelsford) Chapman ~
Daughter Priscilla A. Brelsford (1837-1910) was born on July 7, 1837 in Ohio.
On Oct. 28, 1856, when she was age 19, she married 25-year-old Benjamin F. Chapman (March 26, 1831-1904), son of Samuel Chapman. The nuptials were held in Mahaska.
Their known offspring were Louis F. Chapman, Carrie Chapman and Florence "Flora" Chapman.
Sadly, the couple outlived two of their three children. Benjamin learned the artistic trade of silversmithing, and in 1860, when the family dwelled in Osceola, Clarke County, IA, he worked in this field. By 1870, still in Osceola, with Benjamin had advanced into the profession of jeweler. In 1880, Priscilla's aged father lived under their roof in Osceola and suffered from paralysis.
Benjamin was cut away by the Grim Reaper at the age of 73 on July 18, 1904.
Sadly, Priscilla died in Osceola at the age of 72 on March 13, 1910. Burial was in Maple Hill Cemetery. [Find-a-Grave]
Son Louis Franklin Chapman (1858-1883) was born on Jan. 10, 1858 in Iowa. When he was 21 years old, in 1880, he lived at home and worked in his father's jewelry business. He passed away at the age of 25 on July 1, 1883. Burial was in the family plot at Maple Hill Cemetery.
Daughter Carrie E. Chapman (1859- ? ) was born on May 16, 1859 in Osceola. She only lived to be a year old and died on Aug. 5, 1860. Her tender remains were placed into eternal repose in Maple Hill Cemetery.
Daughter Florence "Flora" Chapman (1862- ? ) was born in 1862 in Osceola. In about 1884, she wedded Elon Graves (June 7, 1862-1920). Sadly, Elon died in 1920. Florence outlived her husband by more than two decades. She joined him in death on March 11, 1941, at the age of 79. They rest in Maple Hill Cemetery.
~ Daughter Susan Brelsford ~
Daughter Susan Brelsford (1840- ? ) was born in 1840.
~ Daughter Lydia Brelsford ~
Daughter Lydia Brelsford (1842- ? ) was born in about 1842.
~ Daughter Sarah Brelsford ~
Daughter Sarah Brelsford (1844- ? ) was born in about 1844.
~ Son Brown B. Brelsford [Belford] Jr. ~
Son Brown B. Belford Jr. (1848-1930) was born on Feb. 10, 1848 in Ohio. He was only five years old when his mother died.
He was joined in wedlock with Louisa M. Shrader (Jan. 12, 1856-1936), daughter of George and Catherine (Miller) Shrader of Green County, WI.
They were the parents of Ida Belford, Edwin Belford, Frank Belford, Eunice Himes, Winifred "Winnie" Robertson and Ollie Belford.
The Belfords resided in Cedar Township, Mahaska County, IA where they were farmers. Later, they relocated to Kirkville, Richland Township, Wapello County, IA, where he worked as a carpenter into his 80s. Circa 1900, Brown was selected as a Republican delegate to the attend the county convention in Ottumwa, reported in the Ottumwa Tri-Weekly Courier.
Suffering from diabetes and hardening of the arteries at the age of 81, Brown retired. He died a year later on April 5, 1930. Interment was in Kirkville Cemetery.
Now widowed, Louise lived for another six years. Her health declined from chronic heart disease and bronchial pneumonia, and when she suffered a cerebral hemorrhage, she only lived a few days before death in rural Ottumwa on Oct. 12, 1936. Winnie Robertson of Ottumwa signed the official certificate of death.
Daughter Ida Belford (1876- ? ) was born in 1876 in Mahaska County, IA. On March 5, 1898, at the age of 22, she was united in matrimony with 26-year-old Kirkville farmer Henry Siegrist ( ? - ? ), son of Christian and Mary (Youtz or "Young") Siegrist and a native of Tazewell County, IL. The ceremony was performed in Kirkville by Rev. J.C. Caughlin, with James and Etta Roof serving as witnesses.
Son Edwin "Ed" Belford (1878-1965) was born in about 1878 in Cedar, Iowa. Circa 1899, he and friend Hiram Foglesong spent several months in Colorado. When he was 24 or 25 years of age, on March 4, 1903, he was joined in wedlock with 16-year-old Bessie May Parks (1887- ? ), daughter of Jonathan and Lucy Ann (Sinnif) Parks of Kirkville. The wedding was held in the Parks home, officiated by Rev. D.F. Stiles of the local Methodist Episcopal Church, "in the presence of a large number of friends," reported the Ottumwa Tri-Weekly Courier. Daughter Lorena Belford was born to the couple in Feb. 1904. The marriage appears to have lasted for only a few years, and in August 1907, Bessie sued for divorce on the grounds of desertion and adultery. After the separation, Bessie May took their daughter and went to live with her sister in Dickinson, ND. But the couple eventually reconciled and produced at least two more children, Dean Belford and Helen Belford. Circa 1910-1911, they lived in Kirkville, next door to Edwin's brother Brown Belford, and with Bessie's unmarried sister Grace living under their roof. Later, they made a home in Ottumwa. He died at the age of 88 on or about Nov. 14, 1965, with a brief notice printed in the Des Moines Tribune.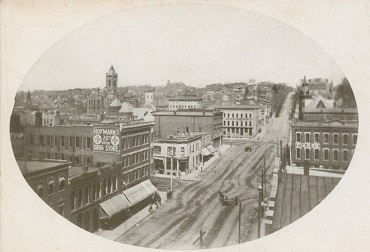 Market Street in Ottumwa, Iowa
Son Frank Belford (1879- ? ) was born in July 1879 in Iowa. He may have been employed circa 1916 as a fireman with the Rock Island Railroad.
Daughter Eunice Belford (1884- ? ) was born in about 1884 in Ringold County, IA. On March 8, 1921, in nuptials held in Wapello, IA, the 37-year-old Eunice wedded 43-year-old Oskaloosa businessman John J. Hines ( ? - ? ), son of D.A. and Anna E. (Dickson) Hines of Mahaska County. Rev. A.A. Heath officiated at the nuptials
Daughter Louise Belford (1886-1964) was born on Aug. 8, 1886 in Iowa. In 1899, at the age of 13, she wedded Jacob Fleming Roquette (1864-1942), son of Philip and Elizabeth (Mader) Roquette. The couple made a home almost immediately in Dickinson, Stark County, ND although Louise is known to have borne daughter Vera in Kirkville in 1904. Over the years, she bore six children -- Vera Mae Reddeman, Kenneth Frank Roquette, Dallas Lee Roquette, Clifford Pershing Roquette, Donald Jacob Roquette and Shirley Kathleen Ritter. Later, she married a second tie to Herbert Sebastian Marty (June 20, 1887-1976), a native of Stillwater, Washington County, MN. He had been married previously and brought two adult children to the union, Gladys June Geiger and Glenn Warren Henry Marty. Louise died in Alexandria, Douglas County, MN at the age of 77 on April 10, 1964. Burial was in Lakeside Cemetery in Osakis, Todd County, MN. [Find-a-Grave] Herbert outlived his wife and passed on Aug. 14, 1976 in Dickinson. He rests under a standard issue military grave marker in Black Hills National Cemetery in Sturgis, Meade County, SD.
Daughter Winifred Mae "Winnie" Belford (1889- ? ) was born in about 1889 in Kirkville. When she was 27 years of age, on Oct. 15, 1916, she married her brother-in-law's brother, Otumwa clerk Harry L. Siegrist, son of Christian and Mary (Youtz or "Young") Siegrist and a native of San Jose, IL. The wedding was held in Ottumwa and officiated by Rev. C.A. Field, with Sarah Brooks and Mrs. C.A. Field attending as witnesses. On Aug. 23, 1930, in nuptials held in Oskaloose, she married a second time to 42-year-old Ottumwa boilermaker Jacob Haller Robertson ( ? - ? ). He was a native of Fayette, MO and the son of Thomas and Nancy (Asbury) Robertson. Rev. Marion H. Williams officiated. The couple made a home in Ottumwa.
Daughter Ollie Belford (1890- ? ) was born in about 1890 in Kirkville.
~ Daughter Lucinda Brelsford ~
Daughter Lucinda Belford (1853- ? ) was born on May 3, 1853 in or near Oskaloosa, Mahaska County, IA.
At the age of seven, she was the only remaining child living with her widowed father, in 1860.
Copyright © 2000, 2011, 2013, 2015-2018 Mark A. Miner