Susanna (Gaumer)
Sturtz Baughman
(1790-1850)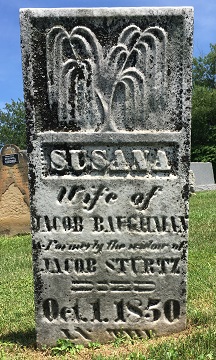 Susana's grave, Adamsville, OH
Susanna (Gaumer) Sturtz Baughman was born in 1790 in Southampton Township, Somerset County, PA, the daughter of Johann "Jacob" and Maria Catherine (Sowash) Gaumer.
Circa 1809, when she was about 19 years of age, Susanna married her first husband, 22-year-old Jacob Sturtz (1787-1834) of Wellersburg, Southampton Township, Somerset County. He was the son of Christian and (?) (Shoemaker) Sturtz Jr. and grandson of Christian Sturtz Sr., a farmer of Somerset County.
Jacob grew up on his parents' 800-acre farm, "of Pennsylvania Dutch stock [who] received a common-school education in German, was reared a farmer and married Susan Gaumer," said the 1892 book Biographical and Historical Memoirs of Muskingum County (Chicago: Goodspeed Publishing Co.).
They produced 10 known children -- Daniel Sturtz, Charles Sturtz, Susanna Sturtz, Lucinda Brelsford [Belford], Catharine Horschmann Palmerton, Adam Sturtz, Andrew Jacob Sturtz, Lydia Knapp, Martin Sturtz, Solomon Sturtz and Margaret Mowery.
Sadly, two or perhaps even three of their offspring died young -- eldest son Daniel (born in Pennsylvania who died in 1819 in Ohio at age nine), Susanna in infancy in 1820 in Maryland, and possibly son Martin as a baby in 1828.
In about the year of their marriage, the Sturtzes moved to Ohio and settled in Washington Township, Muskingum County. Susanna's parents had relocated there in 1806 followed by Susanna's brother Daniel Gaumer Sr. in 1809.
During the War of 1812, Jacob served as a rifleman in Captain Robert McConnell's company of soldiers and "was in several fights with the Indians," reported Biographical and Historical Memoirs.
Evidence suggests that the family moved around somewhat frequently. By 1818, they had relocated to Adams Township on a farm later owned by George W. Bell. Other evidence suggests that they were in Oldtown, Allegany County, MD in 1818, and then were back in Muskingum County in 1823.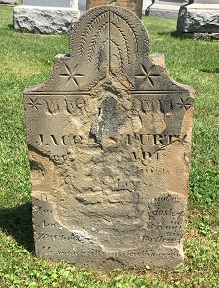 Jacob's grave, Adamsville
According to a profile of his grandson John P. Sturtz in the Biographical and Historical Memoirs, Jacob was:
...handy at almost any work. He was a blacksmith, gunsmith and carpenter, and very often built houses. Among other things, he prepared gunpowder and charcoal, and was considered one of the best hunters of the time in his county. He was a member of the Lutheran church in Salem township, held the office of church trustee, and assisted in the building of this church. When he died he was but forty-seven years of age.
Jacob is believed to have been elected "fence viewer" in the new township of Adams on April 2, 1827.
Sadly, Jacob passed away on Christmas Eve 1834, at the age of 47. His remains were lowered into repose in the New Hope Evangelical Lutheran Cemetery near Adamsville. [Find-a-Grave] Today, his grave marker still stands but a significant portion of the lettering has eroded away. As best can be deciphered, the epitaph was taken from traditional New England grave markers and reads as follows:
Dear friends, [illegible] nor weep:
I am [illegible] do sleep.
And here [illegible] remain
Till Christ [illegible] forth again.
He soon will end death's reign

1881 History of Knox County, Ohio
Later in about 1838, after four years as a widow, Susanna wed her second spouse, Jacob Baughman (1789-1870), a native of Pennsylvania or Maryland. (Sources differ.)
Jacob had migrated from Somerset County to the central part of Union Township, Knox County, OH in 1809. Along with his brother in law John Welker Sr., Jacob is mentioned in Albert Adams Graham's 1881 book History of Knox County, Ohio: Its Past and Present.
Circa 1850, she and Baughman made their home on a farm in Union Township, Knox County. The federal census of 1850 shows three teenagers living in their dwelling place -- Solomon Stotts ("Sturtz"?) (age 17), Priscilla Bretsford (13) and Margaret Mowery (18), all born in Ohio.
Later that year, Susanna died in Adamsville on Oct. 10, 1850, at the age of 60, and was placed into eternal repose in the cemetery land her brother Jacob had donated at the New Hope Evangelical Lutheran Church. On her marker, the names of both of her husbands were inscribed. [Find-a-Grave]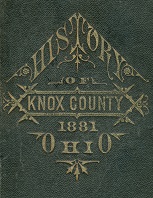 Graham's History of Knox
County, Ohio, 1881
Jacob outlived his wife by two decades. When the Civil War erupted, at least three of his step-offspring held military service in the Union Army.
Eventually Jacob married again to Mary (Welker) McElroy (1795- ? ). When the federal census again was enumerated in 1870, they made their home in Union Township. Residing under their roof were 35-year-old farmer Washington Baughman and 22-year-old Elizabeth Rhyne. Living next door was Mary's presumed son, 48-year-old John Welker and his wife Elizabeth and six children -- Lyman Welker, Francis Welker, Amanda Welker, Mary Welker, George Welker and Edgar Welker.
He died at the age of 81 on Nov. 23, 1870, in Knox County. His remains were placed into rest in the Workman Cemetery in Danville, Knox County. His will was filed on Jan. 23, 1871 in Knox County.
One source suggests that son Martin did not die in childhood in 1828 but in fact grew to adulthood, married Hetta Molly Robeson ( ? - ? ) and passed away sometime around 1890.
~ Daughter Margaret (Sturtz) Mowery ~
Margaret Sturtz (1830- ? ) is reputed to have been born on Jan. 25, 1830 in Oldtown, Allegany County, MD.
The paper trail hints that she married (?) Mowery ( ? - ? ). This all needs to be verified.
Copyright © 2000, 2011, 2013, 2015-2018, 2020 Mark A. Miner
Minerd.com extends its thanks to Find-a-Grave volunteer Jeannie Beghart LaCues for her assistance.