Harley Van Swearingen
(1864-1934)
Harley Van Swearingen was born on Jan. 7, 1864 in Tarlton, Pickaway County, OH, the son of John S. and Eliza J. (Miner) Swearingen.
In the 1870s, when Harley was a boy, he moved with his parents and siblings to Missouri, residing in Carlton and Butler, Bates County, MO. He later moved to Nevada, Vernon County, MO.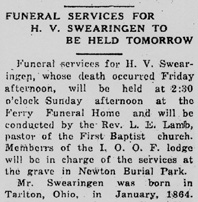 Obituary, 1934

Harley was a carpentry and construction contractor for 45 years. The Nevada Daily Mail said he also "was an active worker in the I.O.O.F lodge."

In 1891, Harley married Dora J. (?) (1868- ? ) a Missouri native. They apparently had no children.

Harley's widowed mother Eliza lived with them at 710 West Cherry Street as shown in the 1900 census, and as listed in the Wallin, Shaffer & Co.'s Nevada City Directory for 1900-01 and 1903-04. Mother Eliza died at their home in March 1903, with an obituary running in the local newspaper.

Dora's fate is not known.

Harley married his second wife Hattie (?) Goodman (1865- ? ), a native of Arkansas, in 1904. She brought a daughter to the marriage, Bessie Goodman (1889- ? ).

The federal census of 1910 shows the Swearingens living at 804 Main Street in Nevada, with Harley working as a carpenter. Stepdaughter Bessie, age 21, who was employed as a "commercial traveler" for a publishing house, made her home under their roof that year.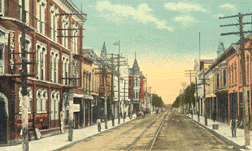 Nevada, MO, looking east on Cherry Street

A special census of Nevada taken in May 1915 shows Harley and Hattie making their home at 808 Main Street in Nevada.

Another family of Swearingen lived in Nevada at the time. A connection between the two clans is not yet known.

The 1920 census shows the Swearingens continuing to reside on Main Street in Nevada. Harley's occupation is listed as contractor.

Harley and Hattie divorced sometime in the 1920s. By 1930, at the age of 61, he lived alone in Nevada, on Cedar Street, and the census shows him as "divorced."

On Nov. 7, 1931, Harley married his third wife, Ella Van Dyke ( ? -1938), in Kansas City.

Harley died of uremic poisoning and acute myocardial failure on Aug. 18, 1934, at the age of 70.

Ella died on Aug. 17, 1938. They are buried together -- but in unmarked graves -- at Newton Burial Park in Nevada.

Newton Burial Park, as photographed in August 2009
Copyright © 2000, 2002, 2009 Mark A. Miner