Leslie Paul Swearingen
(1900-1927)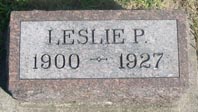 Pleasant Hill Cemetery
Leslie Paul Swearingen was born in 1900 near Concordia, Cloud County, KS, the son of Thomas J. and Laura Catherine "Kate" (Johnson) Swearingen.
Very little is known about Leslie's short life.
Leslie never married, but lived at home with his parents, and worked as a laborer on the family farm in Center Township, Cloud County.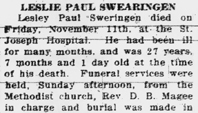 The Kansan obituary, 1927.
While in his mid-20s, Leslie began to suffer from Hodgkin's Disease, a form of cancer. He was treated by Dr. H.E. Doty. In 1927, when he contracted a case of the mumps, the combination of illnesses rendered him incapable of recovery.
He died in St. Joseph Hospital on Nov. 11, 1927 from suffocation due to the extensive swelling. In his obituary, The Kansan reported that he "had been ill for many months."
Following a funeral at the Methodist church, led by Rev. D.B. Magee, Leslie's remains were buried in the family plot at Pleasant Hill Cemetery.
His red granite grave marker, seen here, was photographed in September 2010.
Copyright © 2010, 2018 Mark A. Miner
Obituary courtesy the Cloud County (KS) Genealogical Society.